Dalton Highway Camping Guide
Check out this detailed Dalton Highway camping guide if you plan to drive Alaska's most remote route, which winds along the Trans-Alaska Pipeline. We'll show you where to stay on the drive from Fairbanks to Prudhoe Bay. We'll give you all the tips for camping along the Dalton Highway: campgrounds, BLM areas, and accommodations in hotels and cabins along the way. We share our experiences camping along Dalton Highway as we spent ten days in this remote Alaskan scenery!
This article may contain affiliate / compensated links. For full information, please see our disclaimer here.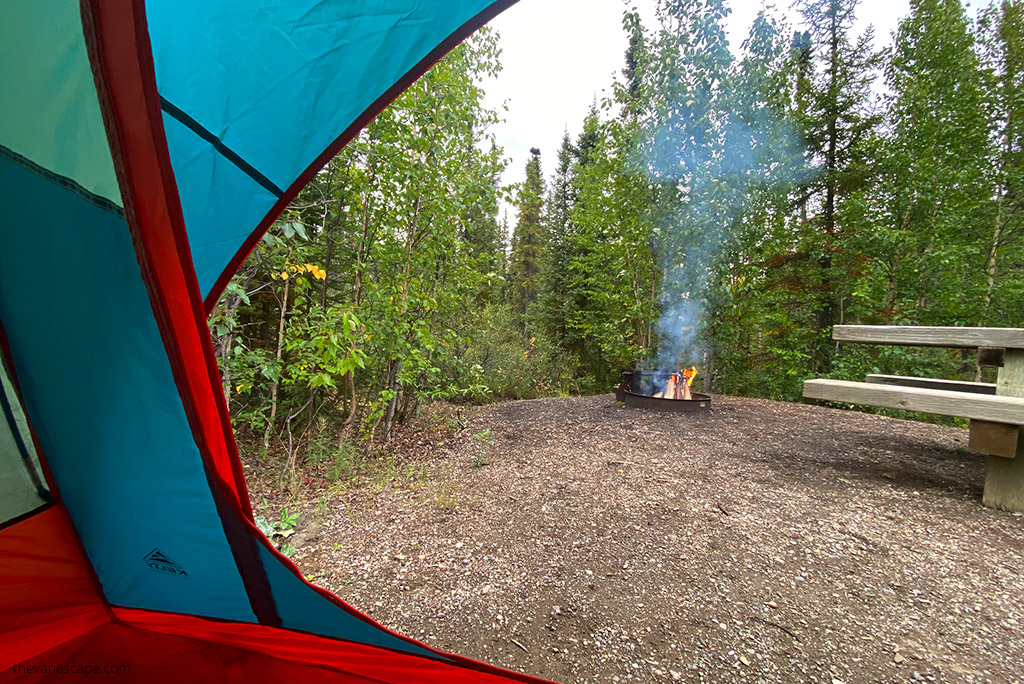 Dalton Highway Camping Guide – Introduction
This is our third article in the series about one of the most exciting but also the most dangerous and thrilling roads in Alaska – Dalton Highway.
This post focuses on lodging options on the 414-mile route. Where to stop on the way from Fairbanks to Deadhorse? We advise you on where to stay for the night while traveling on the Dalton Highway, we indicate specific hotels along the way, and we present all the campgrounds on this route because we have visited every one. Moreover, we will also tell you details about BLM areas. We share essential tips about camping along the Dalton Highway.
But if you're starting your Dalton Highway adventure, check out our detailed guides about the Dalton Highway: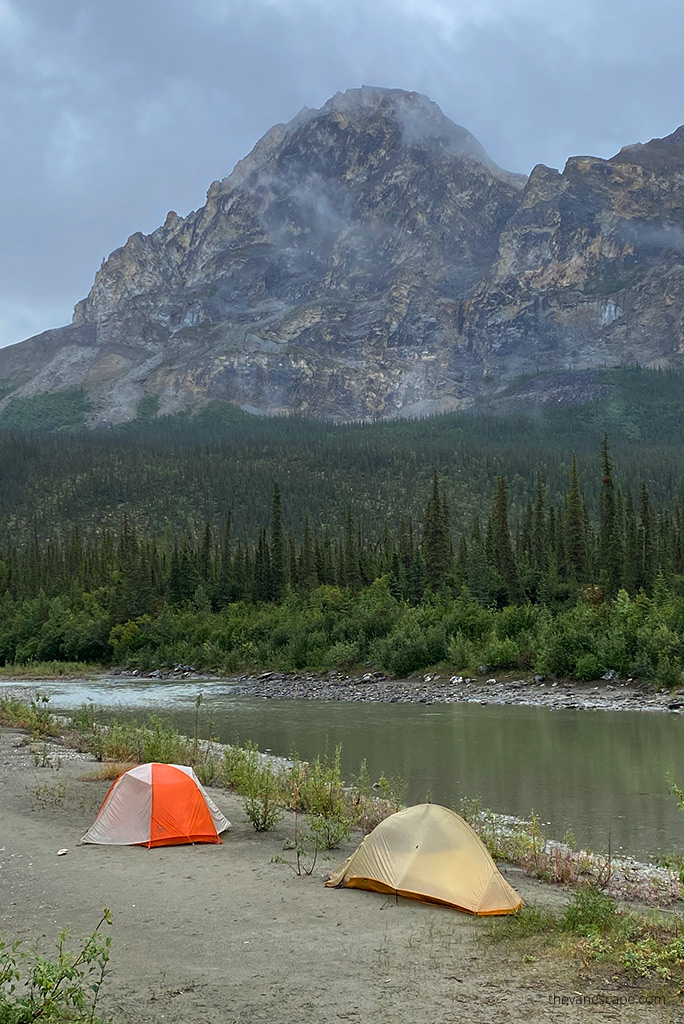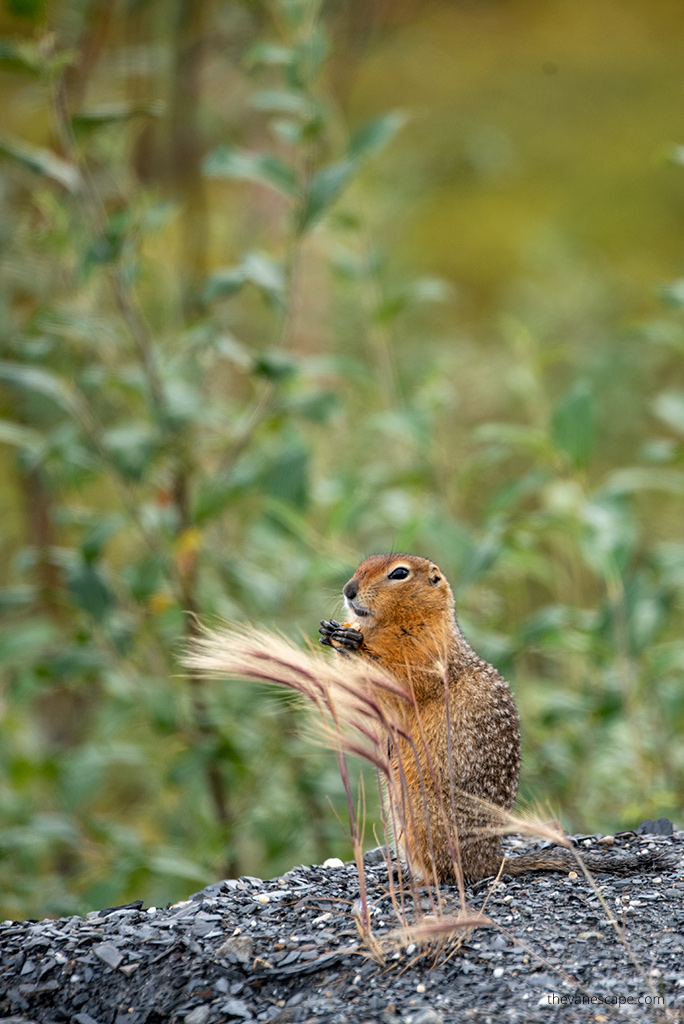 Night in Fairbanks Before you Hit the Haul Road
The 414 miles long Dalton Highway starts 84 miles (134 km) north of Fairbanks, so we highly recommend staying in this city the night before you start your adventures. Why? Fairbanks is the last city where you can supply food, camping equipment supplies, and water. This is also the last place to check if your car can drive this problematic route. We presented details on car equipment for this route in driving the Dalton Highway safety tips. If you are renting a car – several rental companies in Fairbanks allow you to travel this route. We used the local company Alaska Auto Rental. You can read our reviews about their vehicles and services, analyze prices, and book a car on their website.
You will find a wide selection of hotels in Fairbanks on any budget. If you're planning a night at a campground, it's worth booking well in advance if possible. Campgrounds fill up very quickly in summer. Check out the top 10 campgrounds and RV Parks near Fairbanks.
Camping on BLM Areas Along the Dalton Highway
The BLM manages a strip of public land along the highway from the Yukon River to the north side of the Brooks Range. Within the Dalton Corridor, the BLM maintains campgrounds, rest areas, information tables, and Arctic Interagency Visitor Center in Coldfoot.
Recreational camping is limited to 14 days in one location. According to the official BLM rules, you can park well off the road. Passing vehicles can throw rocks more than 30 feet (9 m) off the highway – and don't block pipeline access roads.

So theoretically, you can camp outside the designed campgrounds on Dalton Highway. But it's only theory. How does it look in practice? In our opinion (and we spent ten days on this route), there aren't many places to stop along the road in a way that ensures safety.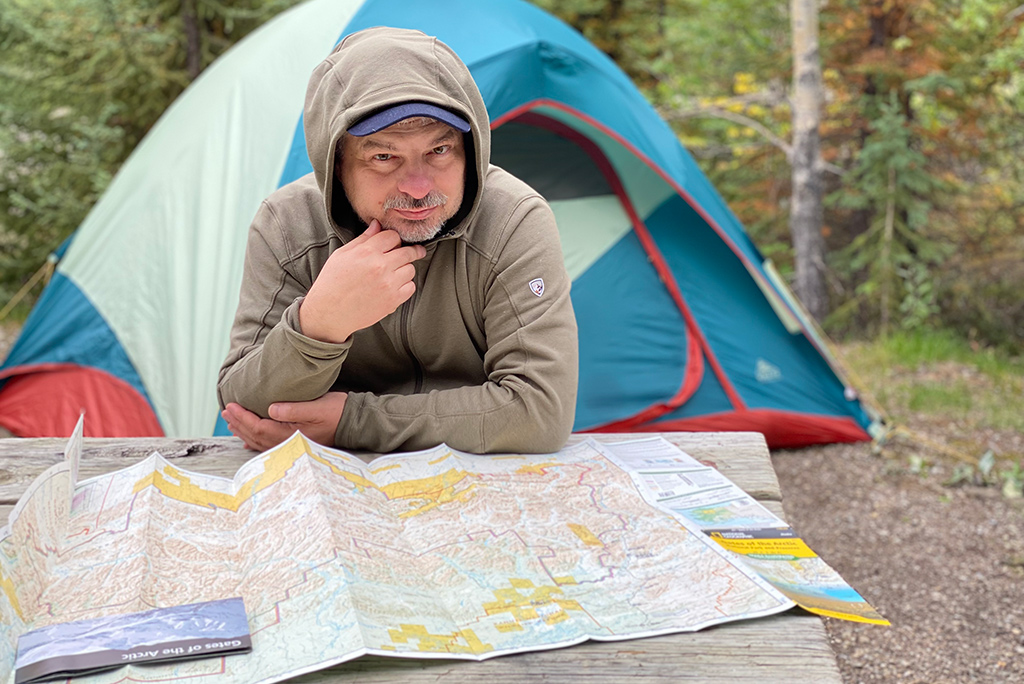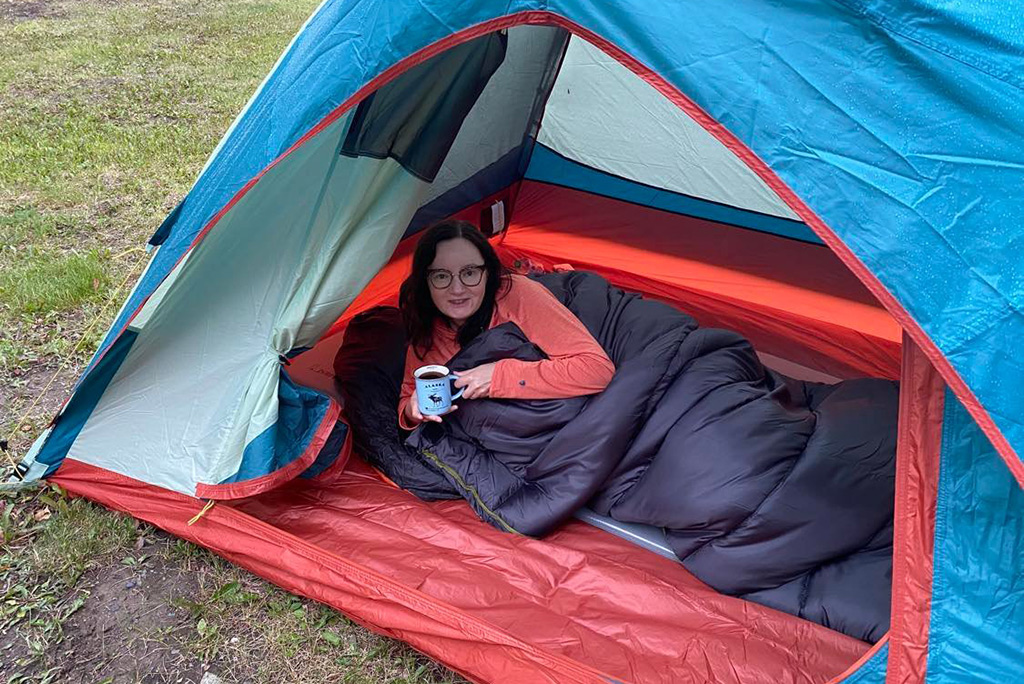 The risks of camping in BLM lands along the Dalton Highway
The road is narrow, and the shoulders are narrow. Often steep.
The descents are boggy, and the ground is very soft. It's not easy to pitch a tent or park a car.
Along the way are water bodies, a river, and streams, from which considerable coolness exists.
The road is quite noisy because of the passing of trucks.
The pipeline has many access roads, so you can't block it.
Also, the area is teeming with wild animals – grizzly bears and wolves, so your camp can easily attract them at night.
Our Camping Tip: You can use the popular iOverlander app to search for camp spots. If you decide to camp on the BLM lands along the Dalton Highway, prepare for the above risks to minimize them and enjoy the night in the wilderness. Check out our Alaska Packing List to bring all your camping essentials on the Dalton Highway. Whether you plan to sleep in BLM lands, on designated campgrounds, or even in hotels along the way, remember to follow the seven principles of Leave No Trace when traveling through the extraordinary land of Dalton Highway.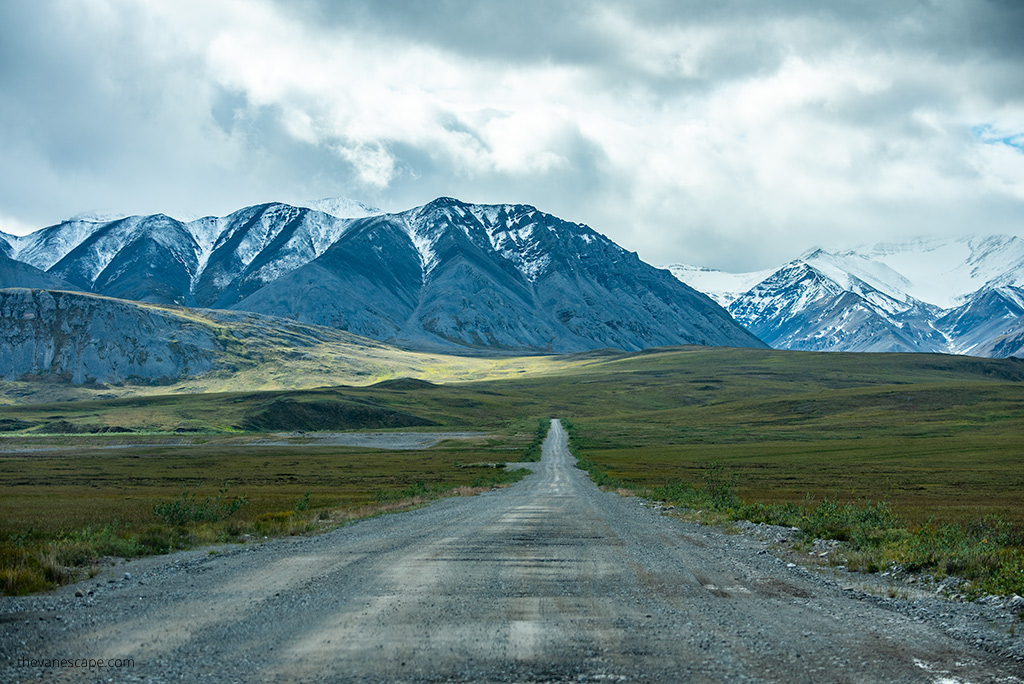 Dalton Highway Camping – BLM Campgrounds
In our opinion, it's best to stay at designated campsites along the Dalton Highway, which charge token fees, are safer, more comfortable, and offer fantastic views. You do not destroy delicate nature by camping in designated places. Keeping camp tidy is also easier because bins are secured against wild animals. So you can throw away the garbage. There are also pit toilets. Below we share details.
The BLM manages four designated campgrounds on the Dalton Highway. They're pretty makeshift but provide pleasant shelter. None of them have electric hookups. We have stayed at each of them and described them to you below.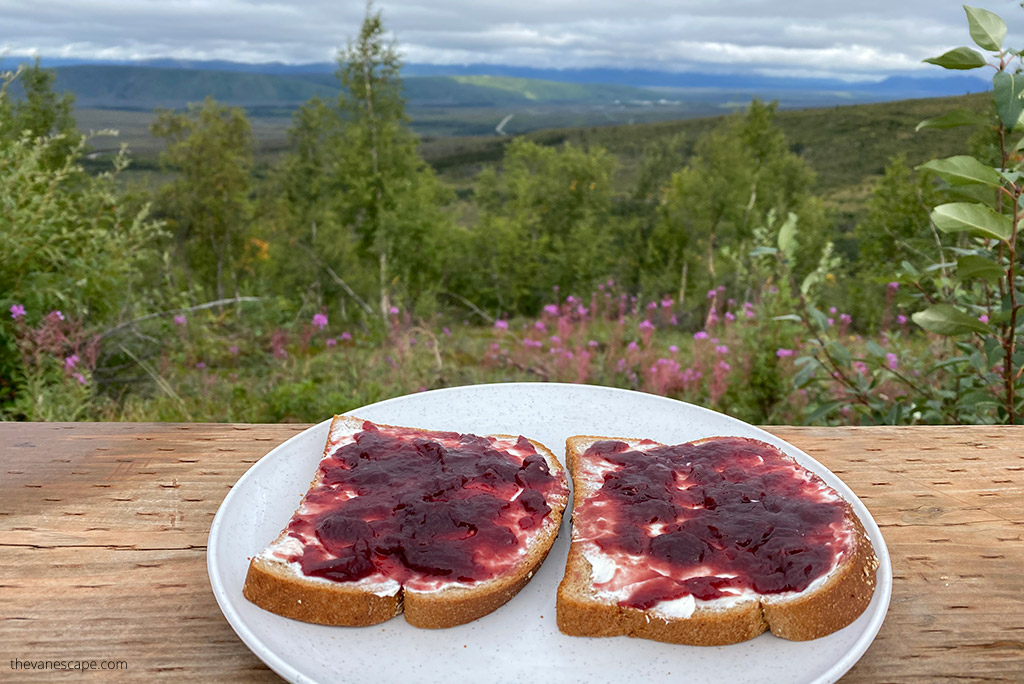 Five Mile Campground
Location
Milepost (MP) 60 of Dalton Highway. 4 miles (6.4 km) north of the Yukon River crossing. Access to the campground is via the second gravel road on the left (west) side of the Dalton Highway.
Amenities
portable water
vault toilet
nearby dump station
trash can
Number of Sites
Undeveloped, the campground has 30 campsites
Campground Fee
Free of charge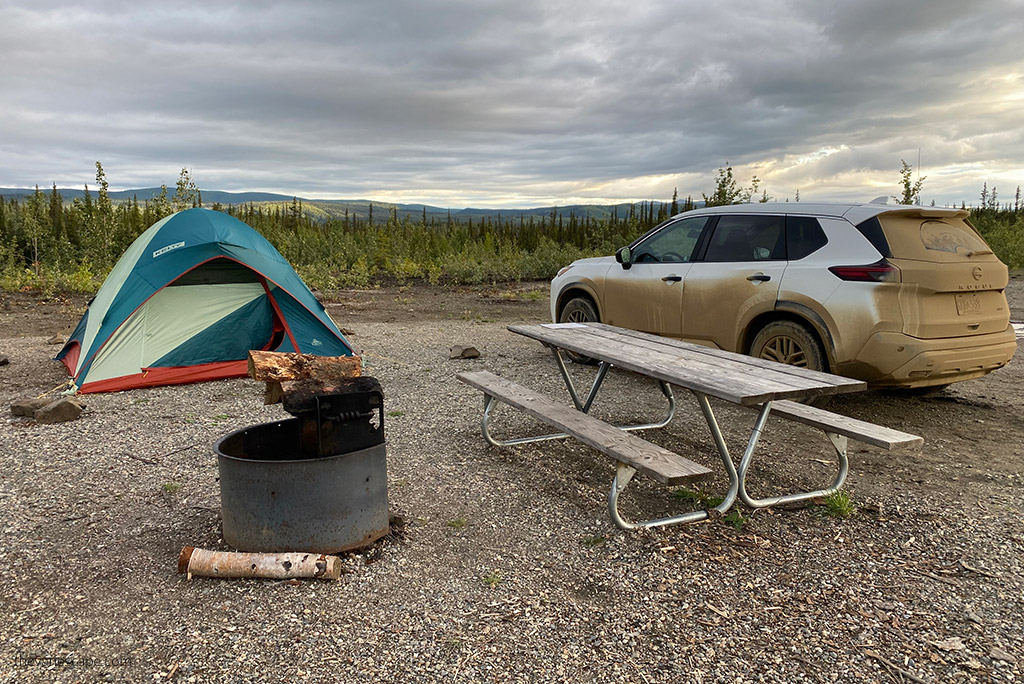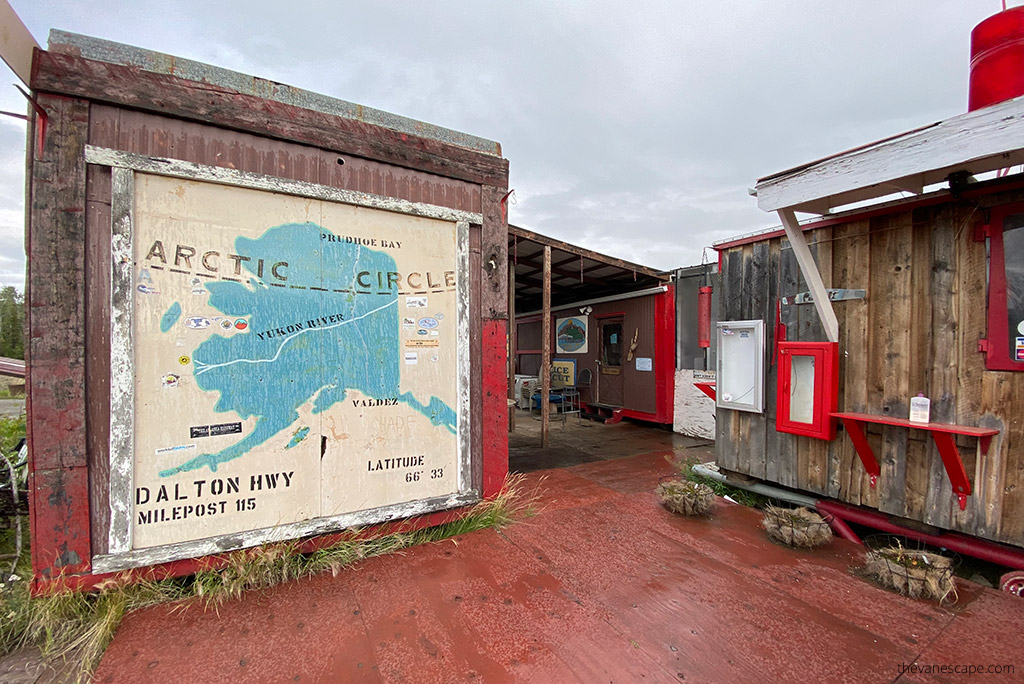 Campground Description
The Five Mile Campground has the only dump station along the Dalton Highway. It's important if you travel by RV. Moreover, this campground is free to the public. It also features pump water and pit toilets. 7 gravel campsites have a picnic table and fire ring. It's on the milepost 60. According to the official website, the campground host may be present from late May to early September. The campsite is situated on a slight plateau, overlooking forests and mountains. But the campground itself is treeless, poorly sheltered from the wind. After all, the view is fabulous. It is a beautiful and quiet place. We really enjoyed this Dalton Highway camping spot.
Our Camping Tip: Due to the proximity of the huge Yukon River, mosquitoes in this area wanted to eat us alive. Be sure to pack and wear a mosquito head net, wear a mosquito-repellent shirt, or use insect-killing repellent for your clothing and tent. We also had and use DEET40% repellent. Nothing else works. Also, there are grizzly bears in this area. Carry bear spray and be careful that the smells from the camping dinner do not attract wild animals. Use Bear Resistant Food Canister. Or pack freeze-dried products that are easy to prepare and do not smell too intense.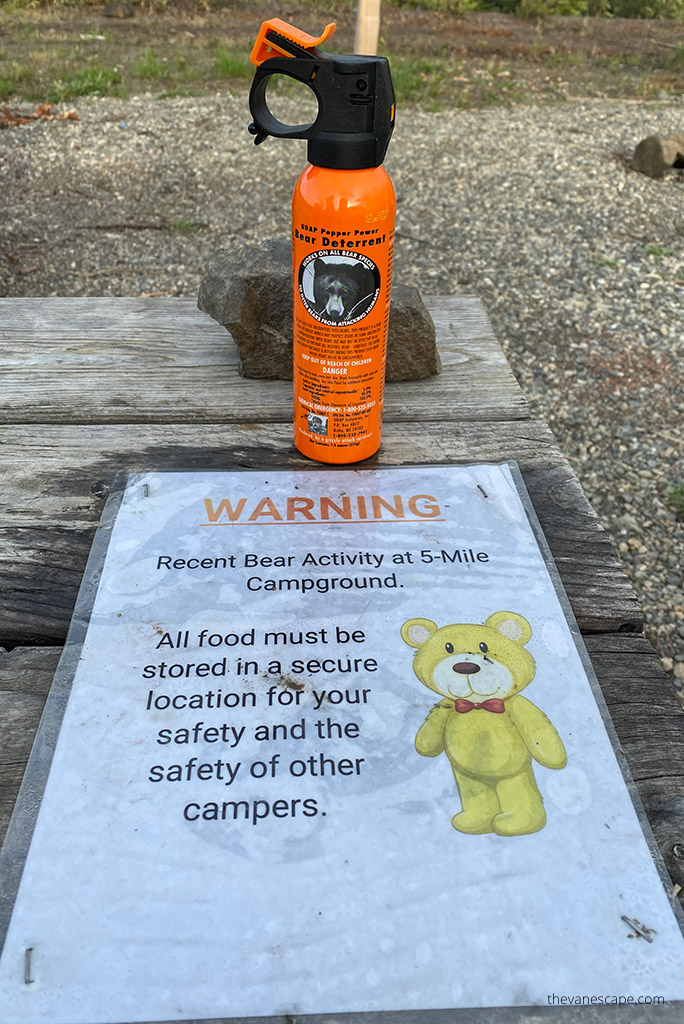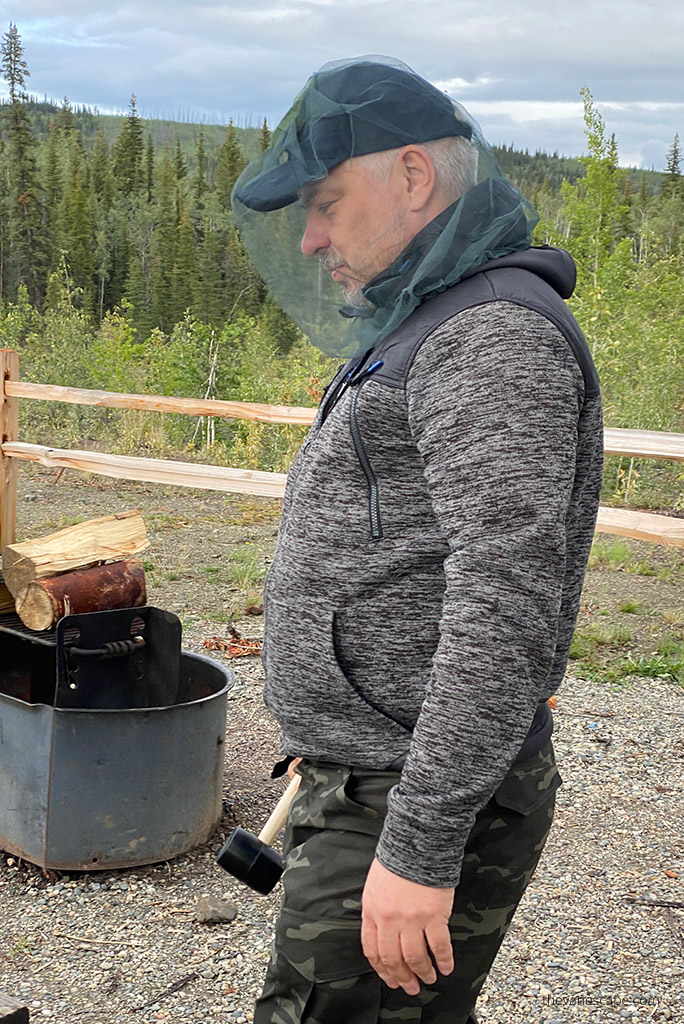 Arctic Circle Campground
Location
Milepost 115, about 1/2 mile uphill from the Arctic Circle sign
Amenities
no water
trash can
fire rings
vault toilets
picnic tables
Number of Sites
19 sites
Campground Fee
$10 per night
Campground Description
The Arctic Circle Campground is beautifully nestled among the trees, where you can enjoy the natural surroundings beyond the Arctic Circle—an exciting idea for camping. Next to the Arctic Circle sign, a viewing deck with interpretive displays is located, also some spots for a picnic. But it's only a day-use area to enjoy your lunch after crossing Arctic Circle. To reach the sites for a night, drive up the hill to camp at the Arctic Circle Campground. The campground offers 19 areas with leveled sites, fire pits, and picnic tables. It features bear-proof trash cans and two vault toilets. The campground is open from approximately May through September. However, the picnic area, Arctic Circle sign, and restrooms are accessible year-round.
Our Camping Tip: This campground is popular and can fill quickly in high season. So be there as early as possible to find a spot for yourself. This is because some people, especially families traveling with kids or organized trips to the Arctic Circle from Fairbanks, aim to cross the Arctic Circle border. Then they return to Fairbanks because the rest of the journey over the Dalton Highway is much more challenging. If you think about a full-day trip to the Arctic Circle, check out our best Arctic Circle tour from Fairbanks.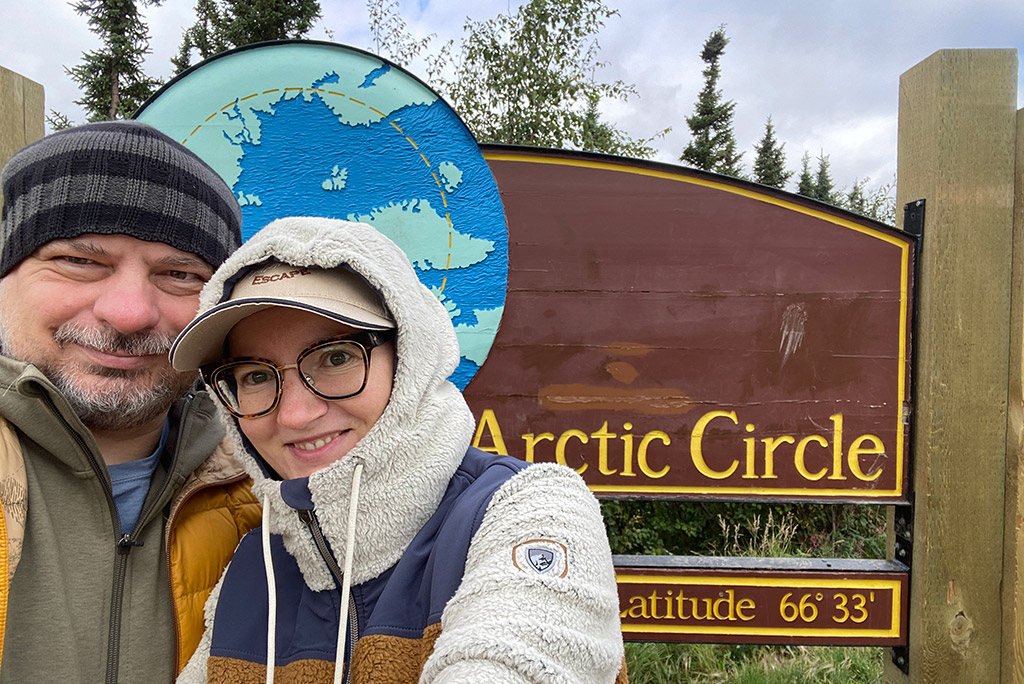 Marion Creek Campground
Location
Milepost 180 of Dalton Highway, 5 miles (8 km) north of Coldfoot.
Amenities
potable water
vault toilet
trash can
host on site
Number of Sites
27 sites, some for RVs
Campground Fee
$10 per night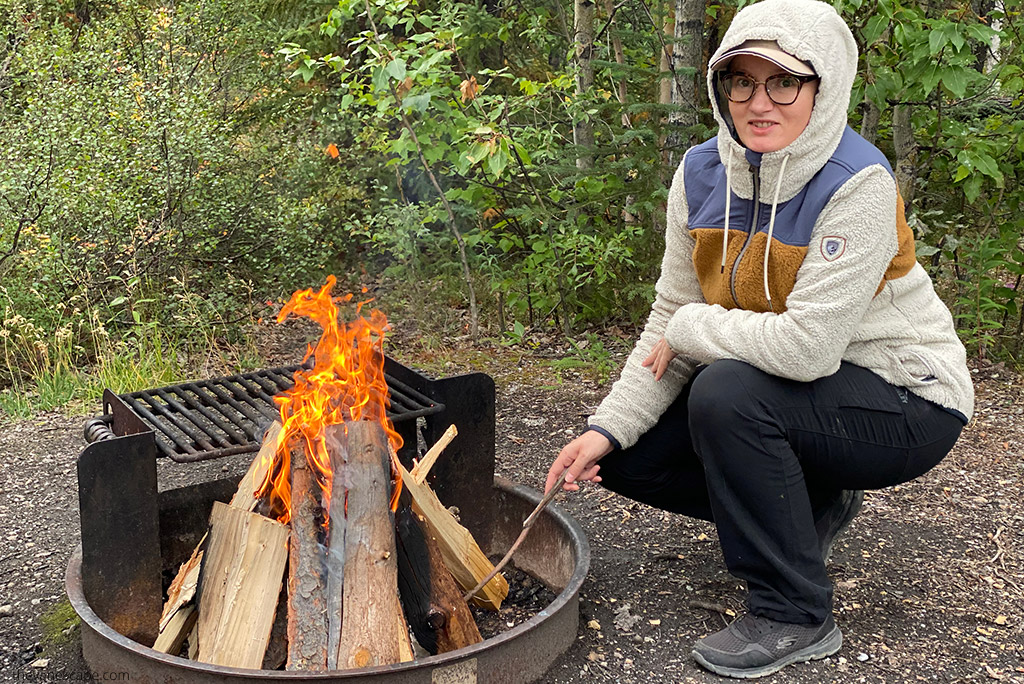 Campground Description
Marion Creek Campground is the best Dalton Highway Camping spot. It's located just five miles north of Coldfoot. It has a hand pump with potable water, picnic tables, and fire rings. Moreover are both pull-through and tent-only sites. A helpful camp host is available from late May to early September. You can walk along the river and even try to reach hidden waterfalls. There is a beautiful panorama of the mountains all around. We camped there a few times, and there was always firewood available.
Our Camping Tip: Marion Creek Campground is our favorite camping spot along the Dalton Highway. The scenery is beautiful. It's a quiet and comfy place. Many attractions are nearby in Coldfoot, which we present in detail in a related article about points of interest along Dalton Highway.
In short, we will list a few examples to keep you in the area: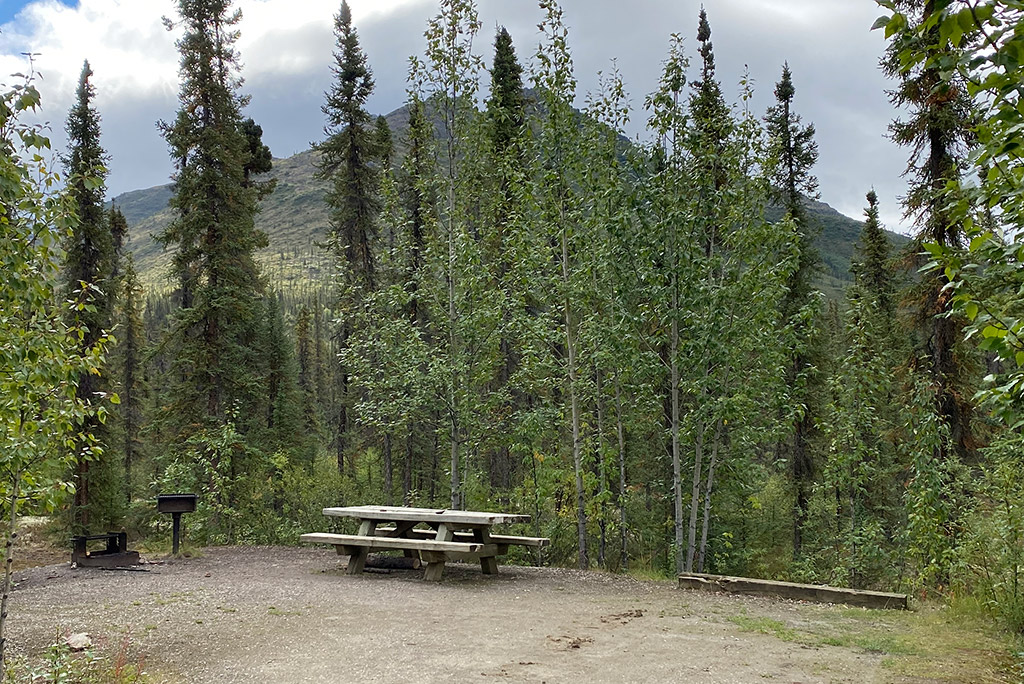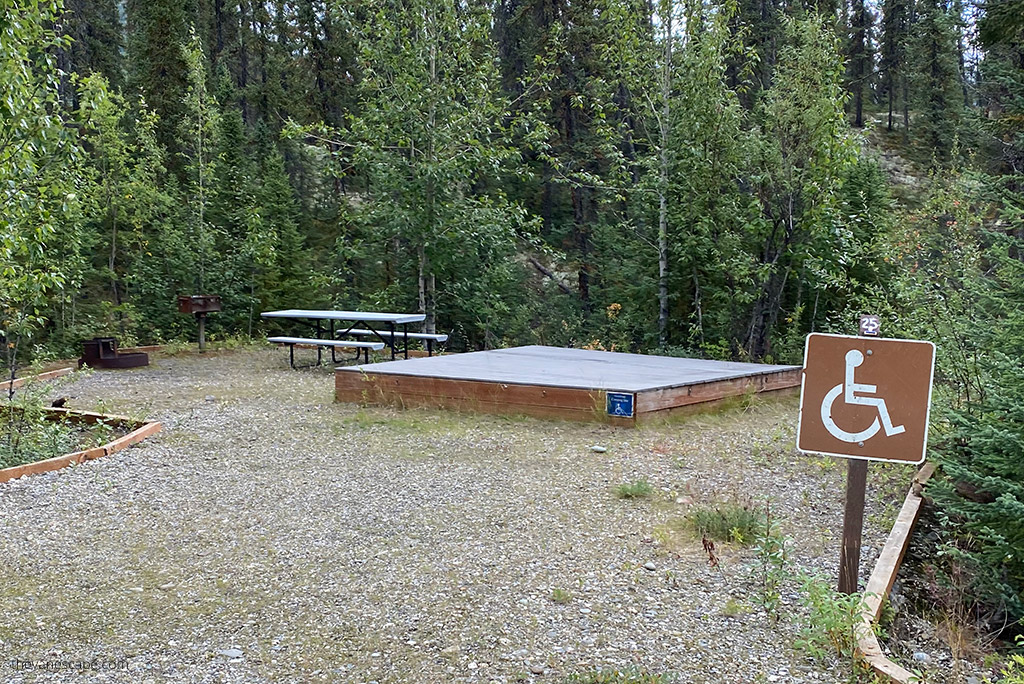 Galbraith Lake Campground
Location
Milepost 275. You must turn left (if you are driving from south to north) onto Galbraith Airport Road. Follow signs to the airstrip, then continue past buildings 2.5 miles (4km) on a poor-quality road.
Amenities
Number of Sites
12 campsites
Campground Fee
Free of charge
Sawyer Products SP129 Squeeze Water Filtration System w/ Two 32-Oz Squeeze Pouches, Straw, and Hydration Pack Adapter
Lightweight, Easy To Use Portable Water Filter Removes Harmful Bacteria, Protozoa, Cysts, Sediment, And 100% Of Microplastics; Perfect For Outdoor Adventures, Travel, Or Emergency Preparedness

High-Performance 0.1 Micron Absolute Inline Filter Fits In The Palm Of Your Hand And Weighs Just 2 Ounces; 100% Of Micro Squeeze Units Individually Tested Three Times To Performance Standards By Sawyer

Built-In And Removable Flip Top Sports Cap; Spray Water Straight Into Mouth Or Bottle From Included Pouch; Also Fits Standard Water Bottles With 28 Mm Thre
Campground Description
Galbraith Lake Campground is one of the most picturesque Dalton Highway Camping. It is a bit away from the highway, and you must drive via a terrible quality road with numerous potholes. But we assume that you have read the first part of our Dalton Highway guide and safety tips for driving the most challenging road in Alaska, and you know that you must have a 4WD car for this route. It is a rustic and undeveloped campground with about 12 sites, bear-proof trash cans, and a pit toilet. The campground is open from about May through September. You'll have spectacular views of the lake and the Brooks Range, Gates of the Arctic National Park and Preserve to the west, and the Arctic National Wildlife Refuge to the east.
Our Camping Tip: This is one of the most beautifully located makeshift campsites we have visited. The view of the lake and the Brooks Range is breathtaking. But there are also a lot of mosquitoes here, so use the tips above to protect yourself from them. There are also no trees here, and it is pretty windy. You must have your campfire wood and quick light fire starters to start a fire. But remember to check for possible wildfires beforehand. For information about Alaska wildfires, visit Alaska Wildland Fire Information Map.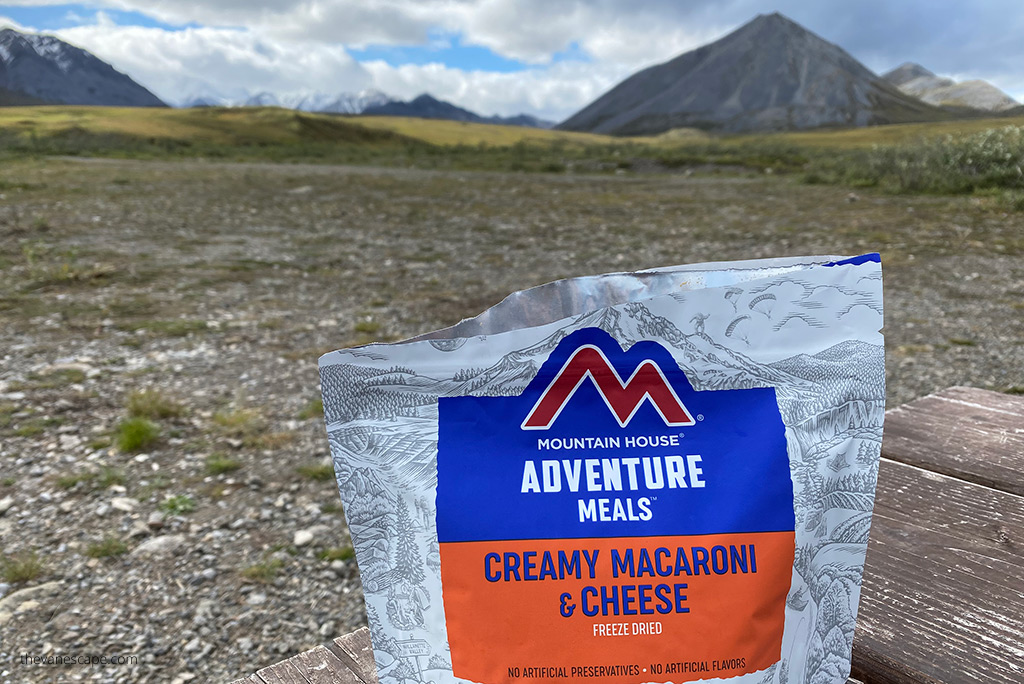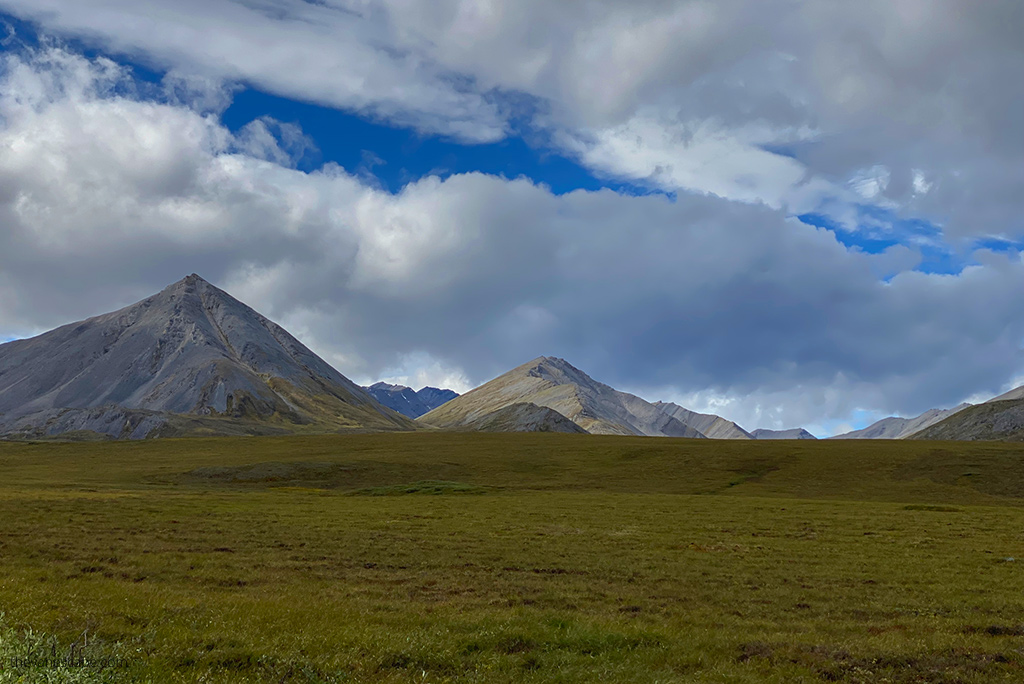 Dalton Highway Lodging – Hotels and Cabins Along the Way
Our friend asked: Are there any hotels or cabins on Dalton Highway so I don't have to sleep in a tent? Your choice of accommodation on Dalton Highway is minimal. There are only four tiny places along the route where you can stay in a hotel (but it's not the hotel you usually stay in). You can sleep in a bed at Yukon River Camp, Coldfoot Camp, Wieseman, and at the end of the route in Deadhorse at Prudhoe Bay.
But don't expect comfort. These are workers' hotels for truck drivers who do tough work driving giant oversize trucks. The hotels are basic, modest, and rustic, with no amenities. But clean. Boreal Lodge in Wiesman is the prettiest and most pleasant place on the entire route. But we will introduce you to the options one by one. Each of the places described below is worth booking well in advance because, in the summer, getting accommodation in the Dalton Highway area can be a problem.
Mountain House Expedition Bucket | Freeze Dried Backpacking & Camping Food | 5 days
DELICIOUS MEAL ASSORTMENT! Enjoy 5 days worth of breakfast, lunch, and dinner in one easy to carry bucket on your next outdoor adventure.

NO ARTIFICIAL FLAVORS OR COLORS - Meals included are (3) pouches of Breakfast Skillet, (2) Granola with Milk & Blueberries, (2) Beef Stroganoff, (3) Chicken Fajita Bowls, (3) Chicken Fried Rice, and (2) Classic Spaghetti with Meat Sauce.

QUICK PREP - Just add hot water to the pouch & eat in less than 10 minutes, with no cleanup.

LIGHTWEIGHT & COMPACT
Yukon River Camp
Location: Milepost 56, Yukon River Crossing
Yukon River Camp is a must-stop on Dalton Highway, even if you don't plan to stay for a night here. You can fuel your tank here, buy gifts, and try their Noodle House menu or delicious burgers. It's a rustic place but clean and cozy. Rooms have two twin beds. Restroom and shower facilities are shared. Check prices and book your room on the official website. When you stop here, it is also worth walking along the Yukon River, which winds nearly 2000 miles (3200km) from Canada to the Bering Sea. There are also information boards about the river and Alaska pipeline.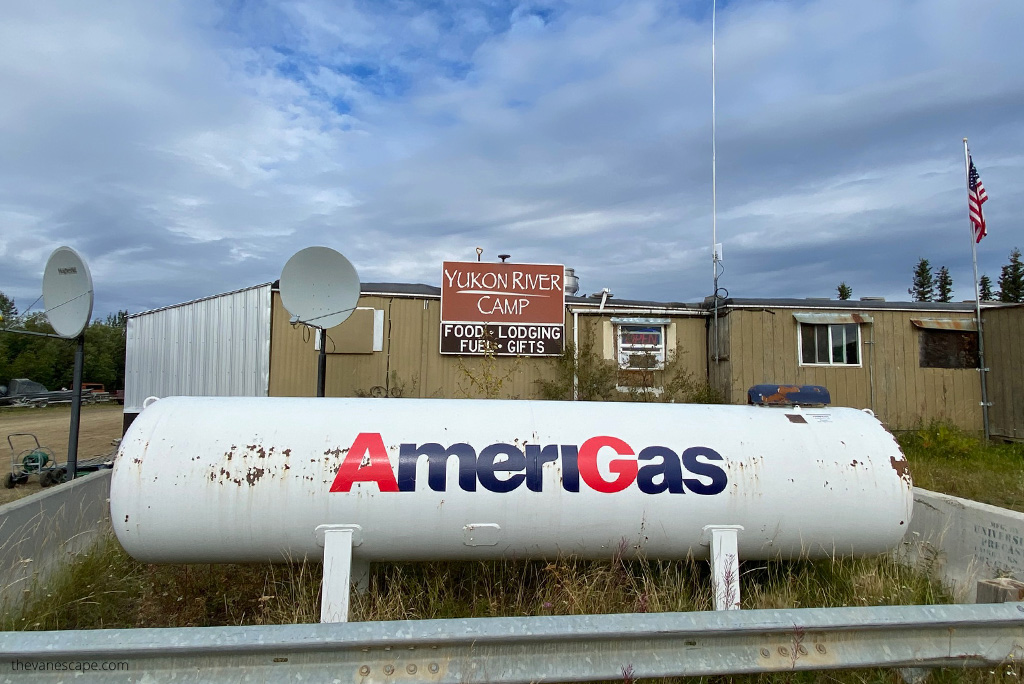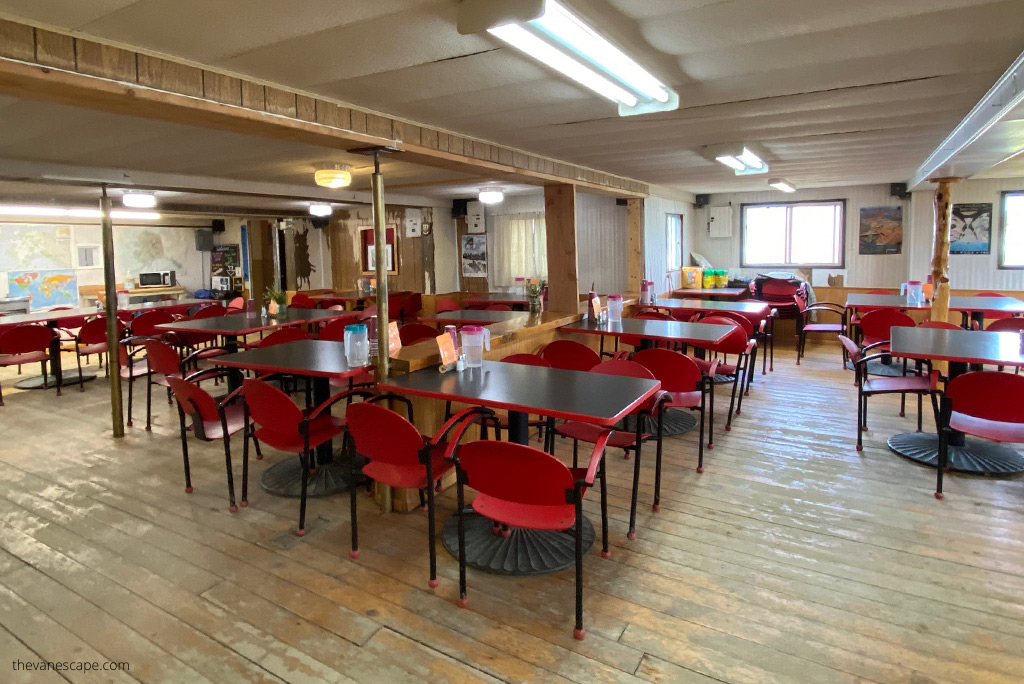 Coldfoot Camp
Location: Milepost 175
We like this place very much because the Coldfoot area has plenty of attractions, including the opportunity to take a scenic flight over the Brooks Range or a trip to the most remote US national park – the Gates of the Arctic National Park. It's also a must-stop along the Dalton Highway, as you can tank there. Next gas is available at Prudhoe Bay. But check out the list of the best things to do in Coldoot to plan your stay.
The rooms at the Inn at Coldfoot Camp are simple and rustic. But they are clean. Because we camped in a tent, we bought access to the room for an hour for a hot shower (yes, they offer such a service, which is great). Both the room, bathroom, and towels were spotless. The water was hot, which is important because the weather was nasty and we were freezing. Rooms have two twin beds and a private bath (shower), a luxury in this remote Arctic region. We also ate breakfast and lunch at their Truckers Cafe a few times. Everything was fresh and delicious. We liked the place and service very much, so we present the details in a separate article. It is also the last place on the route where you can drink beer or wine because of prohibition above mile 175. Book a room on their website.
Moreover, camping is also available at Coldfoot Camp during the summer months and is free of charge. To camp there, check in with the front desk before setting up your tent, and a host will point you toward designated camping areas. Finally, showers are available at Coldfoot Camp for $14 per person.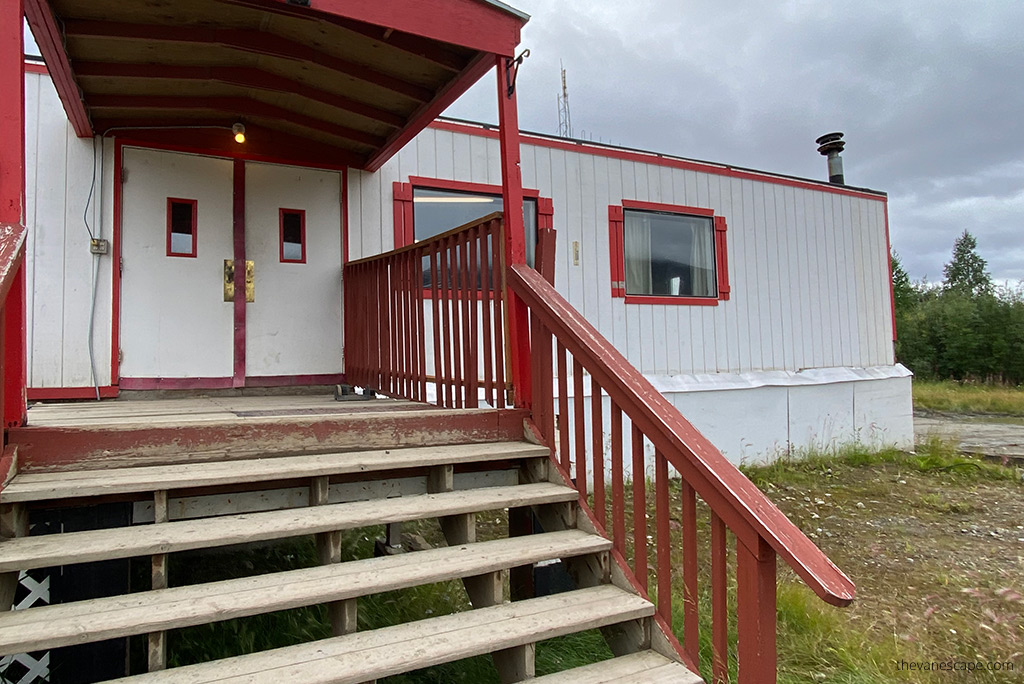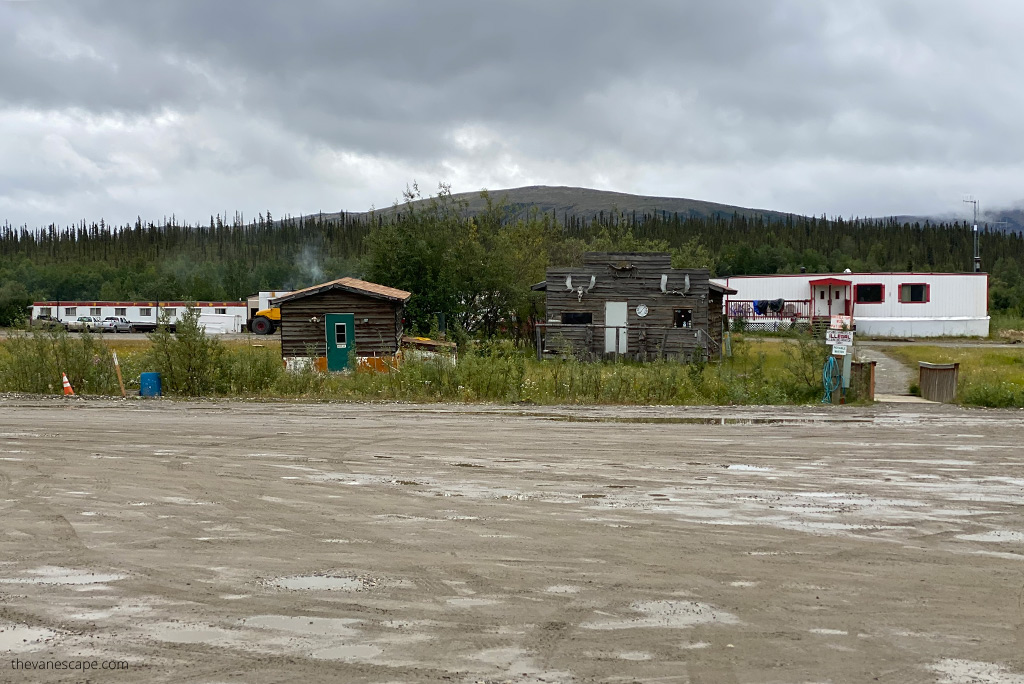 Boreal Lodge and Arctic Getaway in Wiesman
Location: Milepost 189.
This Arctic village of Wiseman is a bit off the highway. But Wiesman has a unique gold mining history, a highly picturesque settlement hidden in the wilderness. It's approximately 50 miles south of the Continental Divide – "halfway to Prudhoe Bay" and the Arctic Ocean. Boreal Lodge offers rooms and cabins in the scenery of Wiseman Creek with beautiful Brooks Mountain Range views. The rooms have two single beds, all linens and towels, and two shared restrooms and shower facilities. They also have a fully functional kitchen and day room. It's a perfect place to chill. Check rates and book your stay.
Also, Arctic Getaway Bed and Breakfast is a great place to stay in Wiseman. They have charming and cozy cabins: Koyukuk Cabin, Aurora Cabin, and Wolverine Cabin.
There are great things to do in Wiseman, so the place is worth your visit, even if you don't plan to stay for a night there.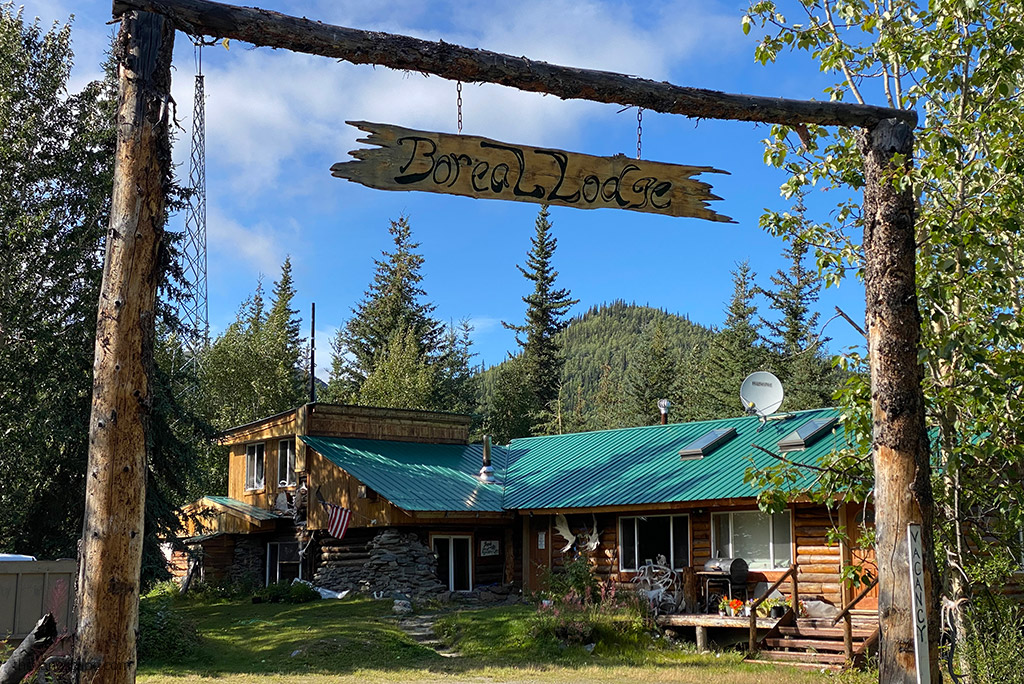 Accommodations in Prudhoe Bay
Location: Milepost 414. Yes, this is the end of Dalton Highway. Check where you can stay for a night.
We must disappoint you if you want to pitch a tent on Prudhoe Bay or the Arctic Ocean. Camping on Dalton Highway on the last stretch of the route is impossible. First, access to the Arctic Ocean is only possible with an authorized tour because it is a private pipeline area, which we write about in a separate article. Secondly, the place is hazardous. We saw a dozen colossal grizzly bears in the Deadhorse in Prudhoe Bay, running between the containers or jumping from the containers. Most men carry guns in case of a bear attack. So choose one of the workers' hotels to rest in before your return journey.
And if you're traveling on a budget – spend the night in the car on the city's outskirts. There are several safe places to stop next to the river. But because of the grizzly bears, don't pitch your tent there. Moreover, the area is very wet.
Deadhorse Camp
We can highly recommend this hotel. It's a place where you can book your Arctic Ocean Shuttle and stay for a night. Accommodations at Deadhorse Camp are industrial and rustic, but the rooms are clean. The rooms have 2 single beds and shared bathrooms and offer simple, clean accommodations for leisure and business travelers alike. Book your stay.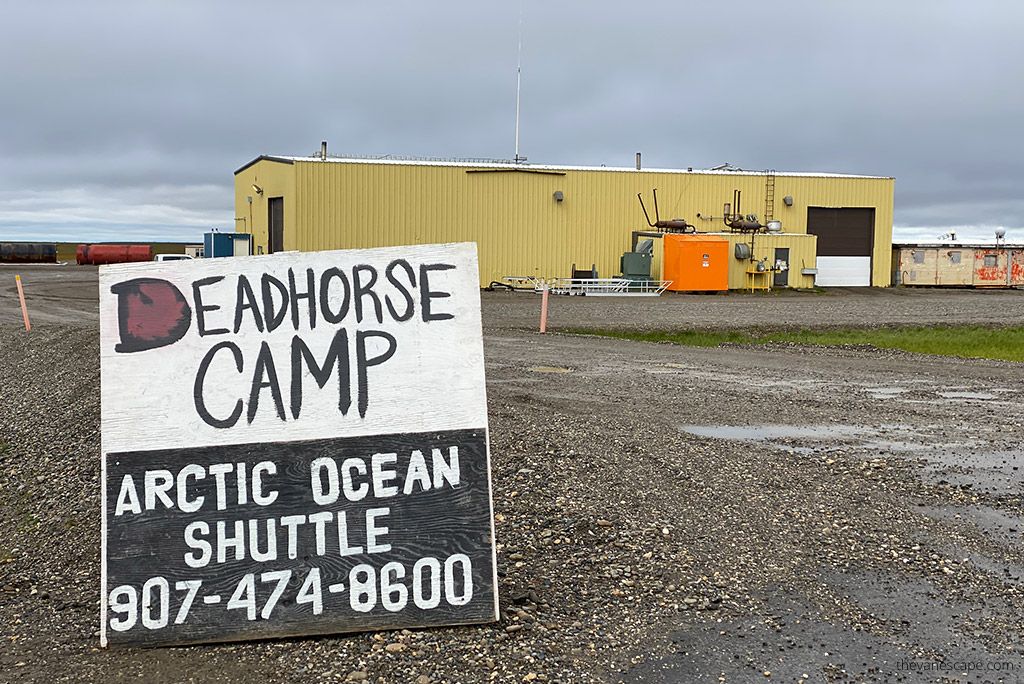 Brooks Camp Hotel
At Brooks Camp Hotel, each room has a private bathroom, apartment-screen TV, and high-speed Internet. Brooks Camp is environmentally friendly and ecologically designed, with single and double rooms to meet various needs. Make reservations on their official website.
Alaska Trip Planning: Alaska is our favorite state; we love it and have had some exciting trips already. So if you're planning your trip, check out our detailed Alaska Packing List (with printable PDF) to prepare for your Alaskan adventures. You can also look at our Alaska 10 Days Itinerary to find ready to go plan. And all of our articles are available here and in the Alaska Travel Planner and Photography Guide.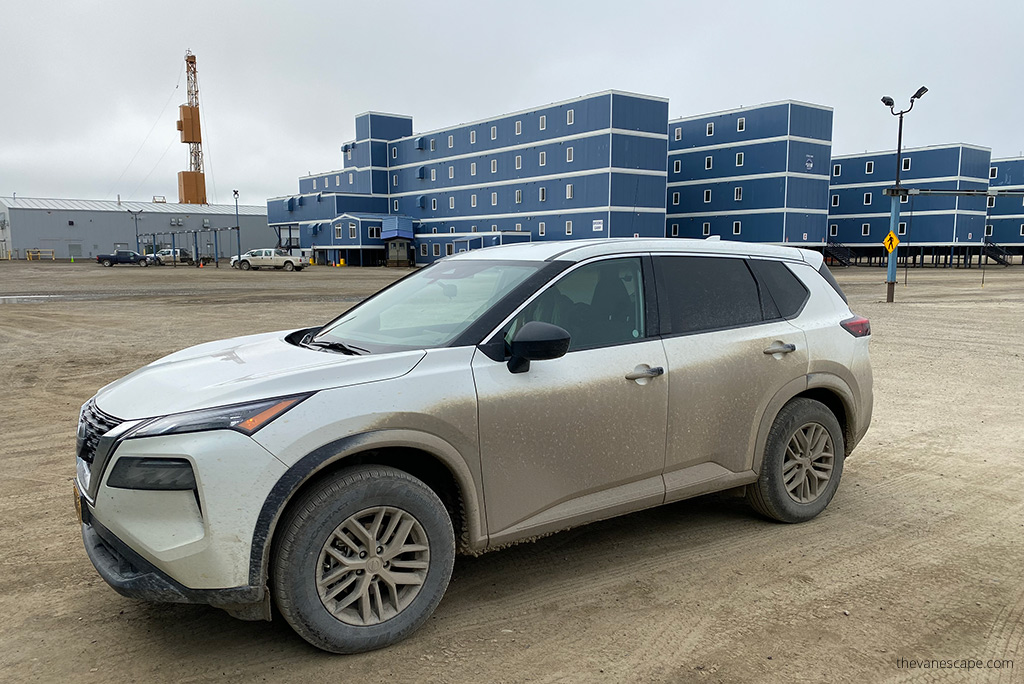 Do you like it? Pin it for later! And share it with the world!