Dalton Highway Alaska Comprehensive Guide
The journey through the Dalton Highway in Alaska is one of the best adventures in the Last Frontier State, but it requires perfect preparation. It's a remote, challenging, and tough road through the Alaskan wilderness. 414 miles one way. With no amenities, with limited services. One of the most dangerous and one of the most isolated roads in North America. This article will find everything you need to know about the Dalton Highway. We will give you many tips and share experiences on how to prepare for this trip to have a fantastic but safe journey.
This article may contain affiliate / compensated links. For full information, please see our disclaimer here.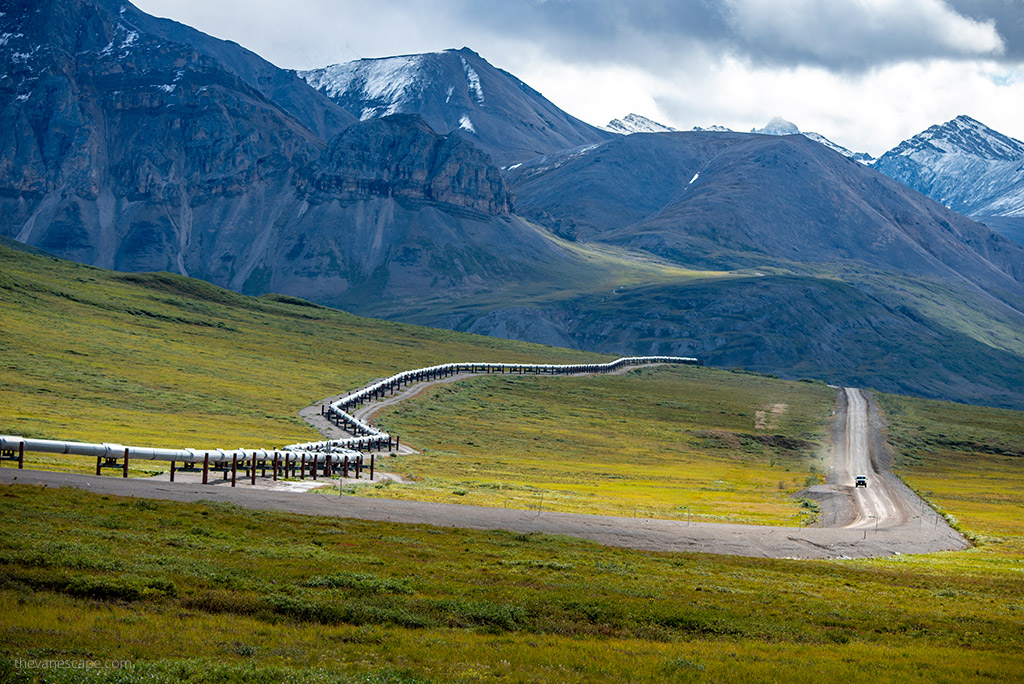 Dalton Highway Alaska Comprehensive Guide – Introduction
What to expect?
Alaskan Dalton Highway stole our hearts. It is extremely challenging, wild, beautiful, and surprising. With great sights along the way, like the Arctic Circle, one of the hardest-to-reach national parks in the U.S., Gates of the Arctic National Park, and the mysterious gold mining town of Wiesman. And with hard-working people – truck drivers at Coldfoot Camp and Prudhoe Bay and the staff of the few services points along the way. It is also a route with the possibility of encountering bears, wolves, moose, caribou, arctic squirrels, and musk-ox. The narrow, mainly gravel road winds through the forest, tundra, and mountains of the Brooks Range. The natural landscape is complemented by a man-made oil pipeline, the sight of which will accompany you on your 414-mile journey. But you must be prepared for a 1,000-mile journey both ways, as services end just after Fairbanks.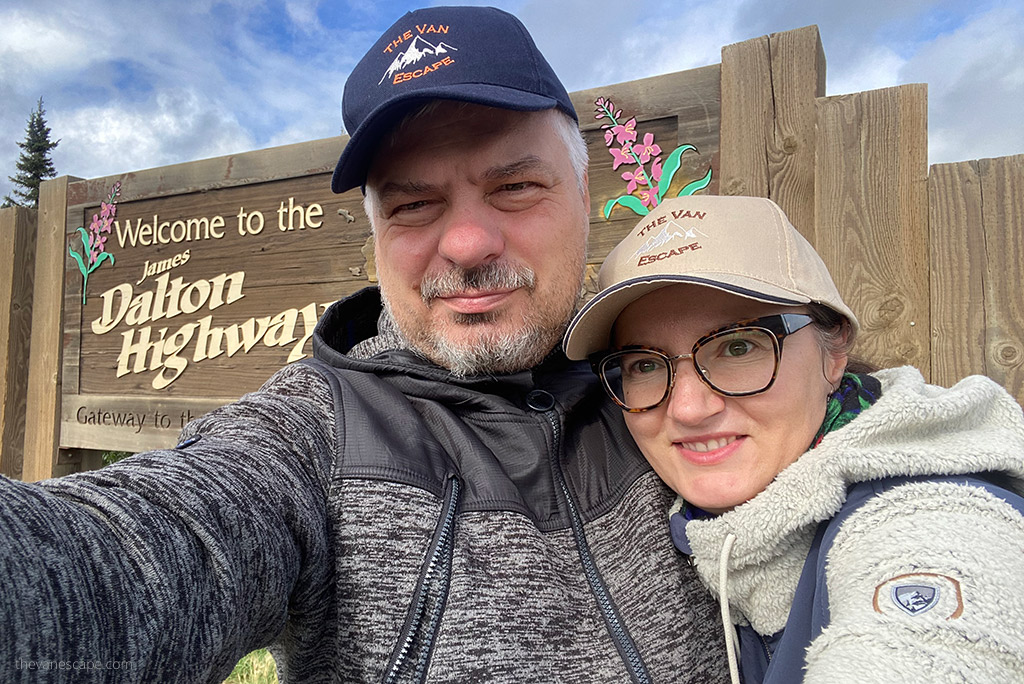 Our experiences?
Before you set off on this journey, check our tips and experiences. One of our summer Alaska road trip goals was crossing the Arctic Circle, reaching Prudhoe Bay, and plunging our feet into the Arctic Ocean. We spent 10 days on Dalton Highway. It's a really tough route. And we've traveled several other roads in America, like the Dempster Highway or the Kahekili Highway. But the Dalton Highway turned out to be the most challenging. If you dream about this route, prepare well for it. Our goal is to help you. This step-by-step guide tells you how to prepare for your Dalton Highway road trip for a great but safe adventure on this isolated Arctic land.
Before you start reading, we invite you to tour Dalton briefly. Our video is less than 3 minutes long. You will see what to expect. Enjoy!
Few parts of the Dalton Highway Alaska Comprehensive Guide
First Part – The Essential Info about the Dalton Highway to Plan a Trip
Our guide consists of several parts. This is part one – the introduction to the planning of the Dalton Highway trip. You will learn where Dalton starts and ends, what is the best maps for this route, what company to rent a car from, where to refuel along the way, and more. We tell you the most exciting facts about this road's history, the Alaska pipeline system, Dalton Highway road conditions, and why this road is so dangerous. Use the table of contents for straightforward navigation.
Second Part – Safety Tips
In the second part of the guide: Dalton Highway Safety Tips, we focus on specific preparations for the travel: how and what to equip the car, what to pack, and what are the safety rules on Dalton. We also tell you how to plan a budget for this trip, and how much we paid for fuel in Coldfoot and Deadhorse. Check our article with safety tips if you plan to drive the Dalton.
Third Part – Camping on Dalton Highway
In part three, you will learn all the details about Dalton Highway Camping, as it is quite a challenge to find a safe place to stay on this wild and uninhabited route. We will show you all campgrounds, public BLM lands, and hotels, and cabins along the route.
Fourth Part – Best Stops on Haul Road
We also prepared for you detailed articles with lots of tips and inspirations about the most exciting stops along the Dalton Highway. They are: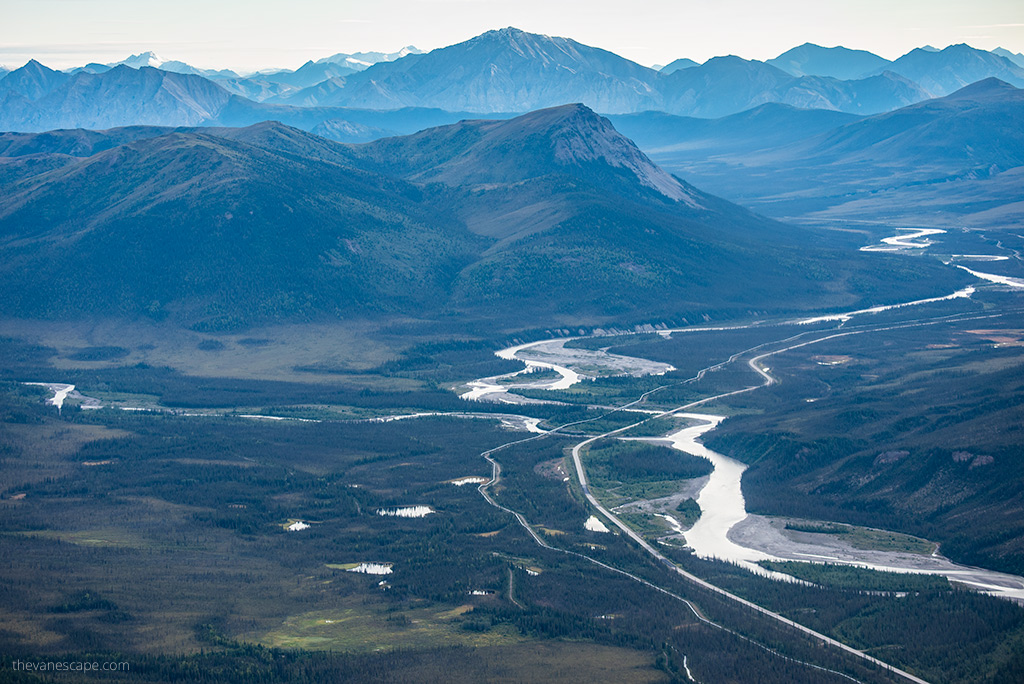 Where is Dalton Highway?
Where does the Dalton Highway start and end?
Alaska Route 11, known as James W. Dalton Highway or North Slope Haul Road, runs through the north of Alaska. The Dalton Highway starts 84 miles (134 km) north of Fairbanks, in Livengood, on Elliot Highway. It ends 414 miles (666 km) further north at Deadhorse and the oilfields of Prudhoe Bay, a few miles short of the Arctic Ocean.
How long is the Dalton Highway?
The Dalton Highway is 414 miles (666 km) long. For most of its length, you will see no towns, comfortable hotels or restaurants, services, or stores. In addition, you have no reception most of the time. But you must be prepared for a 1,000-mile journey both ways, as services end just after Fairbanks. Between Fairbanks and Deadhorse, services and facilitates are extremely limited, so keep that in mind when planning a trip.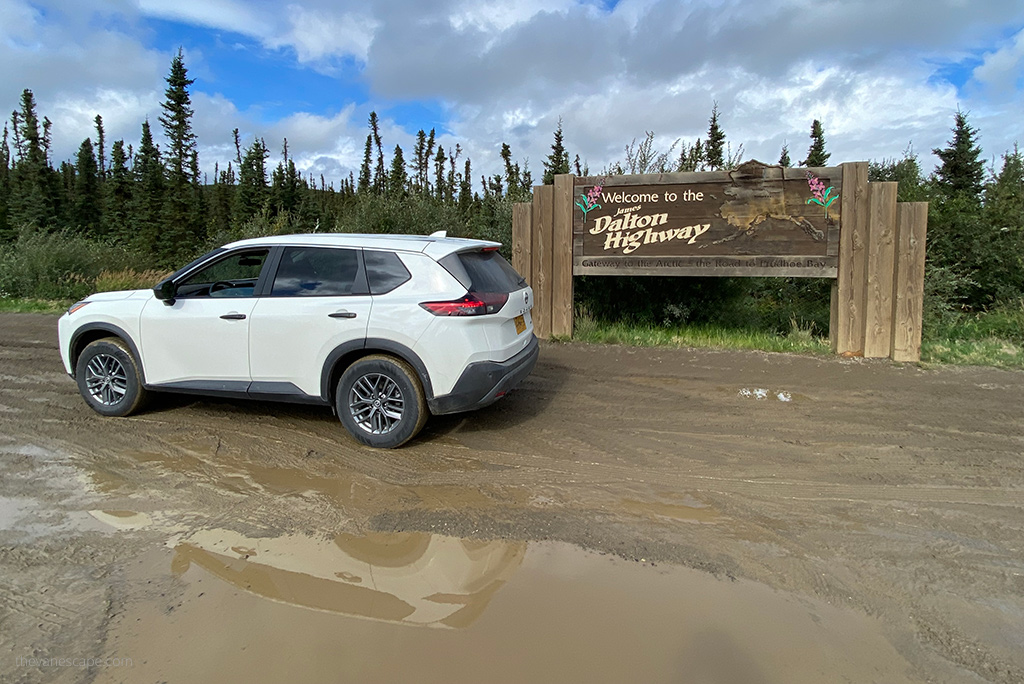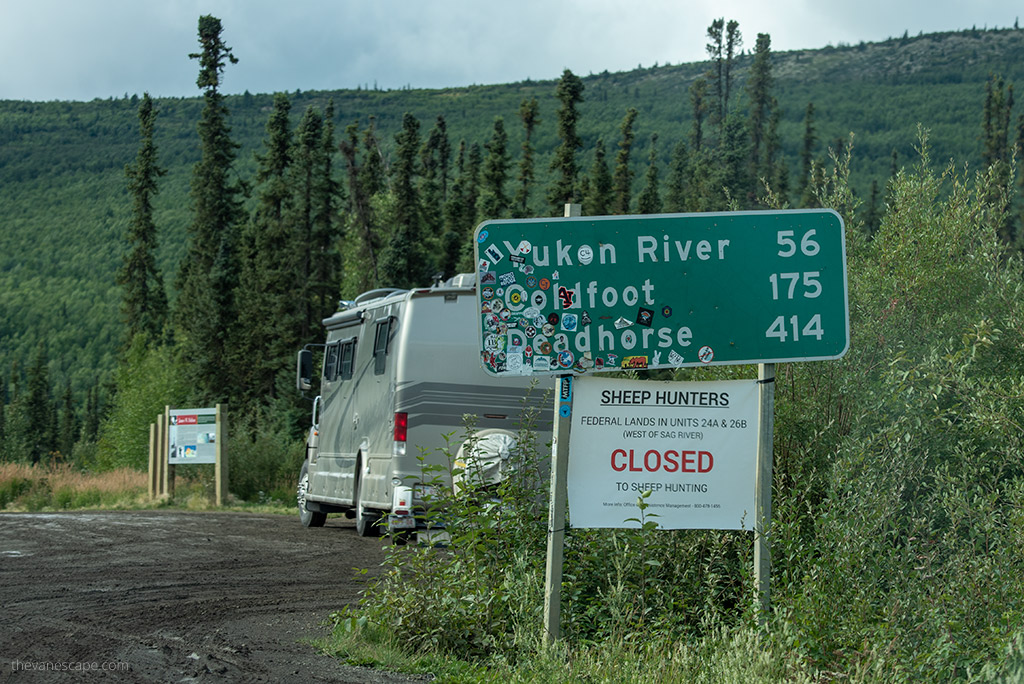 Dalton Highway Directions from Fairbanks
From Fairbanks, drive north on the Elliot Highway (AK-11). At Milepost 73.1, stay right to get on the Dalton Highway.
Short History of Dalton Highway
Discovery of Oil in the north of Alaska
In 1968, oil was discovered in Prudhoe Bay on the North Slope of Alaska, on the coast of the Arctic Ocean. It was a significant discovery that initiated the construction of the Trans-Alaska Pipeline. But the weather conditions in the remote Arctic regions, the harsh land, and the mountains made this project a major challenge.
Trans-Alaska Pipeline System and Haul Road
Construction of the road began on April 29, 1974, and was completed five months later, an impressive feat given the length of the highway and rugged terrain through the mountains and Arctic. The Trans-Alaska Pipeline System was completed in three years – 1974 -1977. It's a pipeline that follows parallel to the entire Dalton Highway and then keeps going to the south to the Valdez Harbor. From the Arctic Ocean to the Gulf of Alaska.
The Dalton Highway was built as a transportation route between the Yukon River and Prudhoe Bay during the construction of the Trans-Alaska Pipeline. It was initially called the North Slope Haul Road. According to the BLM, everything that supported oil production was "hauled" to its final destination on tractor-trailer rings.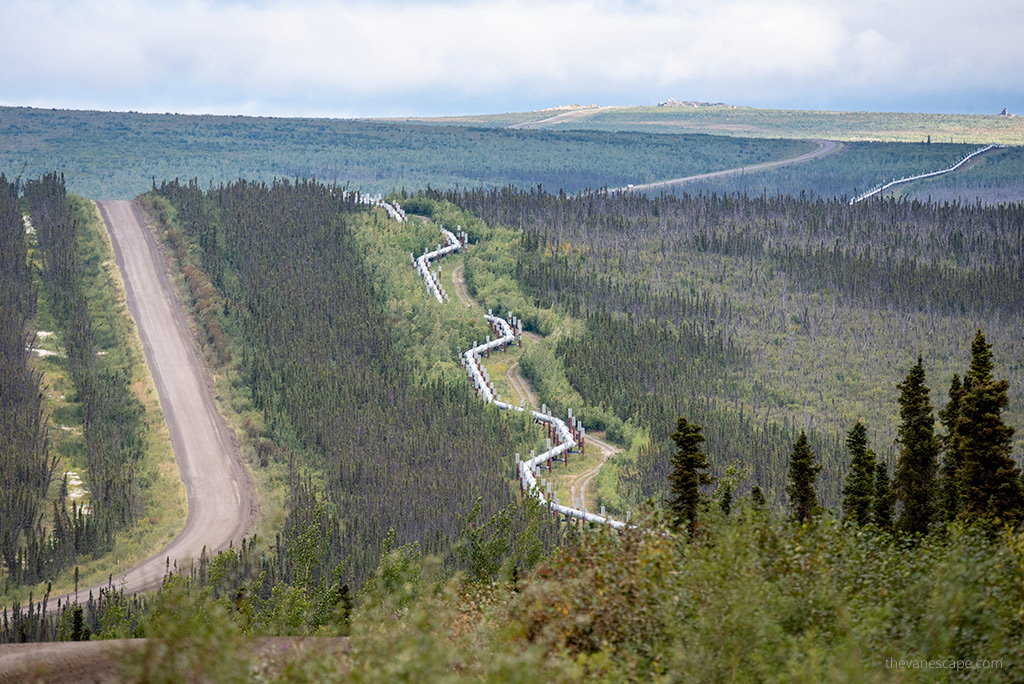 Who was James W. Dalton?
In 1981 State of Alaska changed the name of the route from North Slope Haul Road to Dalton Highway. The highway is named for James William Dalton, an Alaskan engineer who was involved in early oil exploration on the North Slope. He also supervised the construction of the Distant Early Warning Line in Alaska.
Public access to Dalton Highway
In 1994, the road was allowed public access. Driving Dalton it's a huge challenge, the route tough and it is traversed by huge fast trucks. Since 1994 you can reach Deadhorse. But read our Dalton Highway Safety Tips to prepare your car and yourself for this adventure.
The Dalton Highway doesn't lead you to the Arctic Ocean. However, looking at the map, you might think you have reached it. The road is closed for public access 8 miles (13 km) before the coast. The only way to get to the Arctic Ocean is by taking a shuttle (below for more details) from Deadhorse to the shore. Only one road in America can be used to reach the Arctic Ocean by car. It is the Dempster Highway in Canada, leading to Tuktoyaktuk, which we also drove a few years ago.
The Popularity of the World's Most Dangerous Roads
Dalton Highway is considered to be one of the most dangerous and isolated roads on the planet. It was the subject of the first episode of the BBC's World's Most Dangerous Roads series. This road and most of all the Dalton Highway truck drivers were also the topics of the series America's Toughest Jobs and Ice Road Truckers a reality television series.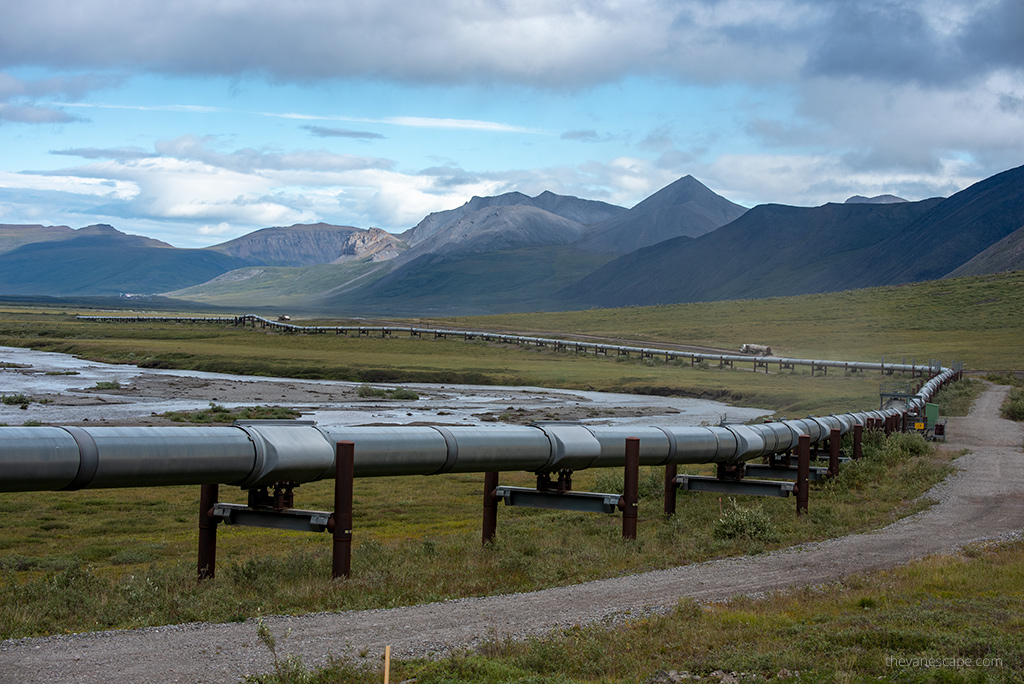 Dalton Highway Road Conditions
Why is the Dalton Highway so dangerous?
Dalton Highway road conditions are extremely hazardous. There are a lot of dangerous roads in the world. But the danger on the Dalton Highway is influenced by many factors, natural and human. You cannot predict many of them. For current road conditions check the website 511.alaska.gov
No facilities and limited services
No medical facilities (public or emergency) along the Dalton Highway exist. In case of an accident, you cannot count on medical assistance.
It's a 414 miles road with no stores or groceries, no car repair services, and no banks.
It's a road with limited phone coverage and limited internet access (actually, there was no internet during most of our travel. In our article – Dalton Highway Safety Tips, we provide details about coverage).
There are limited potable water points along the route.
Also, is a limited number of gas stations (there are only three places on the entire Dalton Highway where you can tank). You must be prepared to be self-sufficient in everything and also equip your car to be self-sufficient.
The highway does not have exits, making it very hard for drivers to access emergency services in case of an accident.
Also, there are no public services at the Department of Transportation maintenance stations or Alyeska Pipeline Service Company pump stations.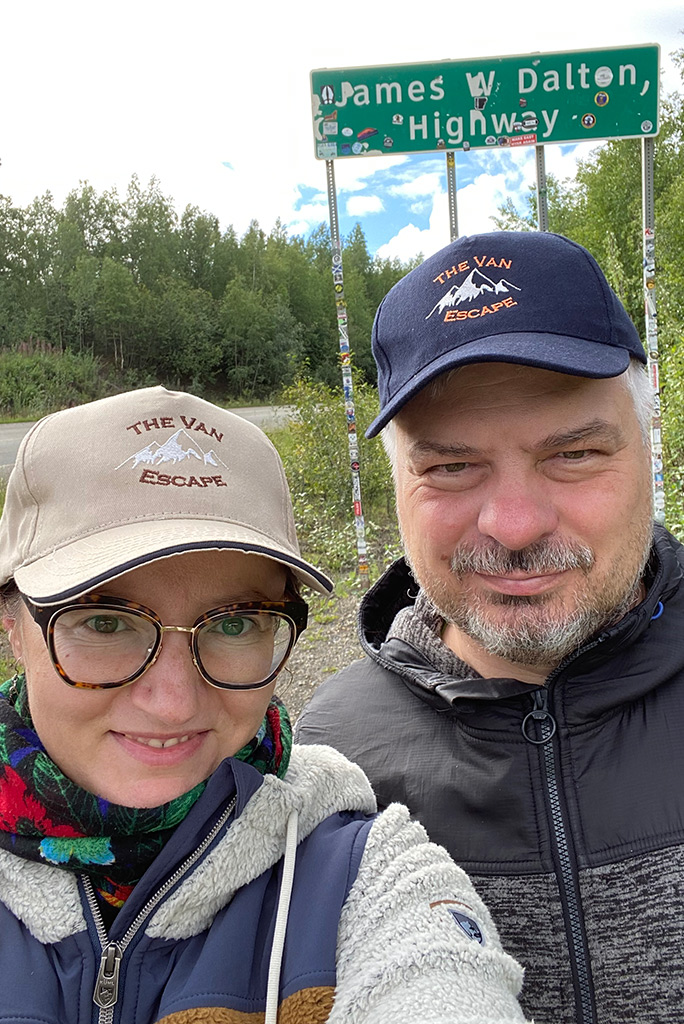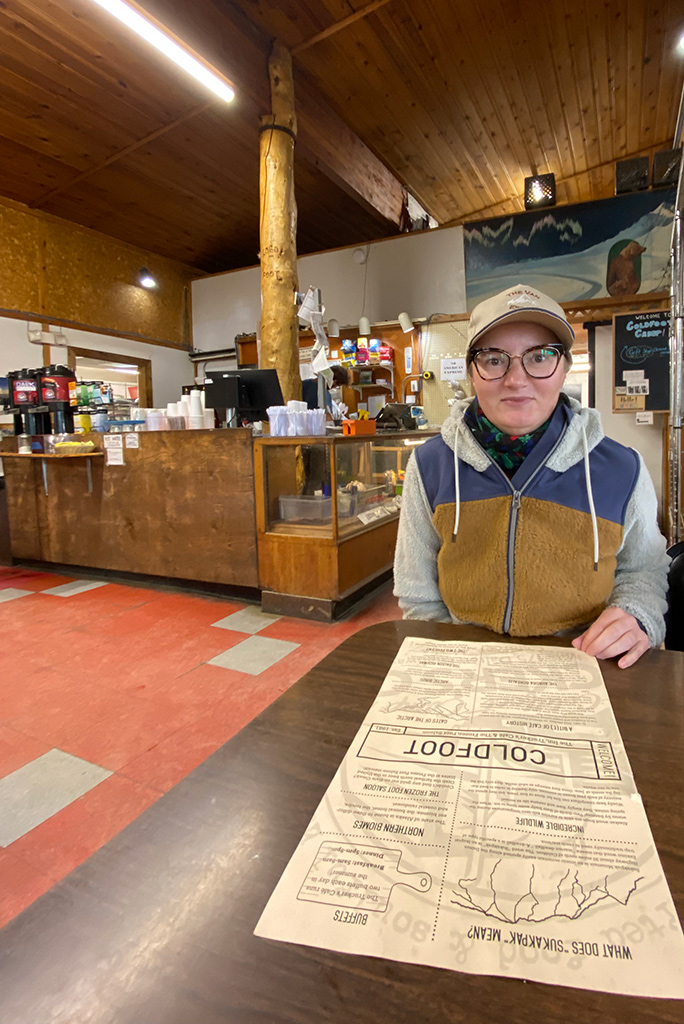 The road surface
The surface of Dalton Highway is very uneven. There is a lot of gravel, pebbles, and sharp rocks.
There are many holes and bumps, bends, slopes, steep hills, and high embankments.
Also, there are quite a few steep grades (up to 12%-16%) along the route, as well.
The road is narrow and has soft shoulders. There is a limited possibility of stopping or driving on the side of the road in an emergency, as there is no space on the road for stopping.
Visibility on the road is often reduced due to bad weather or due to dust behind the trucks. It's easy to miss a hole in the road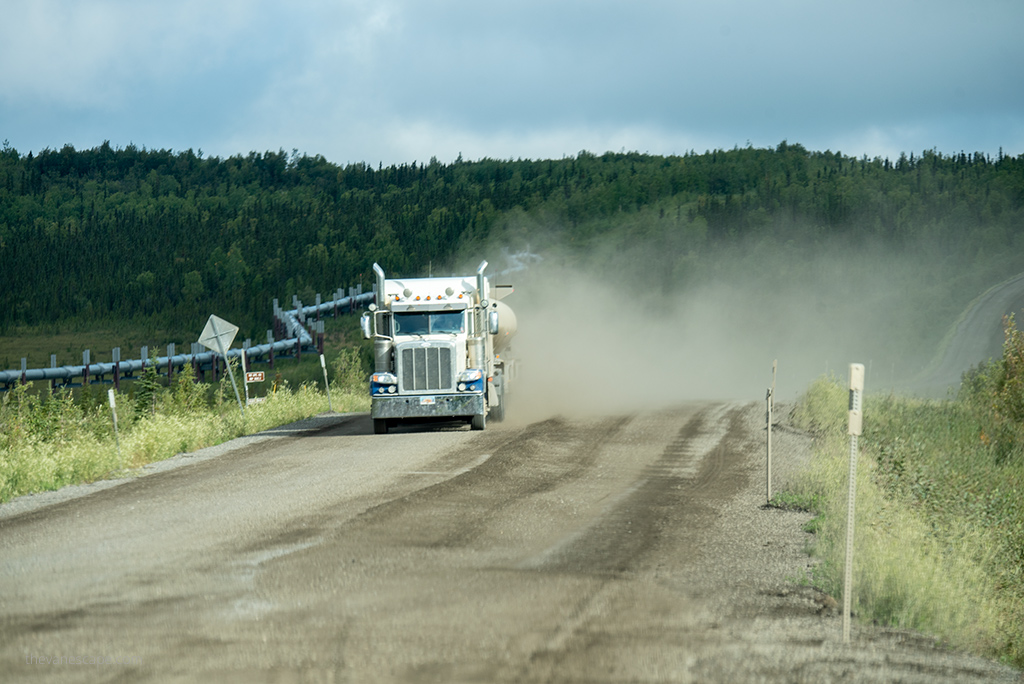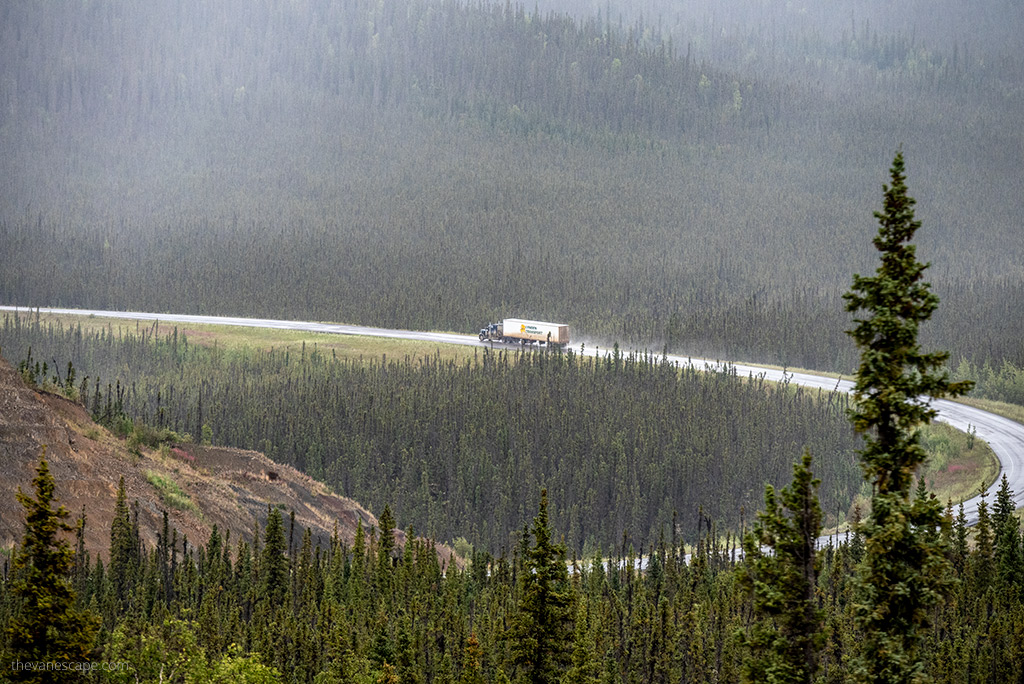 Unpredictable weather and sudden weather changes
The weather can change in minutes, making your driving dangerous or impossible. We experienced sun, rain, snow, slick mud, fog, and frost. And all this at the beginning of August. You must be prepared for all road conditions (no matter what the weather forecast is). Winter is much worse, and winter travel is no recommended by BLM.
Snow and ice, and temperature drops are standard even in summer, especially on the North Slope, Brooks Range, and Atigun Pass.
Local flash floods (especially after heavy rains in summer) and wildfires are also threat while driving Dalton Highway.
Hundreds of oversized trucks
Hundreds of giant oversized trucks travel this route every day. We have never crossed the route on which we met so many trucks. This forces the driver to be extremely careful. Big trucks and road maintenance equipment have the right of way. Trucks have a very long breaking distance. There is no possibility of slowing on the road to take pictures or stopping on the road for photos. You must drive all the time at the proper speed.
Small pebbles and gravel from the tires of heavy and oversized trucks can damage your windshield. So please read our safety tips for driving the Dalton Highway too.
Behind the trucks, there is also a lot of dust or mud that can significantly reduce your visibility or even blind you.
Wildlife on Dalton
The road is full of wildlife. At any time, wild animals, a herd of caribou, moose, bear, or coyote, may jump on the road. At any time, wild animals, a herd of caribou, moose, bear, or coyote, may jump on the road. Wild animals are also a threat during camping. So read our Dalton Highway Camping tips to find out how to be safe in a bear country, how to avoid contact with wild animals, not approach them, and respect them.
Is Dalton Highway paved?
Much of the Dalton Highway is unpaved. Road Surface is 25% paved and 75% gravel. If you plan this trip, make sure to bring two spare tires. A mile-by-mile description of which parts are gravel, and which sections you need to be especially careful with ruts, dangerous shoulder bends, or slopes you will find at Milepost.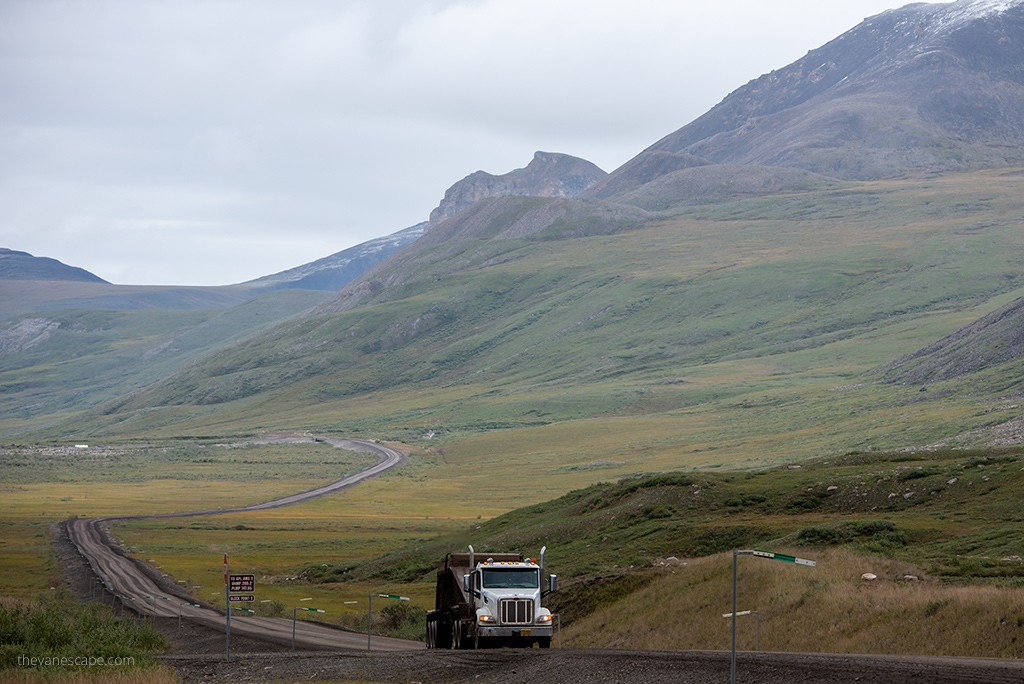 8 rules for Dalton Highway
The BLM provides 8 basic rules you must follow while driving the Dalton Highway. But also read our Dalton Highway Safety Tips article to prepare for this adventure. The rules on the Dalton are:

big trucks and road maintenance crews have the right of way,
always drive with your headlights on,
keep your headlights and taillights clean so they are clearly visible,
stay on the right side of the road,
do not stop on bridges, hills, or curves,
check your rearview mirror regularly,
if you see wildlife, pull over in a safe place before stopping,
slow down when passing other vehicles (especially bicyclists and motorcyclists) to reduce the risk of getting hit with mud or flying rocks from your tires.
The Best Dalton Highway Map
The Milepost
One of the best sources which describe the Dalton Highway mile by mile is Milepost. We have been using it for years while traveling in Alaska and Canada. It is over 700 pages, so it is worth buying the electronic version and downloading the mobile version to the phone before your adventure. But it's required to purchase a paper version to get access to the mobile version. Now is available the newest edition The MILEPOST 2023. With the pre-order price is guaranteed.
The BLM map and guide
Another great source of knowledge about the Dalton Highway is the free maps available for download from the BLM website. BLM manages the public lands along the route from the Yukon River to the north side of the Brooks Range. The map has two parts: a georeferenced PDF Map of the Dalton Highway Corridor – Fairbanks to Coldfoot. The second part is from Coldfoot to Deadhorse. The map includes attractions, viewpoints, wildlife refuges, hiking trails, milestones, streams and rivers, restrooms, gas stations, lodging, campgrounds, and other points of interest to travelers on Dalton Highway. You can also download a free PDF guide with a lot of useful information about traveling on the Dalton Highway.
Dalton Highway Car Rental
Renting a car to drive the Dalton Highway is not so easy. Most rental companies do not allow access to the Dalton Highway. It is an industrial road in poor condition, built to facilitate the pipeline's construction. Truckers mainly use it in oversized trucks carrying supplies to oilfield workers at the Deadhorse camp on Prudhoe Bay. And the drive through Dalton is tough. It's graveled chiefly roads, steep and slippery in places and muddy in others. There are many trucks, and it happens that a stone thrown from under the truck tire will damage the windshield.
When renting a car for Dalton Highway, you must mention it with the rental company, as driving gravel roads requires additional car equipment and insurance. You can rent a car for Dalton Highway in Fairbanks from:
Before our trip, we thoroughly researched all car rental companies for the Dalton Highway and checked their terms and prices. We decided to rent a car from Alaska Auto Rental, which worked out great. We got a good car, well prepared for this route, and the service was on the highest level. Check out our detailed review and photos.

Best Time to Drive the Dalton Highway
Dalton Highway is open to the public, and it's open year-round. But it's a rough and challenging road, with no amenities and almost no services, so you must prepare excellently for this adventure. There is no public access to the Arctic Ocean from Prudhoe Bay. You must purchase an authorized shuttle. Summer months are the best for this challenging drive.
Can you drive the Dalton Highway in Summer?
You can drive Haul Road in the summer. We made our road trip at the beginning of August. And on this route, we experienced all seasons of the year. We experienced sun, rain, snow, first frosts, storm, and fog. And all this in just ten days of travel. Road conditions varied from very good to extremely hard. However, summer is the best time for driving on Dalton Highway. The temperatures are pleasant, nature delights with its diversity, and you can observe many wild animals and birds.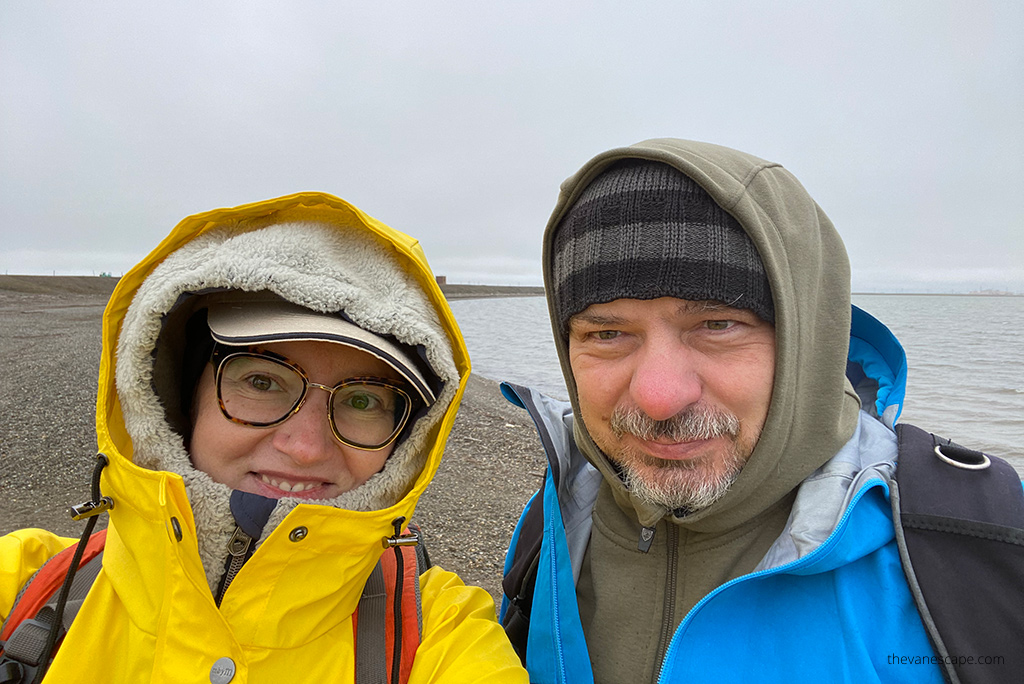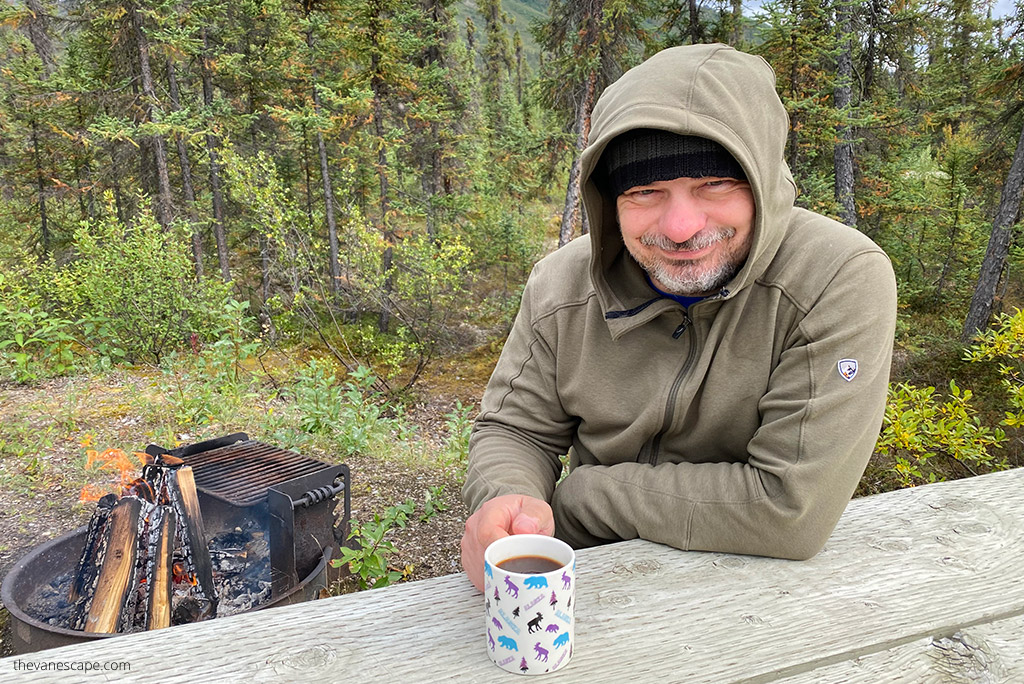 In late May, thousands of birds are migrating, so if you are interested in bird watching, choose this month. But be prepared for harsh conditions, as there is still a lot of snow on the route. June and July are the days of the blooming of wildflowers and caribou migration. June and July are also drier months, but rainy days are frequent throughout the summer. In July and August, it is also easy to encounter bears, moose, squirrels, or musk-ox. From mid-August, you have the chance to see the Aurora Borealis. Autumn colors also begin in mid-August. You can admire fall colors until the end of September. Unless winter starts at the end of August and the first snow falls.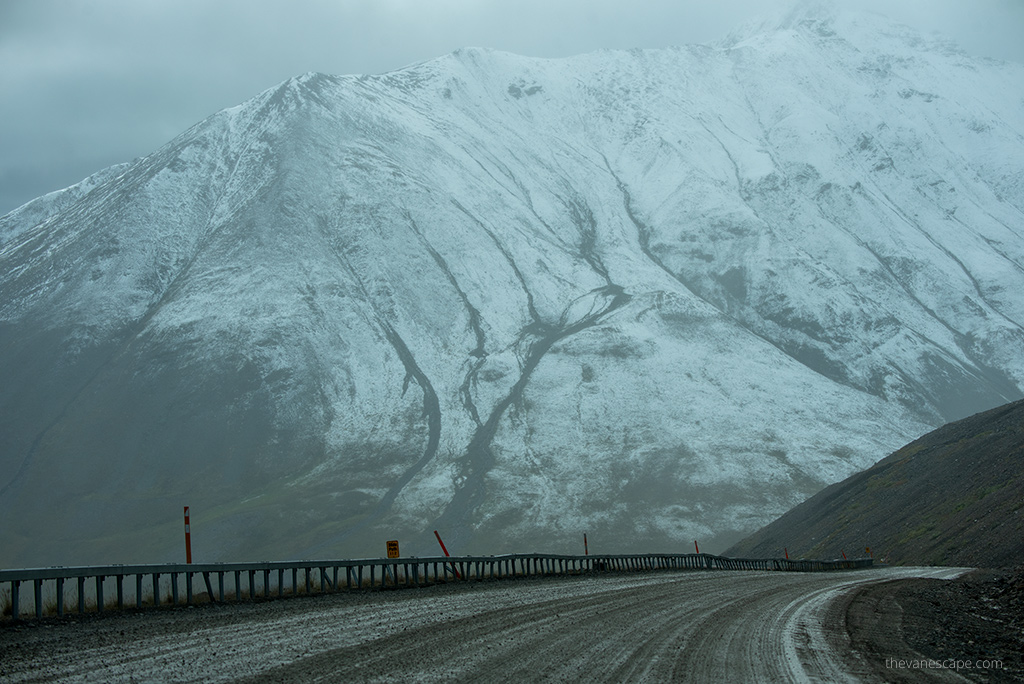 Weather and Temperatures on Dalton Highway Alaska in Summer
In August 2022, we experienced almost all seasons on Dalton and nearly all road conditions. We had completely different weather forecasts. Therefore, regardless of the weather forecast, you must be prepared for all situations: rain, snow, fog, mud, wind, and ice. Everything is possible on Dalton Highway.
On the hottest day during our Dalton trip, we had 68°F (20°C). Mornings were cool, around 41-45°F ( 5-7°C). The average temperature during the day was 59-65°F (15-18°C). Our coldest and windiest morning was in Deadhorse when we drove with an authorized tour to the Arctic Ocean to 34°F (1°C). There was also a frost at the Atigun Pass the night before our trip to the Arctic Ocean at 30,2°F (-1°C).
In Deadhorse, at Prudhoe Bay, average summer temperatures are in the 30s and 40s°F (0-5°C). Average temperatures south of the Brooks Range and in Coldfoot during Summer are 50s°F (10-15°C).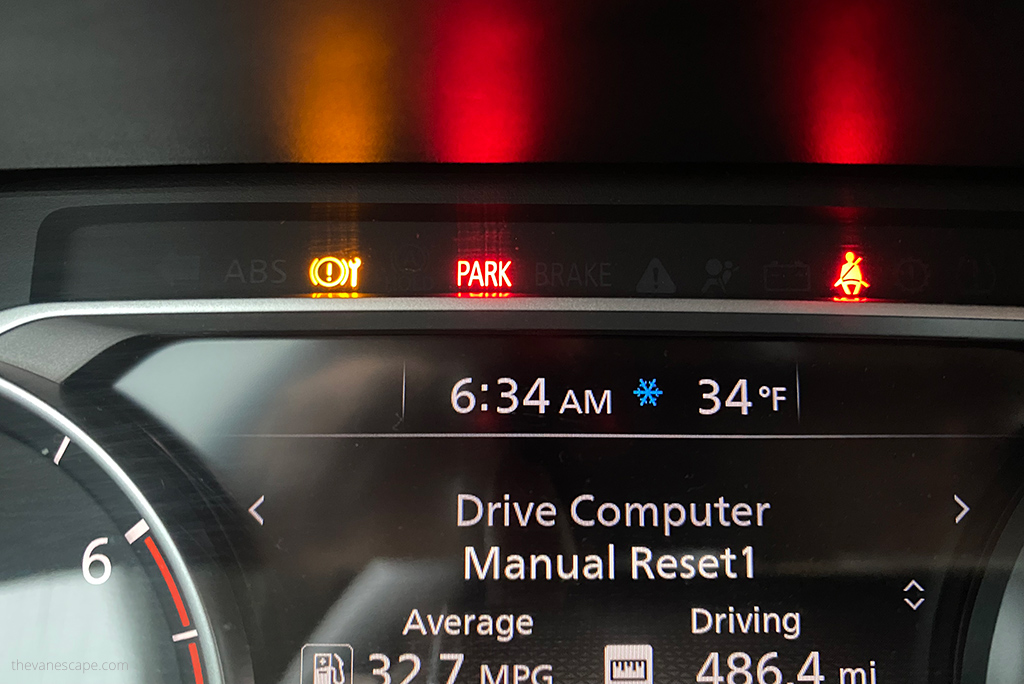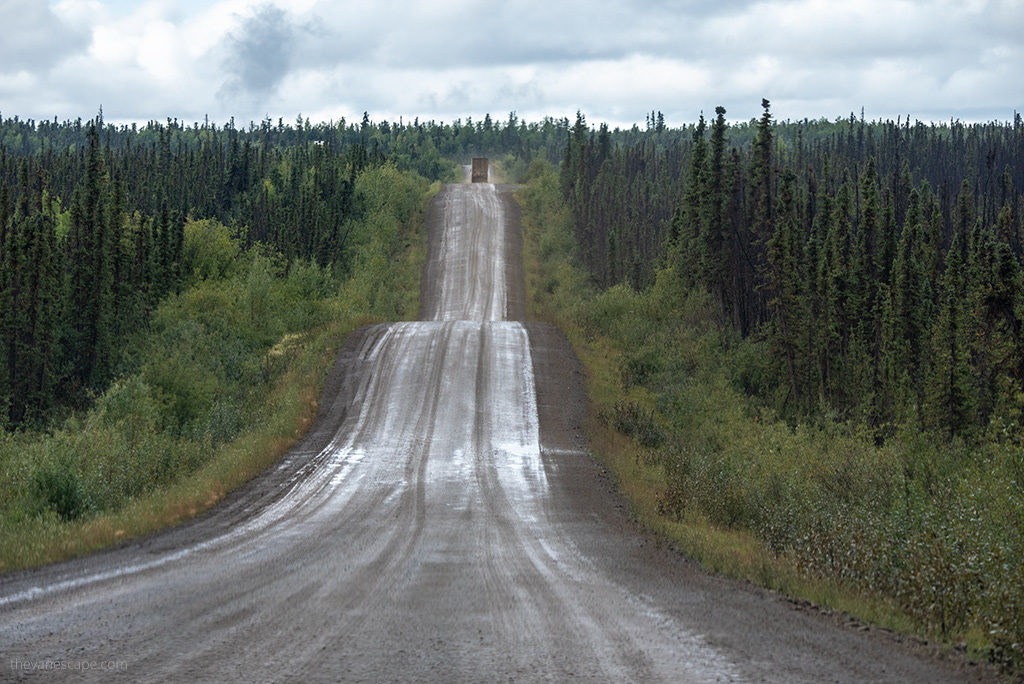 Summer Solstice
Summer is also a great time to visit as the sun hardly ever sets. It is a very long day. Summer solstice at the Arctic Circle is fantastic, as the sun doesn't set! This is the place where the sun does­n't set on sum­mer sol­stice and does­n't rise on win­ter sol­stice. From 21 of June, the day is very long. During our trip in August, even at 1 am was bright, and the visibility was excellent. So traveling between June 21 and mid-August is perfect as you have long days. The summer solstice also makes spending the night in this wilderness and emptiness easier.
Can you drive the Dalton Highway in Alaska in Winter?
BLM does not advise travel between October and April. But the Dalton Highway remains open in winter. However, winter driving conditions are hazardous. Moreover, winter temperatures are extremely low, dropping even -70°F (-57°C). The coldest temperature ever recorded in the United States was -80°F (-62°C) at Prospect Camp, 39 miles south of Coldfoot in 1971. On January 28, 2012, an unofficial temperature of -79°F (-62°C) was recorded at the nearby Jim River Maintenance Station. Then the weather station battery died.
Snow, frost, and powerful winds can make it impossible to travel. The road surface and conditions can be extremely dangerous. In winter, this route is still traversed by huge trucks delivering supplies to the Deadhorse and oilfields. They cannot slow down in time if you suddenly stop on the road. We experienced terrible weather on this route in summer for two days, and we know how difficult it can be to drive. So, we do not recommend a winter trip. Of course, some daredevils have traveled this route in winter. But because we made this trip in the summer, we give you only tips for summer adventure based on our experiences.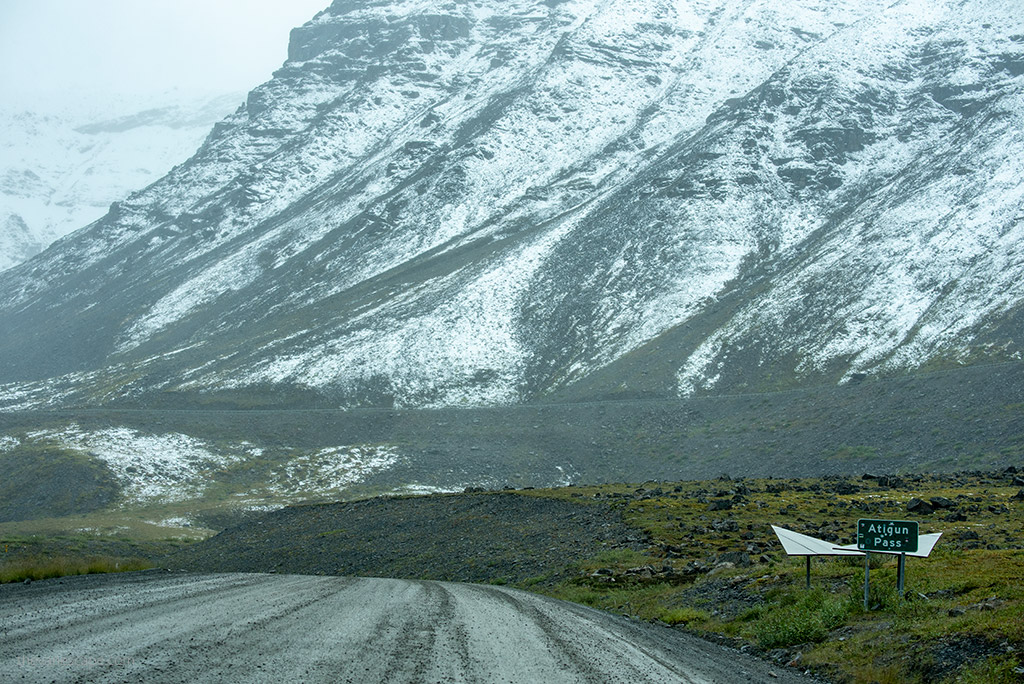 How Long Does it Take to Drive the Dalton Highway?
It all depends on the weather, conditions on the road, and what goals you have. Do you just want to drive this route? Or do you also want to experience this one of the world's most lonely and distant roads? We spent 10 days on Dalton Highway to experience its beauty and wildness and get to know the attractions. Our goal was also to see the Gates of the Arctic National Park.
But we know that not everyone has so much time, so we have prepared a 7-day Dalton Highway itinerary, day after day, with the most exciting attractions and things to do along the way.
We think the minimum time you should reserve for the roundtrip safe drive on Dalton Highway is at least four days. Assuming that the weather will be good and favorable to the drive. If you don't have that much time, consider a drive to the Arctic Circle only as a one-day trip from Fairbanks. Or consider an organized trip with an experienced driver and guide from Fairbanks to the Arctic Circle or from Fairbanks to Prudhoe Bay. Another option to see Dalton Highway is the scenic flight from Fairbanks. If you want to reach only the Arctic Circle, which is a great adventure, check out the best Arctic Circle trip from Fairbanks.
The approximate driving time from Fairbanks to Prudhoe Bay without stops
Yukon River – 3 hours
Arctic Circle – 5 hours
Coldfoot – 6 hours
Antigun Pass – 8 hours
Deadhorse – 14 hours
Dalton Highway Gas Stations
Driving the Dalton Highway is a challenge not only because of the difficult driving conditions. One of the biggest problems on this route is access to gasoline. As there is no easy access. There are only three places with gas stations on the entire Dalton Highway where you can refuel. In addition, it will be the most expensive gasoline in the United States! You will travel 414 miles one way along the pipeline that transports over 700,000 barrels of oil per day, but there are only three fuel stops. What's more, you will pay at least $3 more per gallon than the national average. Include this carefully in your budget for Dalton Highway.
It's a good idea to pack an extra tank with fuel. Also, before you leave Fairbanks, refuel the tank, and then fill it up to full at each station. Hilltop Truck Stop in Fox is the last gas station when you leave the Fairbanks area. It's located on Elliot Highway 16 miles north of Fairbanks.
There are only three places with gas stations along the Dalton Highway
Yukon River Crossing (Mile 56; only open from Mid-May to Mid-September)
Deadhorse (Mile 414; gasoline is available from three stations).
Dalton Highway Camping & Lodging
Another topic you need to consider when planning your trip through the Dalton Highway is accommodation. This is an adventure for people who like challenges and do not mind the lack of amenities, warm water, or a comfortable bed. There are only a few places on the route where you can stay overnight.
Lodges on Dalton Highway Alaska
If you dream about a comfy and soft bed along the way, you don't have too many choices. First, you must book your room months in advance, and secondly, the prices are pretty high in this remote area. And don't expect a high standard.
You will find lodges at Yukon River Camp, Coldfoot Camp, and in the charming Arctic town of Wiseman (Arctic Getaway and Boreal Lodging). Few hotels you will find in Deadhorse at Prudhoe Bay—details we provide in a separate article, about camping along the Dalton Highway.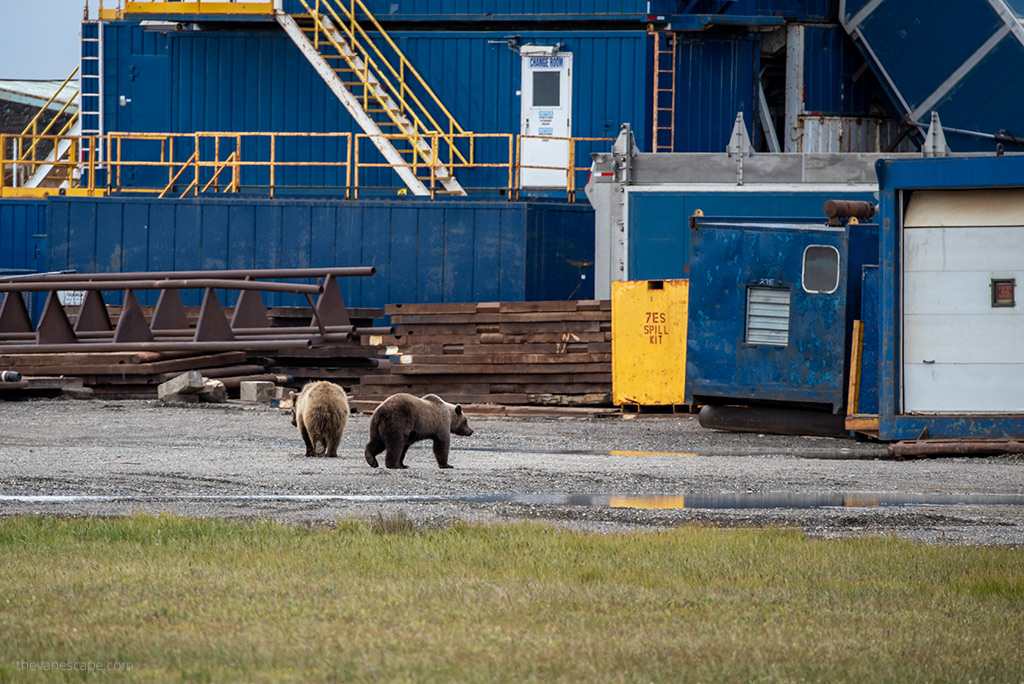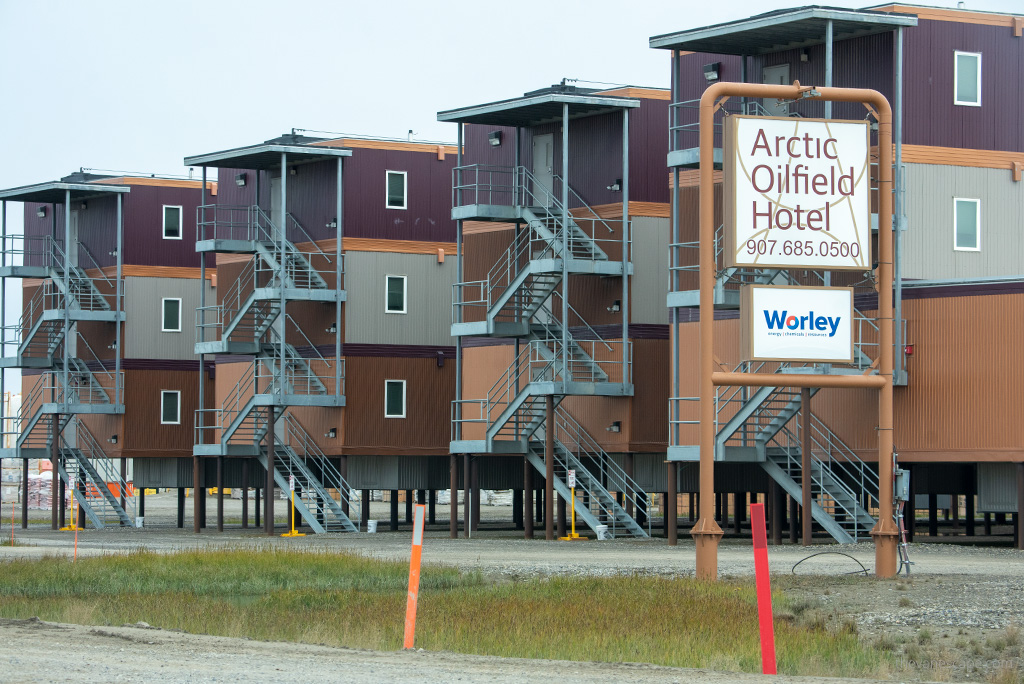 Campgrounds on Dalton Highway Alaska
If you are traveling in an RV or planning to sleep in a tent (as we did), you can stop at four campgrounds managed by BLM. There are no electricity and no bathrooms with showers. They only have vault toilets, and 3 have potable water—more details and photos you can find in our article Dalton Highway Camping.
Five Mile Campground – at Milepost 60
Arctic Circle Campground – at Milepost 115
Marion Creek Campground – at Milepost 180 (5 miles north of Coldfoot)
Galbraith Lake Campground – at Milepost 275
Camping on Public Lands
You can also pitch your tent or park your RV on public lands managed by BLM. However, as long as you stop at a safe distance from the road without endangering the traffic on the road or obstructing it. It would be best to park well off the road, as passing vehicles can fling rocks more than 30 feet (9 m) off the highway. And you can't block access roads to the pipeline. It's not allowed to stop on the access roads. Camping is limited to 14 days at any one spot.
Honestly? On this route, finding a comfortable and safe place to stay outside designated areas is difficult. More details can be read in the article about camping on Dalton Highway.
PRO TIP: Whichever type of accommodation you choose, be sure to follow the Leave No Trace rules. Respect nature, respect wildlife, respect the rules on the road, and always take all the trash with you. Also, check out our detailed hints in the Dalton Highway Safety Tips article.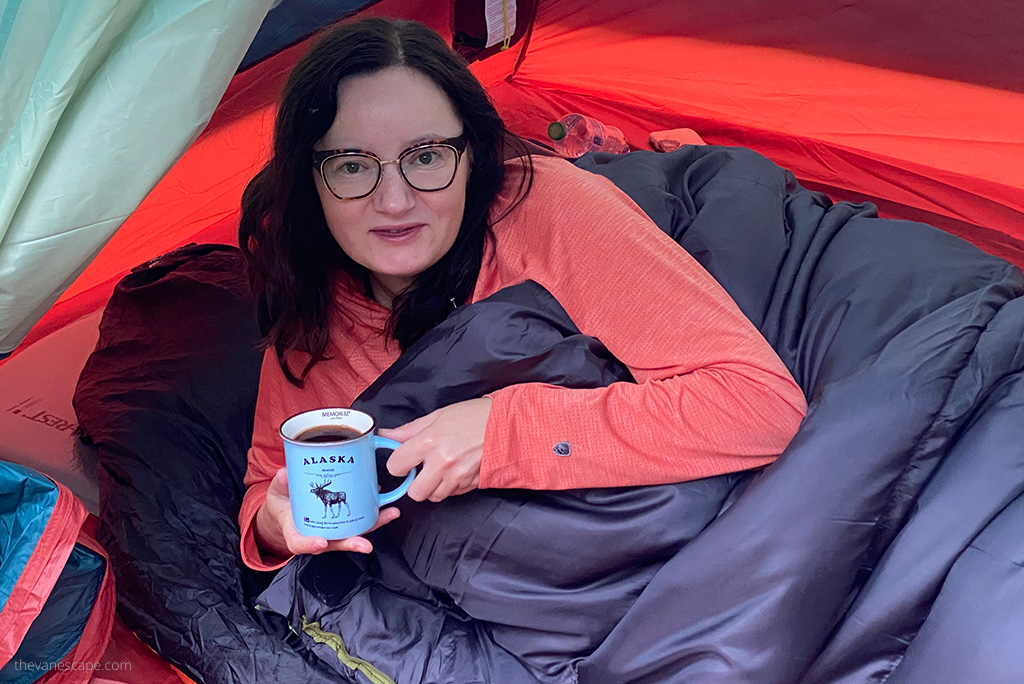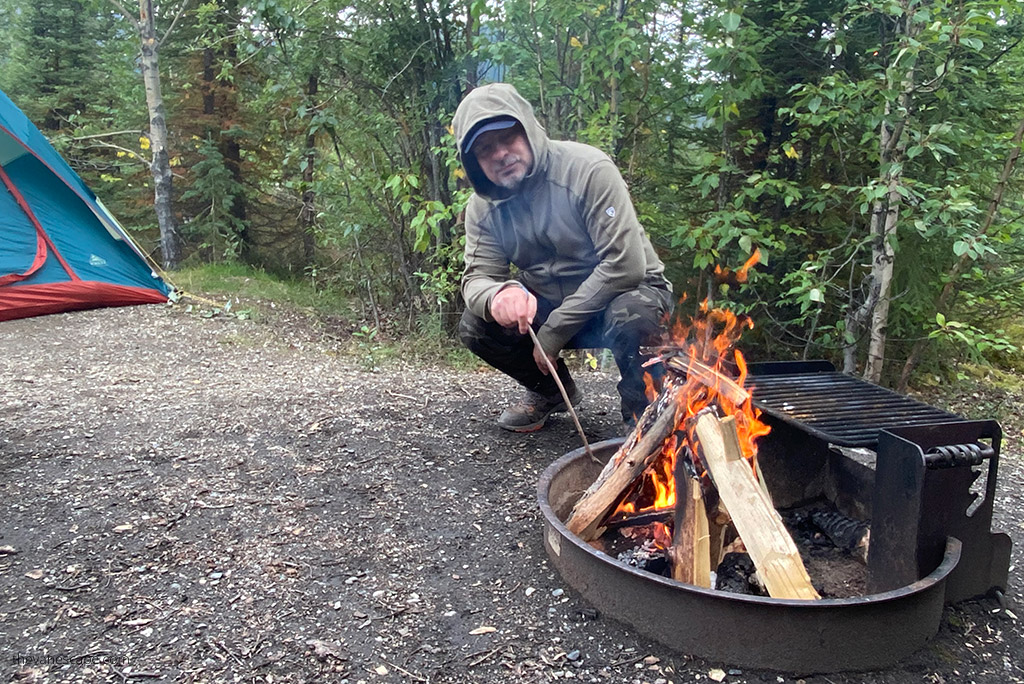 Pit Stops along the Dalton Highway Alaska
A separate article is written about activities, best pit stops, and places worth seeing on the Dalton Highway. Here, to make planning your travel more manageable, we will mention that you have a few places on the route between Fairbanks and Deadhorse, where you will meet people and find some services.
At milepost 56 is Yukon River Camp. It's 137 miles north of Fairbanks. Yukon River offers gas, a cafe, and limited lodging. It's open only from mid-May to mid-September.
At milepost 175 is Coldfoot Camp. We love this place. It's 256 miles north of Fairbanks, with gas, a cafe with great food, and a motel. Here you can also take a scenic flight over the Brooks Range or a trip to the Gates of the Arctic National Park. It's also where you can find the Arctic Interagency Visitor Center, where you can learn much about the area. Plan some activities in Coldfoot Camp.
At milepost 186 is the turnoff for Wiseman. It's a fantastic charming village from the Gold Rush times—pictures and details we put in this separate post about the remote Arctic town of Wiseman. But you won't find any services here except for two lodges.
At milepost 414 is Deadhorse, which is "company town," is amid the Prudhoe Bay oilfield and boasts a non-permanent population of 2,000-3,000 employees of the various oil operations. The Dalton Highway ends just a few miles before the Arctic Ocean, and only private, restricted roads extend to the ocean. You will find three gas stations, some lodgings, one store, and some hotel restaurants.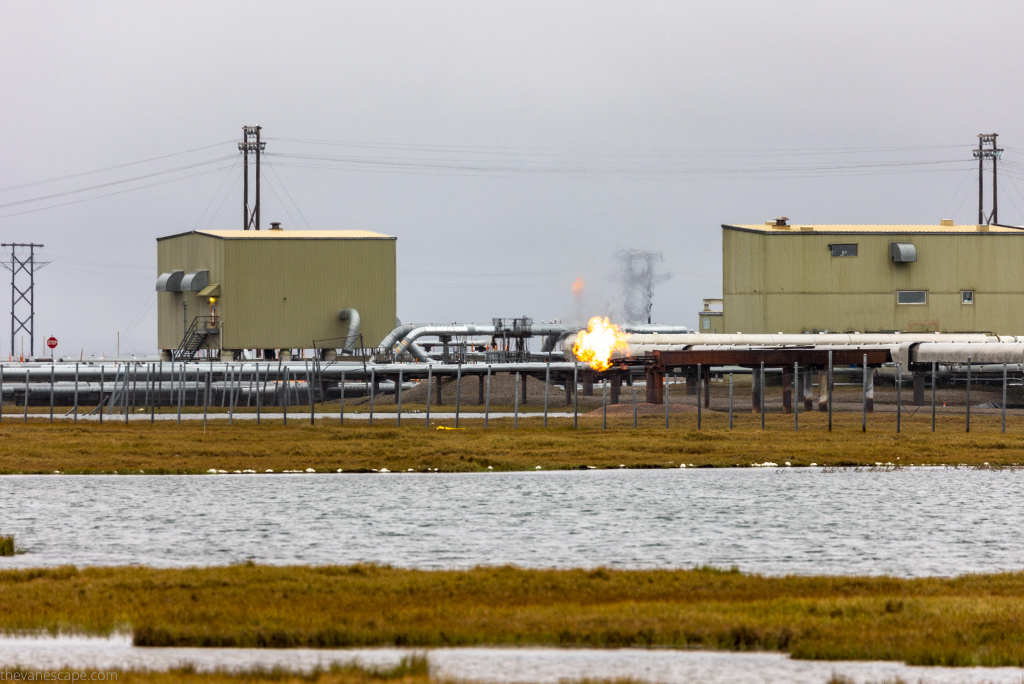 Dalton Highway Tours
If you do not want to set off on the Dalton Highway on your own but dream of crossing the Arctic Circle and seeing at least a piece of this highly picturesque route, consider one of the following organized tours.
Arctic Circle Full-Day Guided Trip from Fairbanks
During this one-day guided trip, you will step across the Arctic Circle, see the Trans-Alaskan Pipeline, and discover the Yukon River and Finger Mountain.
Please enter the date of the planned trip and the number of participants below to check its availability and price.
Northern Lights and Arctic Circle Tour from Fairbanks
If you plan to visit Alaska during the Aurora Borealis (Northern Lights) season, you can go on a Northern Lights and Arctic Circle trip from Fairbanks, where you will cross the Arctic Circle on Dalton Highway. But no tour operator can guarantee you will see the Northern Lights. It's the magic of nature; it depends on many factors. You can spend even a week or two in a season and not see it, and maybe one night is enough, and the Northern Lights will dance in the sky for you. Enter your trip date to check its availability and price. Aurora Season in Alaska is from August 21 to April 21. But it happens that the Aurora can already be seen in mid-August.
Wildlife and Activities along the Dalton Highway Alaska
The Dalton Highway is not just a road. This route allows you to admire nature, and landscapes, observe wildlife, and do numerous activities. You can go hiking, fishing, backpacking, or kayaking. You can take a scenic flight over the Brooks Range, the Gates of the Arctic National Park, and more. There are a lot of activities, so we have prepared a separate article about them with a detailed description. We also provide details on safety, especially regarding the bears' encounter. One of the great stops along the road is Arctic Interagency Visitor Center in Coldfoot.
Points of Interests along the Dalton Highway Alaska
Below we present a list of the most exciting points of interest along the Dalton Highway with the milepost (MP) on which it is located. It is worth stopping by them. Descriptions, photos, and interesting facts about each of these places we described in a separate article. Driving the Dalton Highway is full of unique places.
MP 0 – The beginning of the Dalton Highway. Reset the counter here so as not to miss the exciting places along the route. For the next 414 miles, you may have little or no internet access.
MP 56 – Yukon River Crossing
MP 60 – Five Mile Campground
MP 98 – Finger Mountain
MP 115 – Arctic Circle sign
MP 132 – Gobblers Knob
MP 150 – Grayling Lake Wayside
MP 175 – Coldfoot Camp
MP 180 – Marion Creek Campground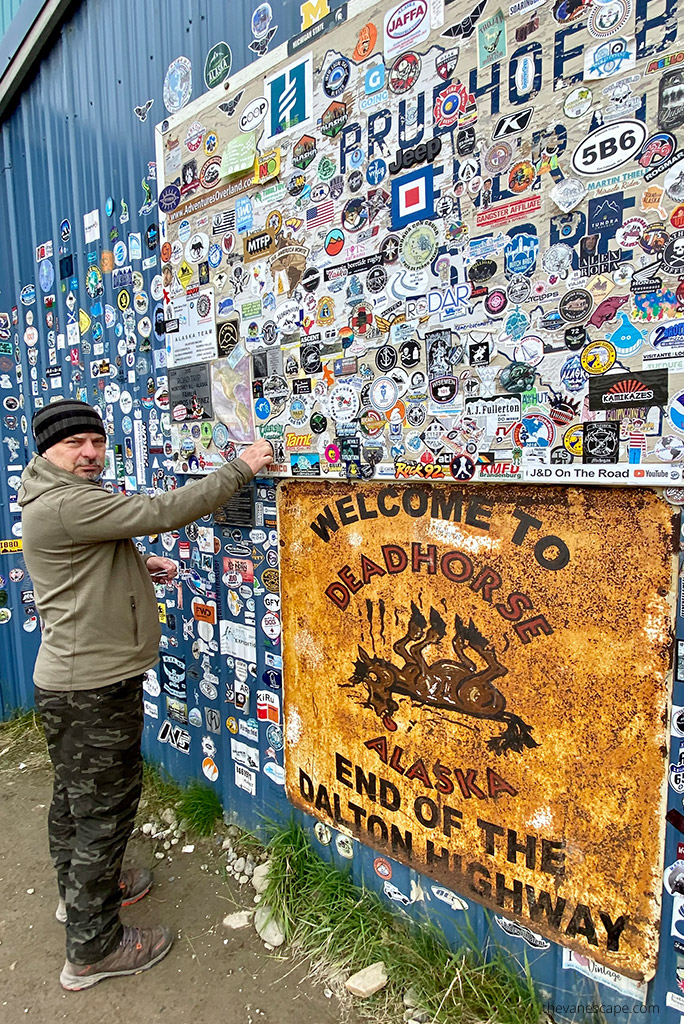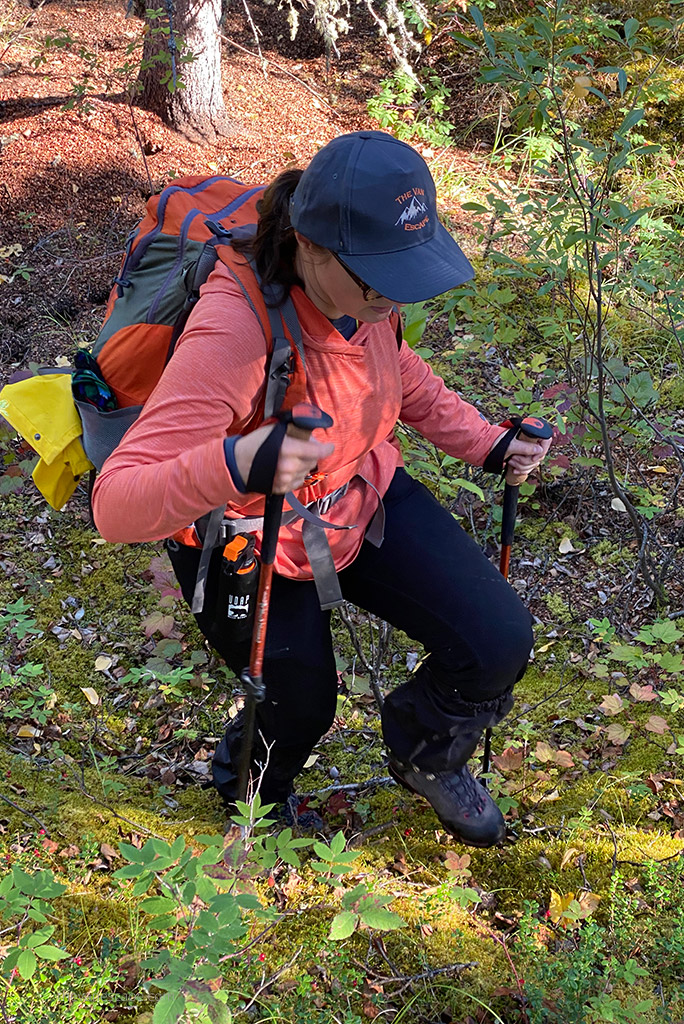 MP 189 – Wiseman
MP 204 – Sukakpak Mountain
MP 237 – Chandalar Shelf
MP 244 – Atigun Pass (elev. 4,739 feet / 1422 m)
MP 275 – Galbraith Lake Campground
MP 284 – Toolik Lake
MP 300 – Slope Mountain
MP 334 – Happy Valley
MP 348 – Sag River Overlook
MP 383 – Franklin Bluffs
MP 414 – Deadhorse and Prudhoe Bay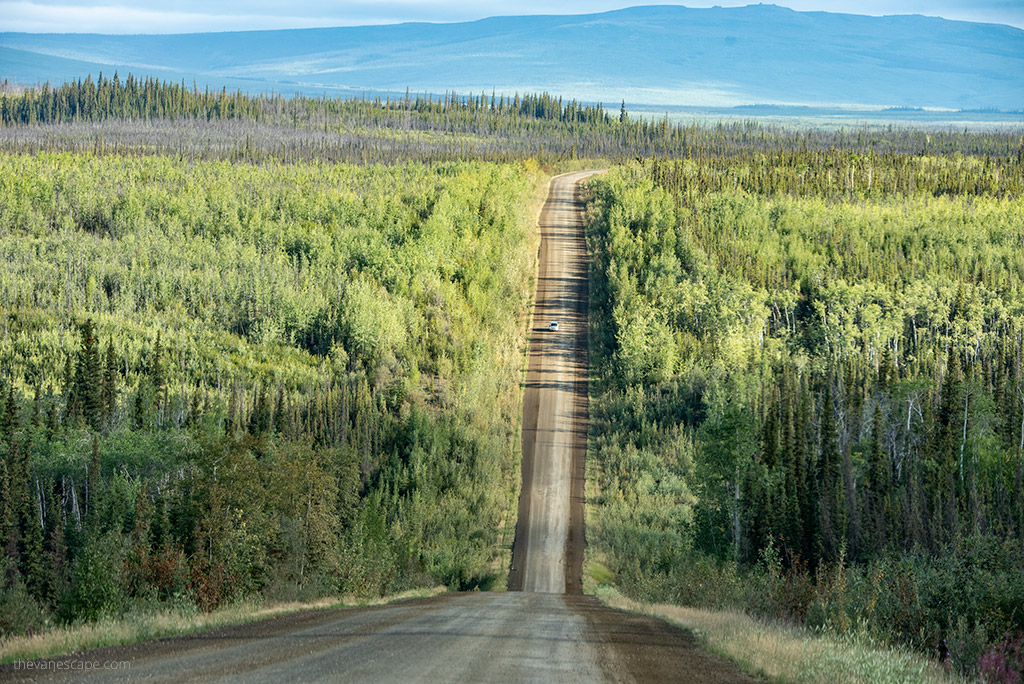 If you plan another Alaska road trip, check out our Alaska travel guide and a few more of our articles:
If you plan to drive the Dempster Highway in Canada, which will also take you to the Arctic Ocean, read our articles:
Do you like it? Pin it!