Are you looking for an Alaska air taxi to explore Alaska's Brooks Range and Arctic area? Than we can recommend Coyote Air from Coldfoot. Please read our review about Fly Coyote. We used their services during trip to the Gates of the Arctic National Park. Moreover we took a scenic flight over the Brooks Range with them.
This article may contain affiliate / compensated links. For full information, please see our disclaimer here.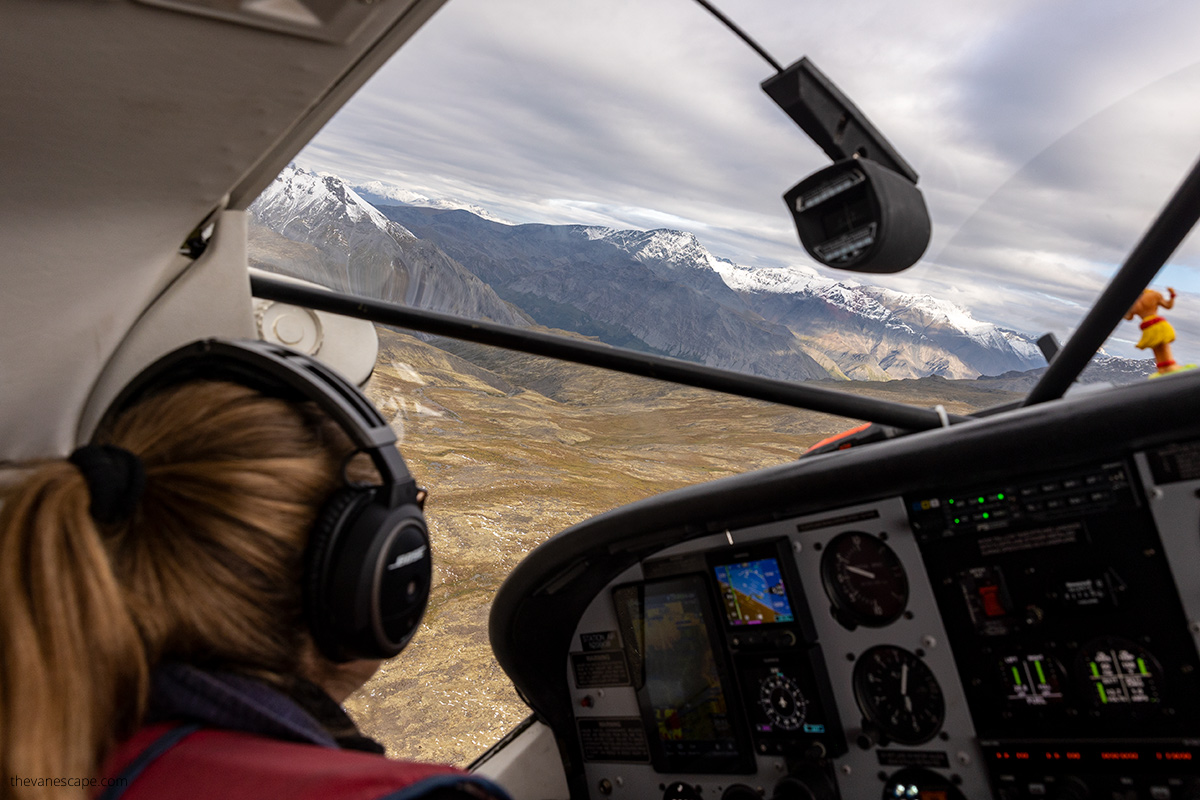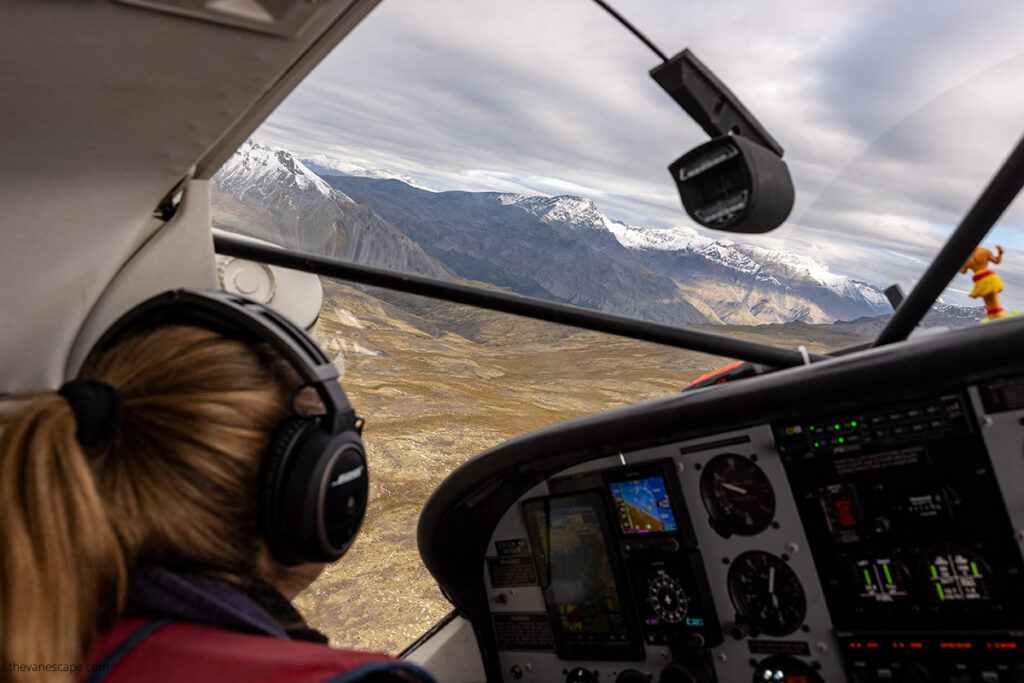 Coyote Air Alaska Review – Our Experiences
First, we would like to inform you that this is not a sponsored post. We share our honest opinion about Coyote Air (also known as Fly Coyote) – based in Coldfoot.
We used their services on our trip through the Dalton Highway. We hired them as an Alaska air taxi in the most inaccessible areas. We flew over the Brooks Range with them. They also organized a trip to the Gates of the Arctic National Park and Preserve for us.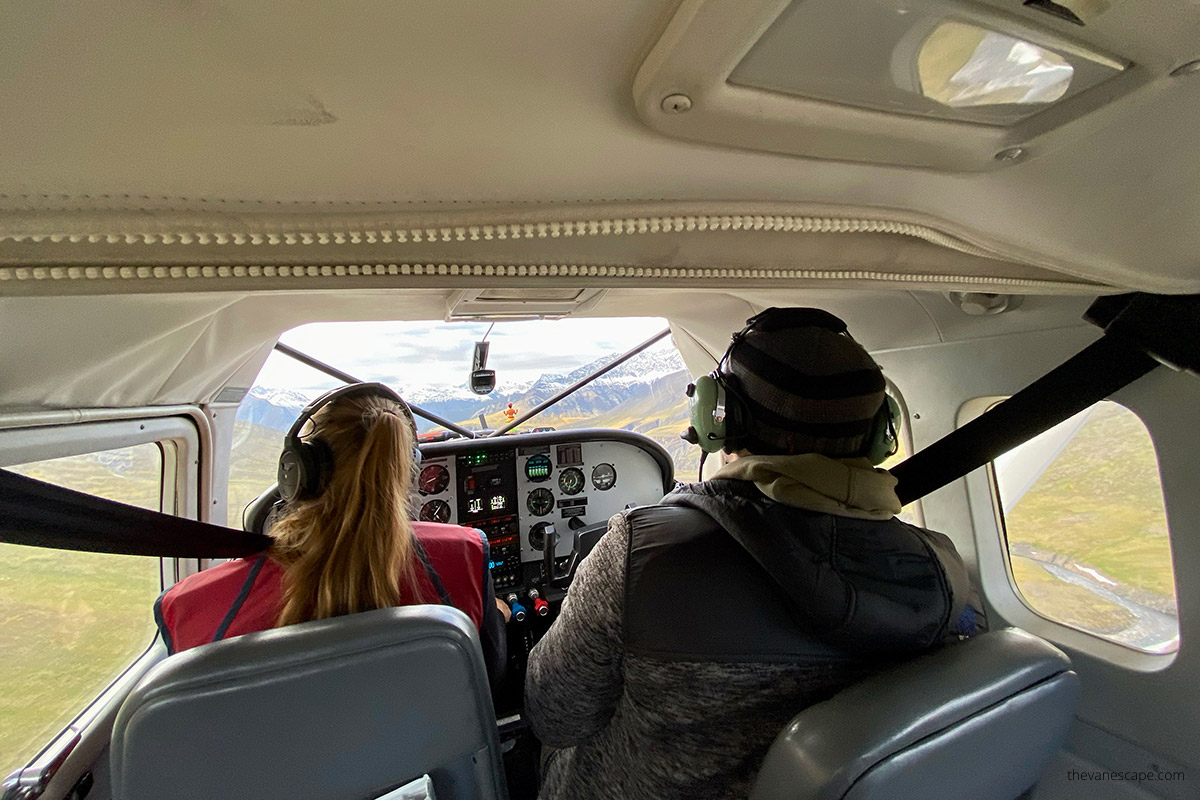 We started preparing for our trip on the Dalton Highway a few months in advance. It's a very challenging route, one of the most difficult in the United States. But our goal wasn't just to drive this route. We aimed to get to know it and see as many sights as possible north of Fairbanks and the Arctic Circle. One of our dreams was to see the Gates of the Arctic National Park and Preserve. However, since the cost of this adventure is high, we decided to look around first and visit the park for a day or two. We checked out the offerings of various Alaska air taxis operating in the area. Our choice was Fly Coyote, so we contacted them.
Before you read on, check out this 2-minute video. It's from our trip to Gates of the Arctic National Park and a scenic flight over the Brooks Range with Danielle from Coyote Air.
About Coyote Air
Location
The family-owned Coyote Air office is located at the Coldfoot Airport runway. It is at 175 mileposts of the Dalton Highway, about 250 miles north of Fairbanks. And above 60 miles north of the Arctic Circle Sign. Driving from Fairbanks will take you at least six hours without stopping along the way. As it's a challenging route and you must have a well-prepared vehicle. So, check out our safety tips for driving the Dalton Highway.
The Owners, Danielle Tirrell & Dirk Nickish
Coyote Air – the owners and pilots, are Danielle Tirrel and Dirk Nickish. This couple is full of professionalism, commitment, and passionate people, living in this Alaskan wilderness. They have a passion for flying in their blood because they come from aviation families. The tradition of flying goes back several generations. Please read more about this wonderful family and their exciting aviation history on their website. Or ask them on your flight over the Alaskan Arctic. Your safety is their priority.
Coyote Air Services
Their offer is quite broad. If you plan to visit this inaccessible part of Alaska, they will help you organize it. They specialize in air taxi services related to the Brooks Range, the Gates of the Arctic National Park, Kobuk Valley National Park or Arctic National Wildlife Refugee. They know how to plan a trip to Alaska's high Arctic.
Flightseeing Tours from Coldfoot
As we mentioned in our previous article, one of the best things to do in Coldfoot is take a flightseeing tour over the Brooks Range. Coyote Air offers flightseeing trips into the Brooks Range, Gates of the Arctic, and Kobuk Valley from June 1st until September 15th. Check their website for current prices and details. In their offer, you will find:
Gates of the Arctic Tour
Continental Divide Tour
Gates of the Arctic Cultural Tour
Kobuk & Gates of the Arctic Tour (which is a combination of visiting the two most remote US national parks: Kobuk Valley and the Gates of the Arctic, in one day)
Arrigetch Peaks Tour
Day trip to Gates of the Arctic National Park (later, we will share more details about this trip, as it was our choice)
Gates of the Arctic Scenic Flight (we book this spectacular scenic flight as well)
Charters – Air Taxi Service to the Brooks Range and Alaska's Arctic
They offer several types of charters. If you plan on backpacking in the wilderness of The Gates of the Arctic National Park or Kobuk Valley National Park, you can take hire them an Alaska air taxi. Moreover, if you need to deliver a supply of provisions or equipment for your expedition – you can also count on their service. If you need lodge transportation or planning mountaineering, filming, or scientific research in the Brooks Range area – they're happy to offer their fly services. They also offer Float Plane Charters, so if you plan to go rafting on one of the area's wild Alaskan rivers, you can also hire a Fly Coyote.
Our Contact with Fly Coyote and our Gates of the Arctic Trip
Booking a Trip to the Gates of the Arctic with a Scenic Flight
After looking at the Coyote Air offer on their website, we emailed a few questions. We presented our needs. We have provided the planned date of stay in Coldfoot. Moreover, we asked about possibly organizing a sightseeing flight and a one- or two-day visit to the park. We got a quick and precise response. Danielle from Coyote Air took into account our needs and quoted the price. We booked the date and agreed to confirm our presence when we reached Alaska. We kept in touch by e-mail, and we really liked the precise answers and tips we received from Danielle.
Our Tip: We suggest you book your dream tour as soon as possible. We intended to combine the Gates of the Arctic and Kobuk Valley tours. But this option was unavailable on our planned traveling dates via Dalton Highway.
Arrival at Coldfoot Airport
As soon as we arrived in Anchorage, we wrote to Coyote Air that we are going to Coldfoot. We confirmed that we will be on time. We arrived at Coldfoot Camp one day before the planned flight trip. So we decided to see the Coldfoot Airport and the headquarters of Coyote Air and say hello to the owners. Fly Coyote office is one of the smallest we've been to and the nicest. The interior of the small wooden house is filled with thank-you cards to Danielle and Dirk. Travelers around the world send greetings and thanks for their excellent service and unforgettable trips to the Brooks Range. We met with Danielle, saw their aircraft, and made an appointment the following day. We went to pitch a tent at Marion Creek Campground and popped out for a beer at Truckers Cafe in Coldfoot Camp.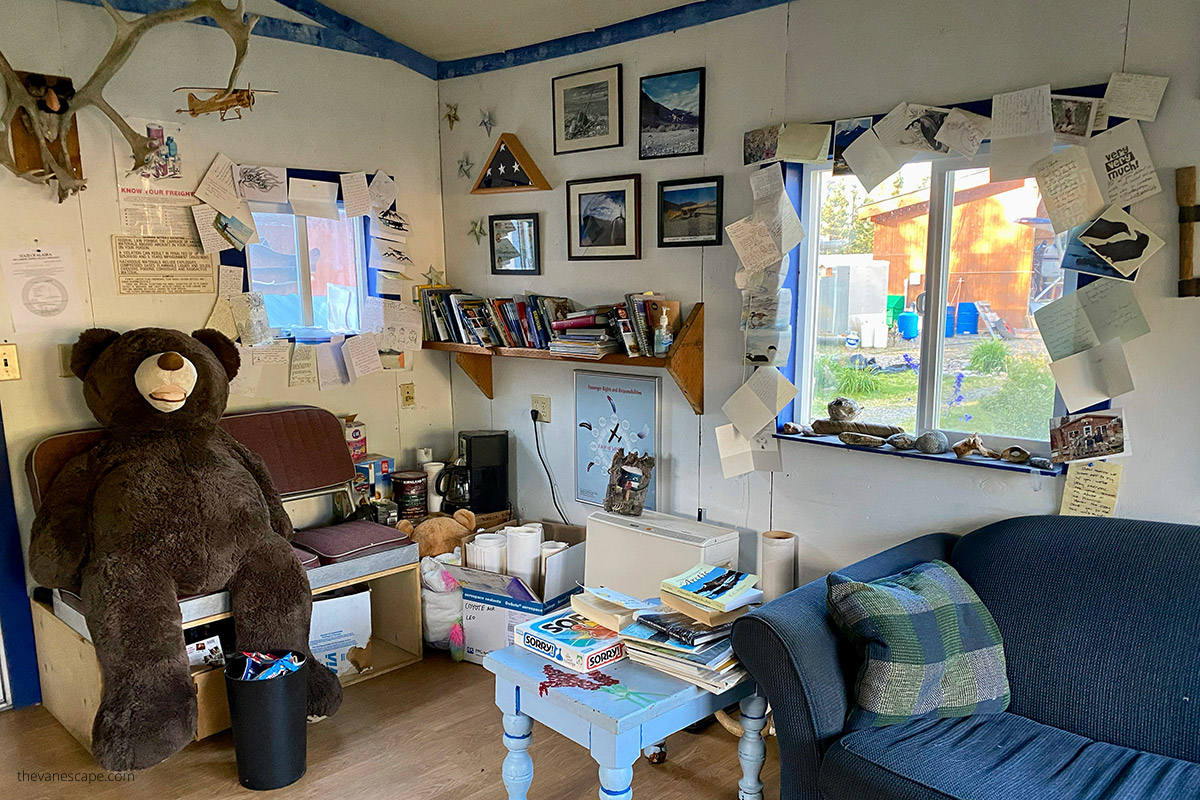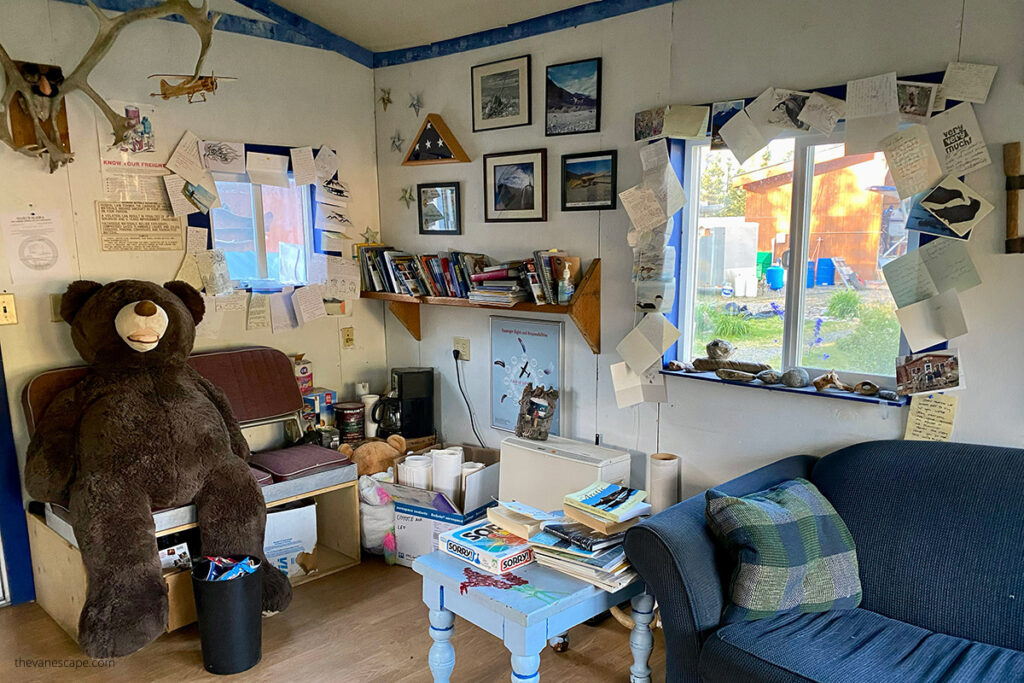 Flight Tour Cancellation Due to Weather
Unfortunately, the weather in Alaska likes to play tricks and spoil travelers' plans. After several travels around this state, we're used to it. In the evening, the weather turned bad. Heavy rain was falling, and the mountains were covered with thick clouds. The morning was even worse. Visibility was practically none, so we already knew that our dream and the long-awaited tour to the Gates of the Arctic would not occur. That's not the first time in Alaska. On a previous trip to Alaska, we got stuck at King Salmon Airport due to the weather on the way to a bear-viewing tour to Katmai National Park and Preserve.
Our Tip: Many activities in Alaska are weather dependent. It's always worth giving yourself some spare time if you care about a specific trip. The weather in Alaska can change rapidly. So pack carefully for your Alaskan trip, including the activities you plan to do.
Changing the Date of the Gates of the Arctic Trip
We drove to the airport at the appointed time to meet Danielle. She asked if we could change the trip's date or if we want to give it up. The weather conditions made her unable to take off and fly safely. Luckily we had a few days to spare on the Dalton Highway. Taught by experience, we took into account the risk of bad weather and flight cancellations possibility. Since the weather wasn't supposed to improve for a few days, we postponed the flightseeing trip to the return route from Prudhoe Bay and the Arctic Ocean. Fortunately, Coldfoot offers a variety of activities. One of the best is visiting the gold rush-era village of Wisemen, or exhibits in the Arctic Interagency Visitor Center, so it's easy to plan a few days there.
Our the Gates of the Arctic National Park Trip and Scenic Flight with Coyote Air
Fortunately, after a few days, the weather improved, and we realized our dream of a trip to the Gates of the Arctic National Park. The weather was perfect. The sun was shining, and the clarity of the air was excellent. We packed properly for a trip to the Alaskan wilderness. We knew that in this Park, we could count only on ourselves.
Early in the morning, we met with Danielle, packed ourselves and our stuff, and took off. Due to the perfect weather conditions, Danielle decided to make first a scenic flight over the Brooks Range, which lasted an hour. And after the sightseeing flight, she took us to the park. The views were breathtaking. We landed on the smooth lake surface in Gates of the Arctic. And we arranged for a late afternoon pick-up at the same point. We will describe the stay in the Gates of the Arctic National Park for you in a separate article because it deserves a separate entry. Danielle was on a late afternoon on time, and we watched her make perfect landings on the lake.
Safety and Coyote Air Aircraft
During our trip, Fly Coyote used Zippy. If's a Cessna U206, built in 1977, which was modernized over the years and is very comfortable for flying over the Brooks Range. Danielle checked and refueled this seaplane before the flight. U in the model name of the plane means it is dedicated to oversize cargo; however, it easily fitted three of us. We started from Coldfood airport's regular runway but landed on the lake in the middle of the Gates of the Arctic National Park thanks to the ability to switch wheels to water landing skids.
Coyote Air Alaska Review – Final Thoughts
We have already done several scenic flights in Alaska and and we made a few travels to Alaska. For example, during our stay in Talkeetna, we took a scenic flight over Denali with a glacier landing. Sightseeing flights are one of the best Alaskan experiences worth the price.
Our sightseeing flight with Danielle from Fly Coyote was an excellent experience. Also, the whole day in the Gates of the Arctic National Park she organized for us was amazing. Coyote Air Alaska services are outstanding. It's the highest professional level. We value their professionalism, care for safety, and customer satisfaction. Danielle and Dirk are wonderful people and great pilots. They know the Brooks Range and Alaska Arctic because this remote wild region is their home.
Coyote Air is the most professional and safest Alaska air taxi operator we have flown with. We are planning to return to Coldoot. And we want to organize, with Coyote Air help, a few-day trip to the Gates of the Arctic National Park. Moreover, we plan a few-day journey to the Kobuk Valley National Park. If you plan a trip to these remote areas of Alaska, we sincerely recommend using their services. With Coyote Air you will have a lifetime adventure thanks to their professionalism and reliability.
Do you like it? Pin it for later!