15 Best Things to Do in Coldfoot Alaska
Check out the best things to do in Coldfoot, Alaska, if you plan to drive one of North America's most remote roads, the Dalton Highway. Coldfoot Camp is not just a gas station on route to Deadhorese and Prudhoe Bay. Coldfoot offers many unique activities, and in this article, we'll give you a list of the 15 best things to do in Coldfoot, Alaska, in 2023. We made this exciting road trip and did all the activities which Coldfoot offers, and we present them to you.
This article may contain affiliate / compensated links. For full information, please see our disclaimer here.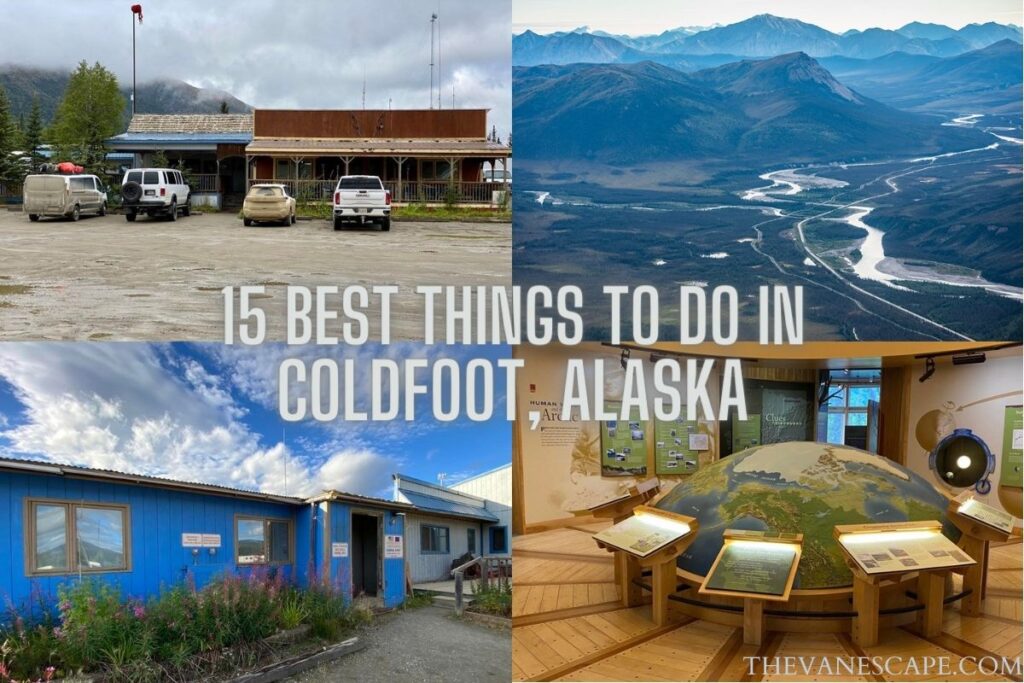 Coldfoot Alaska – Our Experiences
Coldfoot, Alaska, is a must-stop on Dalton Highway as it has one of the few gas stations along the route. You won't get to Prudhoe Bay and Deadhorse without refueling here. But Coldfoot is much more. We spent a few days here because it is the best base to explore this inaccessible part of Alaska, including the most remote and least visited US national park – the Gates of the Arctic National Park. And in this article, we have collected the most exciting things to do in Coldfoot and Coldfoot Camp for you.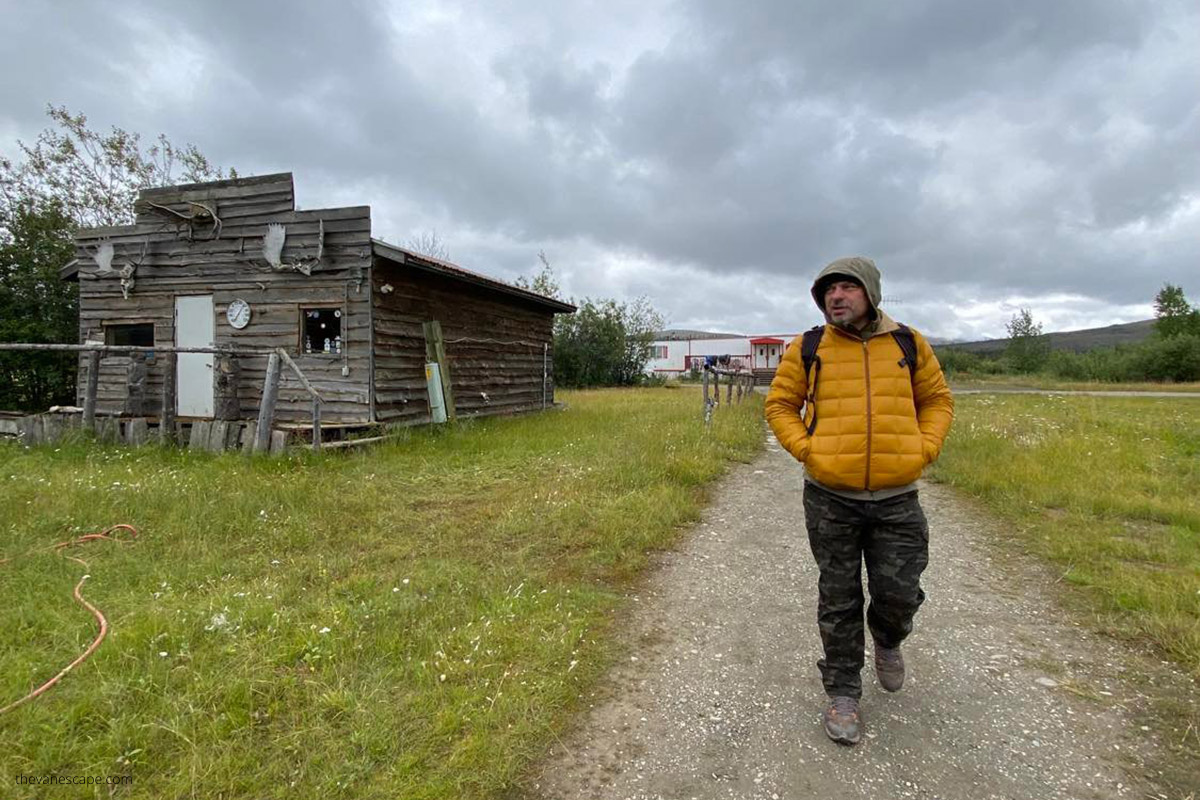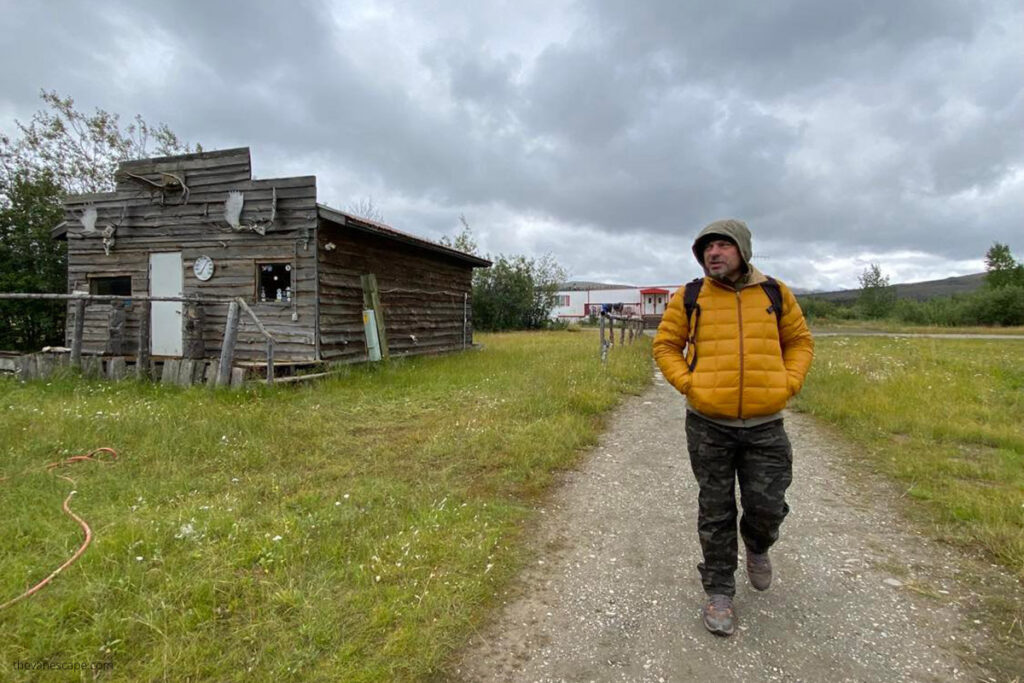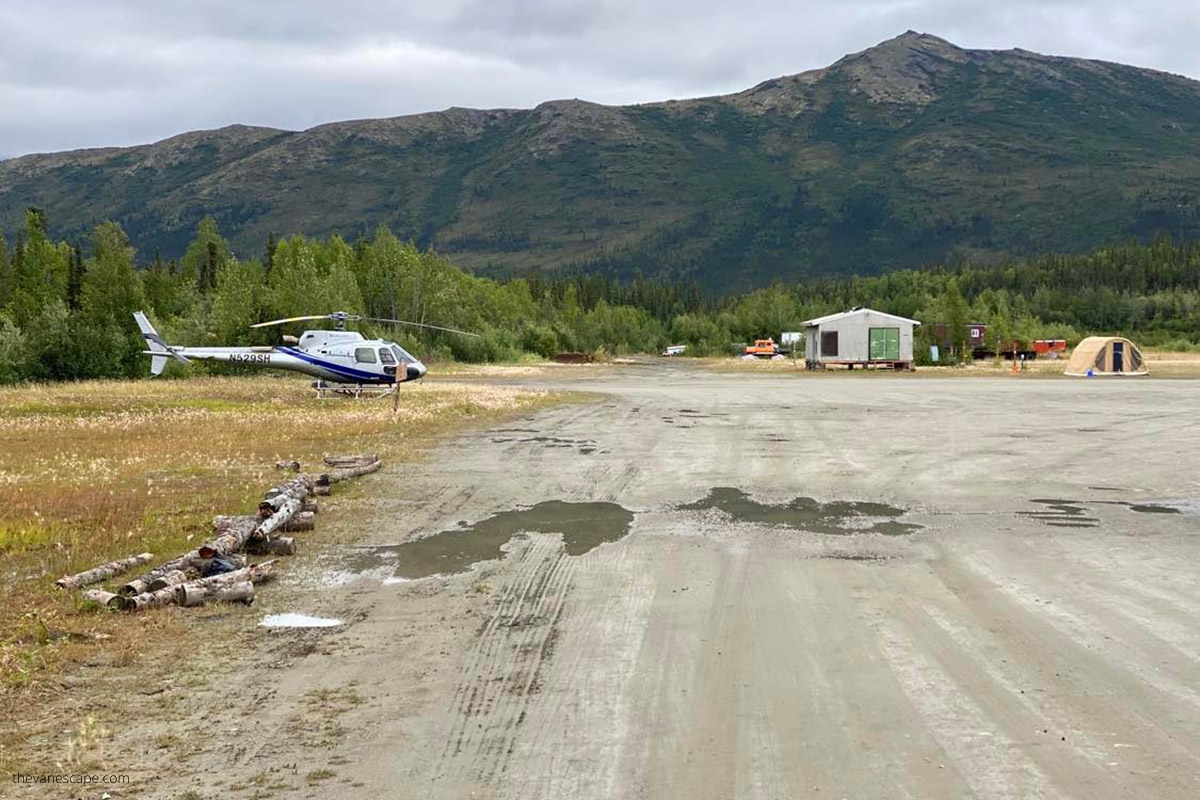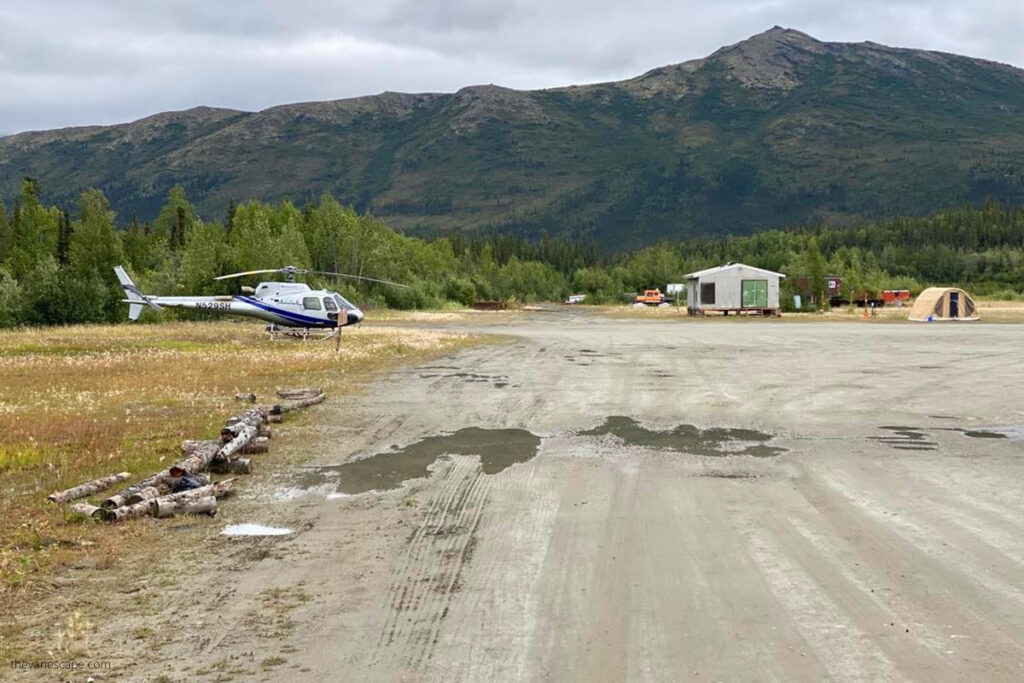 How To Get To Coldfoot, Alaska?
Coldfoot is located in Yukon-Koyukuk Census Area, halfway between Fairbanks and Prudhoe Bay. Coldfoot is at milepost 175 of Dalton Highway. It's 254 miles north of Fairbanks and 60 miles north of the Arctic Circle sign. Driving from Fairbanks to Coldfoot takes you at least 6 hours without stops. As it's a challenging route, check safety tips for driving one of the longest Alaska gravel highways. Moreover, Coldfoot is the last town with supplies and gas before Deadhorse in Prudhoe Bay, another 240 miles north.
What is the history of Coldfoot, Alaska?
Coldfoot was founded in 1898 when thousands of gold miners flocked to the area for gold. Originally called "Slate Creek," the village was renamed "Coldfoot" when the prospectors got "cold feet" about not surviving the harsh winter and retreated south. Coldfoot was home to a gambling hall, two roadhouses, several saloons, and a post office in its heyday. The mail came by dog sled in the winter and on foot in the summer. Between 1908 – 1912, the miners moved thirteen miles north to Wiseman, where they found better conditions.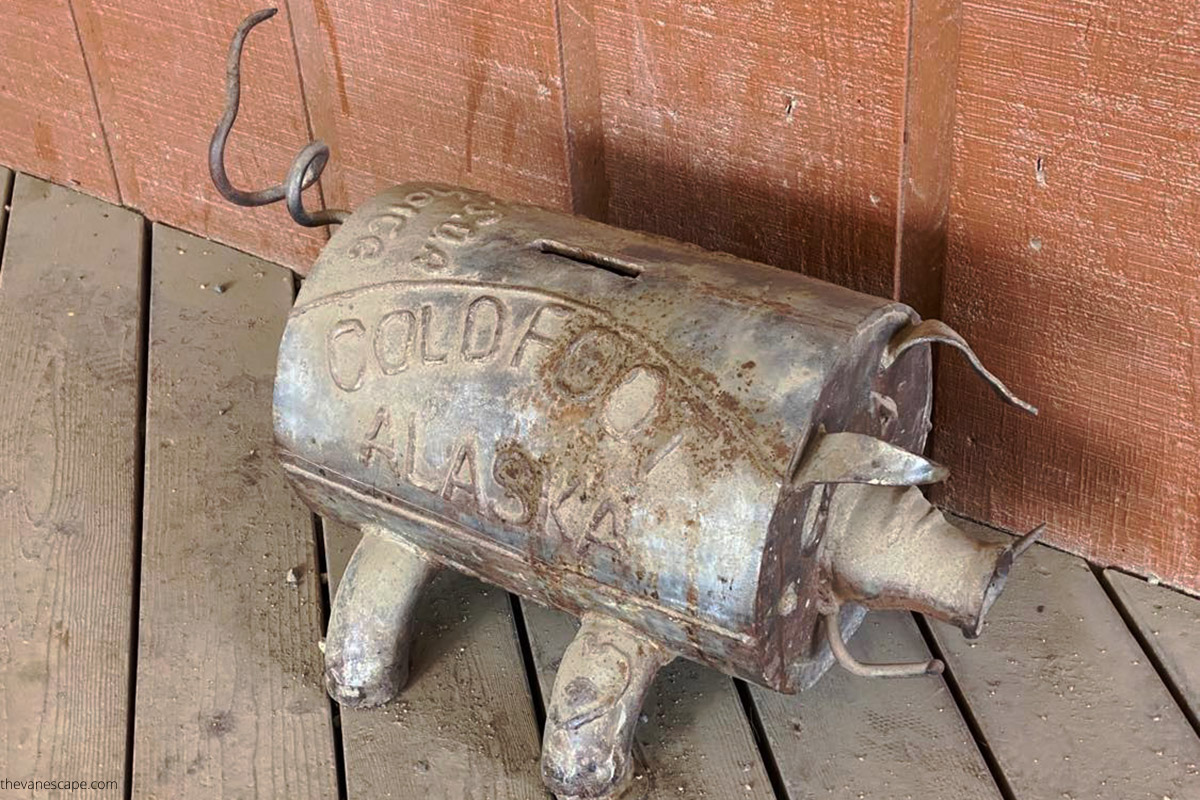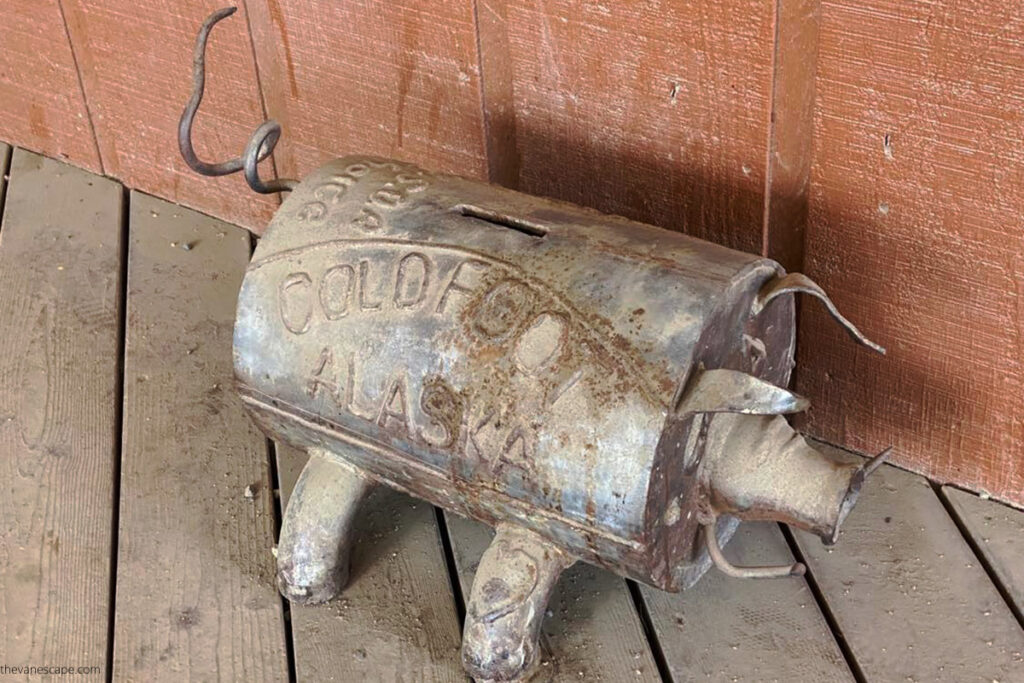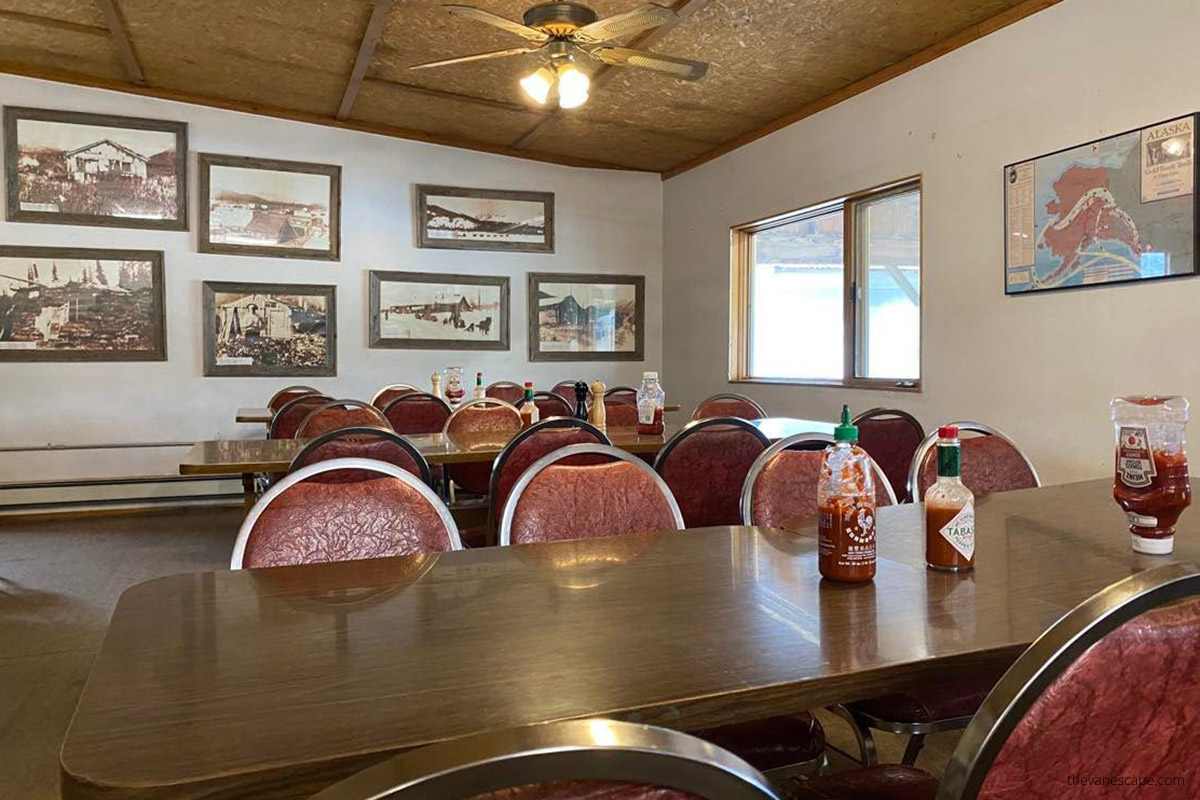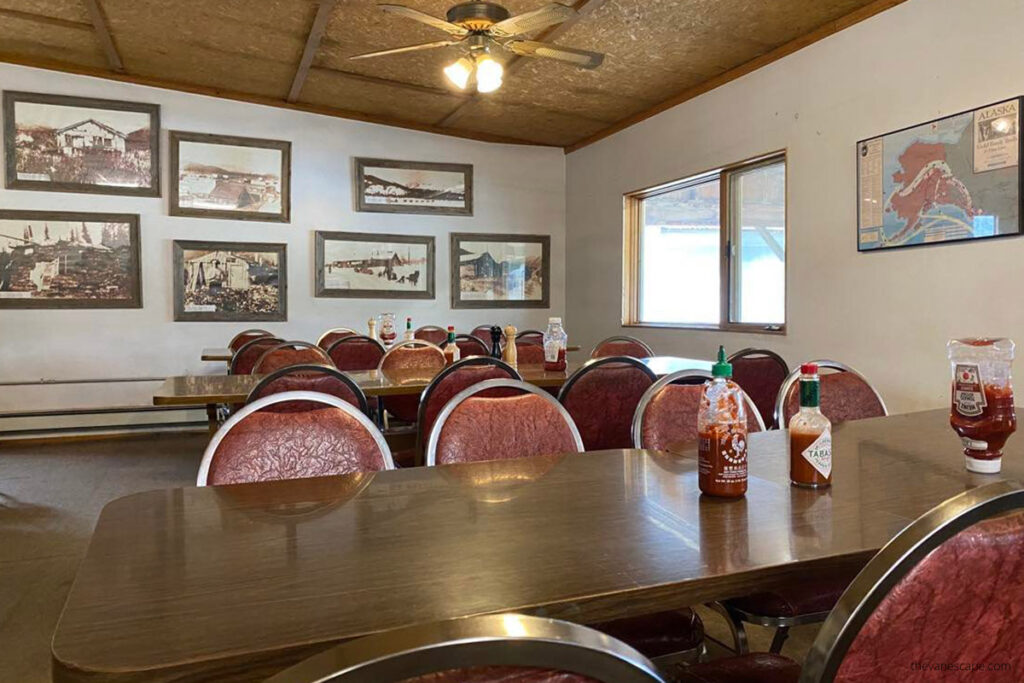 In the 1970s, when the Trans-Alaska Pipeline was built, Coldfoot experienced a resurgence. In 1981, Dick Mackey (Iditarod winner ) started selling hamburgers to truckers who traveled the "Haul Road." He sold burgers from a "food truck" from an old school bus which he put in Coldfoot. Since Coldfoot was a perfect stopover between Fairbanks and Prudhoe Bay, truckers soon began helping to build a permanent structure of Coldfoot Camp.
Today, Coldfoot Camp is a communication center for truckers. There is a restaurant, lodging, and a gas station. And you can even buy WIFI access because Coldfoot Camp has WIFI. The population of Coldfoot in 2020 was 34.
The 15 Best Things to Do in Coldfoot Alaska
1. Refuel at the Coldfoot Truck Stop
You could ask: What about you, guys? Do you list refueling as an attraction on the route? Yes, this is one of the most important things to do in Codfoot. You won't be able to do other activities without it and certainly won't make it to Deadhorse. There are only three places with gas stations along the Dalton Highway, and one of them is Coldfoot. So make sure to refuel at Coldfoot Truck Stop. You might be a bit surprised by the gas prices on this route, especially as it runs along the Trans Alaska Pipeline. We were, too, and that's why we share our experiences with you so that you can plan your budget for the Dalton Highway trip.
Trip Tip: In August 2022, we paid $7.499 per gallon in Coldfoot and $8.079 per gallon in Deadhorse.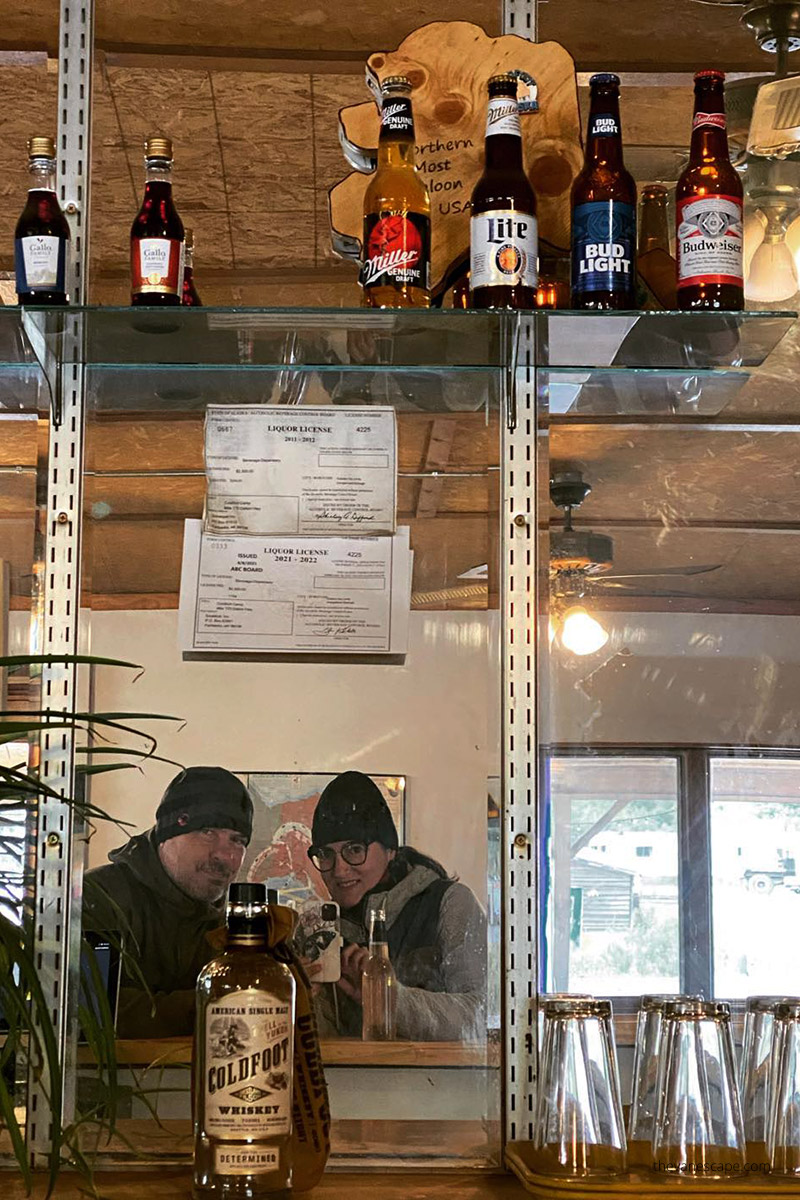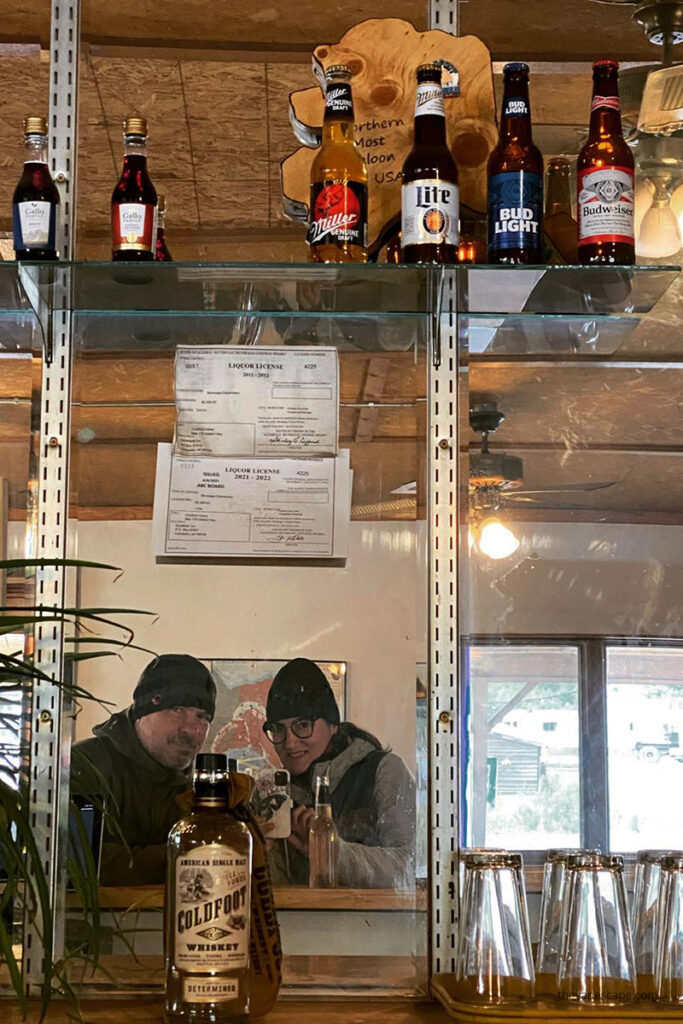 2. Enjoy Fresh Meals at Coldfoot Trucker's Cafe
The Coldfoot Trucker's Cafe is the iconic restaurant on Dalton Highway. Truck drivers stop here for a hot meal after a demanding ride in giant trucks. We ate buffet breakfast, buffet dinner, and a la carte lunch. All meals (and we were there for several days) were fresh, tasty, and filling. The portions here are significant because the main customers are drivers of oversized trucks, and driving such a vehicle requires excellent strength and consumes a lot of energy. You will have power until late evening if you come here for breakfast. The staff is friendly, cheerful, and helpful. Be sure to check it out because it is one of the best places on Dalton Highway.
Trip Tip: For breakfast, we paid: $16.95, and for dinner, we paid $23.95. In the summer, they run a full breakfast buffet from 5 am – 9 am and a dinner buffet from 5 pm – 9 pm. In the winter, the menu is available all day. They have delicious omelets, soups, burgers (especially "standard" ones), and homemade chili. Check out their Menu.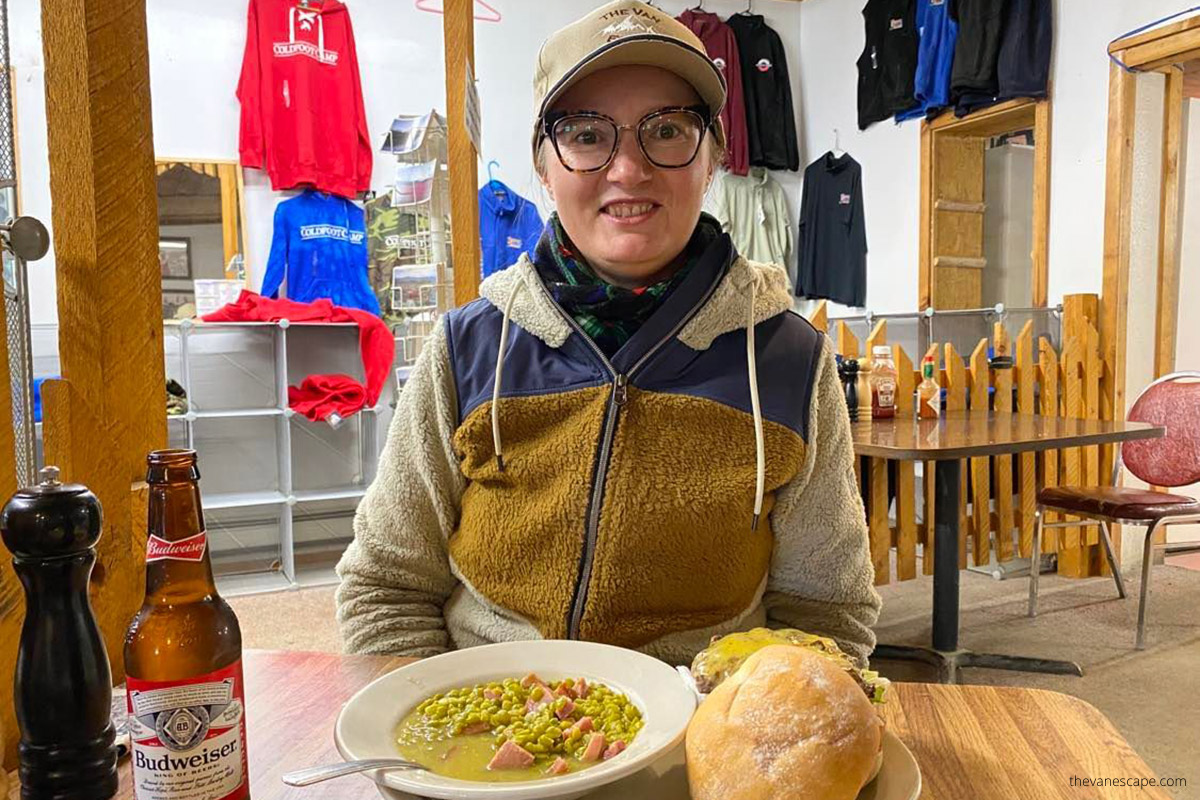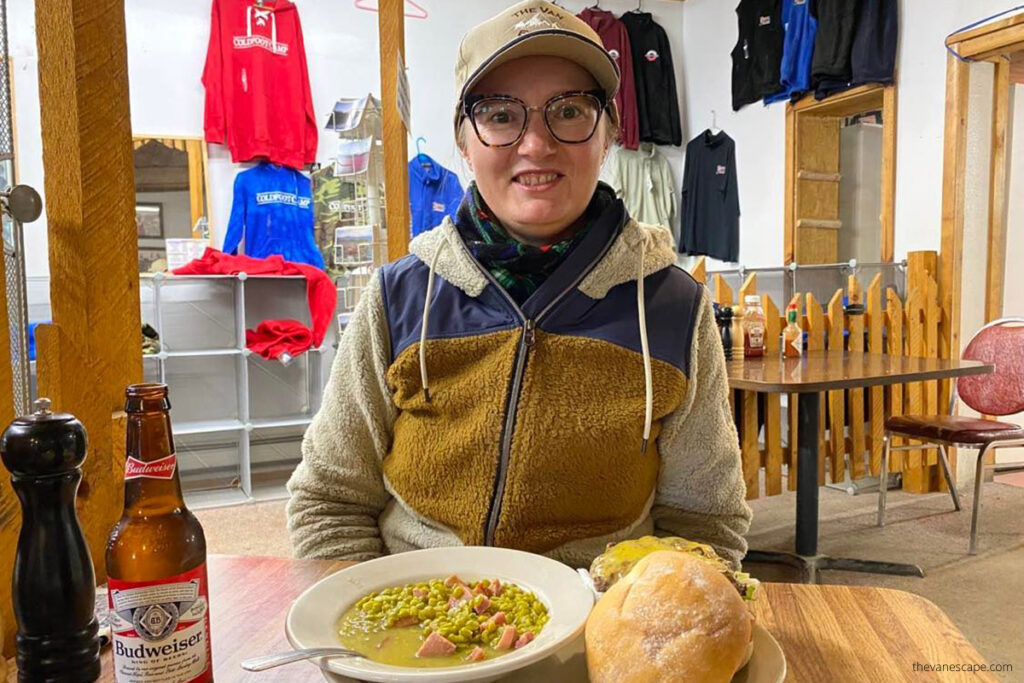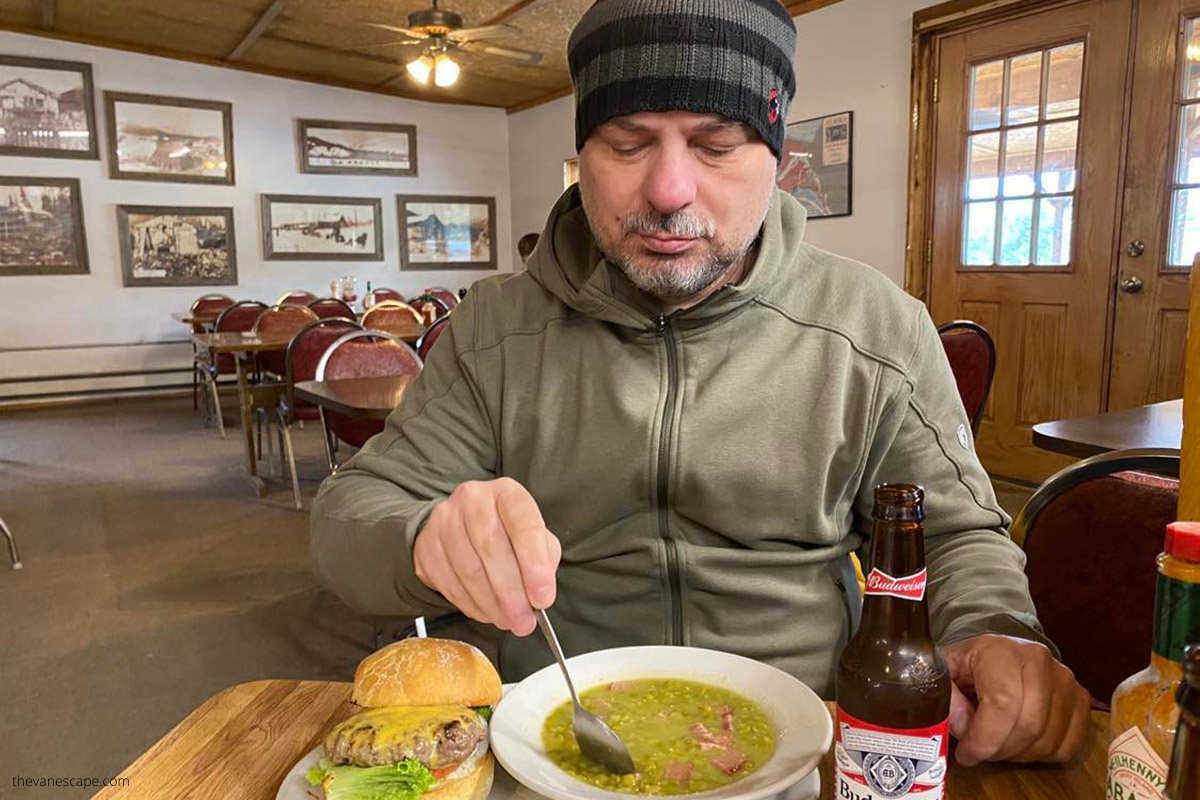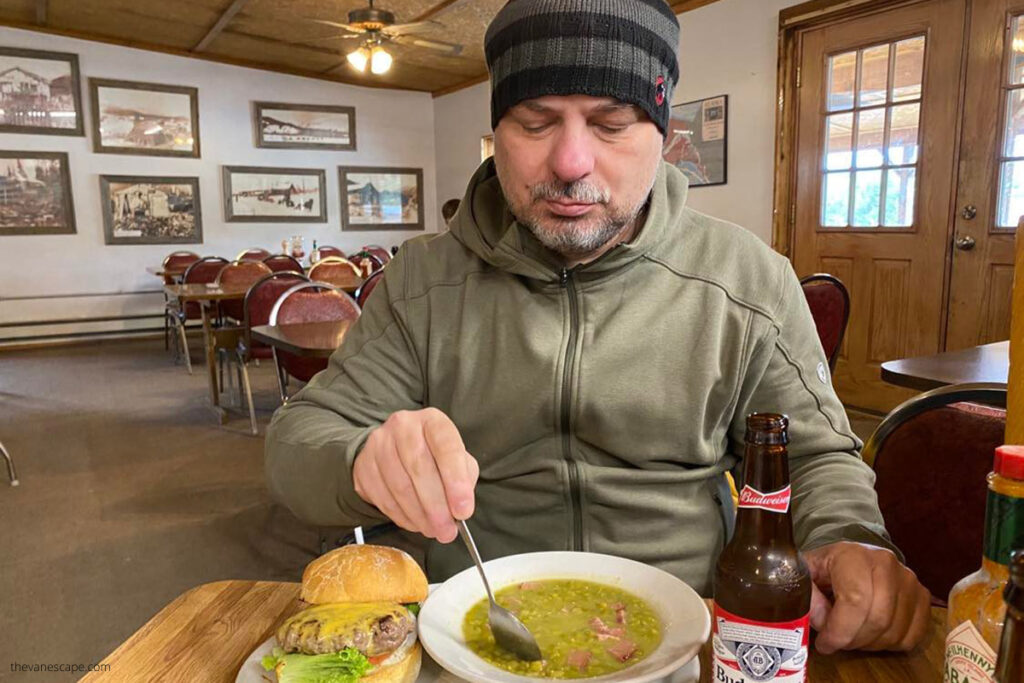 3. Drink Beer with Truckers at the Northern Most Saloon in the USA
The Frozen Foot Saloon in Coldfoot is the place where you can purchase and drink alcohol legally last time on this way. Why? Above the latitude where Coldfoot is located, there is a prohibition. So if you're thinking of having a beer or wine to celebrate dipping your foot in the icy Arctic Ocean, you're out of luck. You can't buy alcohol at Deadhorse at Prudhoe Bay. That is why the Frozen Foot Saloon is the Northern Most Saloon in the USA. So if you fancy a beer, stop by The Frozen Foot Saloon (the same building as the Coldfoot Trucker's Cafe, next to the gas station). They have some beers, also Silver Gulch beers, which are all brewed locally in Fairbanks. You can also enjoy Merlot, Cabernet Sauvignon, and Chardonnay. For beer, we paid $5.25, and for wine, $5.25.
4. Take a Shower at Inn at Coldfoot Camp
Sounds weird? There aren't many amenities on this route, and if you plan to camp along the Dalton Highway like us, there aren't many places to shower. Campgrounds have no showers on this route. The water in streams and rivers, even in summer, is frigid. With the help comes, as always, the fantastic Coldfoot Camp. They run The Inn at Coldfoot Camp, where you can stay. It's a simple industrial workers' hotel used mainly by truck drivers. You won't find many amenities in it, but it's clean. However, if you're not staying at a hotel but at a campground on Dalton Highway, you can purchase showers at the front desk for $14 per person. Towels are included in the price. When we explored the Coldfoot area, we stayed at a nearby Marion Creek Campground, 5 miles north of Coldfoot.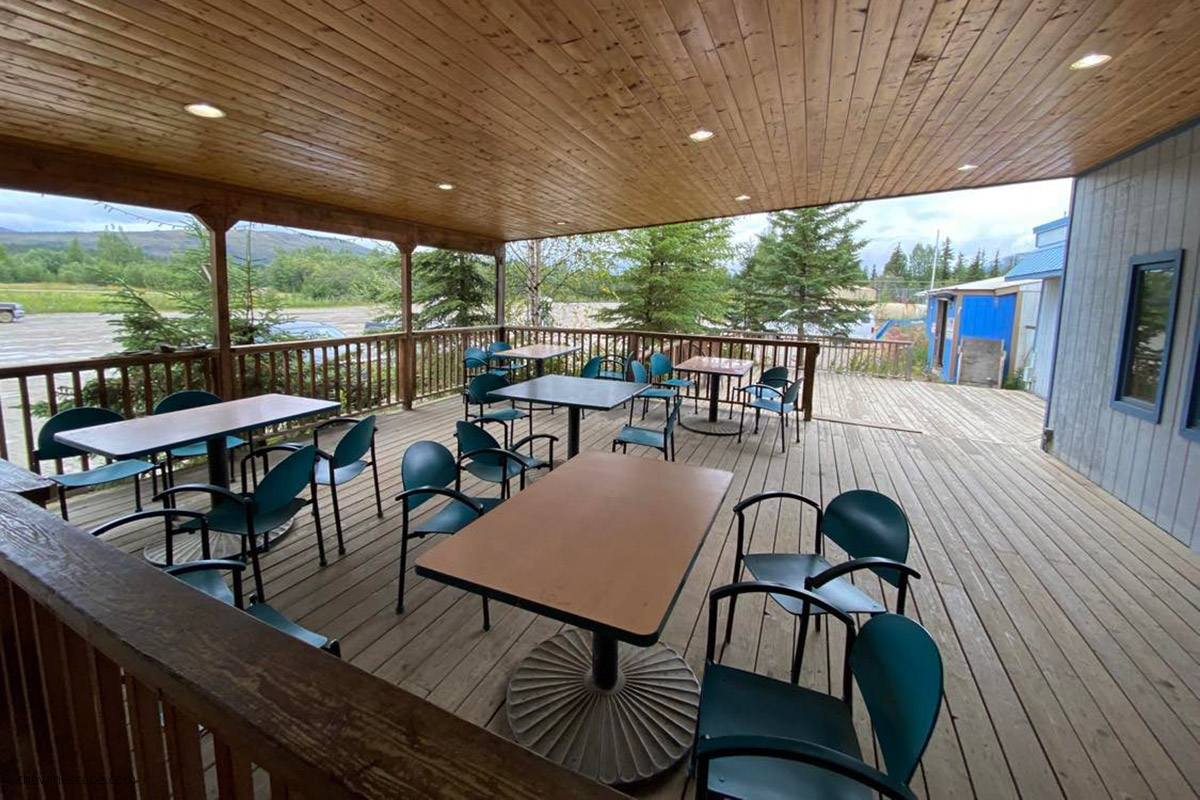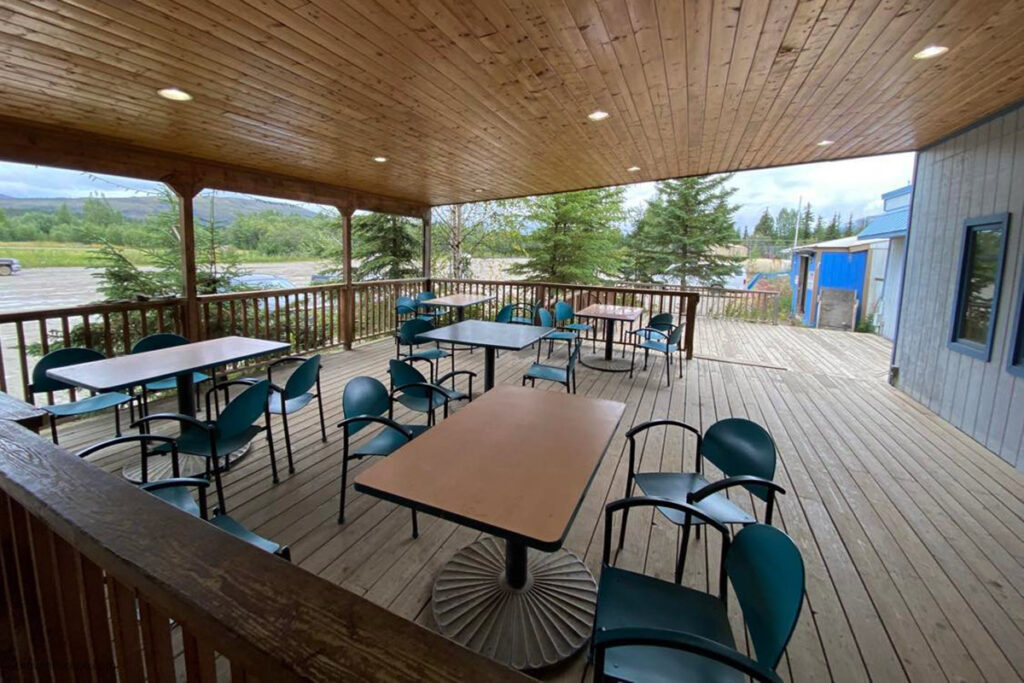 5. Enjoy Arctic Adventure Trip from Coldfoot Camp
From Coldfoot Camp, you can also arrange some exciting activities, like river rafting, sightseeing, hiking, a trip to the historic community of Wiseman, and more. One of the best activities is the Arctic Mountain Safari, where you travel from the boreal forest beyond the tree line to the Arctic tundra. Stops include Sukakpak Mountain, Chandalar Shelf, and often Atigun Pass. You can see wildlife such as foxes, bears, caribou, Dall sheep, and moose. A great thing to do in Coldfoot, Alaska, is also take a helicopter flight over this spectacular area. During the winter, they can arrange a dog mushing excursion. Or you can rent a bike there and make some trips.
6. Take a Scenic Flight over the Brooks Range
A scenic flight over the Brooks Range mountains is our #1 of the best things to do in Coldfoot, Alaska. The Brooks Range is part of the Gates of the Arctic National Park. Words do not describe the beauty of the majestic Brooks Range from above. During an earlier trip to Alaska, we also had a flight over Denali with the glacier landing, which was also spectacular. Sightseeing flights over Alaska are second to none; the scenery is fabulous.
So, we booked the scenic flight over the Brooks Range with Coyote Air in Coldfoot. With Danniel from Coyote Air, we arranged one day adventure in the Gates of the Arctic National Park and a scenic flight. From Coldfoot, you can take Coyote Air flights such as Continental Divide, Kobuk & Gates of the Arctic, Arrigetch Peaks, and more. We liked this scenic flight so much that we will prepare a separate article with a review of Coyote Air service for you.
Please look at this short, only two-minute video of our flight over the Brooks Range and our visit to the Gates of the Arctic National Park. Starring: our excellent Pilot Danielle, Agnes & Chris.
7. Explore the Gates of the Arctic National Park and Preserve
The Gates of the Arctic National Park and Preserve is one of the most remote national Parks in the USA. It's also on the list of one of the least-visited US National Parks in 2022. In 2022 the park was the #2 place of least visited and got only 9,457 recreation visits, including two of us. Moreover, Alaska is home to 5 of the 15 least-visited national parks in the US, which we were lucky to visit during other trips: Lake Clark National Park, Katmai National Park, and Wrangell-St. Elias National Park. From this list, we haven't been to Kobuk Valley National Park yet, but it's on our bucket list for the next Alaska trip.
How to get there?
But let's get back to the topic. Gates of the Arctic National Park is a pure wilderness. There are no amenities, no telephone coverage or internet, and no road leads to this Park. How to get to the Gates of the Arctic? You can go to the Park from Coldfoot Camp on foot but must have excellent skills in dealing with such wild and inaccessible terrain. Moreover, must pack adequately for this Alaskan adventure. You can also hire an air taxi with a bush pilot, which we did. We spent only one day in the Park, and a separate article, we share details on how to prepare for such an adventure. During this day, we hiked a lot and canoeing as well. We treated it as a reconnaissance because we plan to return to the Gates of the Arctic for longer.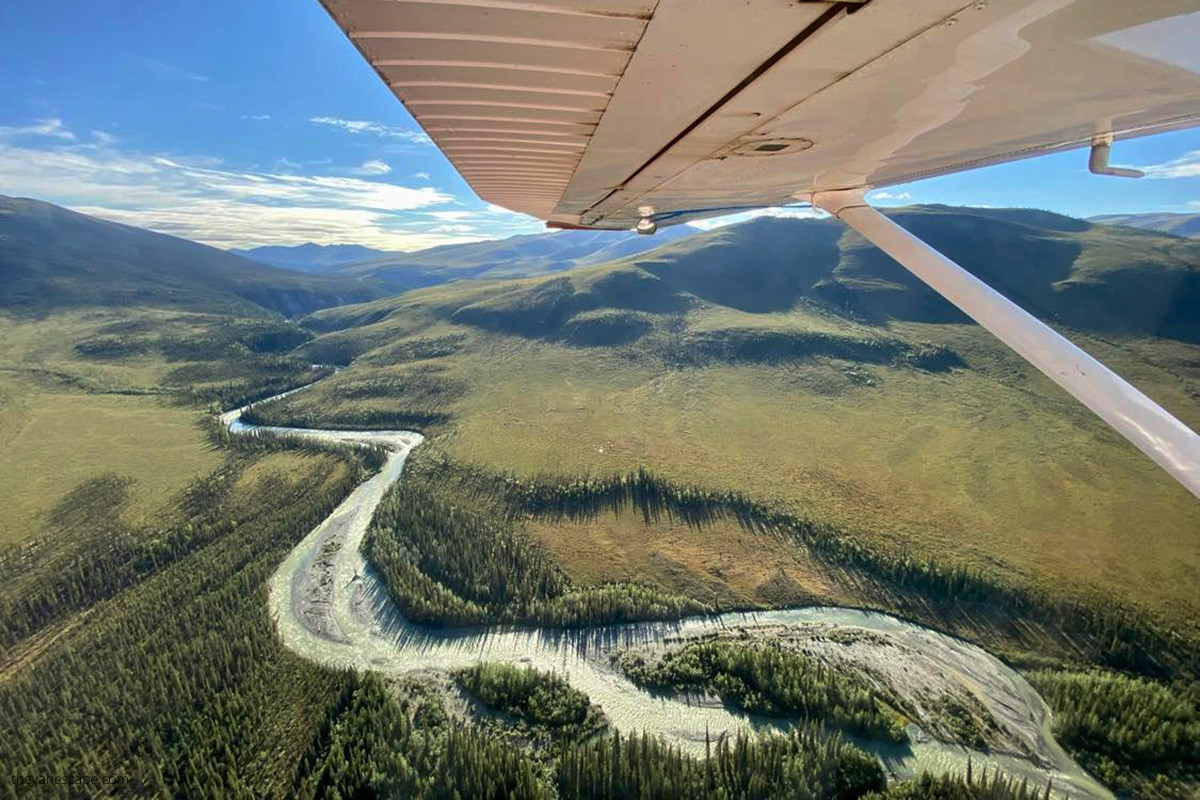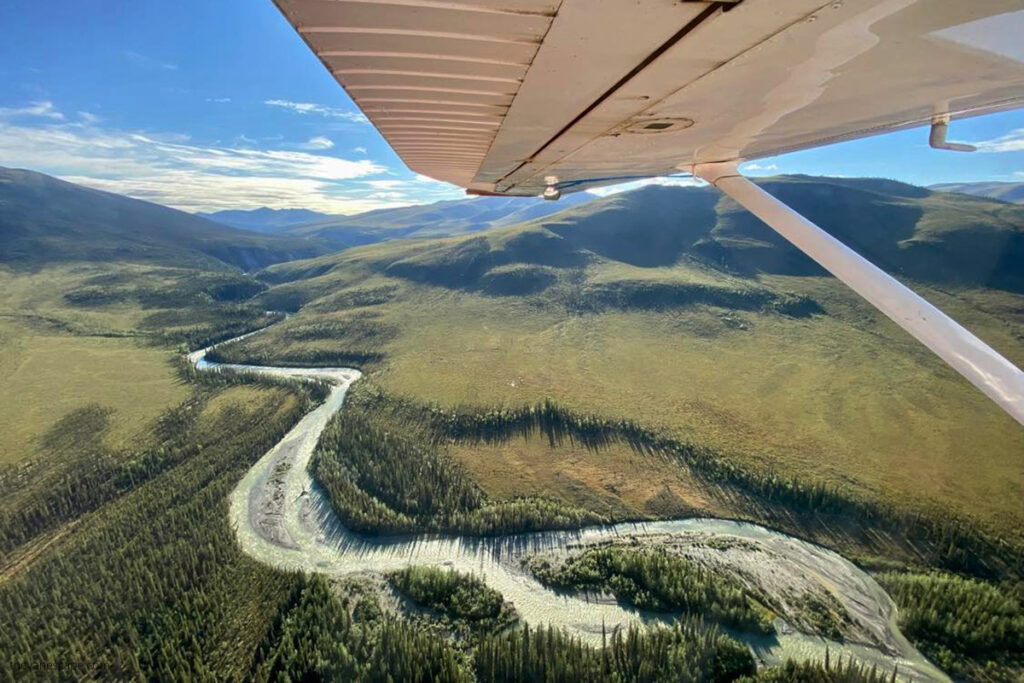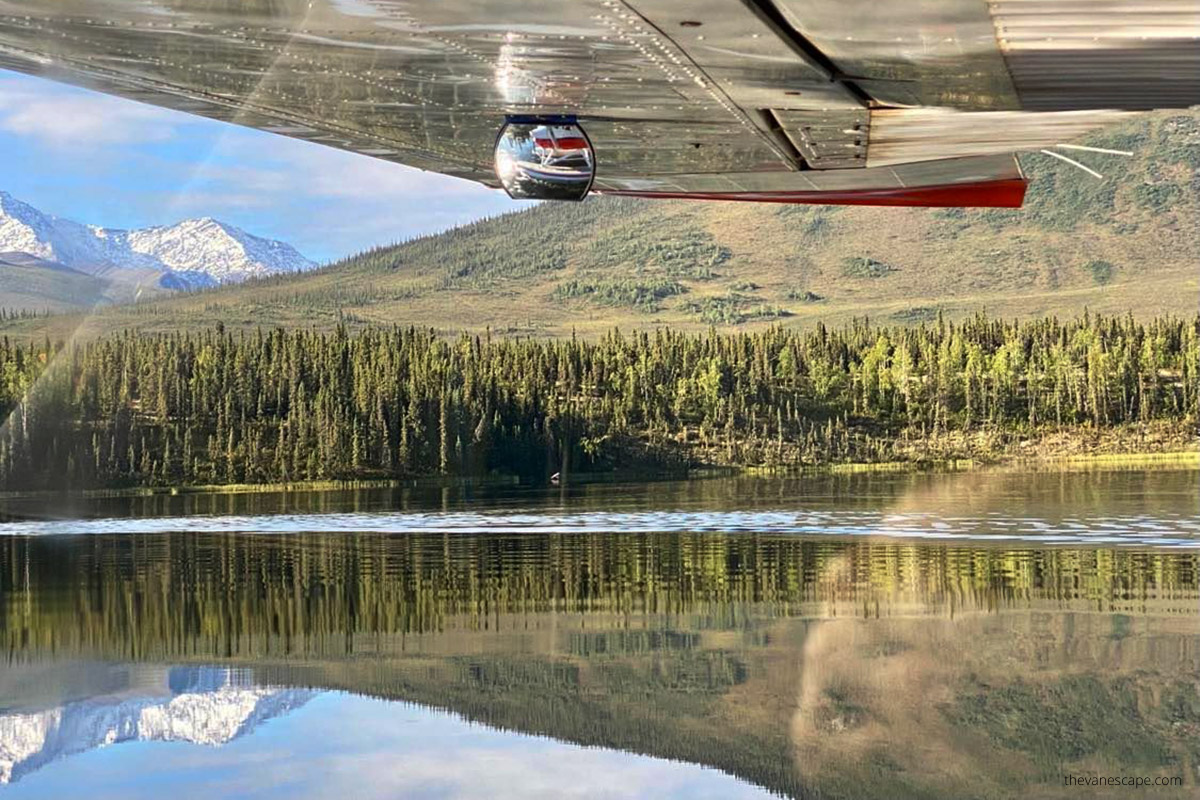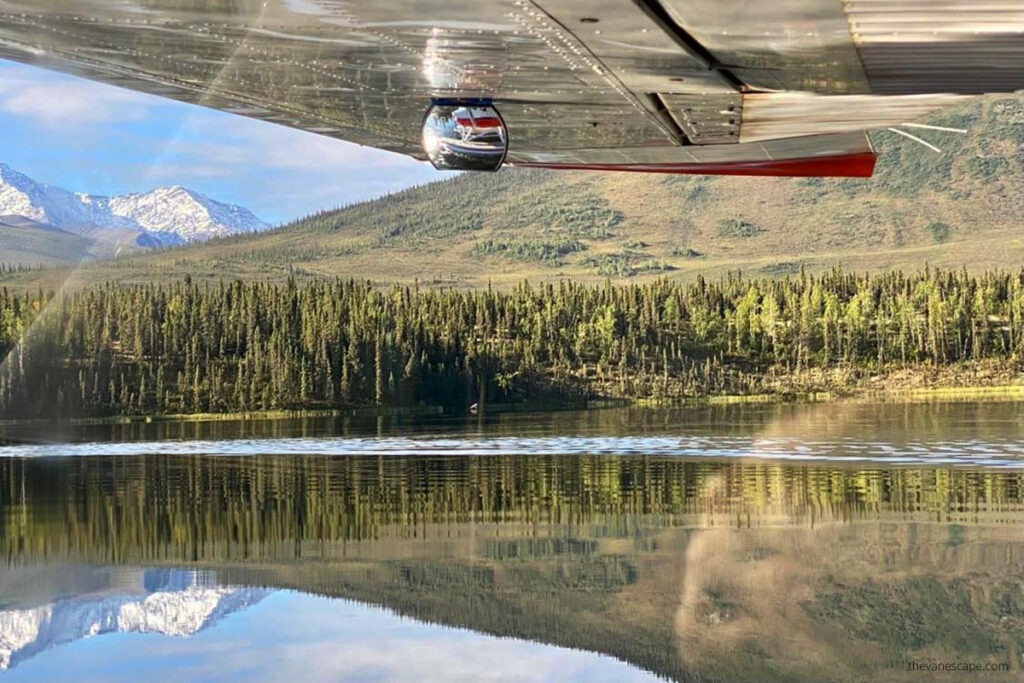 The Gates of the Arctic Facts
The Park is enormous. It's the second largest in the U.S. at 8,472,506 acres (13,238 sq mi; 34,287 km2). The park protects six wild and scenic rivers, fragile vegetation, and various wildlife within the Brooks Mountain Range. The foothills south of the range are at an elevation of about 4,000 feet and then rise to over 7,000 feet north. At the Arctic Divide, the elevations transition to the tundra that extends to the Arctic Ocean.
Our Plans
A trip to the Gates of the Arctic is a remote backcountry experience. Now we know what part of the Gates to the Arctic we want to explore, how to do that, and how to prepare, as you must be self-sufficient in this Park. This one-day stay in the wilderness was quite challenging. We understood the power of the mountains and the wildlife, how small we're in the face of nature, and how much we need to think and prepare about a more extended trip to make it an adventure that ends safely.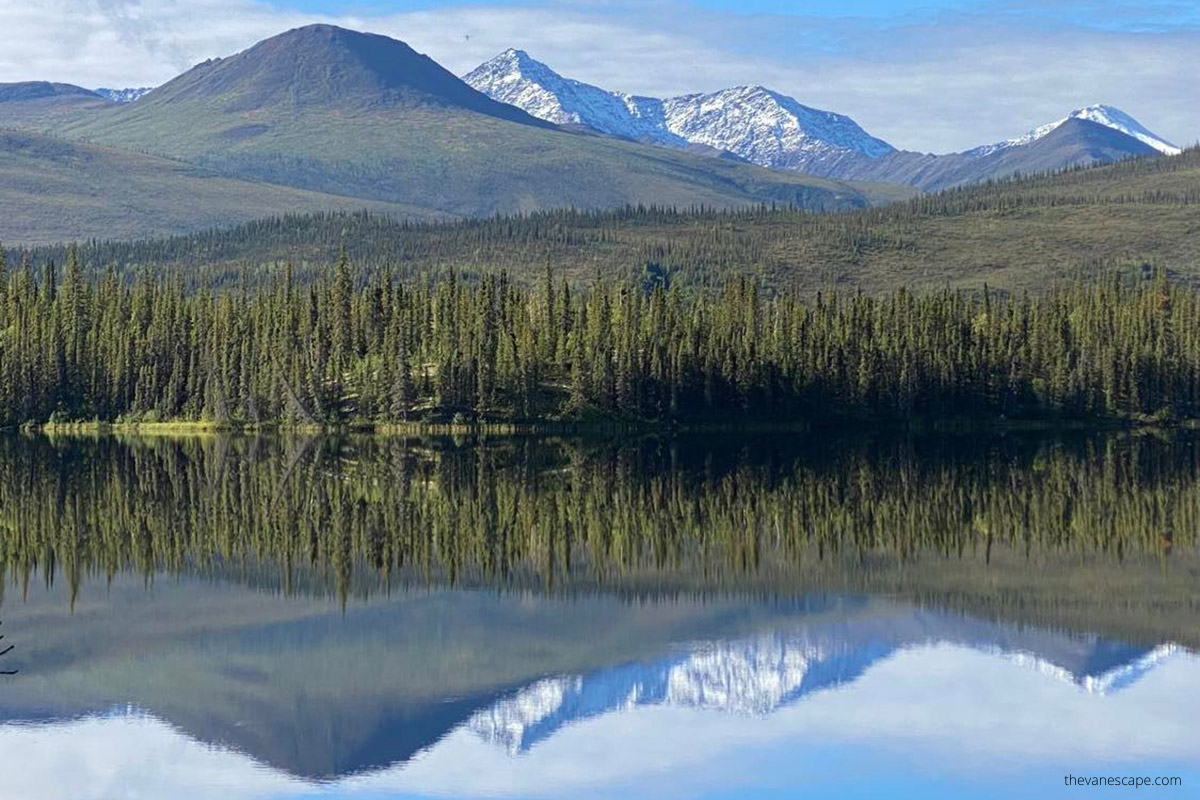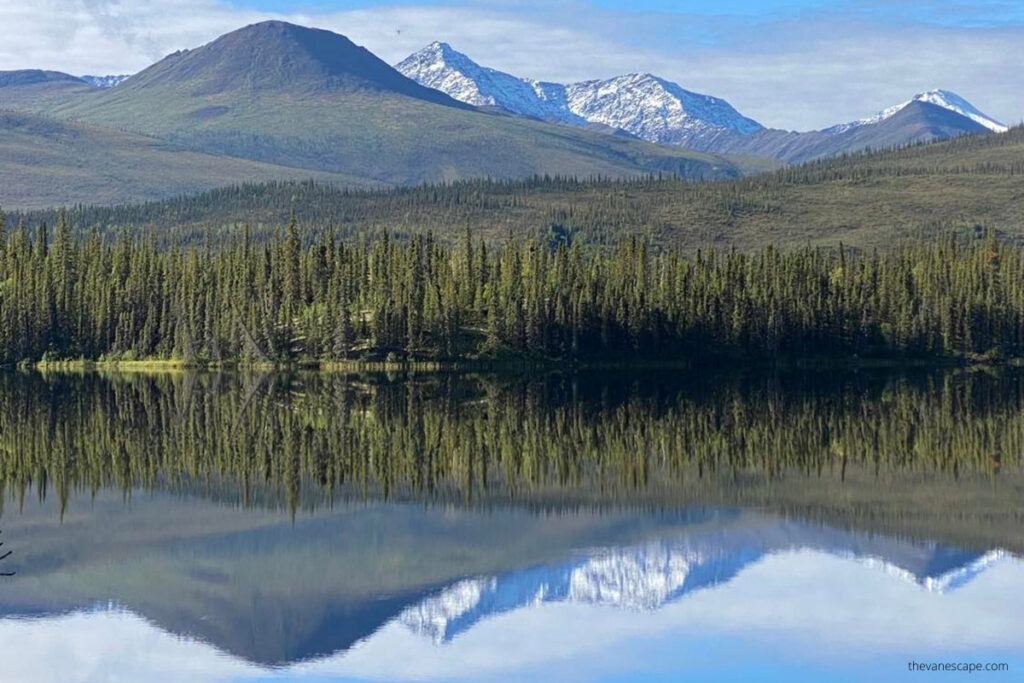 8. Visit Arctic Integracy Visitor Center
The Arctic Integracy Visitor Center is one of the most interesting and, in addition, the prettiest visitor centers we've been to in the USA (and we've been to many). In addition, if you are planning a visit to the Gates of the Arctic National Park or the Arctic National Wildlife Refuge, add this place to your to-do list. You will get the most necessary information, check the weather, or buy a map.
Also, they have beautiful exhibitions and films about fragile wildlife in the Arctic. What's more, they have great programs run by Rangers. We attended some of these meetings because we had been in Codfoot for several days. And it was a meeting at the highest professional level. We are fascinated by wildlife photography, and we love to photograph bears. We are interested in bears, so we read a lot about them. Each of our trips to Alaska is combined bear viewing, and we know how to behave in bear country. But at one of the meetings with Rangers in the Arctic Integracy Visitor Center, we realized how much we still have to learn. And the lecture about polar bears in this Arctic area (which are on our bucket list for photographing) stuck us in our chairs.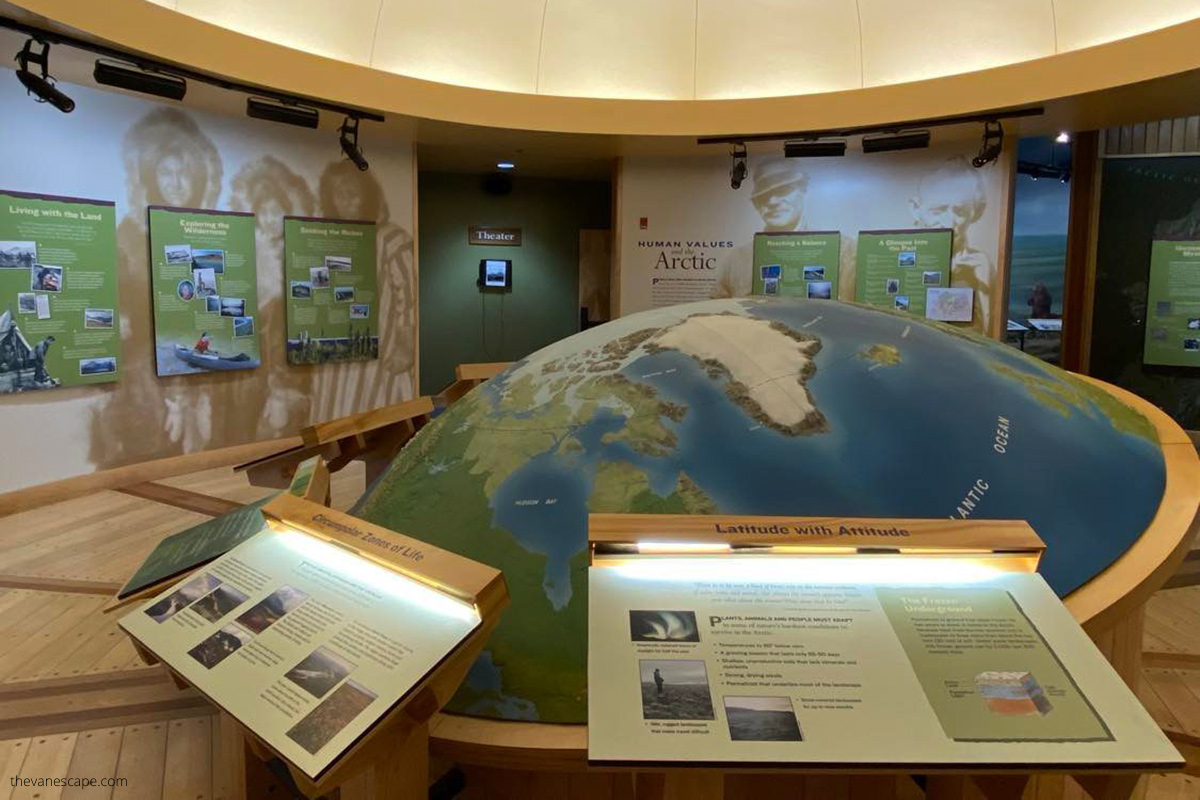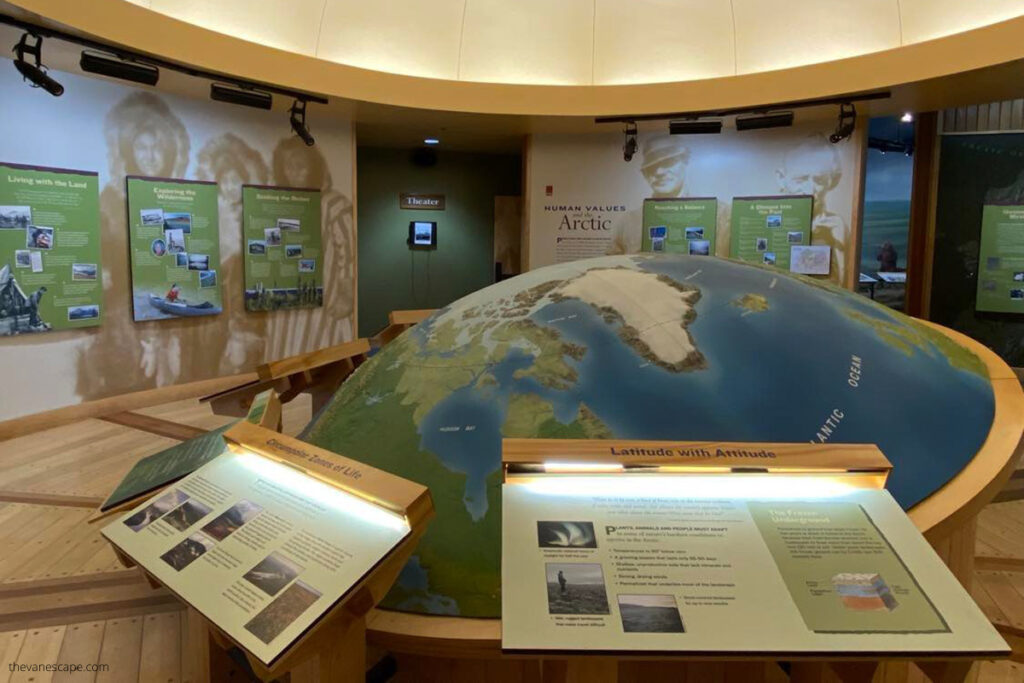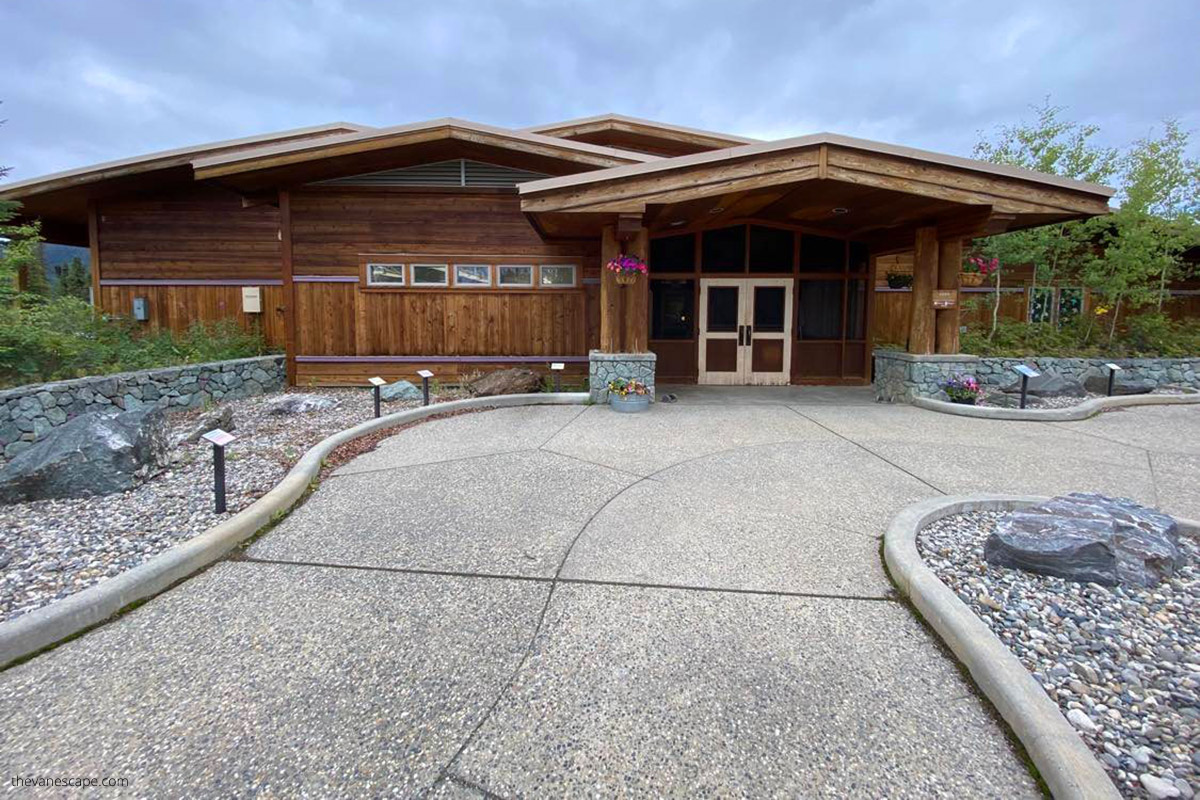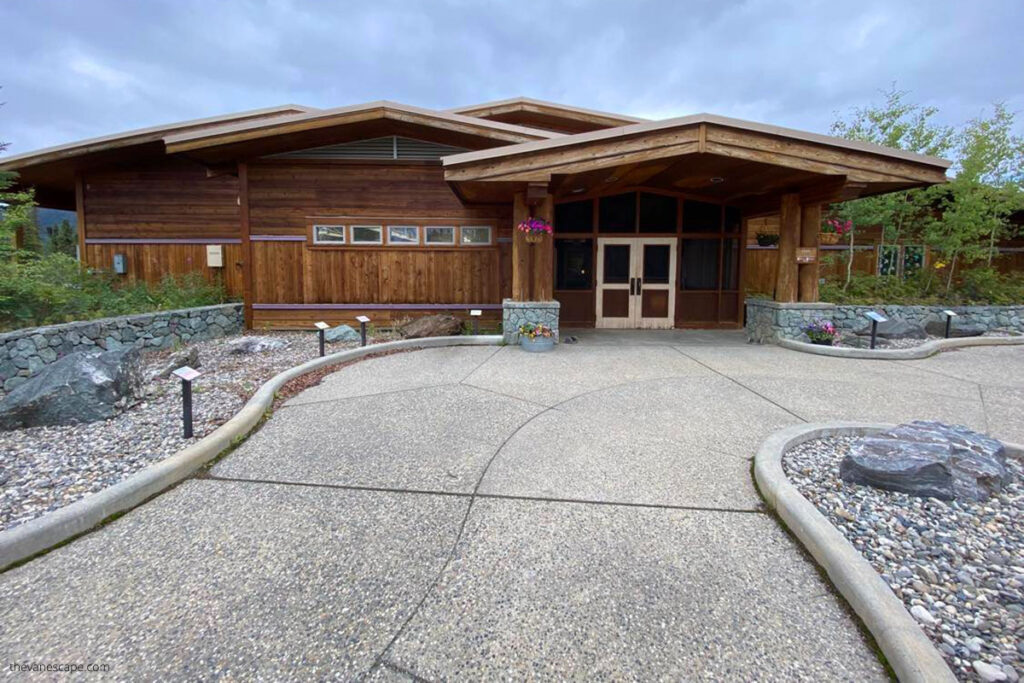 9. Visit Coldfoot Cementary and Old Miner's Cabin
There are little remains of Coldfoot's gold rush era sites. The harsh climate, harsh winters, rainfall, and snow, are not conducive to maintaining buildings in good condition. Not much has survived from the cemetery, but it is still worth looking at this memorial site, even on the way to the local airport. Right next to it, you have several wooden miners' huts to look closely at.
10. Take a Hike to the Trans Alaska Pipeline Viewing Platform
You can take short and easy walks around the area from Alaska Interagency Visitor's Center. There is an excellent trail to the Trans Alaska Pipeline, viewing platforms with information boards to learn about the oil industry in Alaska.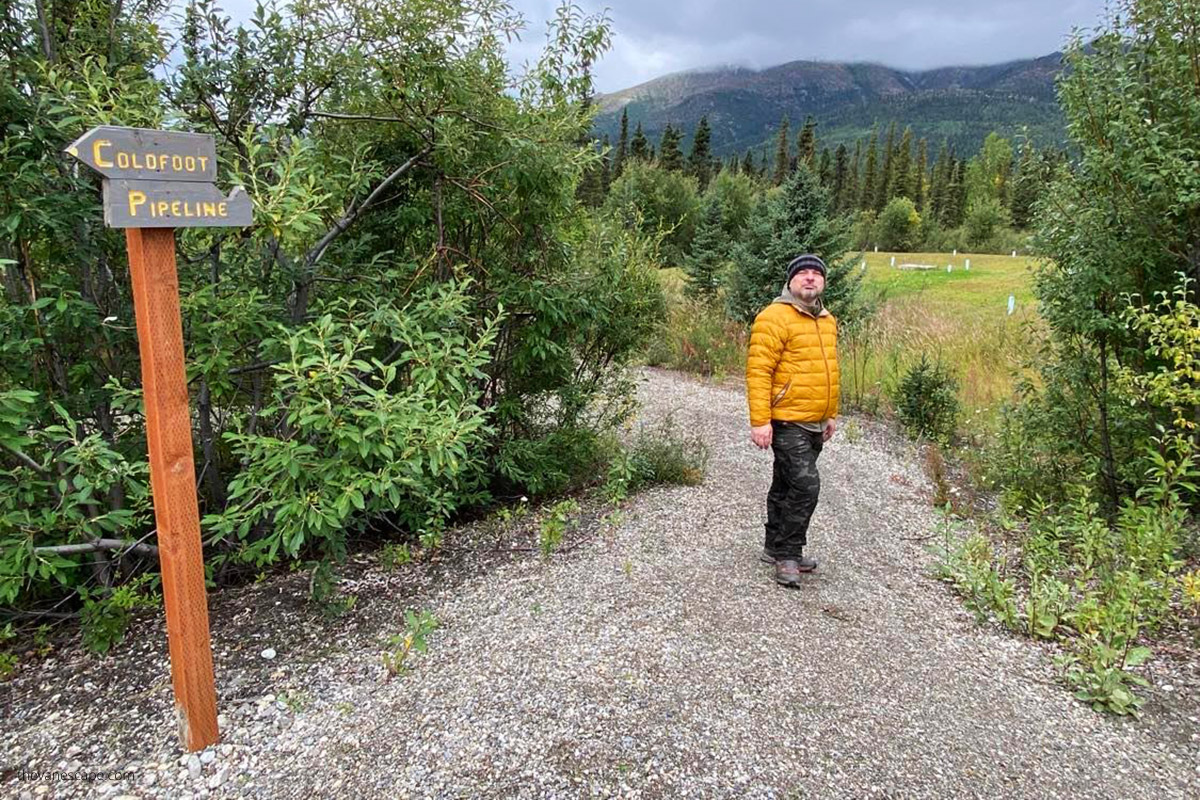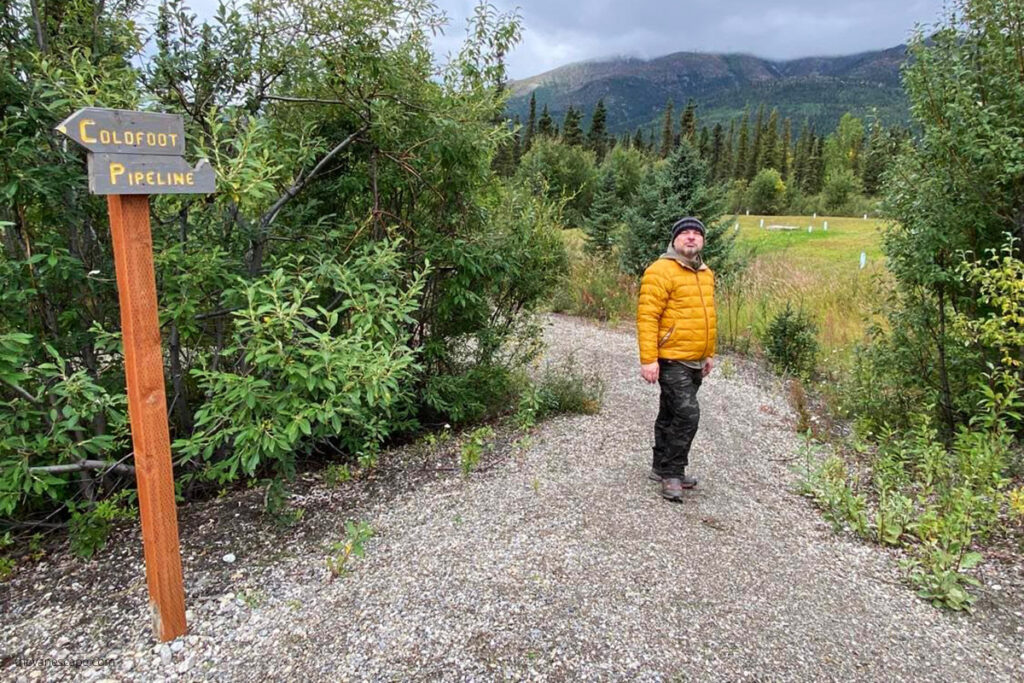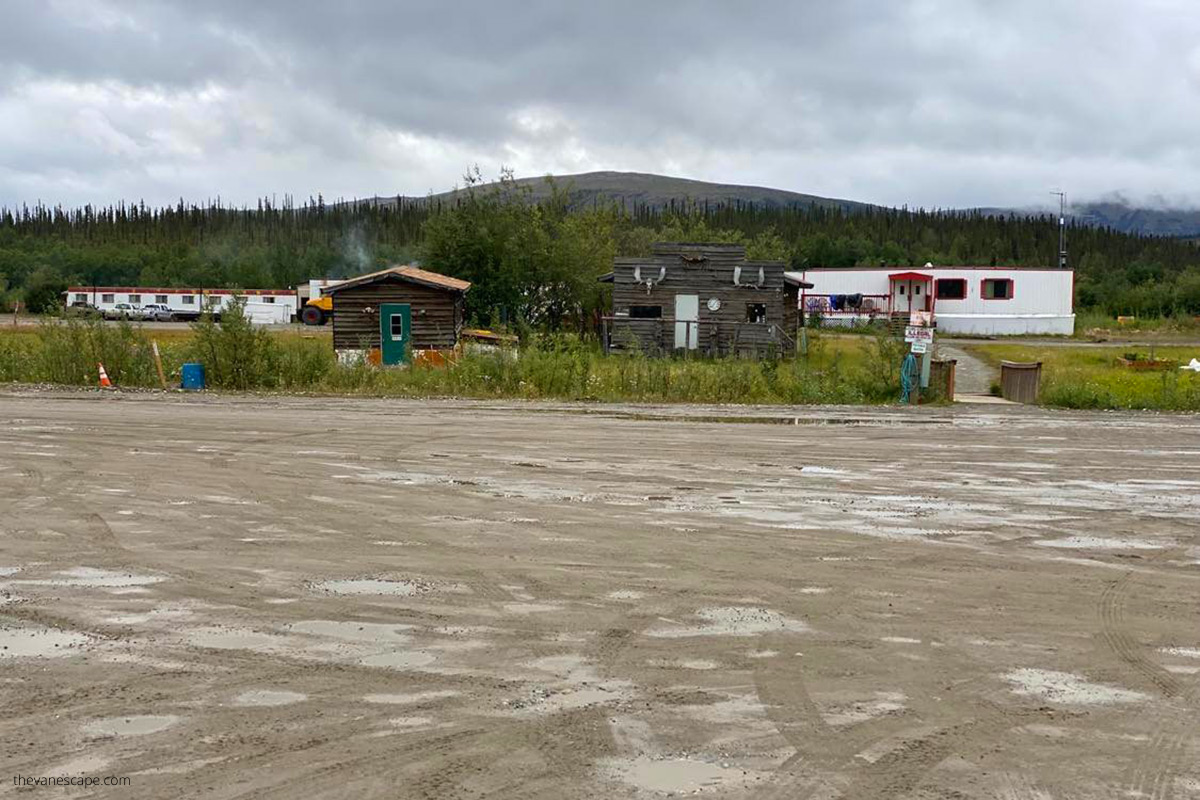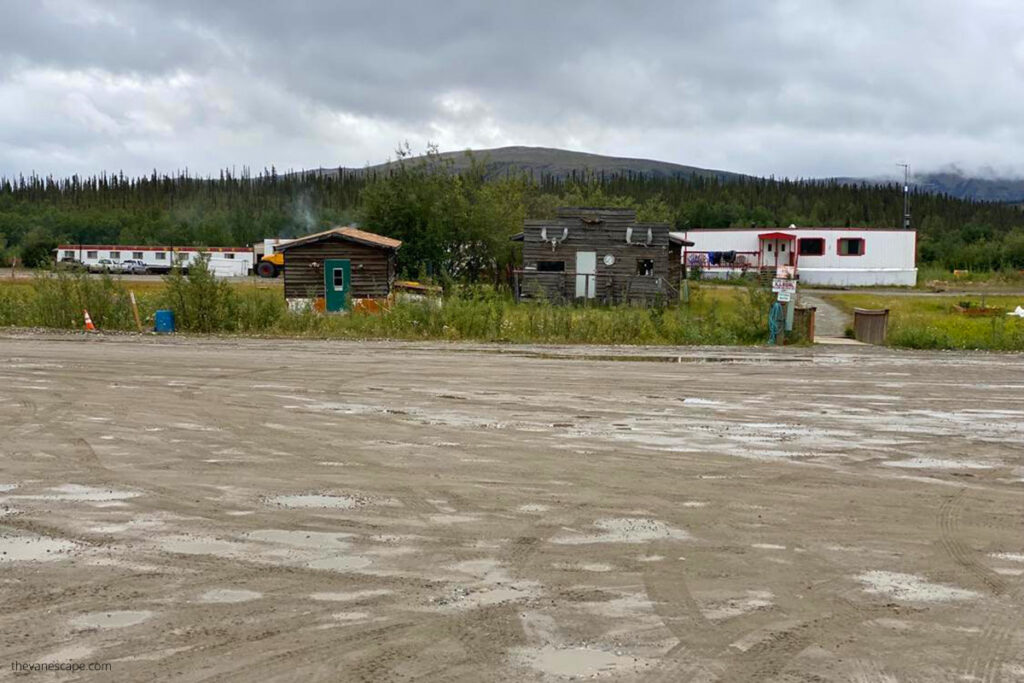 11. Try to Catch the Aurora Borealis (the Northern Lights)
With a bit of luck, if you plan your visit between August 21 and April 21, you can see an unusual phenomenon in the sky called the Northern Lights. At this latitude, beyond the Arctic Circle, seeing the dancing Aurora Borealis is highly likely. This place is considered one of the best for observing the aurora in Alaska and North America. Trips to the Arctic Circle from Fairbanks for aurora viewing are also organized between mid-August and mid-April.
12. Visit the Arctic Mining Town of Wiseman
One of the best things to do in Coldfoot is to visit the arctic town of Wiseman. Make sure to add this place to your Dalton Highway itinerary, as it's one of the best stops along the way. Check what to do in Wiseman, as its old mining town has exciting gold rush era history. To get there, at mile 189 of Dalton Highway, just after crossing the Middle Fork Koyukuk Bridge #1, take the turnoff to the west and drive 3 miles to the Wiseman.
13. Enjoy Fishing at the Local Creeks
Fishing is one of the best things to do in Coldfoot, Alaska. It's a great idea, especially if you plan to spend more time there. Ask locals at Coldffoot Camp which creeks and spots are the best for it. But you must have a permit for fishing. Purchase an Alaska sport fishing license from the Alaska Department of Fish and Game. Arctic grayling, whitefish, Dolly Varden, arctic char, lake trout, burbot, and northern pike, can be found in the far north. Alaska Department of Fish and Game has a detailed free PDF guide with fishing spots and tips in this area.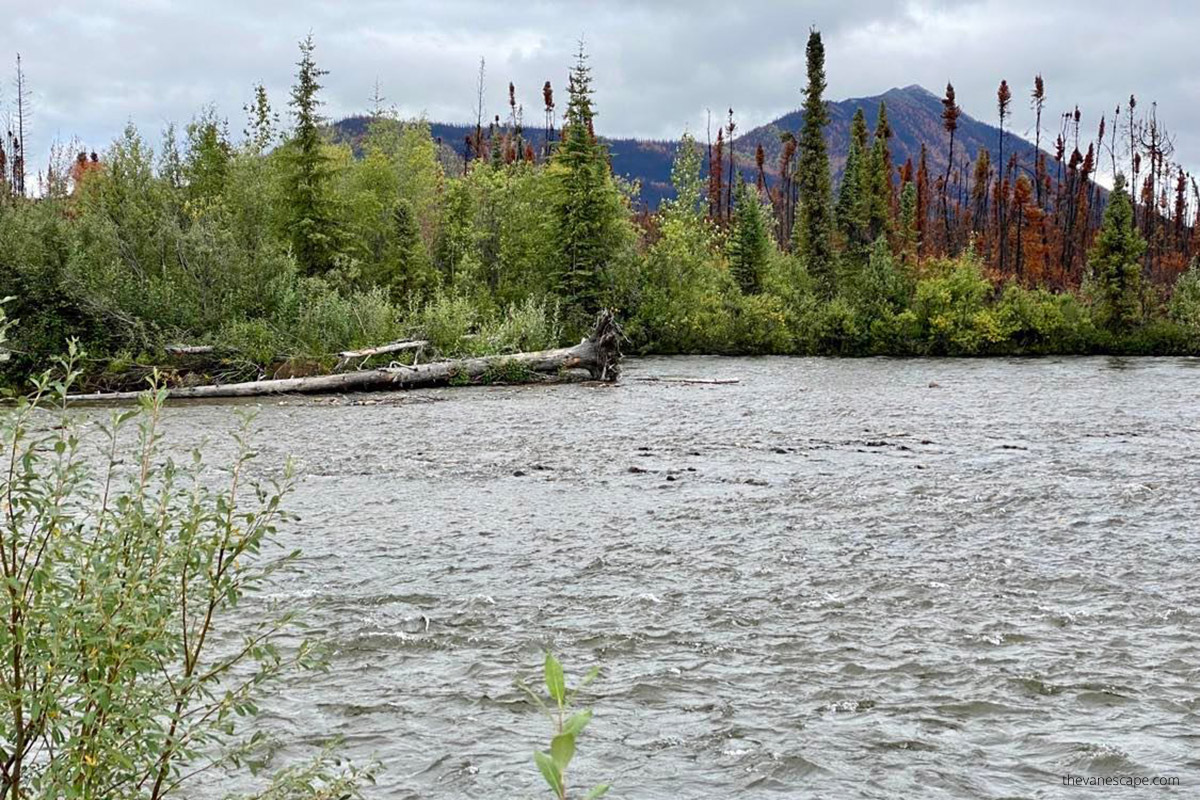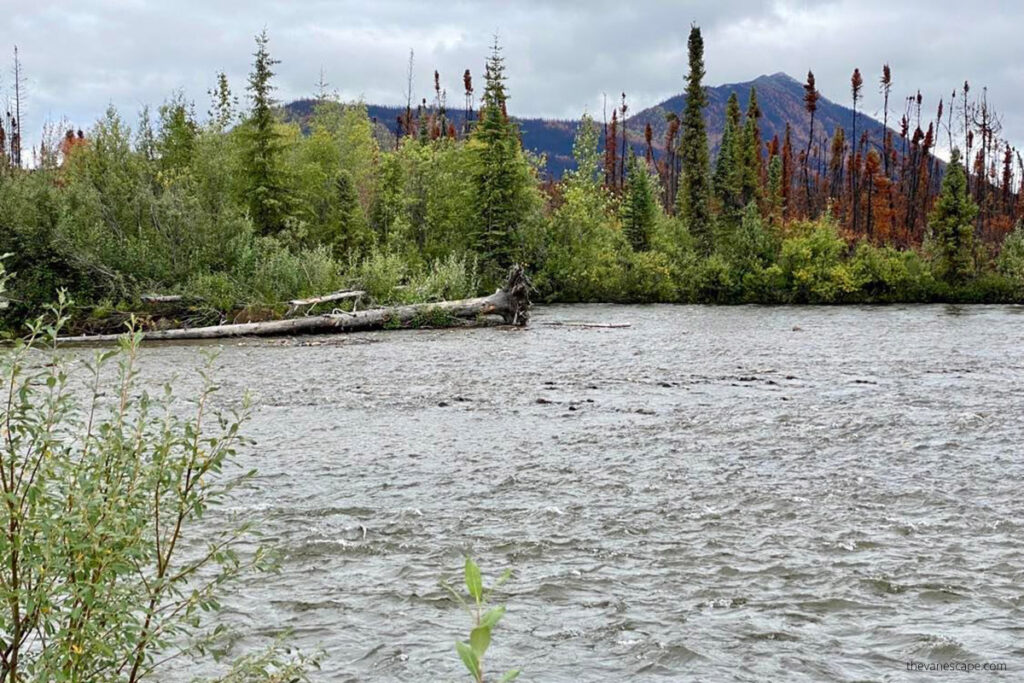 14. Float the Koyukuk River
A raft trip on the Koyukuk River with an experienced raft guide is one of the best things to do in Coldfoot. This adventure is on our bucket list for the next trip. To get to the rafting, you must also book an air taxi to take you to the river and then pick you up. Such an expedition requires excellent preparation, including rafting skills on challenging, wild rivers, and is unfortunately quite expensive. Depending on the number of days, rafting can cost up to several thousand dollars per person. Coldfoot Camp organizes shorter and more affordable tours. It is an excellent opportunity to see the summer landscape from a water perspective during one of the rare warm months in the Arctic.
15. Hike the Coldfoot-Chandalar Trail
Coldfoot-Chandalar Lake Trail is 60 miles long and was built during the gold rush era. You can make this trail as a backpacking trip or walk just a few miles. According to Rolfe G. Buzzell, Ph.D., and his Office of History & Archaeology Report, number 117 published on Goldrich Mining, the Coldfoot-Chandalar (RST 9) and Caro-Coldfoot (RST 262) trails were part of a system of roads and trails that miners constructed.
The trails to the Koyukuk and Chandalar mining districts were the essential trail connections north of the Arctic Circle. Still, they were modest in terms of the numbers of stampeders, miners, freight carriers, and production of gold compared to other districts in Alaska, like the Independence Mine. The remoteness, severe environment, and long overland distances contributed to the high cost of transporting equipment and supplies to the Koyukuk and Chandalar districts. These two districts were among the highest in Alaska in terms of operating expenses, which reduced profits from gold mining by 50 percent.
Best Things to Do in Coldfoot, Alaska – Final Thoughts
Many travelers only drive the Dalton Highway, within a maximum of 2-3 days there and back, without sightseeing along the route. They only stop at Coldfoot Camp to refuel for the onward journey to Prudhoe Bay. It's a shame because Coldfoot is one of the most exciting places on Dalton Highway, with the most significant number of exciting outdoor activities. We are enchanted by this Alaskan wilderness, Coldfoot, and its residents, and we will be back there again. We hope the above list will inspire you to plan at least a 2-3 day stay in Coldfoot, Alaska.
TRIP TIP: If you're planning your Alaska summer itinerary and want to explore other parts of the state, check out our Alaska travel and photo guide for more inspiration.
Do you like it? Pin it and share it with the World!