Chicken is an odd, almost completely deserted town in the wilderness of Alaska, which you will reach by traveling on the Taylor Highway (Alaska Route 5). How to get there? What to see in Chicken? Is it worth your drive?
This article may contain affiliate / compensated links. For full information, please see our disclaimer here.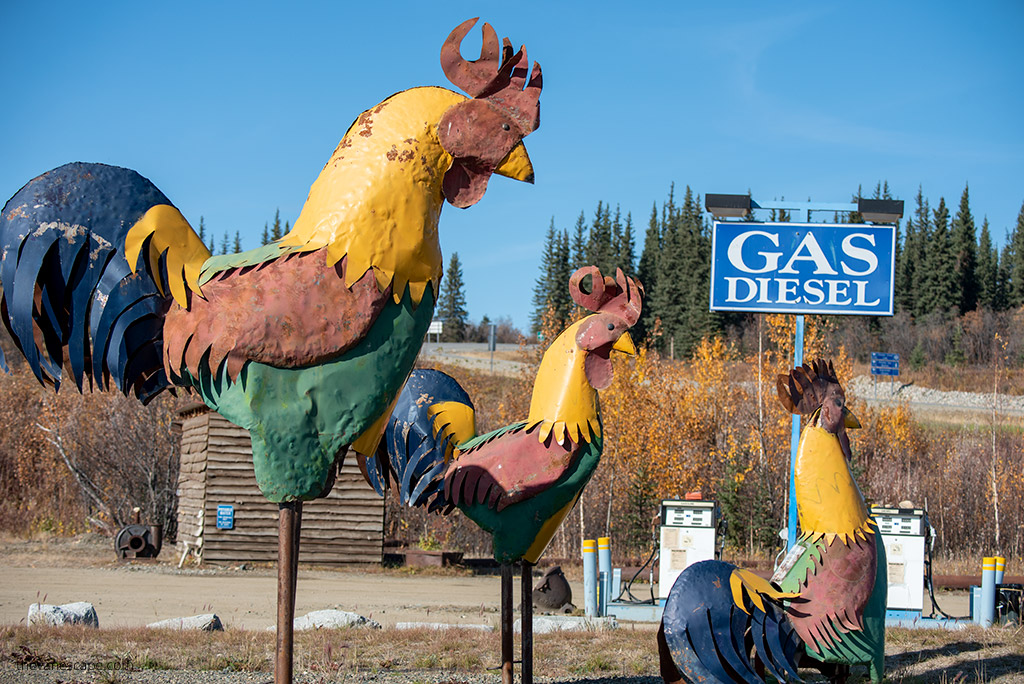 Introduction
We love weird places, and the stranger they are, the more interesting they are, especially if they hide incredible stories or are steeped in history. During our travels through Alaska, we were in several odd and eerie places. We visited an abandoned Kennecott copper mine, an Igloo Hotel whose construction was never completed, or the town of Hope with no hope for a better future.
Is Chicken Alaska a real place?
We had no idea that the tiny town of Chicken existed in Alaska. But it's a real place. We were analyzing a detailed map of Alaska and Canada because we would cross the borders. We decided to cross the border between the USA and Canada on our last Alaska road trip at the northernmost international border crossing in North America. In this way, we came to the almost abandoned town of Chicken Alaska. The town is quite an exaggerated word here.
Where is Chicken Alaska?
Chicken Alaska is located in Southeast Fairbanks Census Area, on the Taylor Highway (Alaska Route 5). It's on the milepost 65.3 of the Taylor Highway. Town of Chicken, Alaska, is the last stop where you can fuel your tank if you plan to cross the USA-Canada border. We chose this route because we planned to reach the Arctic Ocean in Canada via the Arctic Circle and the famous Dempster Highway.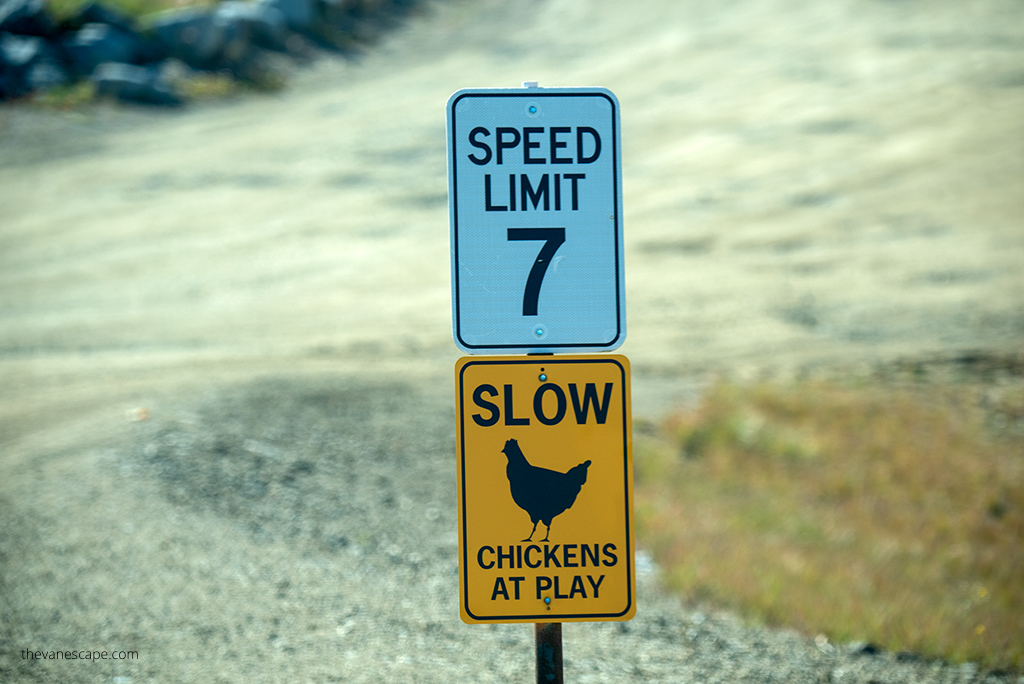 History of Chicken Alaska
The community of Chicken was founded by gold mining and is one of the few surviving gold mining towns in Alaska. During the Klondike period, Chicken was a boomtown, home to over four hundred gold-loving miners. The population was 7 in the 2010 census, down from 17 in 2000, but it typically has a year-round population of 17. Due to mining, Chicken Alaska's population peaks in the summer. The town is often included on lists of unusual place names.
A portion of Chicken, with buildings dating to the early 1900s and F.E. Company Dredge No. 4 (Pedro Dredge), is listed on the National Register of Historic Places as the Chicken Historic District. Chicken is the outpost of the Fortymile mining district. There are still active gold mines and inactive gold dredges in this area. So much gold was mined here that it was worthwhile to haul huge gold dredges to this remote location.
As of September 2021, downtown Chicken is for sale, including the Chicken Creek Cafe, the Chicken Creek Saloon, a Liquor Store, a gas station, the Chicken Mercantile Emporium, and a 1400 sq. ft. residential cabin.
Why is it called Chicken Alaska?
Town of Chicken is not named after chickens. Chicken, Alaska, was founded in the 1890s by prospectors who were digging for gold on the Fortymile River. The settlers survived their first severe winter by eating Ptarmigans. This is a native grouse that is now the state bird of Alaska. After surviving the cold winter, the grateful people decided to call their new home Ptarmigan. But it was so hard to spell, that they called it Chicken instead.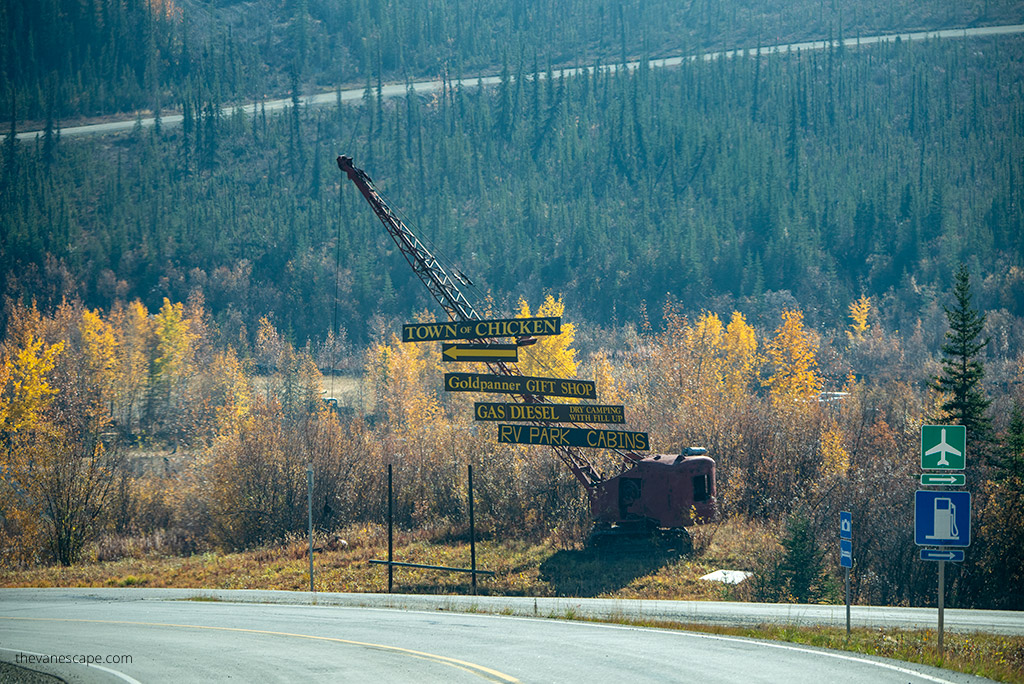 How to get to Chicken Alaska?
From Tetlin junction to Chicken it is about 66 miles.
From Tok to Chicken is 77 miles via Taylor Highway (Alaska Route 5).
If you are driving from Fairbanks, it is 279 miles via AK-2 N and Taylor Highway.
From Dawson City, Yukon Territory, Canada is 110 miles via Top of the World Highway and Taylor Highway.
From the Lower 48 or Canada. Take the Klondike Loop from Whitehorse to Dawson City. Then take the Top of the World Highway from Dawson City. This turns into the Taylor Highway at the turnoff to Eagle. After crossing Chicken Creek, turn left toward downtown Chicken, which you cannot see from the highway. After a distance of 1/8 mile, you can not miss it.
If you plan to rent a car, check out the local company Alaska Auto Rental. Read our review.

When to visit Chicken Alaska?
You can visit Chicken only during the summer months. During winter, the Taylor Highway is closed to everything but snowmobiles. Everything in the town is open from mid-May/beginning of June to mid-September. Also the USA – Canada Border Crossing at Poker Creek – Little Gold Creek is open only for the summer months from June through September.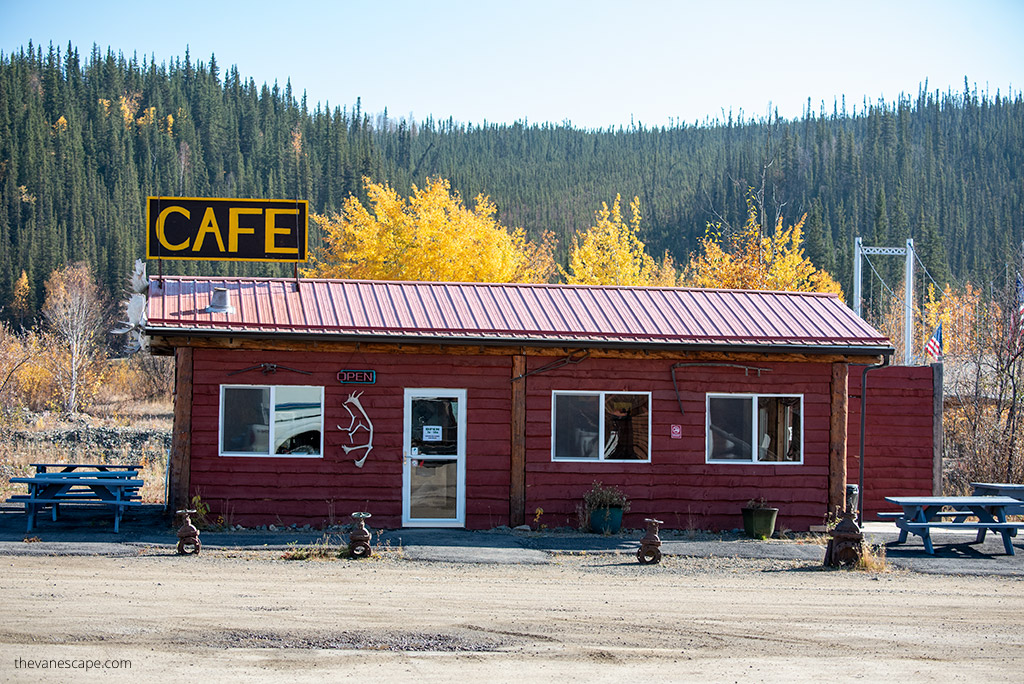 What amenities will you find in Chicken?
You will not find much in Chicken. It's a quirky town. There is no electricity, but people have generators for electricity. There is no toilet in downtown Chicken, but there is an outhouse. In our opinion, Chicken itself is not worth the trip. Well, unless you collect weird places. It is worth visiting if you intend to cross the borders. It is worth visiting if you have already seen most of the fascinating places in Alaska and have more time for your Alaska road trip.
The Downtown Chicken has a bar, gift shop, café, and salmon bakery. When you arrive in the morning, be sure to try Sue's famous cinnamon rolls.
Gas Station
It is the only place on the route between Tok and Dawson City where you can refuel. That's why it's worth stopping at Chicken just for that reason.
Gift Shop
You will also find a gift shop here. Here you can buy many fun items decorated with chickens, like caps, T-shirts, key rings, etc.
Goldpanner – Chicken Creek RV Park
The Goldpanner/Chicken Creek RV Park is located in the middle of Chicken, right next to the gas station. Campers can enjoy several great attractions just beyond the campground, including free recreational gold panning, the historic town of Chicken and Tisha's Schoolhouse, and hikes to the Cowden Gold Dredge on the Mosquito Fork River, and travelers can also go geocaching. The Chicken Ridge Trail for ATV touring, the 40-Mile River system for swimming and kayaking, picnicking at Chicken Creek, and breathtaking landscapes to soak in and photograph. Rates check on their website.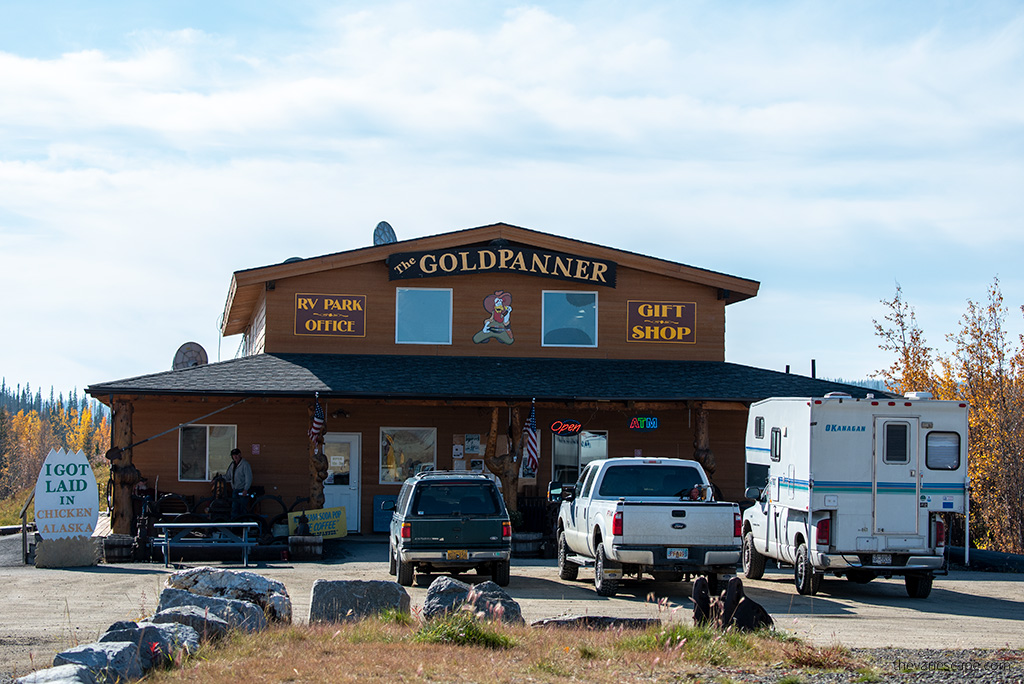 Chicken Creek Cafe
Café serv­ing home­made break­fasts, soups, sand­wich­es, and more. But keep in mind, it might be closed. So pack for your trip some snacks and water supply.
Chicken Gold Camp and Outpost
Chicken Gold Camp & Outpost is one of Alaska's friendly rural RV parks and campgrounds, offering 39 electric RV sites, 32 'dry' (non-electric) RV or tent sites in 3 adjacent campgrounds, rooms, and five cabins. "Gold Camp" (consisting of 3 adjacent campgrounds) prides itself on its clean, well-maintained facilities. In addition, group activities are offered, including gold panning, gold dredging tours, recreational gold-digging, and more, both at the campgrounds and on nearby claims in the Chicken Creek Valley. Learn more directly from the website.
At Chicken Gold Camp and Outpost is Pedro Dredge No. 4, which was the dredge mined at Pedro Creek outside Fairbanks from 1938 to 1959 before being moved to Chicken Creek and operated there between 1959 and 1967. Mike Busby and Bernie Karl purchased the dredge and brought it and other mining equipment to Chicken in 1998 as a tourist attraction. It was listed on the National Register of Historic Places in 2006.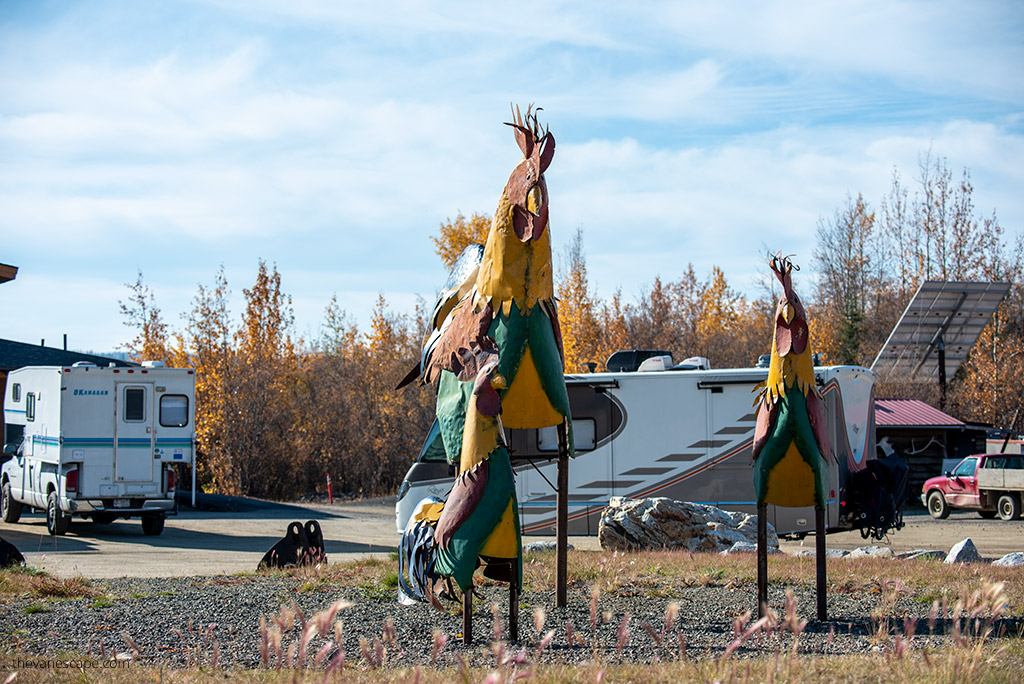 Other Activities
At milepost 67 on Taylor Highway, you will find the Chicken Creek Bridge. This is the site of a dredge facility operated by the Fairbanks Exploration Company from 1959 to 1965. On average, the dredge operated 24 hours a day for 2 weeks. At its peak, one trip brought in $40,000 in gold.
If you are in Chicken at milepost 69 you will reach the Lost Chicken Hill Mine, which was established in 1895. It got its name because it contained a winning lode that was "lost" for many years. The area has a mining history that began before the Klondike Gold Rush of 1897-98. It is now privately owned and mined.
Are you looking for more Alaska inspiration? Check out our detailed Alaska Travel & Photography Guide.
Are you planning an Alaska road trip? Check out our 10-day Alaska itinerary.