The Best Day Trips From Anchorage in Summer 2023
Planning to spend a few vacation days in Anchorage and wondering what are the best day trips from Anchorage? What is there to see in the area? What are the best things to do near Anchorage? We'll show you the best day trips from Anchorage in summer 2023, which you can organize yourself or with a tour operator. They range from glacier hikes, mountain trails, and wildlife viewing to bear watching, scenic flights, kayaking trips, gold mine exploration, and much more. For every budget and taking into account the different needs. We give you lots of tips on how to organize such day trips.
This article may contain affiliate / compensated links. For full information, please see our disclaimer here.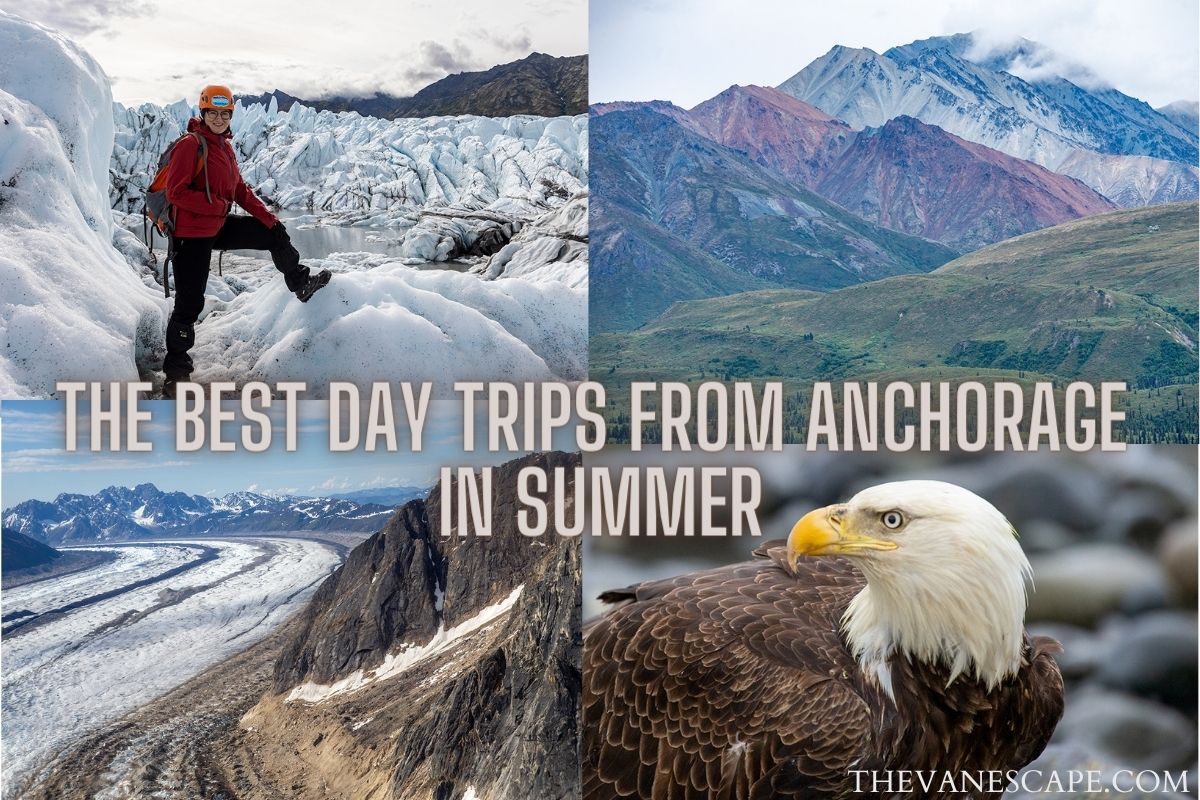 The Best Day Trips From Anchorage – Our Experiences
Anchorage is the perfect base for an extended stay while visiting Alaska. If you only have a few days for your Alaska vacation, staying in Anchorage and taking day trips from there is the best idea. Day trips from Anchorage allow you to experience fascinating natural landscapes, hiking trails, glistening glaciers, abundant wildlife, and much more during the summer. Staying in Anchorage opens the doors to the best of Alaska from one place.
In this article, we'll present the best and our favorite day trips from Anchorage for summer 2023. We'll also break them down into several parts, including tours you can take on your own if you rent a car in Anchorage. However, we'll also tell you the best day trips from Anchorage without a car. This can be an excellent solution to save money if you're traveling alone or on a budget, as prices have skyrocketed this past summer – both for rental cars and gas. So, two or three trips from Anchorage may be cheaper than renting a car and driving alone. Also, some places and experiences can only be reached with a professional guide, another reason for well-organized day trips from Anchorage.
We have carefully checked all the day trips we suggest and know the places described in detail. Moreover, we have been to each of those places. We recommend day trips from Anchorage to places you can reach in no more than 2.5 hours' drive one way. So that you can enjoy the outdoor activities and you can experience Alaska's beauty not only through the car window. And that you have enough time to safely return to Anchorage for dinner and rest before another day of vacation. Summer days in Alaska are extended thanks to the midnight sun, but everyone needs a little rest. You're finally on your dream Alaska vacation.
Our Top 3 Picks: Best Day Trips From Anchorage in Summer 2023
Day Trip to Matanuska Glacier
Once you embark on your Alaska adventure, the highlight will undoubtedly be the glacier hike. Matanuska Glacier, known for its accessibility and stunning scenery, is a top contender for this unforgettable experience.
Bear Viewing in Lake Clark NP
To reach Lake Clark, you must take a plane from Anchorage, as no roads are leading to it. This destination offers a thrilling opportunity for nature enthusiasts to witness bears in their natural environment. An unforgettable adventure awaits you!
Denali Flight from Talkeetna
Whenever we recall our flight over Denali and landing on the glacier, we can't help but feel chills because it was one of the most memorable Alaskan trips we've ever had. You now have the opportunity to embark on this adventure and marvel at the tallest peak in North America.
The Pros of Planning Day Trips from Anchorage
Availability and Diversity
Anchorage is the largest city in Alaska by population. With 288,121 residents (in 2021), it's home to nearly 40% of the state's population. Anchorage is a perfect base to experience the beauty of Alaska and have many Alaska adventures. We always include Anchorage in our Alaska itinerary. There is a wide selection of international and domestic flights, the best selection of rental cars, and a wide selection of accommodations to fit any budget. The city also offers entertainment, cultural heritage, and native art. If you make this city your base, you won't be bored for a moment.
You Can Feel Like a Local
Staying in Anchorage a little longer and making it your home base will allow you to feel the atmosphere of the city, get to know it better, and feel like a local. After day trips, you can explore the city at your own pace, visit various restaurants and food trucks recommended by locals or enjoy the sunset view from spots known only to locals.
You Don't Have to Worry About Your Stuff
You have a base for your stuff. Staying in one place, you don't worry about leaving your valuables in the car and going on a trail or a day trip. Nowadays, we often travel on vacation with laptops or expensive photo equipment. We often worry about our things when leaving them in the car while experiencing some adventures. You will not take a laptop for a glacier kayaking trip. So if you have a base, you feel more comfortable. You can find the best accommodation prices by checking the Deals Finder below.
You Have Different Means of Transport
You can get around Anchorage by Uber, cab, or bus if you don't want to rent a car. The city is well connected by rail to other major centers in the state. What's more, from Anchorage, you have great bus connections to the state's main attractions at very affordable prices (even better than rail). You can also take a day trips from Anchorage with pick-up from your hotel. Some shuttle option also helps you quickly get to your destination.
The Best Day Trips from Anchorage in Summer
But let's get to the point and analyze the best options for day trips from Anchorage in the summer. As promised – you will find tips on how to plan them on your own if you have a car and what organized trip to choose if you don't rent a car (and it won't be more expensive at all!).
Day Trip to Matanuska Glacier from Anchorage
Location: Sutton, Alaska, on S. Glacier Park Rd. You'll find the access road at Mile 102 of the scenic Glenn Highway. It's about 2 hours of driving northeast of Anchorage.
Recommended Tour: Full-Day Tour from Anchorage
Matanuska Glacier is one of the most beautiful Alaskan glaciers we have hiked on (and we have experienced several others). Above all, we think it's the best choice if you're visiting Alaska for the first time. Matanuska is an easily accessible glacier. If you've never experienced a glacier hike, you'll find out if you like the experience. However, it's mandatory to buy a guided tour of the glacier. You can't explore it on your own. You can only drive yourself to the parking lot in Sutton. And then you have to take a tour. So you may find the full-day glacier tour option from Anchorage more beneficial. Why?
You don't have to worry about driving the car. You can focus on enjoying the breathtaking scenery along the Glenn Highway. This is one of Alaska's most beautiful routes; the driver will stop at several viewpoints for you to take photos. You will learn a lot about the glacier and the surrounding area. Your equipment is provided: helmet and crampons for glacier hiking. We liked the experienced, knowledgeable guide with whom we hiked on the Matanuska Glacier. We learned a lot from her about the glaciers in Alaska, and she talked so interestingly that after returning from Alaska, we started reading and learning more about Alaska glaciers.
What's included?
Pickup included
All entrance fees
Glacier safety equipment (ice cleats, helmets, poles)
Educational and entertaining guided experience
Light snacks and bottled water
Read more on how to prepare for your trip and see our photos and tips from the Matanuska Glacier hike, as we love this experience. Check the availability and current prices for this one of the best day trips from Anchorage by entering your dates:
Bear Viewing Excursion and Airplane Adventure Tour
First of all, you need to know that you can't organize this trip on your own because there are no roads leading to Lake Clark National Park. You can only get there by plane (air taxi), and it's a great idea for a trip and adventure of a lifetime. Another idea is by boat (from Homer). We experienced this tour from the Kenai Peninsula. But you have the same opportunity to visit this remote park from Anchorage.
We recommend Bear Viewing Excursion and Airplane Adventure Tour because Lake Clark National Park offers one of the best bear-watching opportunities in Alaska. It's one of the best day trips from Anchorage in 2023. We loved to watch bears at Lake Clark. Watching the mighty bears gently open the shells with their huge paws and long claws was very special! We admired bears playing in the water and relaxing on the coast. In addition, the guide was also passionate about bears, so we learned a lot from him about the habits of bears in Lake Clark. Check the details of this tour.
What's included?
scenic flight from Anchorage directly to Lake Clark National Park
observing bears in their natural habitat
shoreside lunch on a beach inside the National Park
landing and facility fees
Airport/Departure Tax
Angela_B said: I was very nervous to go on the small plane, but our guide/pilot Abby was amazing! We saw a lot of bears, and she made sure and listened to what all parties were hoping for with the excursion and delivered!
The bears were amazing!
Our Tip: Another great place to spot bears is Katmai National Park, but trips there are much more expensive than to Lake Clark. In addition, for summer 2023, the bear viewing is available from Homer. So if you are staying in Anchorage, the best choice is this trip, and you save some money compared to tours to Katmai. The impressions are unforgettable because Lake Clark is extraordinary scenery, with lakes, rainforests, tundra, and volcanoes. Check more of our photos from bear viewing in Lake Clark National Park.
We know this Anchorage day trip isn't cheap, but the Lake Clark National Park is unique and remote. We recommend it, especially to lovers of wild nature and bear photography enthusiasts. If it's beyond your budget, we recommend another bear-viewing tour from Anchorage at a lower price.
Alaska Wildlife Conservation Center and Glacier Experience
You can visit each of these places on your own if you rent a car. Add Alaska Wildlife Conservation Center, Chugach National Forest, Beluga Point, Portage Glacier, and Girdwood to Google Maps, and you'll have a great summer day trip from Anchorage. However, it is worth buying the Admission Ticket to the Alaska Wildlife Conservation Center in advance. It's a trendy place during summer, so the best idea is to book an entrance.
You should know that the Alaska Wildlife Conservation Center is a unique place. It's a sanctuary dedicated to the conservation of Alaska's wildlife through conservation, education, research, and quality animal care. They have a wide range of educational activities and events related to protecting nature, so spending a whole day in this center is easy. We also liked the gift store. The items are beautifully made and of high quality. Especially the children's books about animals and their habits and the fun hats for kids are great gift ideas for your loved ones from Alaska.
We highly recommend the Wilderness Wildlife Glacier Experience if you don't have a car. First, the price is very reasonable, so it's an excellent choice for people traveling on a budget, in a larger group, or for families with kids. Also, on this trip, you'll have the opportunity to see bears (brown bears and black bears). While these aren't bears in their natural habitat, seeing bears at the Alaska Wildlife Conservation Center is always your first step to bear viewing if you haven't had the opportunity. Moreover, you can also admire wolves, moose, and bison in this center. This trip is also the quintessential experience of the most exciting places in the Anchorage area. We highly recommend it to people for whom this is their first Alaska expedition.
Day Trip to Talkeetna with Scenic Flight over Denali
Talkeetna is one of our favorite Alaskan towns because it offers many outdoor activities, an attractive historical center, and fantastic history. This is the starting point of all expeditions aimed at conquering the highest peak in North America, Denali. It is also the gateway to Denali National Park. But from Talkeetna to Denali, you still have 152 miles of driving; it's at least 2,5 hours of driving more in one way.
We're always honest with our readers and share the best experiences. That's why we don't recommend a day trip from Anchorage to Denali National Park. In our opinion, it's a waste of time. You should plan at least 2-3 days for such a trip, as described and recommended in our Alaska itinerary (days 3 and 4).
So what can you do if you only have one day for a trip from Anchorage? Focus on the outdoor activities in Talkeetna: walk the main street, eat spinach bread, go to the river, admire the mountain view, and try a local beer. But most of all, consider a scenic flight over Denali from Talkeetna, with a landing on the glacier. We booked and experienced this Denali Flyer Flight Tour with Glacier Landing, and it was spectacular! See more of our photos and tips from Denali flightseeing.
We love Alaska and opt for new adventures and excursions each time we visit. Moreover, we experienced a scenic flight over the Brooks Range and visited the Gates of the Arctic National Park with Coyote Air out of Coldfoot. We also had a scenic flight during a bear-watching trip to Katmai National Park and Lake Clark National Park. But suppose we're to recommend the best of our Alaska flightseeing experiences so far, one we want to repeat and consider an experience of a lifetime. In this case, it's a flight over Denali with a short hike on the glacier.
Our Tip: There is one more reason why we think it is worth focusing on Talkeetna in the 2023 season if you have little time to travel around Alaska. The only road in Denali is under repair, and you can only explore the park up to Mile 43. Of course, you can still do plenty of activities in Denali. Suppose you have a week or less on your Alaska travel in 2023. In that case, we recommend focusing on Anchorage and the surrounding area, taking day trips from here, or focusing on the Kenai Peninsula with picturesque Homer and Seward.
Day Trip to Hatcher Pass and Independence Mine
Driving over the scenic Hatcher Pass and visiting the historic Independence Gold Mine is one of the best day trips from Anchorage ideas we can recommend. There are also great hiking trails. And it's an affordable trip with spectacular and fabulous experiences, the most beautiful scenery in Alaska, and learning about the history of the gold rush era. With our tips from mentioned articles, you can make this trip on your own if you have a car.
We love this place and think it's one of the best places to explore from Anchorage. You can reach the mine by regular car. Then you can explore the mines and surrounding hiking trails on Hatcher Pass. But to drive through the Hatcher Pass pass itself, you should have a 4WD car. Check out our tips on how to plan your Hatcher Pass route.
If you don't rent a car, consider Hatcher Pass Hike & History Guided Tour from Anchorage. This afternoon tour from Anchorage includes a local guide, transportation, an excursion to the Independence Mine State Historical Park, a gold panning demonstration, time at the creek with a pan (rental fee included), and an interpretive hike along the Mill Loop Trail. It's worth mentioning that Independence Mine State Historical Park is now managed by Salmon Berry Travel & Tours.
Our Tip: If you have a rental car and plan your day well, starting your trip from Anchorage early in the morning, you can add to your itinerary the Musk Ox Farm in Palmer, which we recommend in the section below.
Day Trips from Anchorage to Musk Ox Farm with Scenic Drive
During this trip to Musk Ox Farm in Palmer, you can see some incredible and astonishing prehistoric-looking animals up close. You get to Musk Ox Farm on your own if you have a car, and then take a guided tour as it's the only option to visit this farm. Check out our tips and photos from visiting Musk Ox Farm in Palmer on your own.
But if you don't plan on renting a car, you may want to consider a package tour from Anchorage. Especially since it is relatively affordable and the route to Palmer is highly picturesque. We recommend this place, especially to families with children. The kids will be delighted when seeing muskoxen (but we were also delighted! We were pleasantly surprised by this farm).
Day Trip to Palmer from Anchorage in Summer
In addition, Palmer is also home to the Alaska State Fair, held each August and featuring many rides, food, concerts, cultural events, and most importantly, huge Alaskan produce. Palmer is a perfect summer destination with Pioneer Peak and the Knik Glacier Valley to the east and the Talkeetna Mountains to the northwest. And if you need thrills and adrenaline, consider a helicopter ride from Palmer over Knik Glacier with a landing on the glacier (transfer from Anchorage is also available). This trip is on our bucket list for our next stay in Alaska.
Palmer is a charming agricultural town surrounded by mountains and is a perfect idea for a day trip from Anchorage. It's famous for its 90-pound cabbages, seven-pound turnips, and other giant vegetables. It's due to the midnight sun, which shines up even 20 hours a day in the summer. We liked Palmer for its rural atmosphere and very picturesque scenery. We like the big barns against the backdrop of the majestic mountains. It only takes you 2 hours to explore Palmer by yourself. So if you have a car, combining your visit to Palmer with the aforementioned Musk-Ox Farm, Hatcher Pass, and Independence Mine is best.
Day Trip from Anchorage to Turnagain Arm and Potters Marsh Bird Sanctuary
Location: Potter Marsh Bird Sanctuary, 12 miles south of Anchorage, next to Seward Highway. Turnagain Arm 59 miles south of Anchorage, on Seward Highway, 1 hour of driving.
Recommended Tour: Turnagain Arm and Wildlife Center Tour
You can do this route and trip on your own. You will drive along the scenic section of the Seward Highway, one of the most beautiful Alaskan highways winding its way along the coast. There are several scenic spots along this route. One of our favorite spots on this tour is the Potters Marsh Bird Sanctuary. We love birds, and every opportunity to admire and photograph them is good for us. It's a bird-watching area in Anchorage, at the southern end of the Anchorage Coastal Wildlife Refuge. From this point, you have a breathtaking view of Turnagain Arm. From the parking lot, a boardwalk leads through the marsh and over sedges. You can see Canada geese, pintail ducks, goldeneyes, horned and red-necked grebes, and eagles from late April through September. There are also moose in the marsh all year round.
Turnagain Arm is a waterway in the northwestern Gulf of Alaska. It's one of two narrow arms at the north end of Cook Inlet, the other being Knik Arm. On this scenic drive from Anchorage, you can admire the dramatic shorelines of Turnagain Arm on the right and the 3,000-foot mountains of Chugach State Park on the left.
It might be a great idea as a day trip from Anchorage without a car if you book this Turnagain Arm and Wildlife Center Tour. The program also includes visiting the Alaska Wildlife Conservation Center we wrote about earlier. This is a 4-hour tour at an affordable price.
Our Tip: If you like watching wildlife, pack binoculars for your vacation in Alaska. We use it a lot when traveling. What else to pack for a trip to Alaska? Check out our tips and the thorough packing list we've compiled based on our travels around this state.
Day Tour from Anchorage to Seward and Kenai Fjords
Location: 127 miles via AK-1 S and State Hwy 9, at least 2 hours and 30 minutes of driving. If you don't have a car, consider the scenic Alaska Railroad or Park Connection Bus (a cheaper option). You should also know that by train it takes 4,5 hours to drive while by bus only 3 hours of driving. So as a day tour from Anchorage without a car, we recommend getting to Seward by bus (the views on the route are also beautiful, and the bus is comfortable).
Recommended Tour: Kenai Fjords 6-Hour Cruise or Half-Day Resurrection Bay Wildlife Cruise
This is the most extended day trip from Anchorage that we recommend. From our experience, you must add at least 30 minutes more to the travel time because the route is scenic, and it's hard not to stop for a moment for photos. But Seward is one of Alaska's most exciting towns and the gateway to Kenai Fjords National Park. The best stops along the scenic drive include Summit Lake, Portage Glacier, and Girdwood.
If you only have one day to see Seward, we recommend two options – a walk through the picturesque town center and the harbor and a cruise around the bay and to the Kenai Fjords. You can choose a 6-hour wildlife cruise or a 4-hour wildlife cruise, depending on your time. Both are fantastic and give you a lot of wildlife experience. We liked the seals basking on the rocks the most.
Another option is to focus on hiking in Kenai Fjords National Park. You have several hiking trails of varying difficulty. Our favorites are Exit Glacier trails. The most interesting, challenging, and longest is the 8-mile round trip Harding Icefield Trail. More straightforward and shorter, but also beautiful, Exit Glacier Overlook via the Glacier Overlook Trail.
Day Trip to Whittier from Anchorage
Location: It's 60 miles from Anchorage to Whittier and about 1 hour and 30 minutes of driving. But remember to check the tunnel schedule if you plan to get there. Driving via the historic Anton Anderson Memorial Tunnel is the funniest thing while getting to Whittier. From May 1 to September 30, it's open daily 5:30 am to 11:15 pm. A single ticket for a standard vehicle is $13, but check current prices. If you don't have a car, the Alaska Railroad's Glacier Discovery Route offers a daily morning service from Anchorage to Whittier and an evening return trip during the summer. The trip takes 2.5 hours and is very scenic.
Recommended Tour: Prince William Sound Glacier Cruise
Whittier is a gateway to Prince Wiliam Sound, and it's a perfect idea as a day trip from Anchorage (if the weather is good). This town is often foggy and rainy, so check the weather forecast carefully. We have already canceled our trips there twice because there was nothing to see due to fog. But if the weather is good, you will be simply delighted, because the scenery is fairy-tale.
The last time we booked Prince William Sound Glacier Cruise, it was canceled due to bad weather (zero visibility, fog, and downpour). So we will not share our impressions. It is one of the top to-do lists for the next trip. If you decide to go for it, let us know how it was. And if we go there before you (because we are already planning another trip to Alaska), we will write a review.
Whittier is a town where almost all of the residents live in a single building. About 200 people live in Whittier, and almost all residents live in the Begich Towers, a former army barracks built in 1974. Moreover, Whittier offers a couple of short hiking trails. The best is Walking Horsetail Falls and Portage Pass trails. You will get a great view of waterfalls, glaciers, and Prince William Sound.
Our Tips for The Best Day Trips from Anchorage in Summer
Finally, a few more tips from us, based on our experience, multiple stays in Anchorage, and organizing trips around the area. Whether you plan to travel by car, plan to travel by train, bus, or book organized tours with transportation from Anchorage, it's worth:
Add at least an hour's extra time for your planned summer trip from Anchorage. There may always be some roadwork along the way that will slow down your journey. Or a moose or bear may cross the road, and you must let them through. So be prepared that the drive may take a bit longer. This is especially important when you plan to get somewhere by car and have a trip booked on-site for a specific time.
Book means of transport, tickets, or trips in advance because, in the high season, there may be no places for selected attractions. Also, book your stay in Anchorage in advance, as prices are much higher in the high season (we know this from our own experience). If you plan to rent a car, check out also Alaska Auto Rental (we used their services during our last trip). Train tickets are often sold out during the high season, so reserve yours too.
Be prepared for the rapidly and unexpectedly changing weather in Alaska in summer. Always dress in layers, and wear comfortable hiking boots. Pack a light rain poncho and a warm jacket. Check out our tips on what to pack for Alaska, depending on your chosen activities.
Always take snacks and water (even if it's included in the trip price). We usually pack energy bars, nuts, or sandwiches. During a day of sightseeing, you don't always have time for a lunch break. During the season, there are long lines at restaurants, bars, and gas stations. Therefore, it pays to have snacks with you if you get hungry. We also recommend having a good and high-energy breakfast in the morning before you set off on your tour from Anchorage.
Remember to check the bear safety rules before going on trips, especially on the hiking trail. And follow the seven rules of leaving no trace.
Summary of the Best Day Trips from Anchorage in Summer 2023
The choice of day trips from Anchorage is extensive. We showed you the places that delighted and charmed us, and we plan to return to them during our next trips. We believe that these places and these trips are worth adding to your itinerary in Alaska, especially if this is your first trip to this state. Thanks to this, you have the chance to experience various activities.
As you can see, Anchorage is an excellent base for exploring central Alaska and the Kenai Peninsula. If you stay in this city, you can organize a perfect vacation and many tours from Anchorage. You will learn how to spend time in Anchorage and what are the most exciting things to do in the city without leaving it in our next article. We'll also tell you the best time to visit Anchorage based on the weather each month of the year.
Check out the map below if you're looking for Anchorage lodging for your vacation. On it, you'll find the best current offers with the exact location in the city. This way, it'll be easier for you to adjust the choice of accommodation to your needs.
Do you like it? Pin it for later!