Last Updated on August 24, 2020
Heave you heard about Brooks Falls? It's the best place to see bears in Alaska. You can encounter there bear catching fish and bear eating salmon. So, bear watching is possible in remote Katmai National Park. In this article, we share our Alaska bear viewing experience on how to get there, where to stay, when is the best time to go to Alaska. And most of all, how to take great bear pictures. We give you Alaska photography hints. For us, Katmai is one of the best places to visit in Alaska!
This article may contain affiliate / compensated links. For full information, please see our disclaimer here.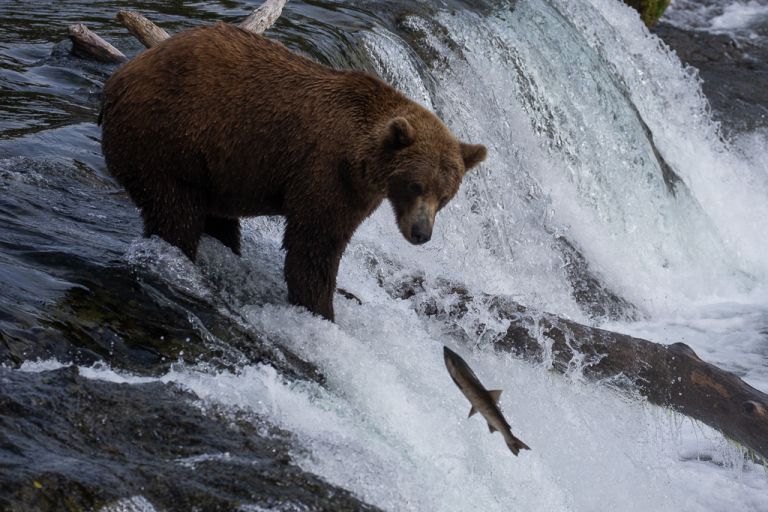 Our Story
– Good morning, how are you? Have you just landed? Come on inside for bear orientation, please.
– Good morning. Yes. We've just landed. But first we must collect the campground permit and check-in.
– Bear orientation is first.
– But we have a tent, and we need to check-in.
– You are in a bear country, and I know what you have to do first. First is bear orientation. It's essential for your safety. Immediately! – The ranger of the Katmai National Park said.
It's true. We were in bear country. Katmai National Park and Preserve contains the world's largest protected brown bear population, estimated to number about 2 200.
– Are you staying in a tent? – Asked ranger.
– Yes – We answered.
– Be careful, because bears love to walk around the campground and on the beach right next to the campsite. Remember not to walk on the beach. The beach is a bear beach. And most important: you can't take any food to the park. Even chewing gums. And no cosmetics. Even if the food is packed. Nothing. Pure drinking water only. No food, remember!
– And talk to each other while walking in the park or you can sing songs. Walking is only permitted on the trails. And once you meet the bear on your path, absolutely do not run away! Stand still and tell to bear a compliment how fat he is for winter and how beautiful he looks – Ranger joked after the lecture on bear behavior and basic security rules to follow in bear country. We have described them in a separate article. Please read it before you set off on a journey to the land of bears!
After we had put up the tent, we went to experience Alaska brown bear viewing of Katmai. We came to Brooks Falls. Our eyes could not have believed it. Brown bears were sitting in the water and catching sockeye and silver salmons to build fat reserves for the upcoming winter.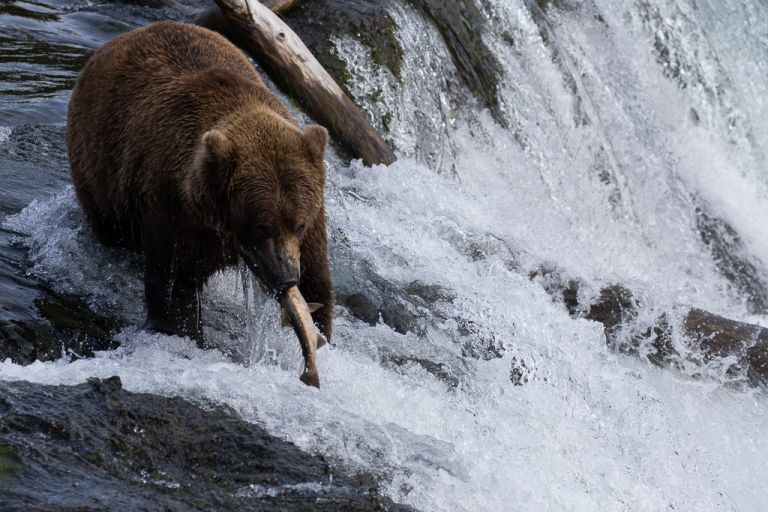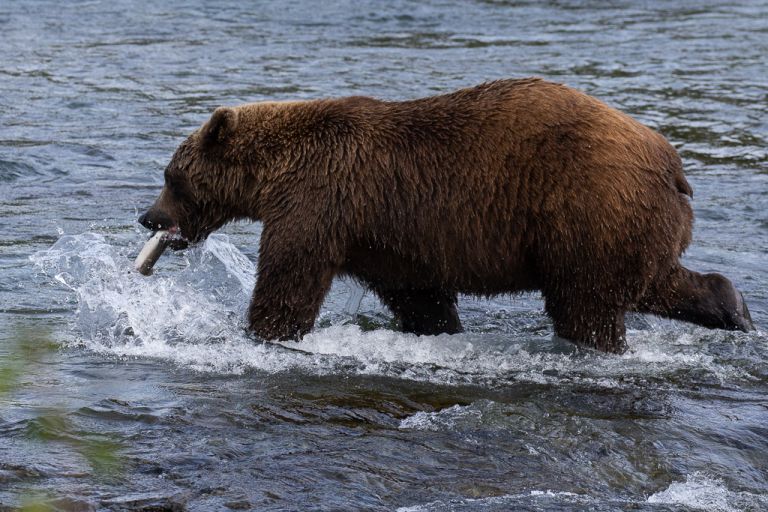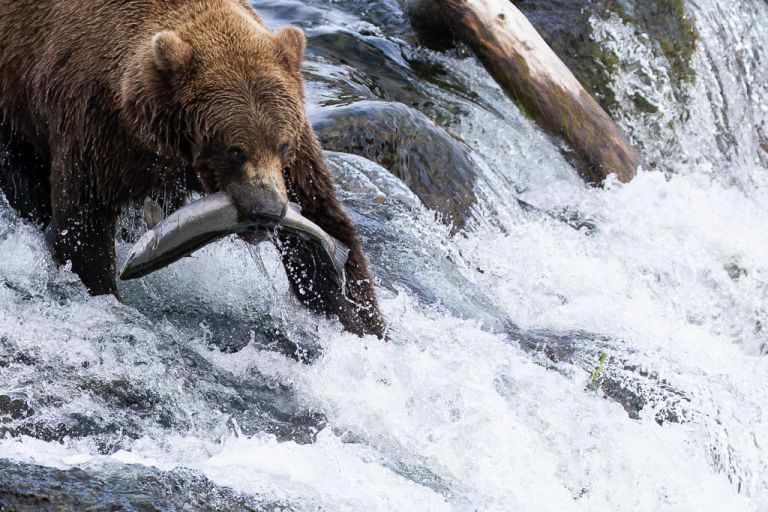 Our cameras warmed up because of the number of photos we have taken. We were afraid that this spectacle would last only a short while. But it turned out that bears loved this place. Suddenly another bear and even one more appeared at the waterfall!!!
For three days, we have been viewing Alaska bear and their habits. It was a fantastic experience. We have taken thousands of photos.
Every bear has its own number in the park. But we just decided to call them with our names. So Brownie was the most active. And the oldest and most powerful got the name Grandpa 😊
Alaska Bear Viewing Facts
All bears are working hard to catch as many salmon as they can at Brooks Falls before the salmon run ends. They packed on the pounds for hibernation. Aging isn't easy for any species, and brown bears are no exception. Bear Grandpa is approximately 20 years old, and like other bears his age, he has lost some teeth. That may have slowed his rate of salmon consumption, but the loss of teeth hasn't stopped him from eating enough to become a very big bear.
Bears did their work hard. It's not an easy task to catch a fish. After the success of eating salmon bear lazily walked along the waterfront or took a bath in waterfalls enjoying the water like people in jacuzzi.
For three days we could observe their habits, different ways of fishing and even a fight for domination.
Brooks Falls is one of the best places in the world to experience bear viewing in Alaska because it is one of the first streams in the region where energetic and pre-spawned salmon are available to bears. In July, most salmon are moving through large rivers and lakes where bears cannot successfully fish. Early in the salmon run, Brooks Falls creates a temporary barrier to migrating salmon. This results in a particularly successful fishing spot for bears. Once salmon stop migrating in large numbers, Brooks Falls is no longer a good place to fish and bears quickly abandon that spot for better fishing elsewhere.
Fishing styles are often learned behaviours. Many bears use the same techniques as their mother, plus others that they learn on their own. Some bears have mastered many styles, while other bears stick with the one that works. At Brooks River, you can observe many different types of fishing styles including:
Stand and wait
Bears will stand on top of Brooks Falls and wait for sockeye salmon to jump close enough to catch in their mouths. This fishing technique is generally used by adult bears that can defend this fishing spot, but it is also used by some younger bears when space is available. This is a good technique to use when many salmon are jumping at Brooks Falls, but when no salmon are jumping this spot is quickly abandoned. Standing on top of the falls is precarious, however. Bears sometimes fall off so they rarely shift position once they have established a place to stand.
Sit and wait
Bears will sit just underneath Brooks Falls in several places, like the plunge pool or "jacuzzi," and wait for salmon to swim to them. Bears in the jacuzzi simply sit and wait for fish to swim into them. When they feel a fish in the water, they quickly pin it to the stream bottom or against their body with their paws, bite it, and begin to eat. The plunge pools below the falls are the most coveted fishing spots and are typically occupied by the most dominant bears.
Dash and grab
Bears often chase fish and attempt to pin them to the river bottom with their paws. This is commonly used early in the salmon run, but because this technique is energetically costly it is quickly abandoned when the salmon run begins to thin.
Snorkeling
Bears that snorkel are simply looking for fish under the water. This technique is used almost universally by bears throughout the summer, but it is especially common and useful in the fall when many dead and dying salmon are in the Brooks River and Naknek Lake.
Pirating
Those bears steal fish from other bears. Pirating is more common early in the salmon run, but is not often observed in September or October. The threat of piracy will cause certain bears (like smaller subadults) to run with their fish away from the river and into the forest where they are less likely to have their fish stolen.
Please check the video below – it was recorded with fantastic DJI Osmo Pocket camera. Check also our review here.
Diving
This is a fishing technique that most bears do not use. However, at the mouth of the Brooks River or even in the jacuzzi at Brooks Falls, you might see a bear completely submerge seeking fish. Diving is used more frequently in the fall with dead salmon littering the river bottom.
Begging
Bears do not share food with other bears, but some bears will still attempt to beg from others. This interaction occurs between bears that are highly tolerant of each other. Begging bears approach another (usually more dominant) bear eating fish and often position themselves inches away from the other bear. If a begging bear gets any fish, it is usually leftover scraps (gill plates, mandibles, and entrails) that the other bear doesn't want. Begging bears often vocalize loudly, making noise reminiscent of a bawling cub. Begging is not a common behaviour.
Bear facts
Brown bears of Katmai are some of the largest bears in the world. They can stand 3-5 feet (.9-1.5 m) at the shoulder and measure 7-10 (2.1-3 m) feet in length. Most adult males typically weigh 600-900 pounds (272-408 kg) in mid-summer. By October and November, large adult males can weigh well over 1000 pounds (454 kg). Adult females average about 1/3 less in weight than adult males.
On days when many salmon are migrating in the river, a large and dominant male bear will sometimes catch and eat more than 30 fish per day. Smaller bears that cannot compete for the best fishing spots, or bears that are less skilled at fishing, may catch and eat considerably less fish.
You can read more about bears' behavior in the books presented below. It is worth reaching for them, especially if you are interested in nature photography and would like to take exciting pictures of bears. You will learn a lot about the behavior of these animals from the book: What Bears Teach Us. The author has been working with bears for nearly 20 years. You can learn a lot from this inspiring book. Another one we like is Bear Attacks: Their Causes and Avoidance. Very informative and useful in the wilderness.
We could also see how Katmai brown bears fight. Bears are generally solitary creatures, but they predictably congregate around high quality food sources. To avoid physical conflicts, bears use a series of vocalizations and body posturing to express temperament and dominance. Less dominant bears (typically smaller subadult bears and females) yield space, like fishing spots, and resources, like a dead salmon, to more dominant bears (larger bears and adult males). Through the establishment of a fluid hierarchy, bears have evolved a social adaptation that allows them to avoid fighting in most instances.
Bear viewing in their natural habitat in Alaska was an amazing experience and one of the most beautiful adventures for us.
Our adventure lasted three days but it was so amazing that we would like to come back to Katmai National Park.
Before you go – Practical Information
Before you go – please read our previous post about King Salmon which is a gateway to the Katmai National Park.
Katmai National Park and Preserve is an American national park and preserve in southern Alaska, notable for the Valley of Ten Thousand Smokes and for its brown bears (2 200 brown bears). The park and preserve encompass 4,093,077 acres (6,395.43 sq mi; 16,564.09 km2). Most of the national park is a designated wilderness area where all hunting is banned. The park is named after Mount Katmai, its centerpiece stratovolcano. The park is located on the Alaska Peninsula, across from Kodiak Island, with headquarters in nearby King Salmon, about 290 miles (470 km) southwest of Anchorage.
| | | | |
| --- | --- | --- | --- |
| | | | |
| The MILEPOST 2020: Alaska Travel Planner | Moon Alaska: Scenic Drives, National Parks, Best Hikes | Moon Anchorage, Denali & the Kenai Peninsula | DeLorme Atlas & Gazetteer: Alaska |
| View Item | View Item | View Item | View Item |
Transportation
There is no roads to Katmai National Park. And it's not easy to get there. And it's not cheap to get there.
Two options are available:
buy a trip which is very expensive and the number of places is limited
organize the trip by yourself as we did.
If you do it yourself you can take a plane to King Salmon on two ways:
– regular flight served with Ravn/PenAir
– charter flight with Katmai Air.
From King Salmon to Katmai National Park and Preserve you can take water taxi https://katmaiwatertaxi.com or float planes with Katmai Air .
Lodging
When you get there you have two lodging options:
– Brooks Lodge but the number of places is very limited and you have to take a chance in lottery to encounter brown bears of Katmai.
Or you can stay on the campground with your own tent (it was 26 USD per night). Permit and more information you can find: https://www.recreation.gov/permits/249991 and: https://www.nps.gov/katm/planyourvisit/plyovicamp.htm
Food
In Brooks Lodge there is a bar and great food. Breakfast is 17 USD, lunch is 24USD and dinner 40 USD per person. It's buffet. Wine of bottle (Meiomi) is 35 USD.
It's the only place when you can buy something to eat or drink. 
Photography hints
What season is best?
The season lasts 4 months – from June to September. Optimum activity is in July and September, so try to be there in those months.
What time of day is best?
All the day is good, but it depends on the weather. In the Brooks Falls, bears are active the whole day. On the beach, it is more probable to encounter them in the morning and evenings.
What photographic opportunities are here?
There are some excellent spots. One is on the beach, one is on the first bridge just after brooks lodge heading Brooks Falls, and brooks Falls itself – from the platform.
Beyond bears, you can make a trip to Valley of 10000 Smokes and photograph magnificent landscapes there.
What gear should I take with me?
Any gear will do, but if you can afford it's good to have a camera with fast AF and lens in the range 200-600. Tripod is recommended because sometimes you are waiting like 10-20 minutes for action having frame ready and waiting to press the shutter. In such a case, a tripod is saving your muscles. It's good to take a lot of charged spare batteries and memory cards. The only place to charge is Brooks Lodge, but the number of sockets is limited, so be prepared. You can also check our Alaska Photography Gear Packing List to see what we use.
Does it require any hiking or other activities?
It requires short hikes to the Falls – it's about 3 km (<2 miles) one way on the flat paved surface. If you are staying in the campground, there is an additional 2 km (1.3 miles) from the campsite to the lodge. But during the day you usually don't get back to the campground, maybe to the lodge for food, coffee, and short break
What kind of clothes do you need?
Be prepared for rain – you can take great pictures in shower, and there are fewer people on the platform in such weather, but you must protect yourself and gear against water. Otherwise, it's slightly warm in the summer, and maybe for September, you should have layers. You can also check our Alaska Packing List.
How long I need to get great pictures here?
The longer, the better. We believe three days is the minimum. One day is too short of using all capacities of the place and considering the price and time to get there. A week would be optimum.
Sources of information about brown bears and Katmai National Park and Preserve: