Alaska Wildlife Tours in Kachemak Bay, Homer
This article reviews one of the most exciting wildlife viewing tours we purchased during our last stay in Homer – Alaska Wildlife Tours in Kachemak Bay. The organization of the trip and the wild nature we had the opportunity to admire surprised us so positive that we decided to share our impressions and photos with you. Most of all, the price is affordable, so it's a perfect choice if you are on a budget or if you travel with family. But the wildlife scenery was so spectacular that it is also an ideal photographer choice. Check why!
This article may contain affiliate / compensated links. For full information, please see our disclaimer here.
We share our opinions. This is not a sponsored post. We purchased this Alaska wildlife tour in Kachemak Bay on our own.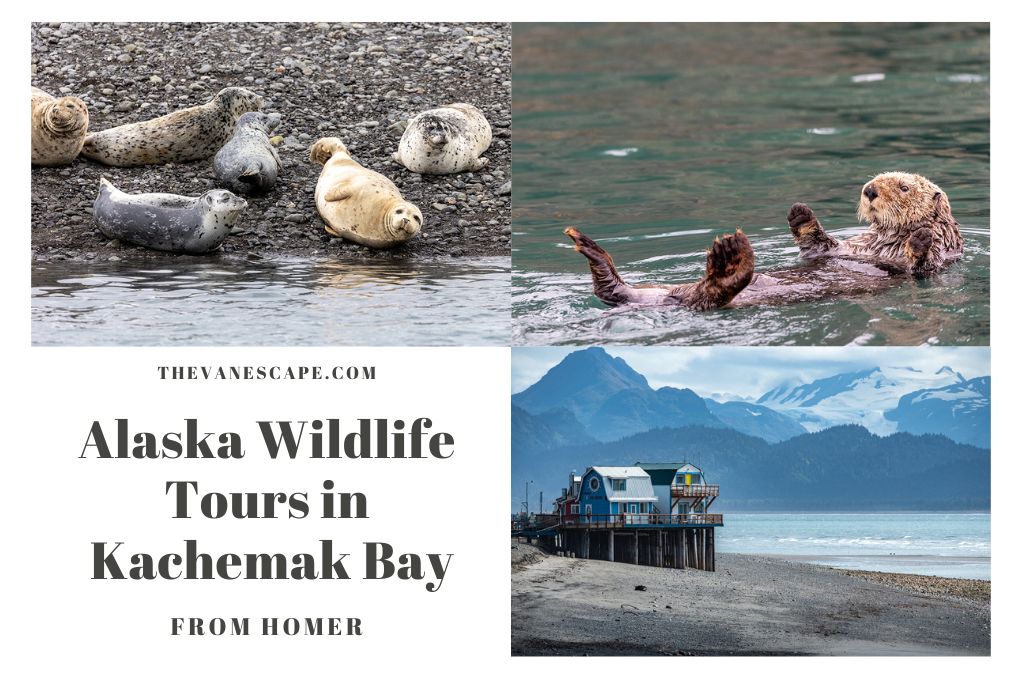 Alaska Wildlife Tours in Kachemak Bay – Introduction
We've been to Homer a few times because it's one of the most stunning towns in Alaska. It's impossible to get bored here. There are so many exciting things to do in Homer. One of many is the opportunity to observe wild nature, mostly marine wildlife, in Kachemak Bay. But this time, it was different. There was nothing to indicate a good Alaska wildlife tour. We had come to Homer to relax and enjoy the sun after a long, tiring, and exciting drive on the Dalton Highway – one of the loneliest highways in the United States. But Alaska likes to surprise us. It was raining and windy. It was windier than on Dalton. The weather was nasty.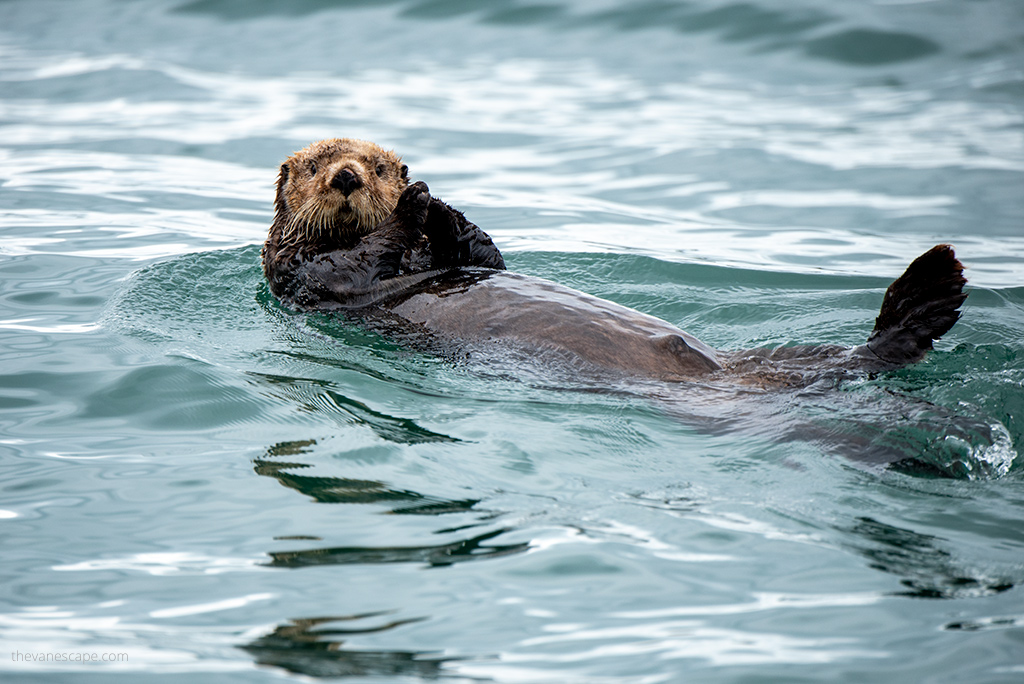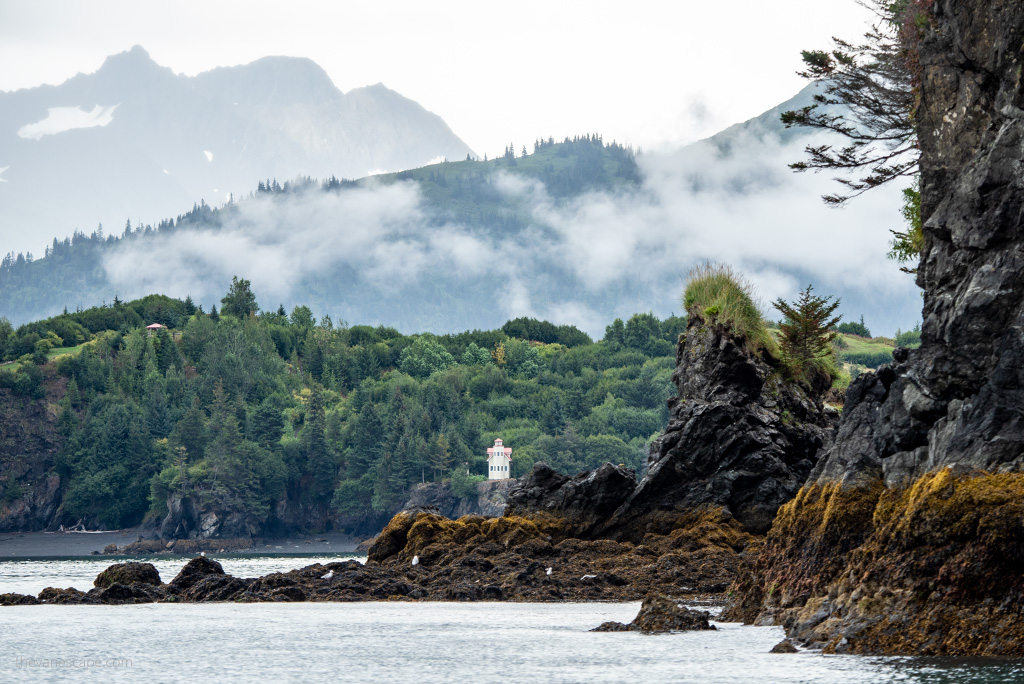 – How do you plan to take photos of wildlife in such conditions? Chris asked me.
We purchased this two-hour wildlife trip on a small boat. It seemed a nice attraction, but the cold rain and cloudy sky didn't encourage us to do this activity.
– Let's skip the wildlife tour at Kachemak Bay, Chris insisted. – We won't take any photos in such hopeless weather. There will be no wildlife.
– But how long can we sit and drink beer at the iconic Salty Dawg Saloon? I love this place, the dollars on the walls and the ceiling, the jukebox, and the atmosphere, but Honey, we could use some fresh air. We are in Alaska. Let's not cancel Alaska Wildlife Tours in Kachemak Bay; maybe it won't be so bad – I insisted.
The next morning, we dressed warmly, took rain jackets, raincoats, and rain covers for our cameras and photographic equipment, and set off on a Homer wildlife tour in Kachemak Bay.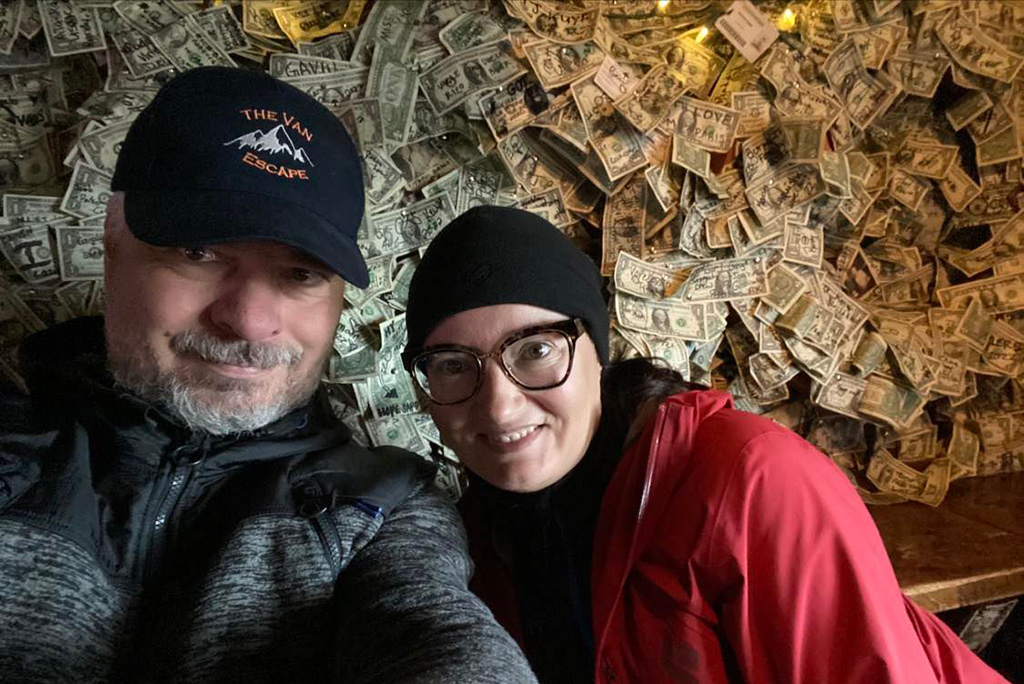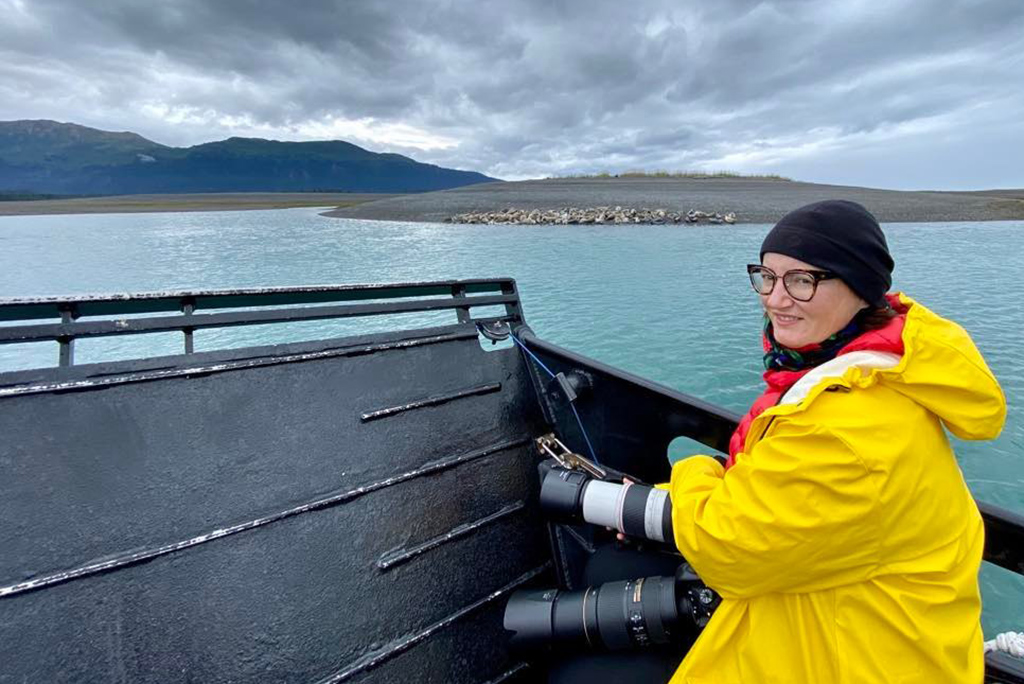 Alaska Wildlife Tours in Kachemak Bay at a Glance
Tour Type: boat tour
Size: small group tour (up to 6 passengers)
Activities: wildlife watching at Kachemak Bay
Best For: nature lovers, photography enthusiasts, families, budget travelers
Age Range: 1-99 (infants must sit on laps; suitable for most travelers)
Operated By: Coldwater Alaska
Duration: 2 hours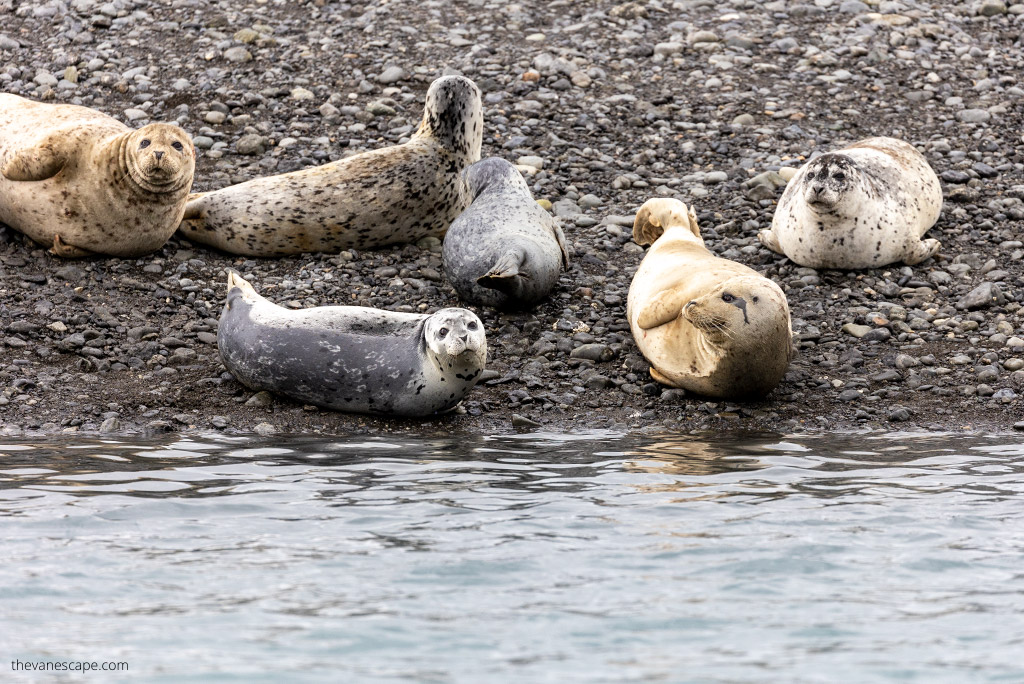 Alaska Wildlife Tours in Kachemak Bay – Our Review
Tour Operator Office
The tour operator' Coldwater Alaska office is located on the boardwalk at Homer Spit Road. You'll find it easily. There are several parking spots in front of the office where you can leave your car for the duration of your trip. Check-in is at the office, where the friendly staff will tell you to go across the street to the port and wait for the ship and captain. On the walls hang beautiful animal photos taken in Kachemak Bay, and you can buy high-quality sweatshirts and T-shirts. You can use a restroom in the office because the boat has no toilet.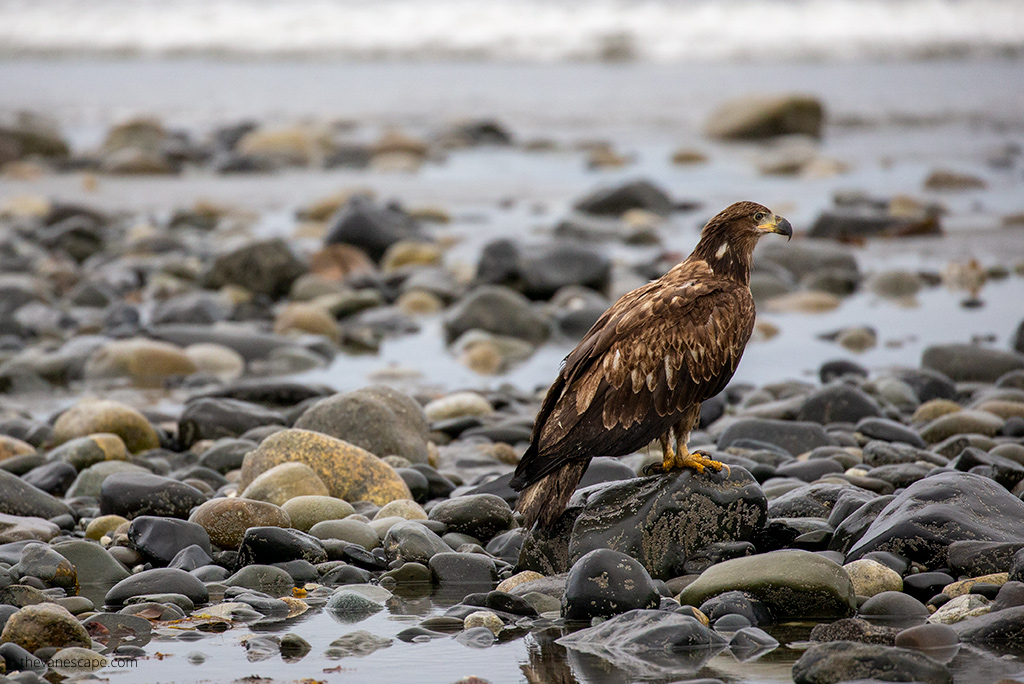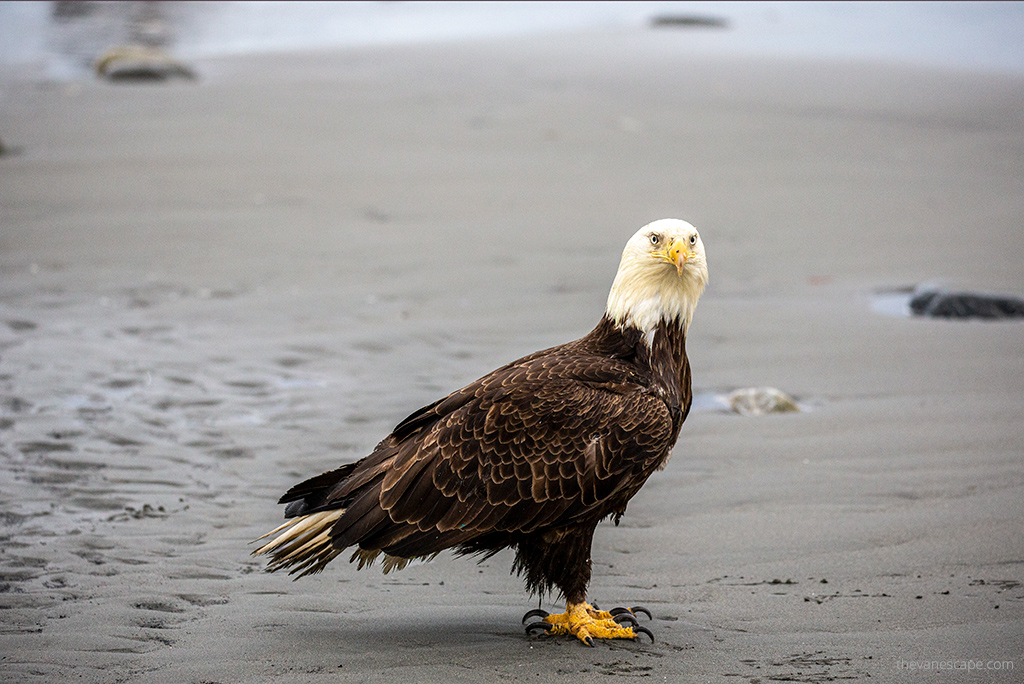 Our Captain and Boat
According to the instructions, we went to the port of Homer, where we met the other four tourists who were to go on a cruise with us. After a few minutes, we were greeted by a captain, and our boat headed into the waters of Kachemak Bay. The boat has enough space for six people. The captain shared his knowledge of Homer and Kachemak Bay. As a nature lover, he told us a lot of exciting information about the species that live here. His knowledge and way of telling stories will delight demanding travelers. It conveys information in an accessible and fun way, so even kids will love how he narrates.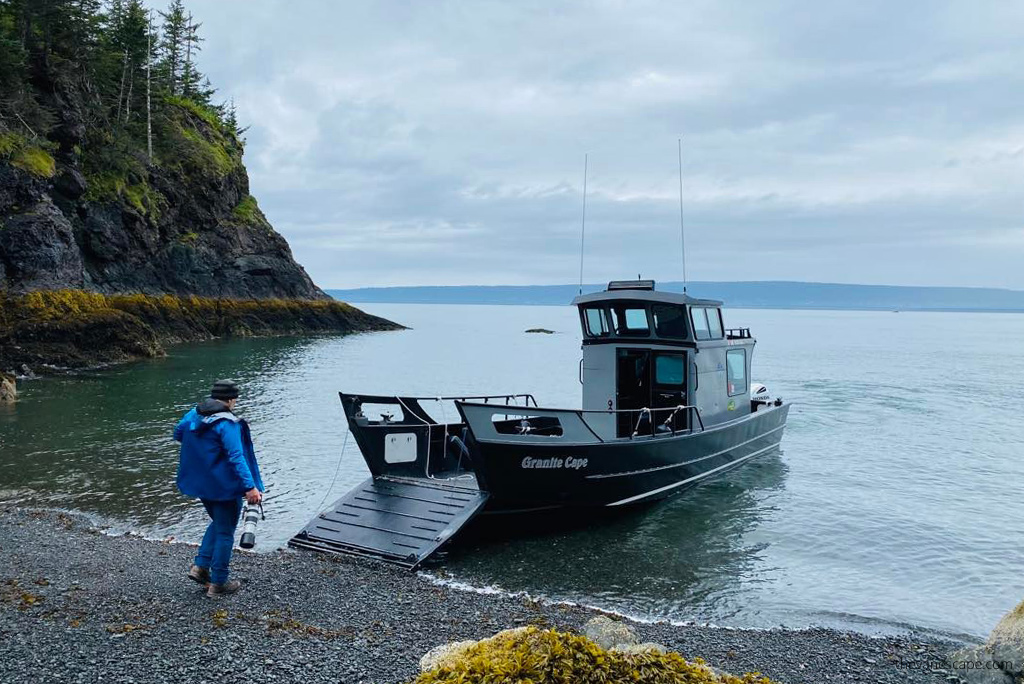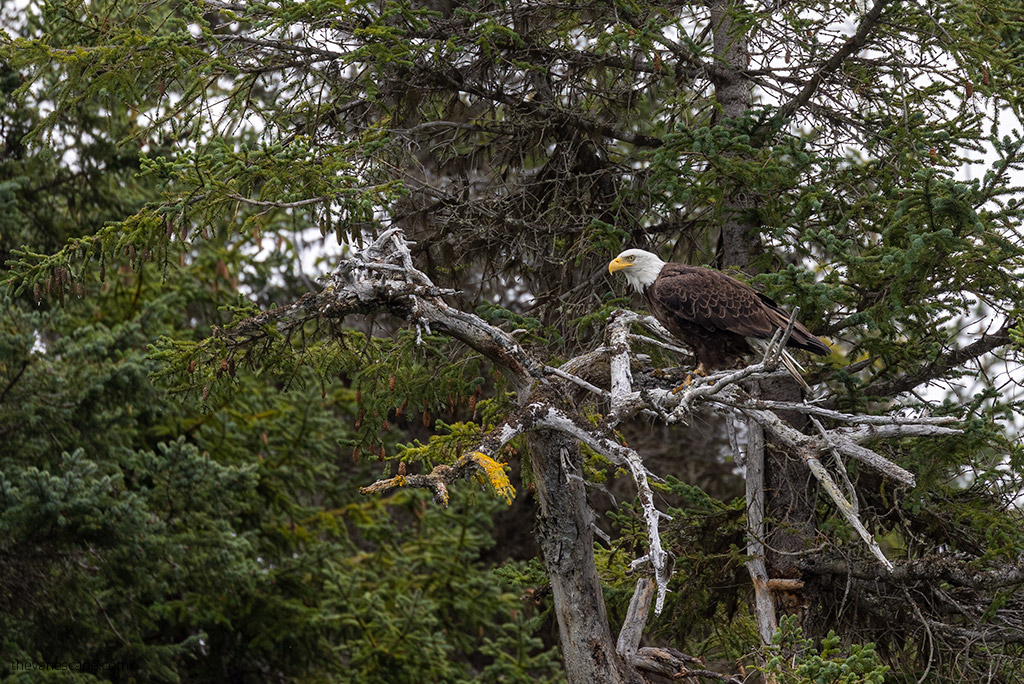 Wildlife that we Admired during Alaska Wildlife Tours in Kachemak Bay
When you purchase a wildlife tour on Kachemak Bay, the most exciting and vital issue is whether and what marine wildlife you can see, observe, or photograph.
Sea Otters, Seals, and Birds
During our boat trip, we had the opportunity to admire many harbor seals and sea otters. Moreover, many birds, like bald eagles, puffins, and common murre, were on the rocks and island of Kachemak Bay. In addition, the scenery of Kachemak Bay is highly picturesque, with surrounding mountains, glacial tongues flowing from the hills into the water, and tiny wild islands full of birds and seals lolling lazily on the shore. We also had the opportunity to observe a pair of bald eagles with their offspring, which is unique. Our captain knows every nest in the area and showed us where the entire family of majestic bald eagles resides. We also enjoyed a short stop on the land of Kachemak Bay, where we can admire charming waterfalls and birds.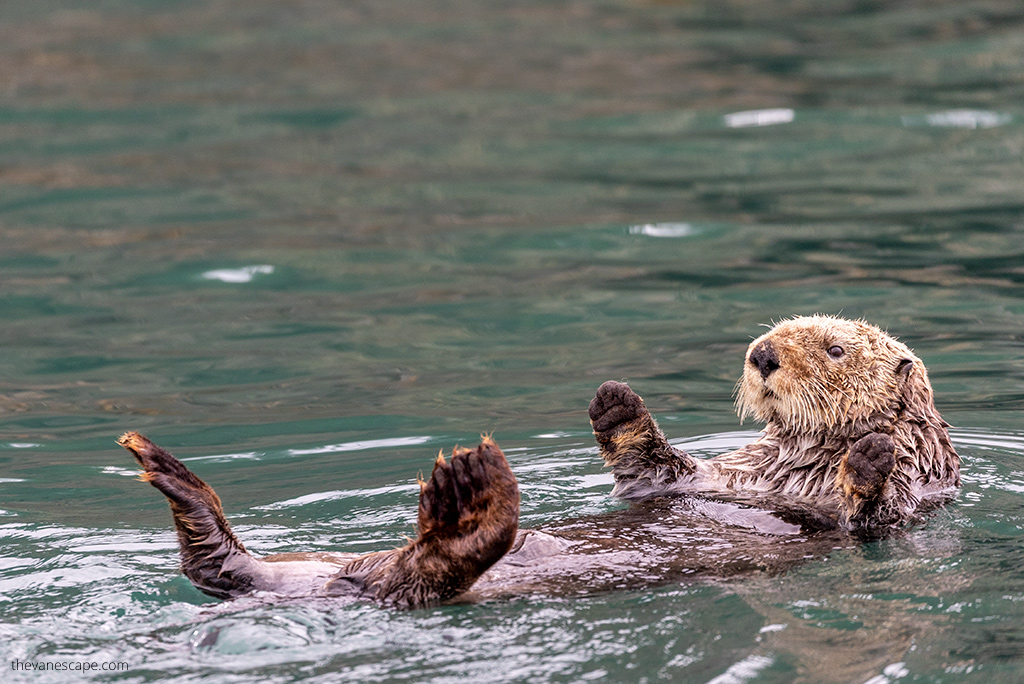 What about Humpback Whales?
We didn't see humpback whales. We weren't so lucky (but have seen them on other trips). The whales were in Kachemak Bay the day before; people admired them during the boat trip. Anyway, we were in season when the whales were still in Alaska. But with wildlife, it's not always possible to see all the animals we dream about. Such is the charm of observing wild animals in their natural environment. It's not a zoo. In the natural habitat, one day wild animals can be spotted, another not. There is no guarantee to spot all the wildlife animals you dream about. Sometimes you can wait a week or more to see your dream animal, which we write about in our brief guide to wildlife photography.
In addition to Homer and Kachemak Bay, you have even better chances of seeing humpback whales on half-day cruises from Seward. So if you're into whale watching, consider this Kenai Fjords and Resurrection Bay Half-Day Wildlife Cruise.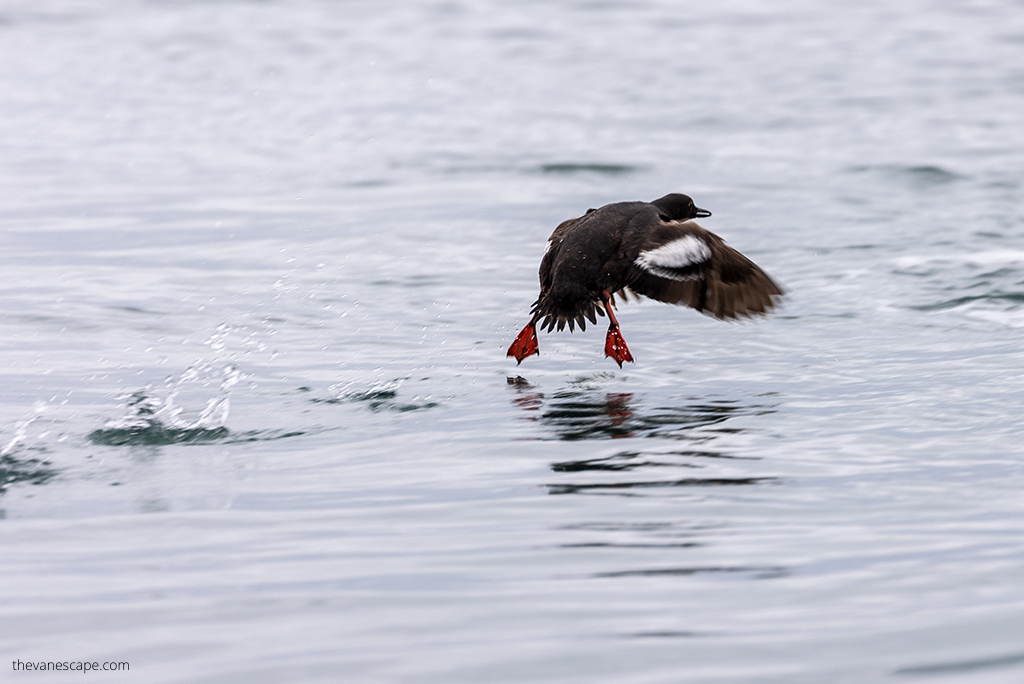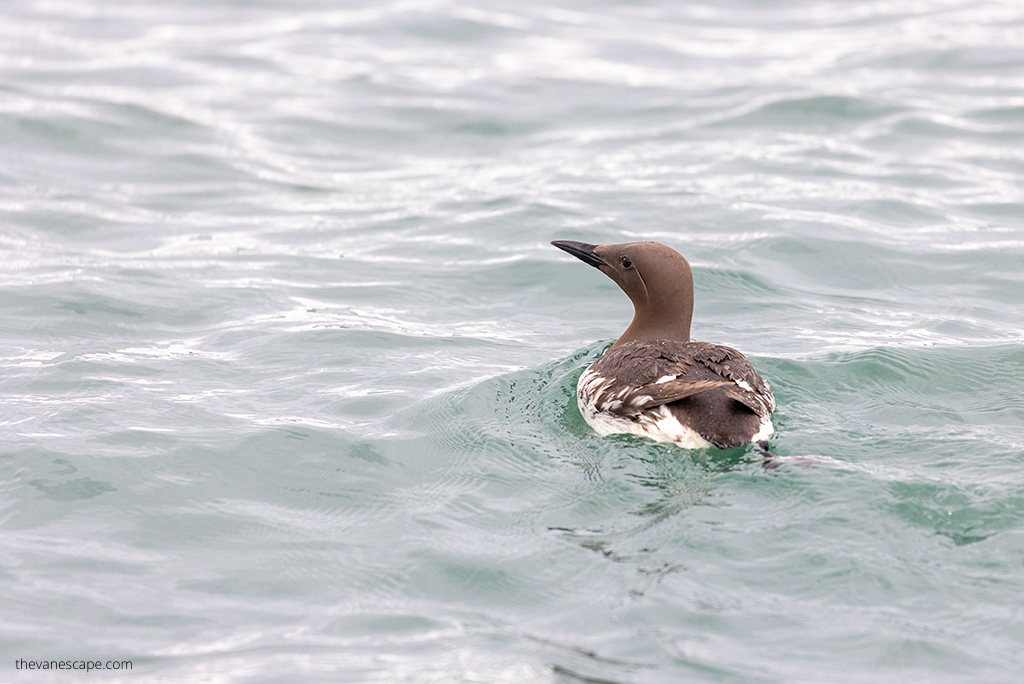 Photo Opportunities during Homer Wildlife Tours in Kachemak Bay
Although this trip wasn't typical for photographers, we'd like to emphasize that it was excellent for wildlife photography enthusiasts. Capitan is so familiar with and knowledgeable about the wildlife in Kachemak Bay that he can provide the best possible chance to see marine wildlife. The captain sailed very calmly. He sailed the boat very close to the wild animals so that they could be observed and photographed. But at the same time, he cared about the animals' sense of security, so he kept a safe distance so the animals would not be scared and could continue their activities. There was plenty of time to take pictures. Moreover, the boat has enough space for 6 passengers to admire the animals and take pictures without disturbing each other. The captain knew every part of the bay intimately and had a good eye and a lot of experience when it came to spotting wild animals; he always spotted them first and informed us exactly where to look and what we'd see.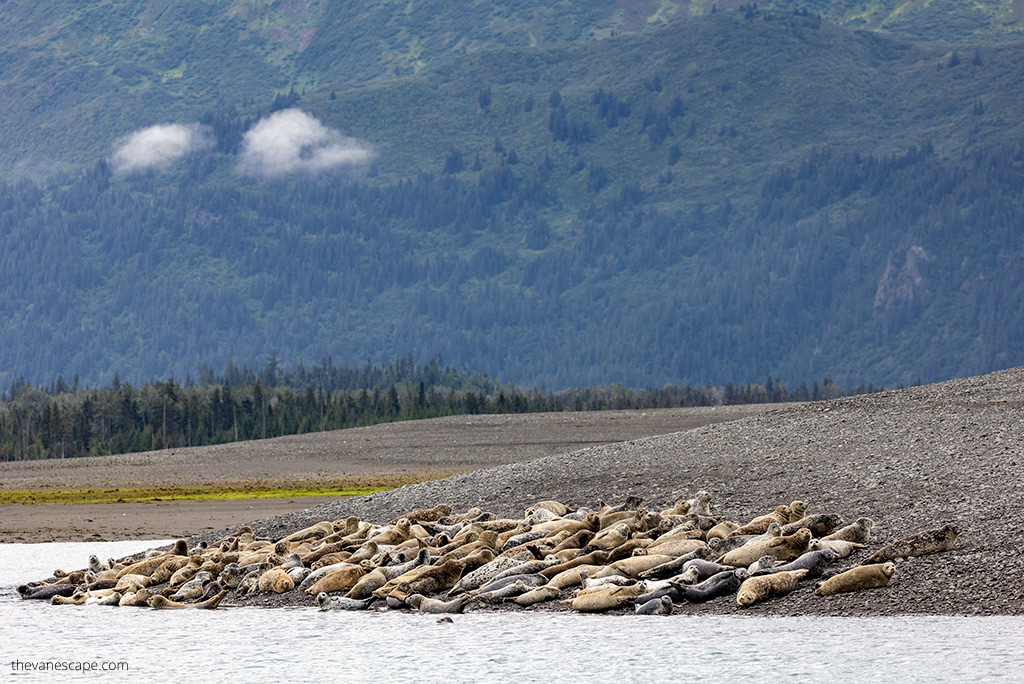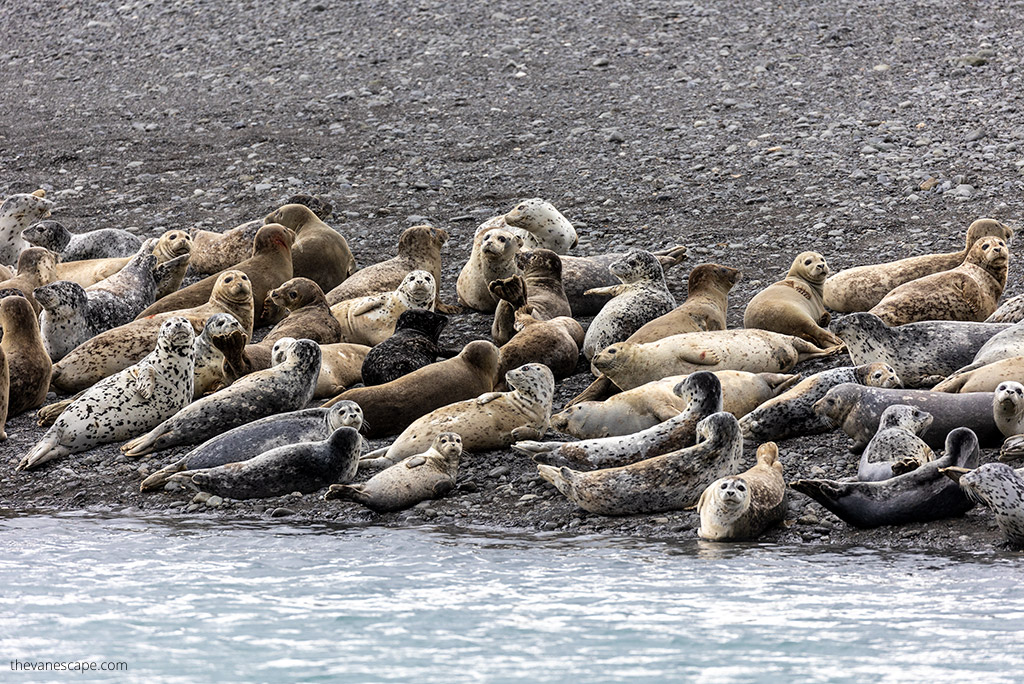 You can Tailor a Trip to Capture Images in the Best Light
The weather wasn't good for us; it was very gray and foggy, and there was no sun. That's why the photos are poor. But we had a great time and were glad we could observe especially sea otters and seals from such a short distance. The best light for observing marine wildlife is in the morning and afternoon. Since our weather was terrible anyway and there was no chance of any light, we chose the standard tour leaving at 10.00. am. You can tailor your wildlife boat trip to Kachemak Bay and depart early morning or late evening to capture images in the best light. So this is a great chance to tailor this Alaska Wildlife Tour if you are passionate about wildlife photography and want to take better pictures.
TRIP TIP: To plan more activities in Homer, read our article 27 Top Things to do in Homer. We visited this town several times and have prepared a list of free, cheap, and more expensive attractions, as well as places to eat and where to stay in Homer (hotels and campgrounds).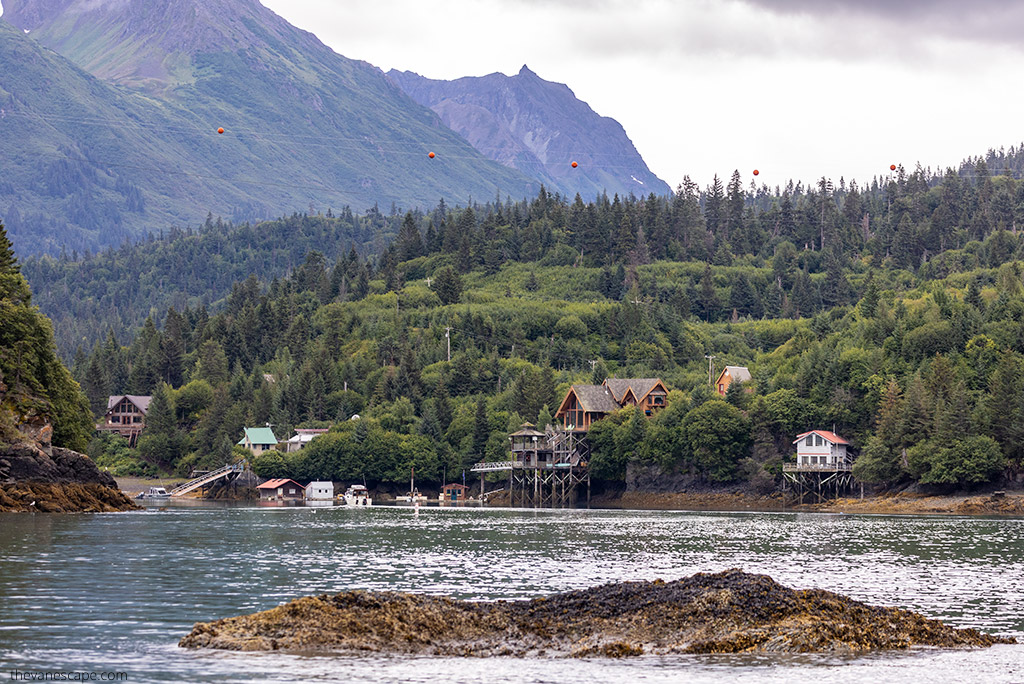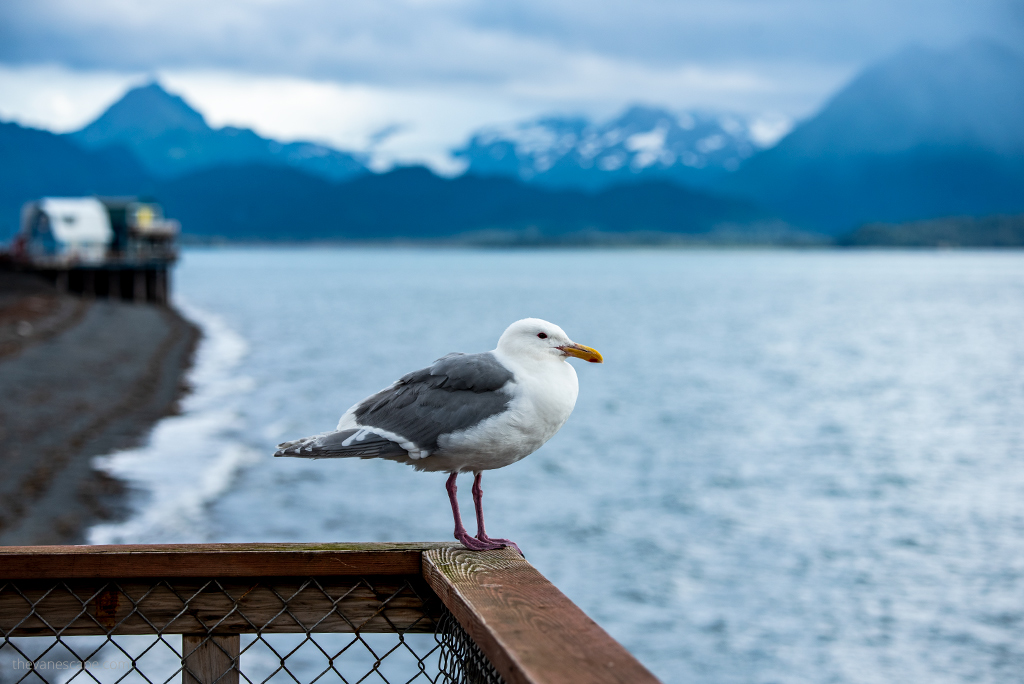 Is this Alaska Wildlife Tours in Kachemak Bay a Sustainable Trip?
Traveling sustainably means being aware of the impact of tourism on the environment and adopting good practices to reduce the adverse effects. And for us, as nature lovers and wildlife photography enthusiasts sustainable trip is more important than taking a great picture. We greatly respect nature and always choose tours that do not hurt the natural environment. The captain of our boat from Coldwater Alaska took great care not to scare the wild animals and not to disturb them in their daily activities. He kept the boat at a safe distance to avoid disturbing the animal's sense of safety. We liked it very much.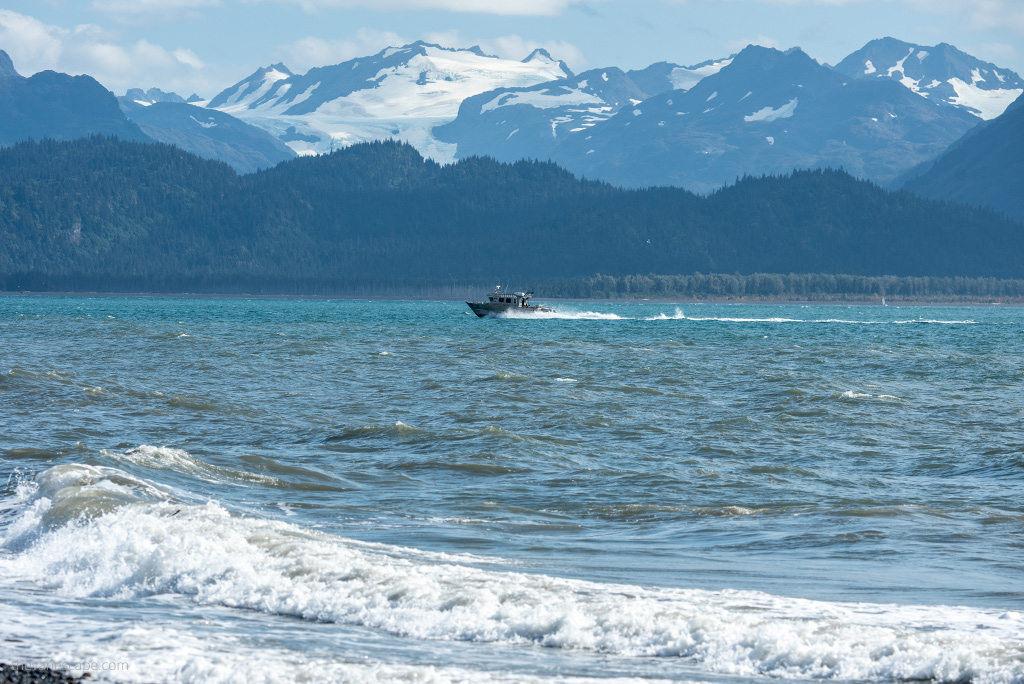 What to Bring for Alaska Wildlife Tour in Kachemak Bay?
It's a short trip, it only takes two hours, so you don't need to pack much. It would be best to have shoes with good soles so you do not slip on the boat. Be sure to pack a raincoat, hat, and windproof jacket. And, of course, photo equipment. For more, check our detailed Alaska Packing List, which helps you prepare for your Alaska adventure, depending on the activities you plan to choose from.
Alaska Wildlife Tours in Kachemak Bay – Conclusion
During each of our trips to Alaska, we chose different tours focused on observing and photographing wildlife, mostly our favorite bears: Bear Viewing Alaska, Katmai National Park Bear Viewing, or Lake Clark Bear Viewing.
This trip was a marine wildlife viewing, and it was a great experience. It wasn't a typical photography tour (these usually last much longer and are much more expensive). But we can honestly recommend it to every nature enthusiast and wildlife photographer passionate. The captain is knowledgeable, and his eye focuses on the wildlife, and the trip was a pleasure. We recommend purchasing the Alaska Wildlife Tour in Kachemak Bay with Coldwater.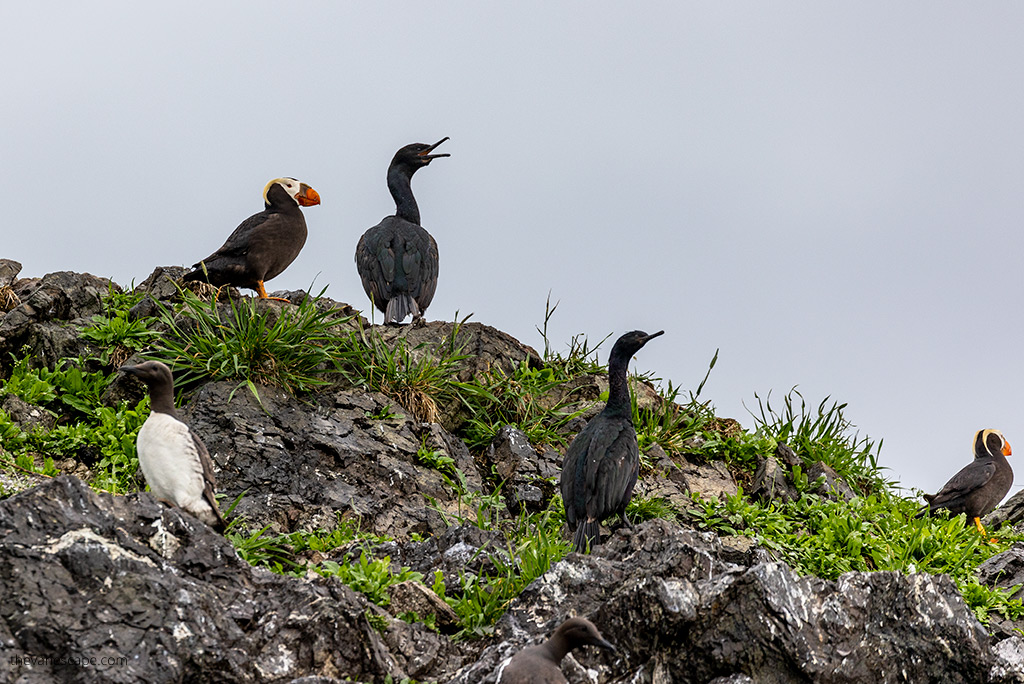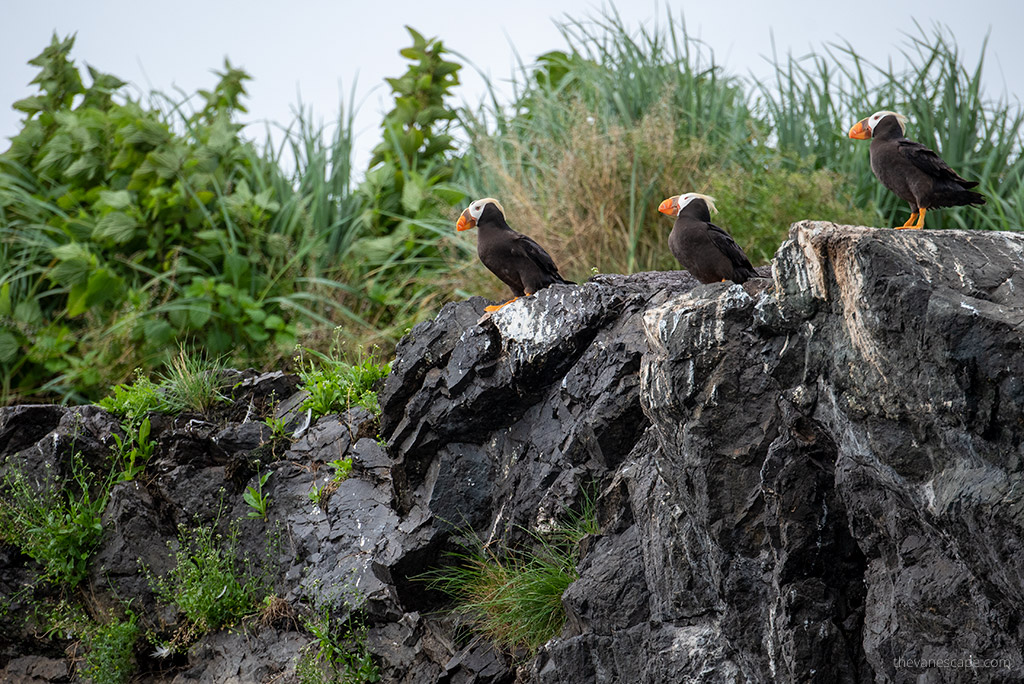 It was a great trip that we would remember for a long time. Despite the nasty weather, we had a great experience. But actually, this weather is the charm of Alaska. You are never sure what this wild land will surprise you with. So check out our Alaska Packing List before starting your trip. We hope the weather will be better the next time we visit Homer, and we will take more exciting photos to share with you. If you plan to visit Homer, do not hesitate to choose this wildlife boat trip in Kachemak Bay and let us know how your Alaska Wildlife Tours were.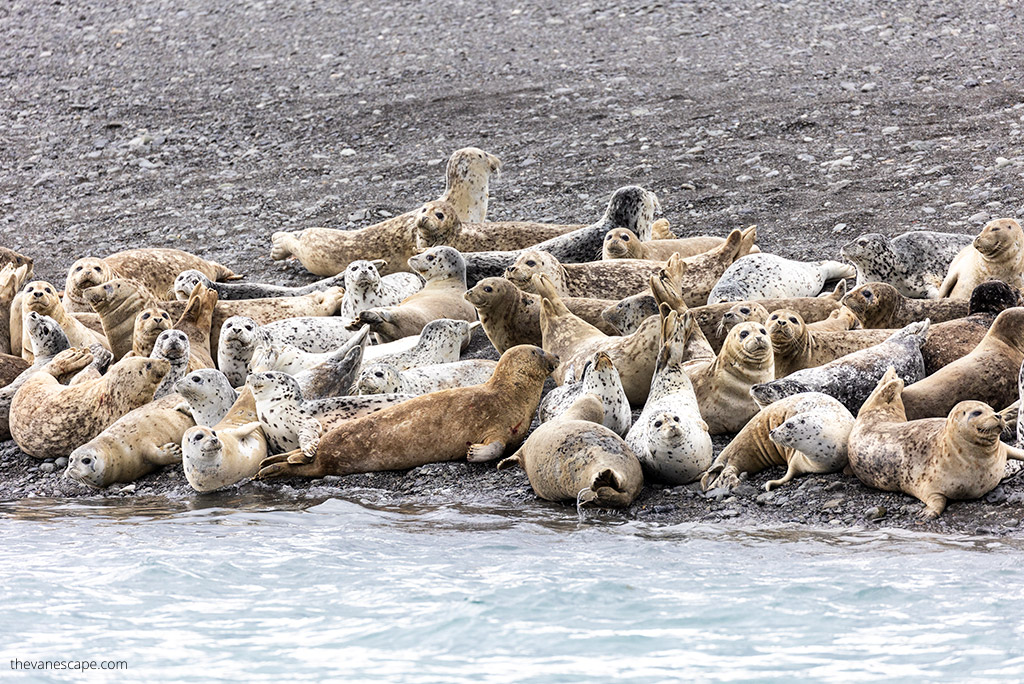 Do you like it? Pin it! And share it with the world!