Alaska Cruise Packing List with PDF Printable Checklist
Embarking on an Alaska cruise is a dream come true for many travelers, but knowing what to pack for an Alaska cruise can turn that dream into a bit of a logistical challenge. From the unpredictable weather to various activities on and off the ship, packing for a Last Frontier cruise requires thoughtful planning. That's where we come in! We have prepared a detailed Alaska Cruise Packing List with many tips based on our experiences and an additional printable PDF checklist for free!
This article may contain affiliate / compensated links. For full information, please see our disclaimer here.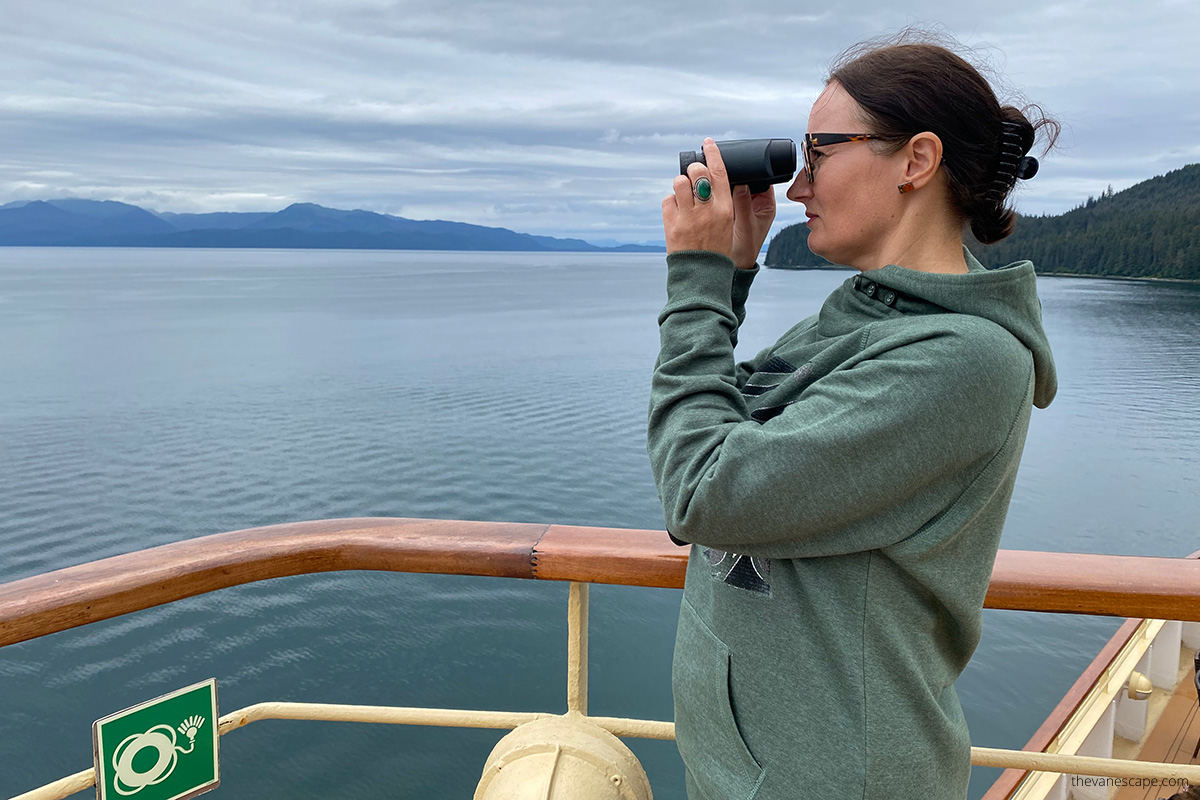 Alaska Cruise Packing List – Our Experiences
We've just returned from our latest 10-day Alaska cruise through Inside Passage, adding to our extensive experience exploring various regions of this breathtaking state. We've sailed through misty fjords, witnessed the grandeur of glaciers, and even enjoyed more sunshine than we ever expected! We visited charming towns, like the capital of Alaska – Juneau, Sitka, Ketchikan, and more. We're sharing our insider knowledge to help you pack like a pro.
It's worth noting that cruising to Alaska offers a completely different experience than exploring it by land. If your adventure involves flying in and taking an Alaska road trip, be sure to check out our detailed general Alaska Packing List. It's perfect for outdoor activities like camping, hiking, and visiting Alaska's stunning National Parks.
This comprehensive guide covers everything from must-have items and tech gadgets to smart packing tips and what not to bring to the ship. We'll even delve into the best clothing options for every occasion, whether you're whale-watching in Juneau, kayaking in Sitka, taking a helicopter ride or train ride in Skagway, or dining elegantly on a formal night. And because we know how easy it is to forget something in the vacation excitement, we've included a section on last-minute additions and checks.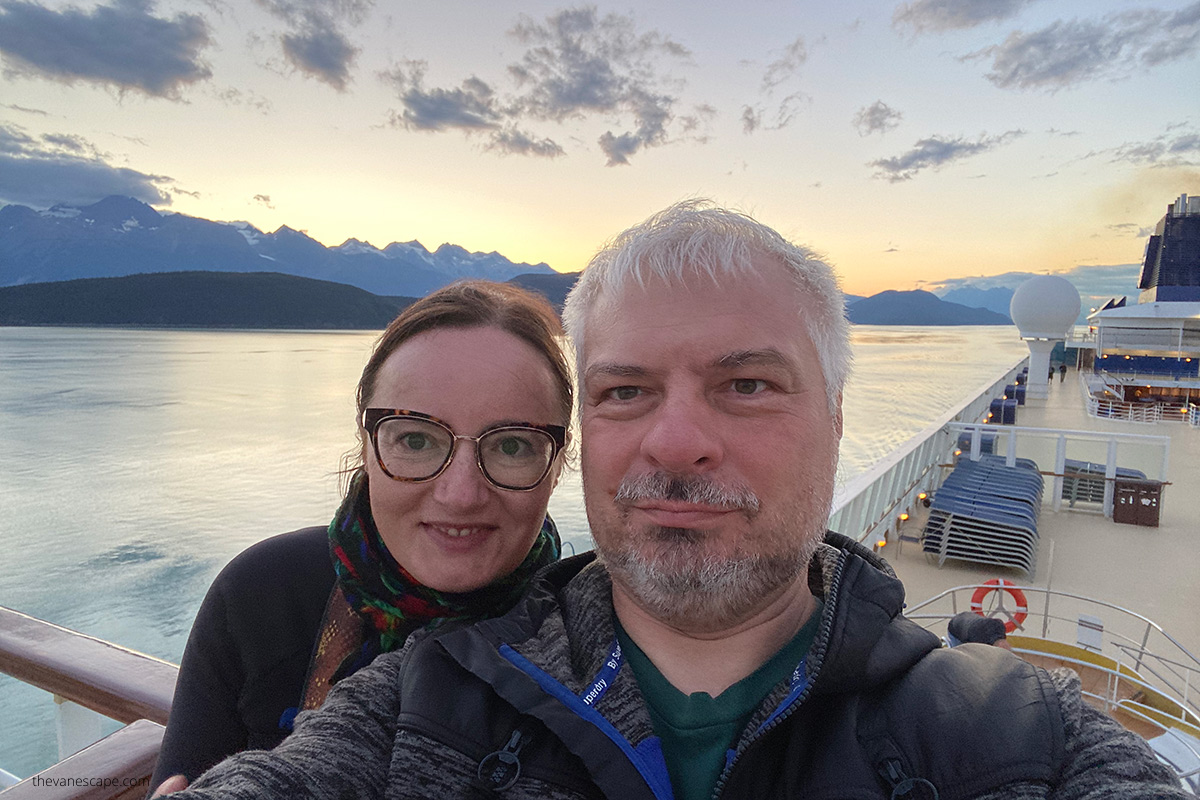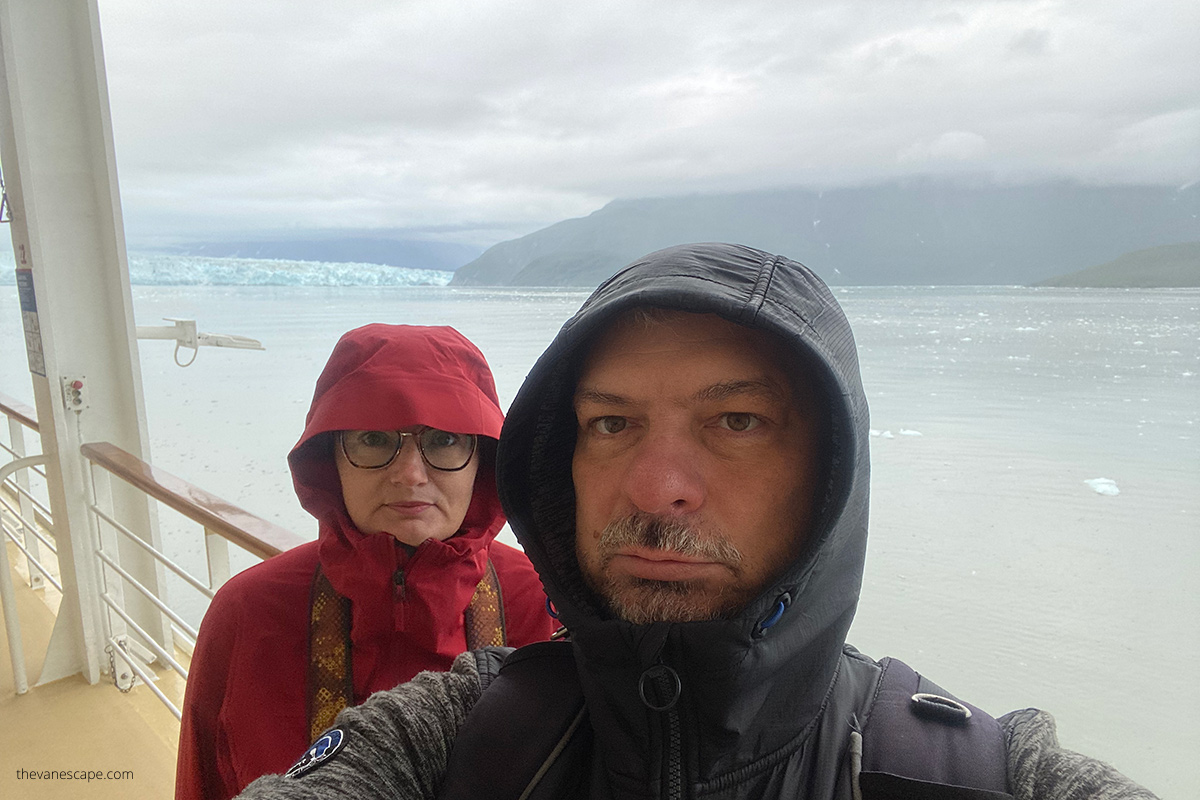 To make your packing process smoother, we've created a downloadable Alaska Cruise Packing List PDF checklist based on this guide. It's the ultimate tool to ensure you're well-prepared for the adventure of a lifetime. You can download it at the bottom of the article.
So, let's dive in and get you packed and ready for your unforgettable Alaska cruise!
Our Tip: No matter what the weather report says or what month you're considering cruising to Alaska, prepare for some chill and wet conditions. Alaska's weather is a wild card. We've visited multiple times, and each trip came with its own set of weather surprises.
Essential Documents to Pack for Your Alaska Cruise
For a cruise to Alaska, pack your ID, passport (check out if you need a passport for a cruise), credit cards, and some cash (primarily for tips after shore tours and some souvenirs).
Print or make electronic copies of your documents, such as Alaska cruise reservations, flight reservations, or possible hotel reservations before and after the cruise (if you plan to stay longer in port), travel insurance, and reservations for your Alaska shore excursions.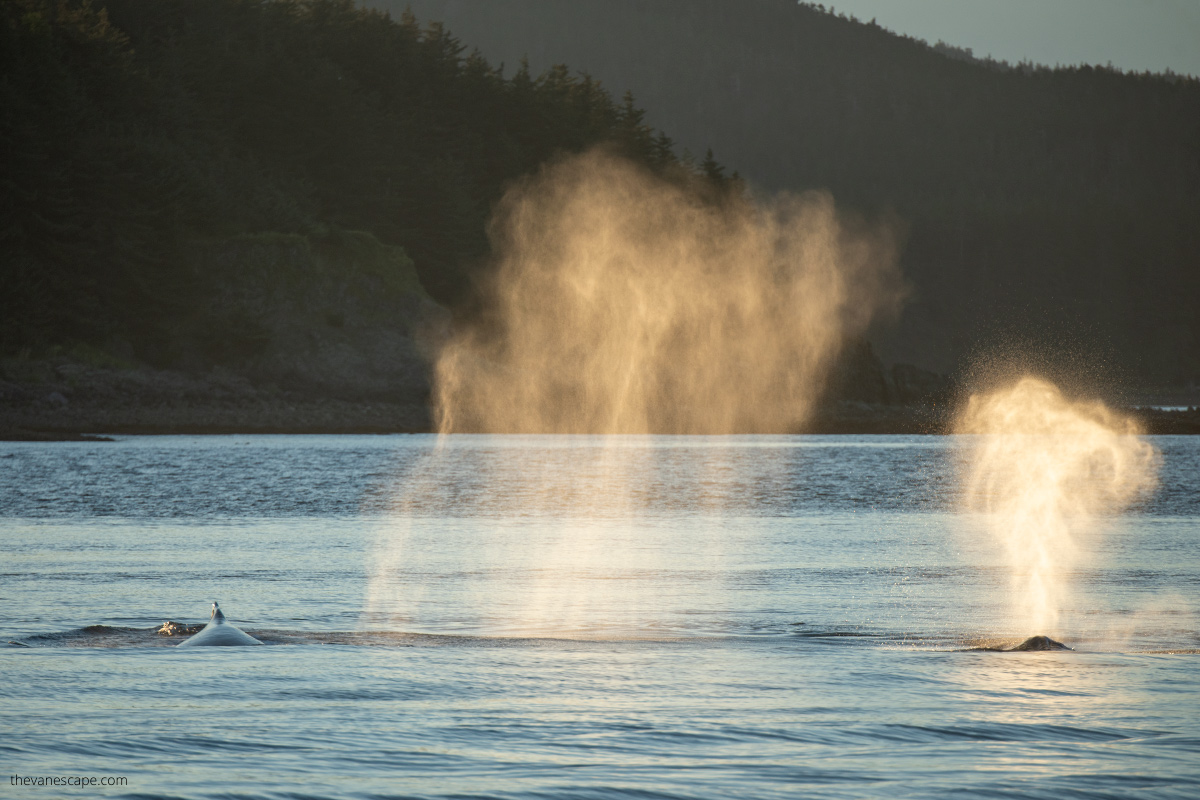 Must Haves Items for Alaska Cruise: Your Essential Guide
Packing for an Alaska cruise can be a puzzle. Don't worry; we've got you covered. This section is all about those must-have items that will make your trip not just good but great. Trust us; you won't want to leave home and boarding on your ship without these essentials.
Must-Have Gear for Onboard Experiences and Outdoor Adventures
Alaska Cruise Binoculars: Your Window to Alaska's Wonders
Regarding an Alaska cruise, binoculars aren't just a good-to-have item but an absolute must. Alaska's landscapes are grand and vast, but the up-close details make them truly magical. Here's why good quality binoculars should be at the top of your Alaska cruise packing list. Here is why:
Onboard Views
Even when you're on the ship, binoculars come in handy. Imagine sailing along the coast with towering mountains and cascading waterfalls in the distance. With binoculars, you can turn those distant views into vivid experiences. You can admire the intricate patterns of glaciers or even spot eagles nesting on cliff faces. Moreover, we had a chance to observe humpback whales from our ship!
Whale Watching in Alaska
If you plan a whale-watching excursion in Juneau, Icy Straight Point, Seward, or Victoria (depending on your Alaska cruise itinerary), you'll kick yourself if you forget your binoculars. They allow you to get a closer look at these majestic creatures, making the experience even more memorable. Moreover, you will get better chances to observe them from the deck of your ship.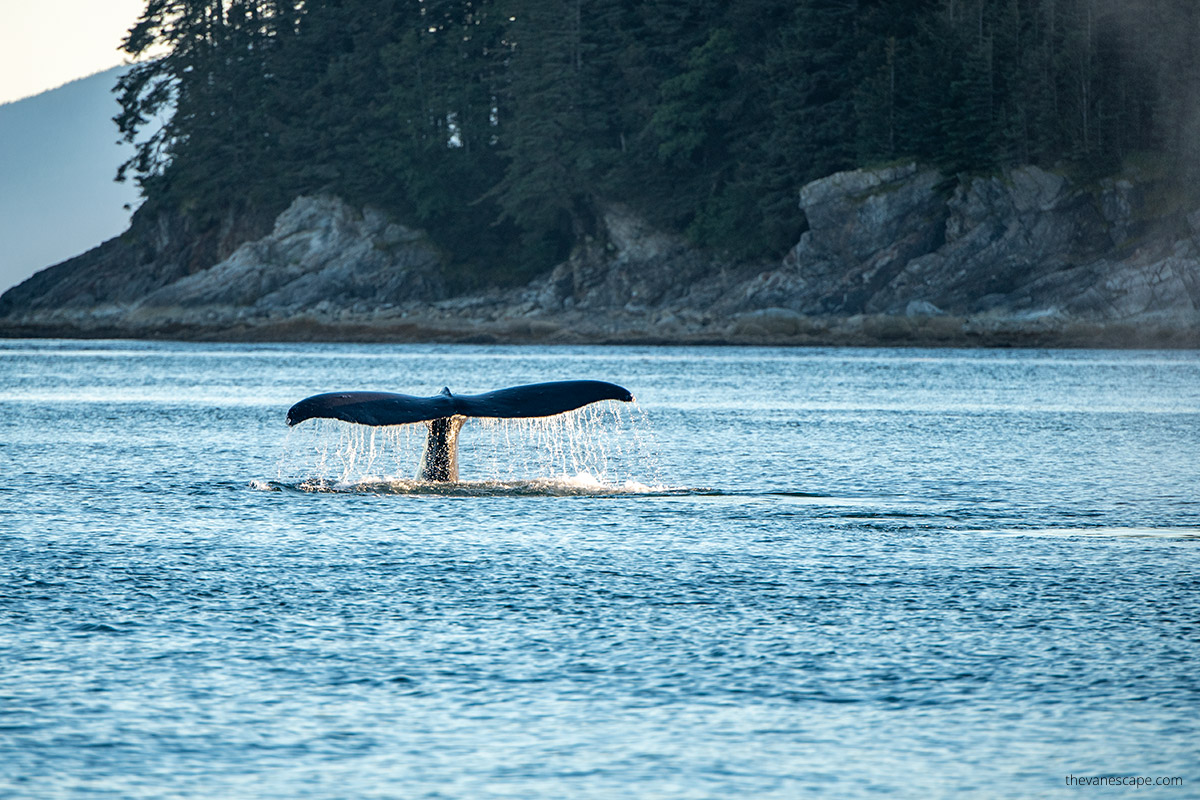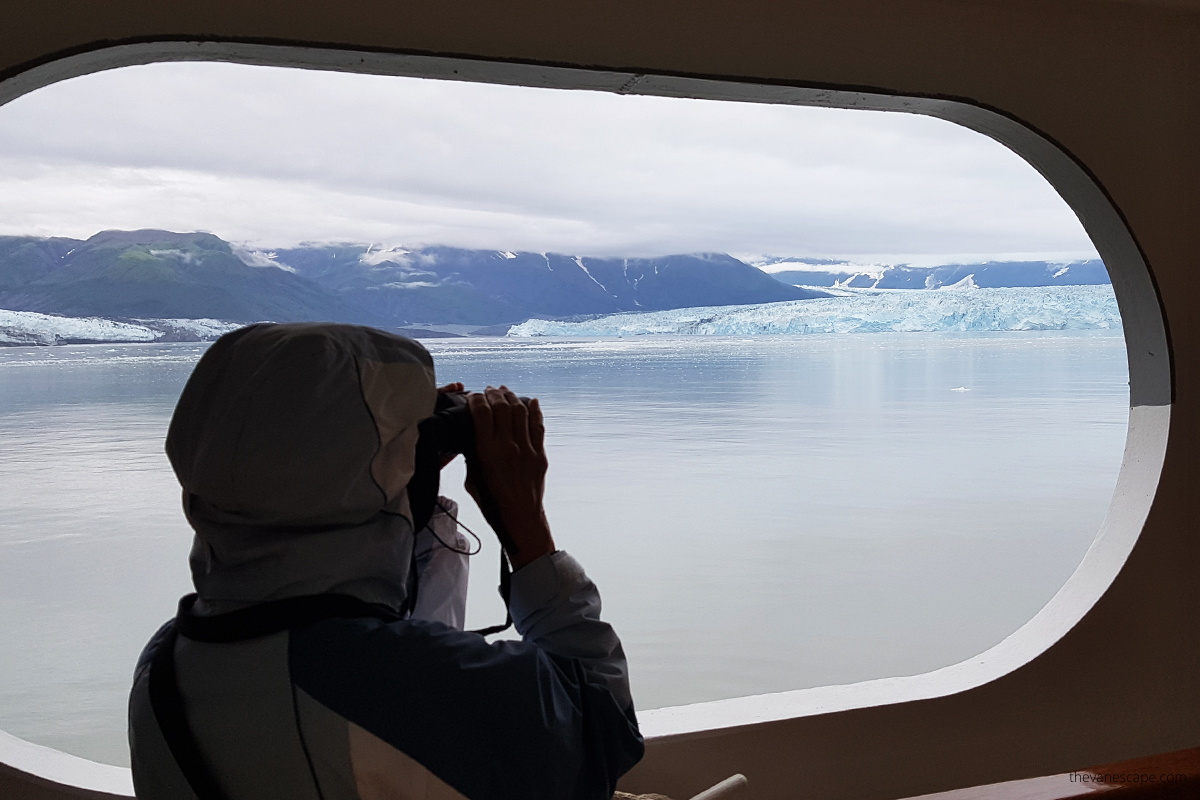 Bear Watching during Alaska cruise
Alaska is home to both black and brown bears. Our regular readers know that we are passionate wildlife photographers and love to observe bears in their natural habitat. We have done bear viewing in Alaska many times, including the famous Katmai National Park and Lake Clark National Park. Bear-watching is also possible during a cruise to Alaska. While you might spot them from your ship, having binoculars during a shore excursion in Ketchikan can make the difference between a good and extraordinary view.
Kayaking
Keep your binoculars close if you're up for kayaking. We are fans of kayaking in Alaska. So, during our last cruise, we also purchased a kayak tour shore excursion while visiting Sitka. Binoculars are perfect for seeing sea lions lounging on rocks or playing in the water and for admiring bald eagles. We had a lot of fun paddling in Sitka with sea lions swimming beside us. Thanks to our professional guide, Charlie, we felt safe and kept a proper distance not to approach these fantastic animals.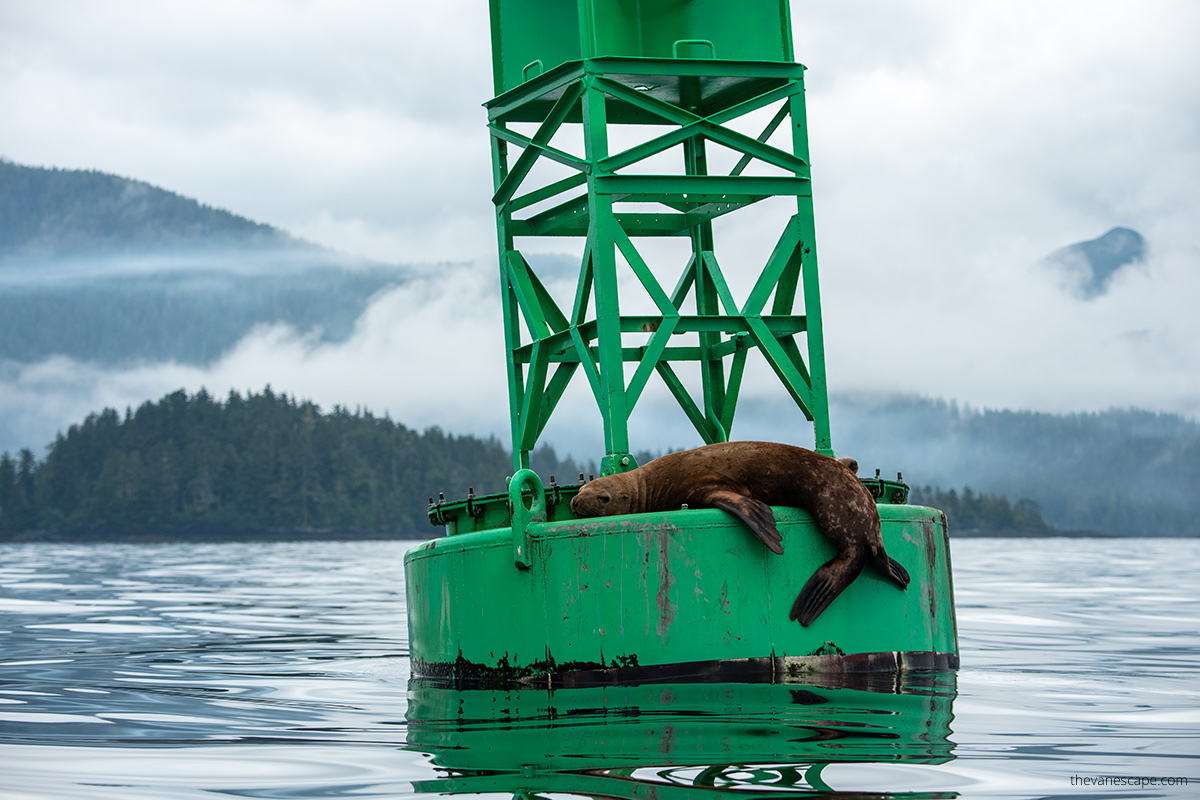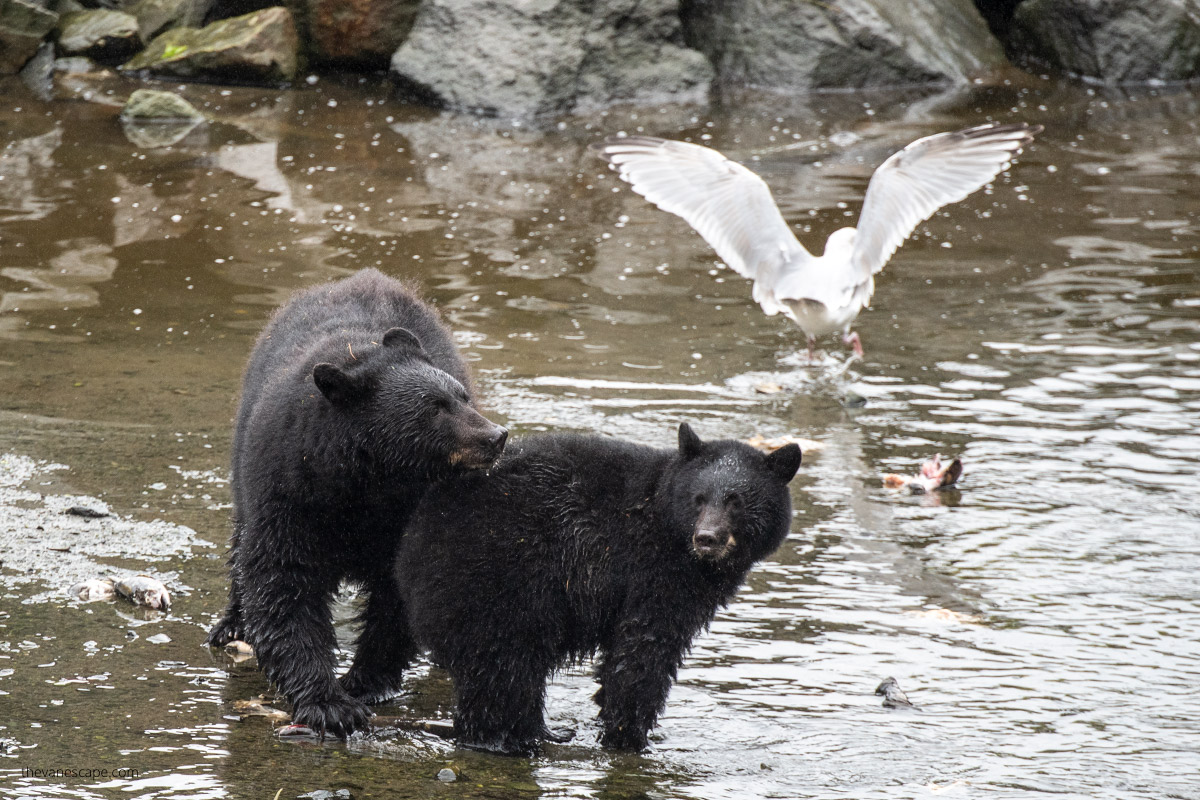 Alaska Shore Excursions
Regardless of which shore tour you choose – binoculars can be helpful. Whether hiking, fishing, or simply exploring, binoculars enhance every shore excursion. They allow you to see wildlife and landscapes you'd otherwise miss.
So, when making your Alaska cruise packing list, ensure binoculars are right there at the top. They're not just a gadget; they're your ticket to experiencing Alaska's wonders in vivid detail. A good pair of binoculars is your ticket to a front-row seat. Don't miss out on the action; invest in a quality pair of binoculars.
Reusable Water Bottle: Your Hydration Onboard and Ashore

You might think a reusable water bottle is just a water bottle, but it becomes so much more when you're on an Alaska cruise. Here's why a reusable water bottle should be a non-negotiable item on your packing list:
Ease of Movement Onboard: Navigating a ship with a mug in your hand can be a balancing act, especially if the seas get a bit choppy. A reusable water bottle with a secure lid eliminates the risk of spills as you roam around the ship.
Gym Buddy: If you're planning to hit the ship's gym to balance out those vacation calories, a water bottle is a must. It's the perfect gym companion to keep you hydrated during your workout.
Shore Excursions: You'll work up a thirst when exploring Alaska's stunning landscapes. Remember, you can't bring liquids back onto the ship from the mainland. So, make sure to drink up before reboarding.
Eco-Friendly: Lastly, using a reusable water bottle is a small but impactful way to reduce plastic waste, aligning with Alaska's natural beauty.
So, don't underestimate the power of a good reusable water bottle. It's not just about staying hydrated; it's about enhancing your entire cruise experience, from onboard activities to Alaska shore excursions and protecting this wild environment.
Weather-Resistant Backpack or Dry Bag: Your Trusty Companion for Any Adventure
When cruising through Alaska, you're not just sitting on a ship—you're exploring some of the most breathtaking landscapes on Earth. Whether it's whale watching, kayaking, or simply taking in the misty fiords, a weather-resistant day backpack or waterproof dry bag is an absolute must. Here's why:
Shore Excursions: Alaska is all about the great outdoors. You might find yourself whale watching one day and exploring misty fiords or rainforests in Ketchikan the next. A weather-resistant backpack or dry bag ensures that your essentials—like your camera, documents, binoculars, and snacks—stay dry no matter what Mother Nature throws.
Kayaking Adventures: A waterproof dry bag is necessary if you plan to kayak through Alaska's pristine waters. It will keep your belongings safe and dry so you can focus on paddling and enjoying the stunning scenery.
Onboard Use: A weather-resistant bag comes in handy even on the ship. The deck can get wet from morning fog or after a rain shower. Having a waterproof bag means relaxing on the deck without worrying about your belongings getting damp.
So, when you're making your Alaska cruise packing list, don't overlook the importance of an excellent weather-resistant backpack or dry bag. It's not just a bag; your trusty companion will make every adventure more enjoyable and stress-free.
Waterproof Rain Cover for Your Camera and Smartphone
Be sure to pack a rain cover for your smartphone, especially if you plan kayaking trips or splashing in the ship's pool or hot tub.
If you take pictures with a camera – rain protection is a must. During the last cruise, we took a lot of shore excursions, including whale watching from the fast zodiac boat. The water splashed intensively, plus it was heavy rain at the end of the trip – only thanks to this Camera Rain Cover that our equipment was dry.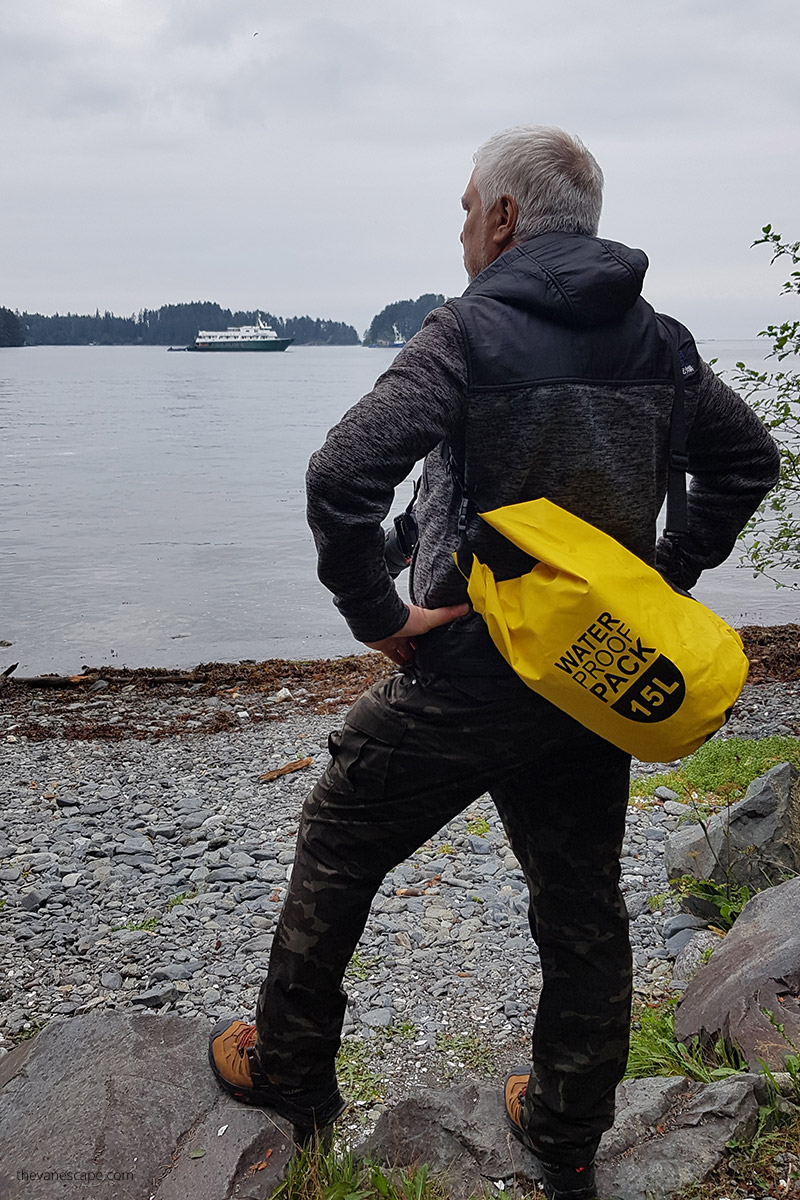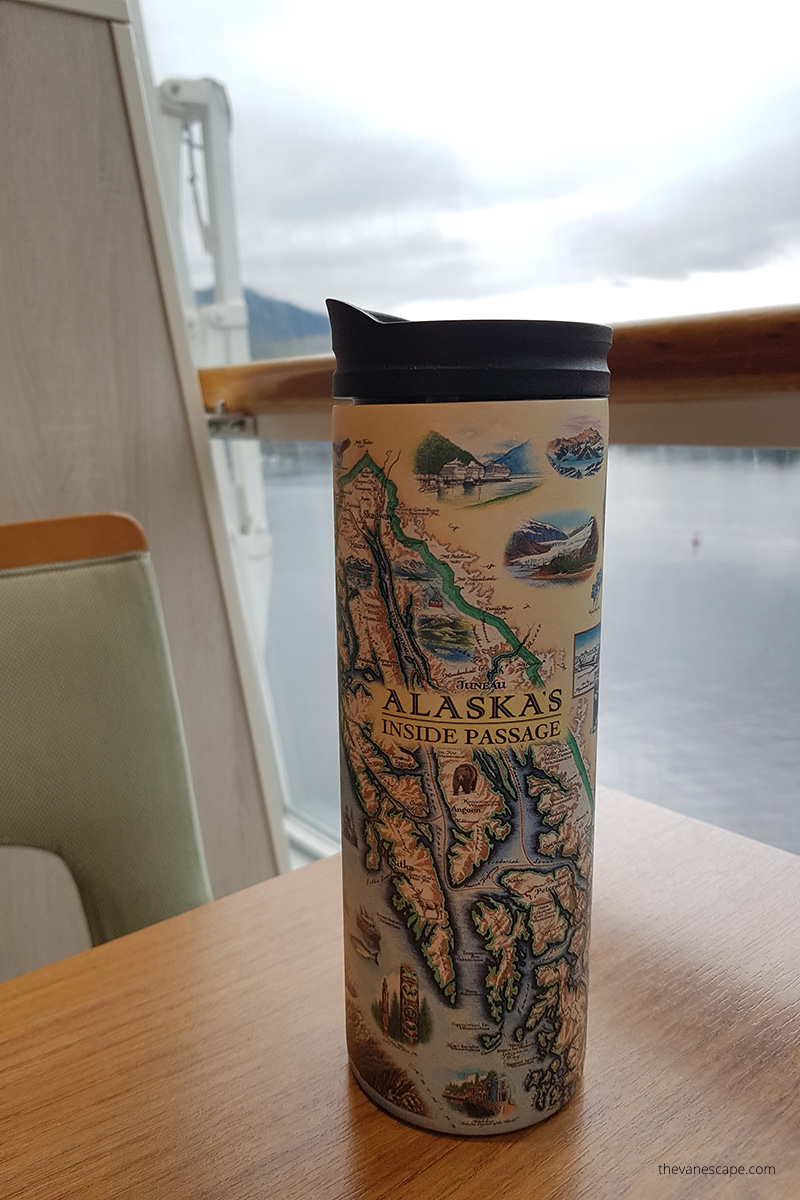 Must Haves for Alaska Cruise Tech Gadgets
In today's digital age, tech gadgets aren't just conveniences; they're essentials that can significantly enrich your Alaska cruise experience. From capturing stunning landscapes to enjoying downtime on the ship, here's our list of must-have tech gadgets:
Portable Charger
Your smartphone is more than just a phone; it's your camera, map, and lifeline to the outside world. A portable charger ensures you never have a dead battery, especially during all-day long shore excursions.
Camera with Telephoto or Zoom Lenses
While a smartphone with a good camera can work in a pinch, a dedicated camera with telephoto or zoom lenses is ideal for capturing Alaska's grandeur. Whether it's a distant glacier or breaching whales, these lenses allow you to capture the action up close.
Smartphone with a Good Camera
If you prefer traveling light, a smartphone with a high-quality camera can do the trick. Many modern smartphones offer advanced camera features perfect for capturing those Instagram-worthy shots.
Travel Adapter
Different ships may have varying types of electrical outlets. A universal travel adapter ensures you can charge all your gadgets, no matter the plug type.
Kindle or iPad
You will spend a lot of time on the ship during your cruise. A Kindle or iPad is perfect for catching up on reading without lugging around heavy books. However, we love traditional books, so we packed a few also.
These gadgets aren't just about convenience; they enhance your overall cruise experience. A good camera captures memories, a portable charger keeps you connected, and a Kindle or iPad offers entertainment during the day at sea. So, when making your Alaska cruise packing list, don't forget these tech essentials. They'll not only make your trip more convenient but also more memorable.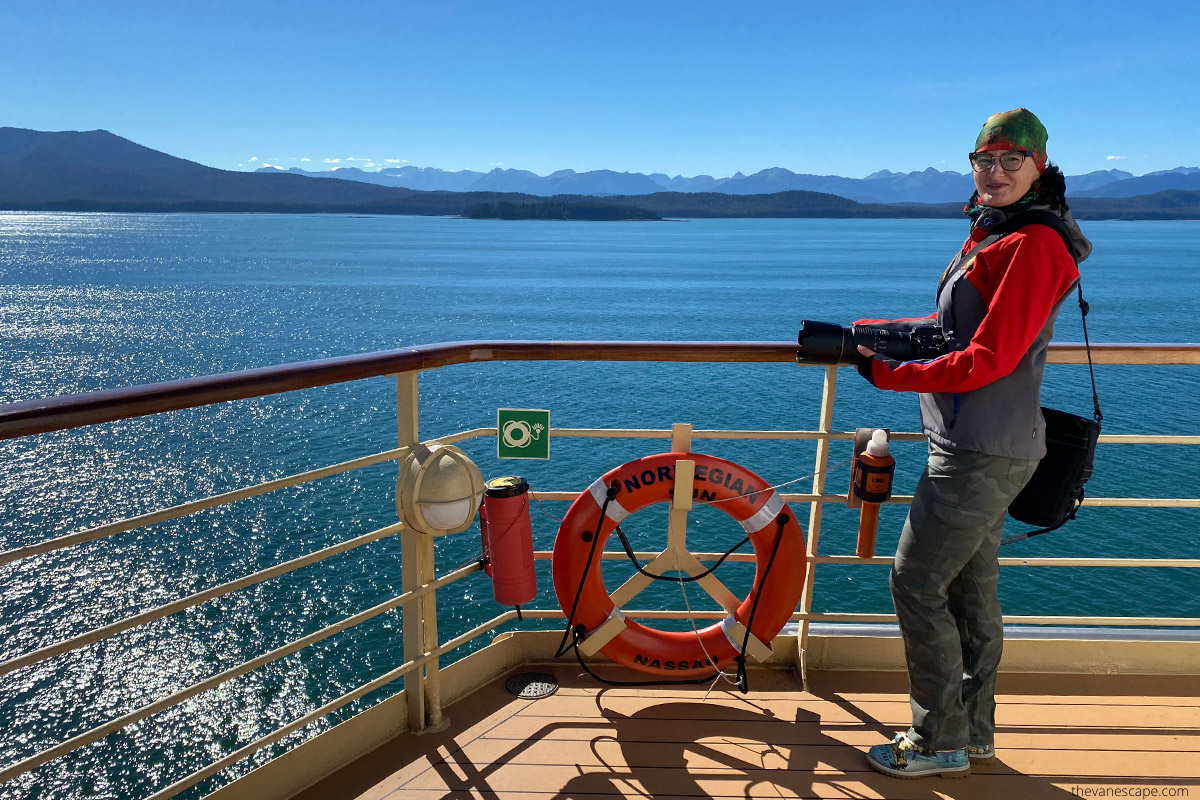 Must Haves Alaska Cruise Personal Care Items
Sunscreen, Sunglasses, and Sun Hat: The Triple S of Sun Protection
We've traveled through various regions of Alaska many times, and believe it or not, our recent cruise was our sunniest experience. So, don't underestimate the power of the Alaskan sun. That's why we're stressing the importance of what we like to call the Triple S of sun protection: Sunscreen, Sunglasses, and a Sun Hat. Here's why each is a must-pack item for Alaska cruise:
Sunscreen or Sun Protection T-shirt
Even when it's cloudy, UV rays can be sneaky. Always pack a broad-spectrum sunscreen with at least SPF 30 and reapply throughout the day, especially after water activities in the ship pool.

We've also been fans of the Kuhl clothing brand for several years and often wore their lightweight sun-protection hoodies on the ship. They have long sleeves and a hood and provide excellent sun protection. They are light and airy and look great. Because Chris hates sunscreen, we pack and wear these hoodies (this is a hoodie model for women) more often than we put sunscreen on ourselves.
Sunglasses
Not only do sunglasses protect your eyes from harmful UV rays and reduce glare, but they're also a must-have for specific cruise adventures. Planning a thrilling helicopter ride with a glacier walk in Sitka or Juneau? You'll be thankful you packed polarized sunglasses to cut down the glare from the ice and snow.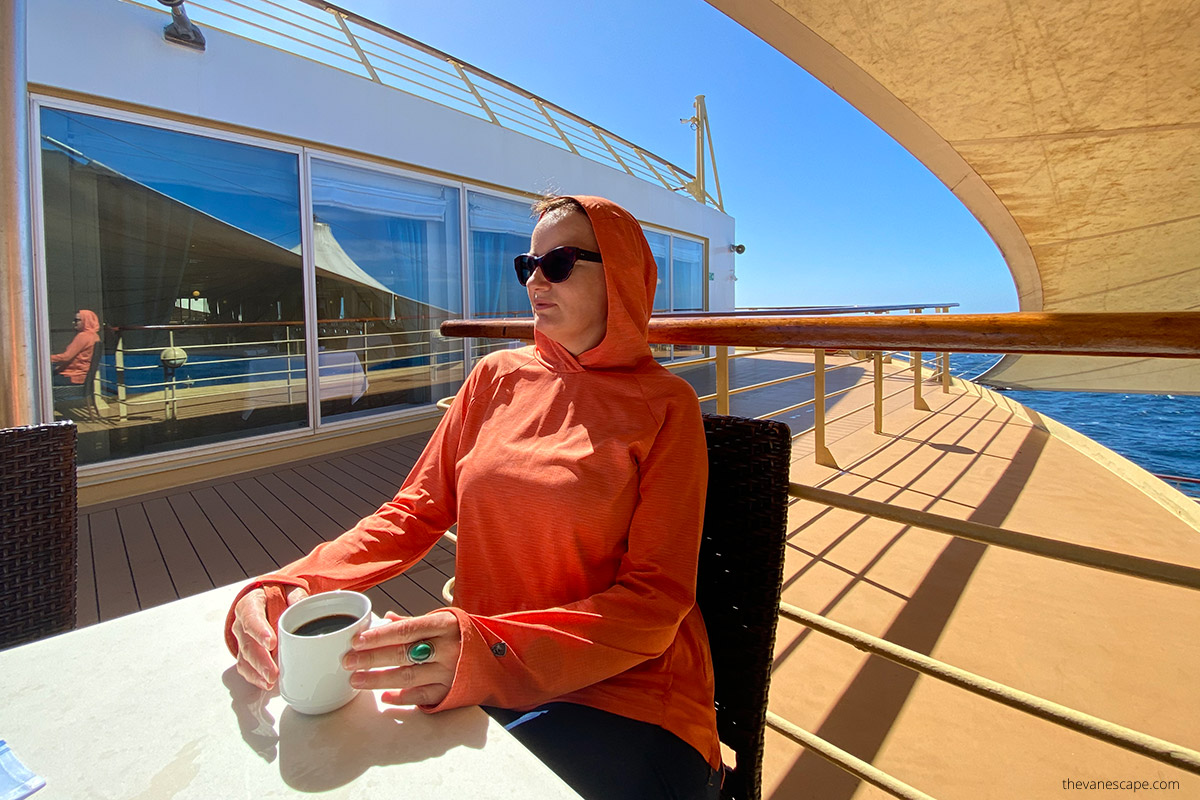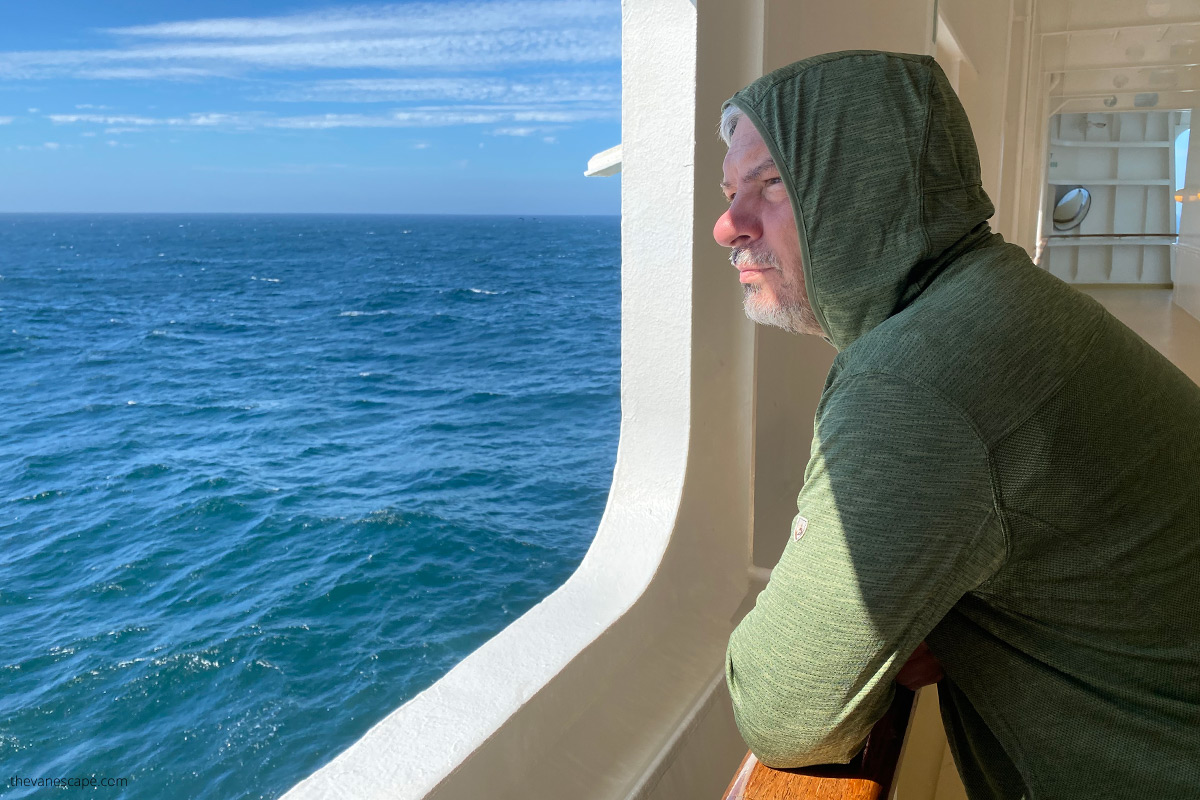 Sun Hat
A sun hat is more than a fashion statement; it protects your face and neck. Choose one with a wide brim for maximum coverage.
Why All Three? Each item in the Triple S serves a unique purpose. Sunscreen or Sun-Protecting t-shirt protects your skin, sunglasses safeguard your eyes, and a sun hat offers overall coverage. Together, they make a comprehensive sun protection strategy. These items are not only vital but also incredibly packable. Plus, they're versatile—you'll use them in Alaska and for any other sunny escapades.
Lightweight rain poncho
Rainless days in summer in Alaska are rare. So be sure to pack a light rainproof poncho with a hood. During our repeated trips through Alaska, we used it often. We recently had lovely sunny weather, but it rained twice or thrice. The summer shower doesn't spoil your vacation if you have a rain poncho that protects your body, clothes, and gear.
First Aid Kit and Your Medications: Your On-the-Go Health Guardian
While your Alaska cruise ship will have a medical center and support, it's always a good idea to have a first aid kit handy, especially for land excursions. Moreover, do not forget your medications. Here's why:
Land Excursions: Whether strolling, kayaking, exploring Alaska's charming towns, or taking a Skagway train ride tour, a basic first aid kit can be a lifesaver. It's perfect for treating minor cuts, scrapes, or insect bites on the spot.
Medical Center Onboard: While the ship does have medical facilities, they may not be immediately accessible, depending on your location on the ship or the time of day.
Check Your Cruise Agreement: Before you set sail, take a moment to review your cruise agreement. It's essential to know what medical services are included in your package. If you find the coverage lacking, consider purchasing additional travel insurance for peace of mind.
What to Include: Your first aid kit should include band-aids, antiseptic wipes, pain relievers, and any personal medication you may need. Just enough to handle small emergencies.
So, when you're compiling your Alaska cruise packing list, don't overlook the importance of a first aid kit. It's a small item that can make a big difference in your comfort and well-being during the trip.
Insect Repellent: Your Land-Based Shield Against Pesky Bugs
Alaska's breathtaking natural landscapes can also be a breeding ground for insects like mosquitoes, especially near lakes, rivers, and wetlands. However, the need for insect repellent depends on when and where your cruise will take you ashore. Here's the lowdown:
Seasonal Use: Insect repellent becomes particularly useful during Alaska's warmer summer months. This is when mosquitoes are most active on land, specifically in areas with standing water.
Regional Differences: Your need for insect repellent will depend on the specific regions you visit. If your cruise includes stops near freshwater bodies or rainforests, it's a good idea to pack some.
Check the Itinerary: Before packing, look at your Alaska cruise itinerary. This will help you decide whether insect repellent should make it onto your packing list based on the regions you'll visit.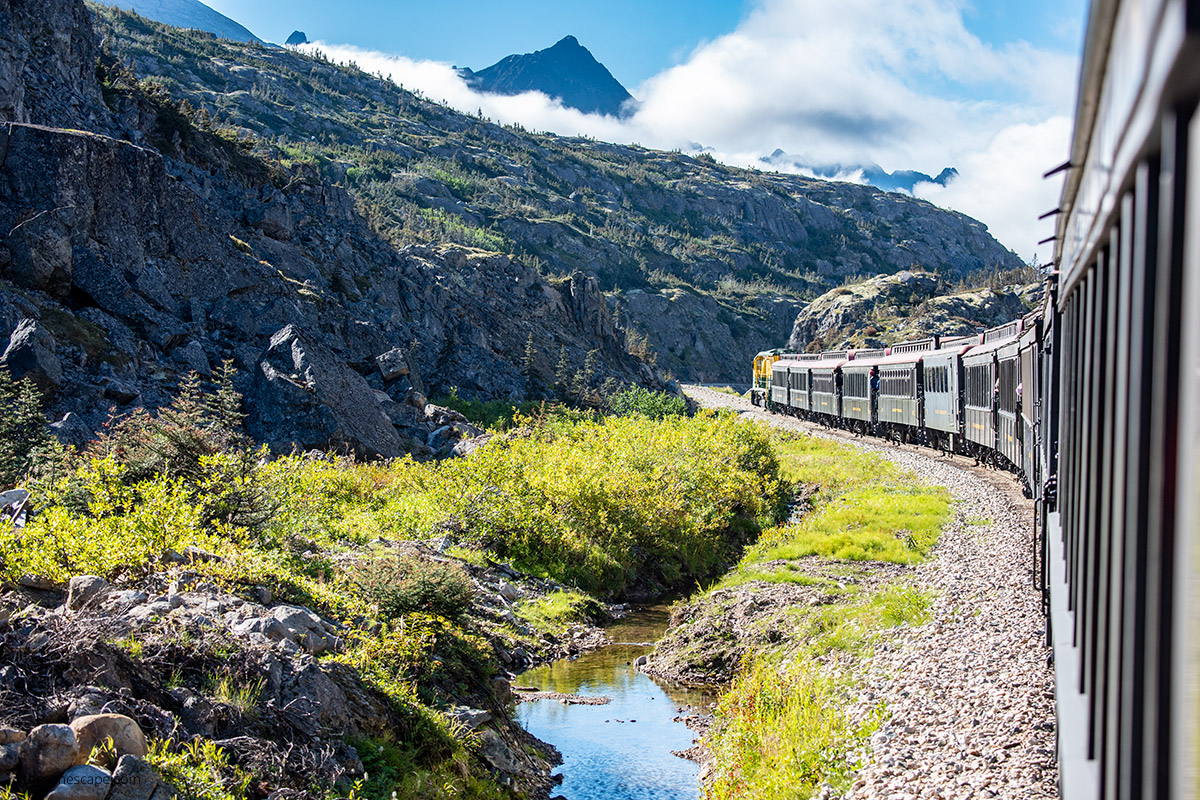 Clothes to Pack for Alaska Cruise: Dressing for the Occasion
When it comes to packing clothes for an Alaska cruise, it's all about versatility and comfort. You'll need outfits that can take you from casual onboard activities to adventurous excursions and elegant formal nights. Based on our experience, here's a breakdown of the types of clothes you should consider packing:
Casual Wear for Onboard Activities
Tops: Pack a mix of short-sleeved and long-sleeved shirts for varying temperatures inside the ship. A warmer fleece sweatshirt is also necessary for windy days or cooler evenings and mornings.
Bottoms: Comfortable pants or leggings are ideal for casual days onboard.
Footwear: Sneakers or comfortable sandals are perfect for walking around the ship.
Swimsuit for the swimming pool or jacuzzi.
Why Casual Wear?: Whether attending a trivia game, lounging by the pool, or exploring the ship, casual wear keeps you comfortable and ready for anything.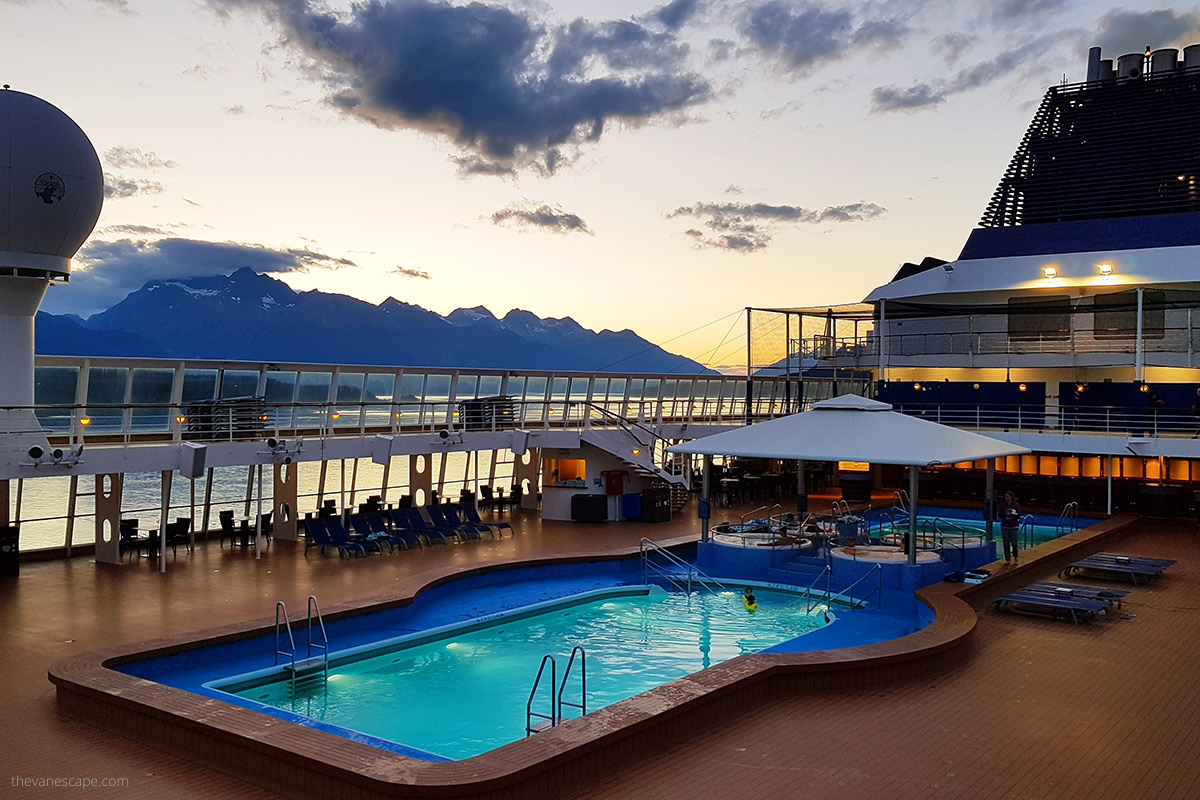 Outfits for Alaska Cruise Shore Excursions
Tops: Moisture-wicking shirts are excellent for active excursions like hiking or kayaking.
Bottoms: Quick-drying comfortable hiking pants and shorts are essential for outdoor activities. Our favorites are:
Footwear: Waterproof hiking boots are essential for most Alaskan adventures.
Lightweight Rain Poncho: A must-have given Alaska's frequent showers, even in summer.
Fleece Sweatshirt: Temperatures can change rapidly, making a warm fleece sweatshirt invaluable.
Windstopper Jacket: Essential for glacier visits like Hubbard Glacier, Glacier Bay National Park, or Mendenhall Glacier in Juneau (especially if you plan a helicopter landing on a glacier or kayaking trip).
Accessories: A hat and gloves for colder conditions are also advisable.
Why Excursion Outfits?: Alaska is an adventurer's paradise. The right clothes will keep you comfortable and protected as you explore
Formal Night Attire
Men: A dress shirt with jeans or slacks will suffice for most formal nights.
Women: A cocktail dress or elegant blouse with a skirt or slacks is generally acceptable.
Footwear: As mentioned earlier, avoid high heels due to the ship's carpeted areas. Opt for elegant shoes with a stable heel. Or combine your dress with more elegant sneakers.
Why Formal Wear? Formal nights are a cruise tradition, offering a chance to dress up and enjoy a memorable evening.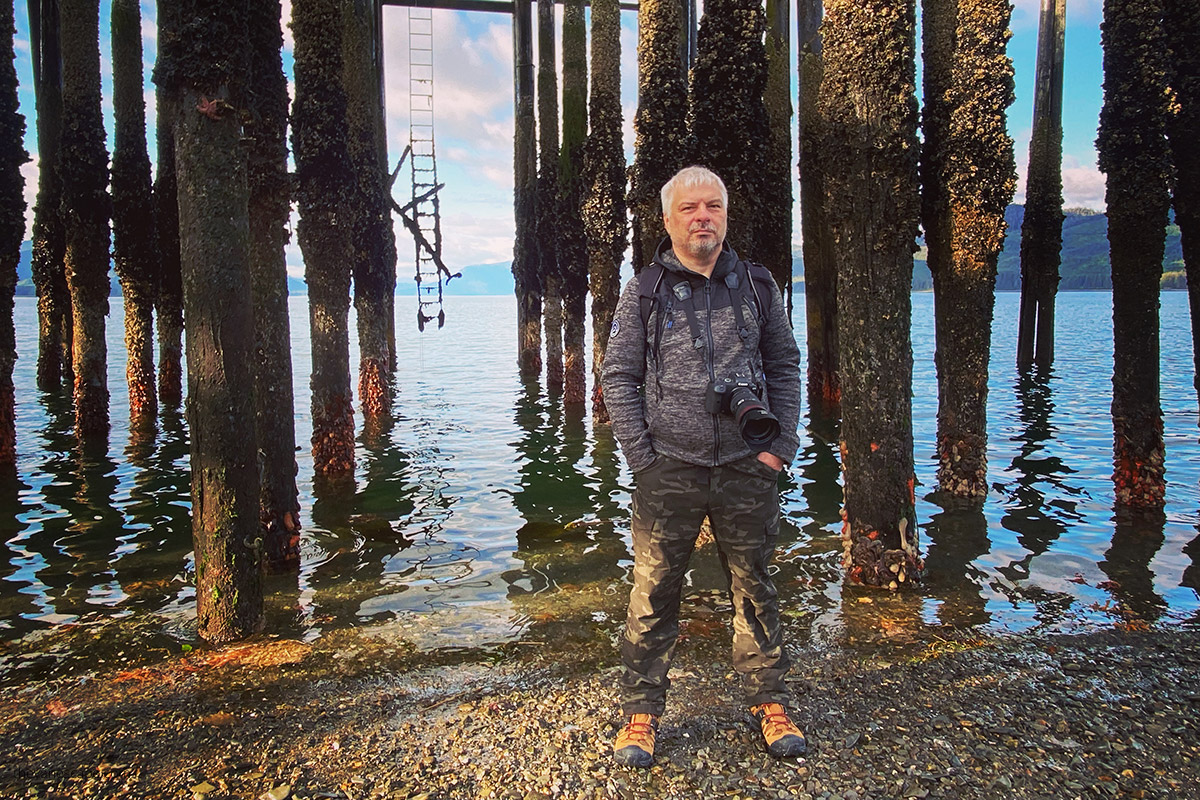 Alaska Cruise Packing Tips: How to Pack Smart
Packing for an Alaska cruise involves more than just clothes. It's about being prepared for a variety of experiences and conditions. Based on our extensive cruising know-how, here are some expert tips for packing smart:
Layering: The Golden Rule for Alaska Cruise Packing
If there's one rule to live by when packing for an Alaska cruise, it's layering. The state's weather can swing from sunny and warm to chilly and wet in a matter of minutes, not hours. Layering allows you to adapt to these changes effortlessly. Here's how to do it right:
Base Layer: Start with a moisture-wicking base layer, like thermal or merino wool tops and bottoms. These fabrics remove moisture from your skin, keeping you dry and comfortable. We are fans of Smartwool.
Mid-Layer: Your mid-layer should be insulating to trap heat. Fleece or down jackets are excellent choices. They're not only warm but also easy to pack. Agnes loves a Khul Flight Jacket (here is exactly this model of fleece), and Chris wears a Kuhl Spekter Full Zip Hoody (here is his favorite model of this zip hoody).
Outer Layer: The outer layer should be waterproof and windproof. A good-quality rain jacket or a shell jacket will protect you from rain and wind, which are common in Alaska. During the Alaska cruise, Agnes wore Black Diamond StormLine Stretch Rain Shell (I love it and have used it for several years). Chris has a windproof jacket.
Mix and Match: The beauty of layering is its versatility. As the day warms up, you can quickly shed and stow layers in your backpack. Add layers back on if the weather takes a turn for the worse.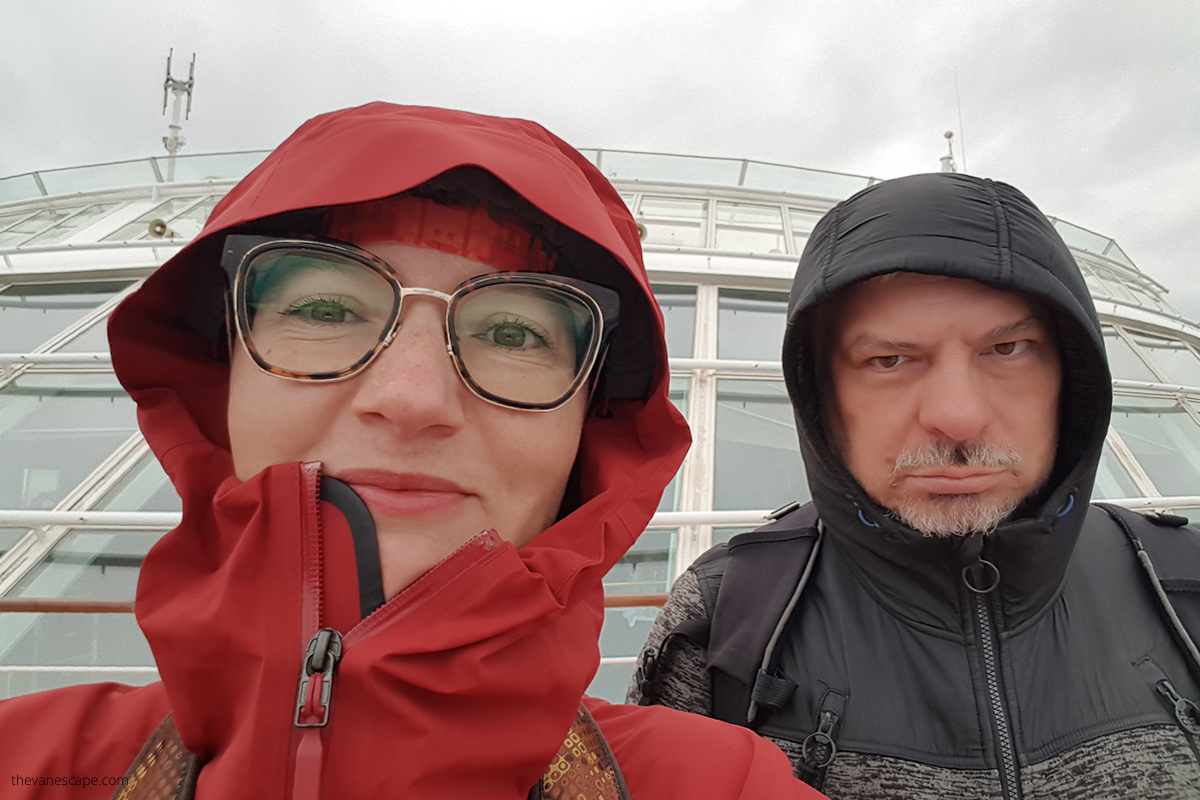 Footwear: Don't forget to apply the layering principle to your feet. Start with moisture-wicking socks, and then add insulating socks if needed. Your outer layer will be your waterproof and grippy shoes.
Accessories: A beanie, gloves, and a scarf or neck gaiter can also be layered to provide extra warmth when needed. These items are small and easy to pack but can significantly affect your comfort level.
Why Layering Works: Layering is effective because it allows you to adjust your body temperature quickly. Adding or removing layers will enable you to adapt to weather conditions, making your cruise experience more enjoyable.
Personal Experience: From our numerous trips to Alaska, we've found that layering is the most efficient way to stay comfortable. It's a strategy that has never let us down, and we highly recommend it for anyone cruising to Alaska.
So, when you're compiling your Alaska cruise packing list, remember the golden rule of layering. It's the key to staying comfortable and enjoying all the adventures Alaska has to offer.
Space-Saving Techniques: Maximize Your Luggage Space
Packing for an Alaska cruise can feel like preparing for multiple vacations at once. You need formal wear, casual clothes, and outdoor gear, all within the confines of your luggage. That's why mastering space-saving techniques is crucial. Here are some expert tips to help you make the most of your suitcase space:
Roll, Don't Fold: Rolling your clothes tightly saves space and helps prevent wrinkles. This technique is especially useful for bulkier items like sweaters and jackets.
Compression Bags: Use travel compression bags for items like down jackets or bulky sweaters. They remove air, making the items take up less space.
Use Packing Cubes: These small, zippered bags are a game-changer. They allow you to group similar items together, making it easier to find what you need and keeping your luggage organized.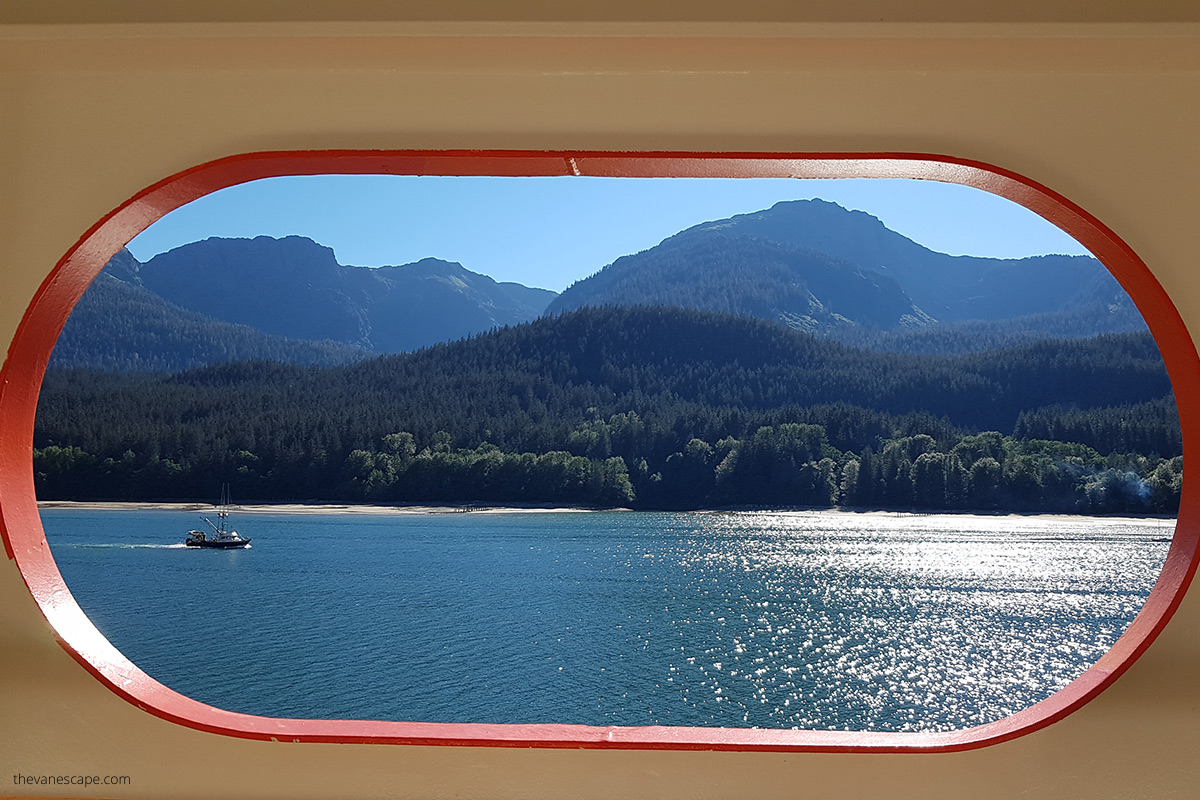 Shoe Strategy: Shoes can be one of the most space-consuming items in your luggage. Place smaller items like socks, underwear, or toiletries inside your shoes to utilize that empty space.
Multi-Functional Items: Opt for clothing and accessories that can serve multiple purposes. A scarf, for example, can be a fashion accessory or a blanket.
Limit Toiletries: Most cruise ships offer basic toiletries like shampoo and soap. Limit what you bring and consider using travel-sized containers for essentials like toothpaste and face wash.
Digital Over Physical: As mentioned earlier, go digital wherever possible. Instead of carrying physical books, maps, or documents, store them on your phone or tablet.
Personal Experience: From our many travels to Alaska, we've found that efficient packing is key to a stress-free trip. These space-saving techniques have helped us pack smarter, not harder, allowing us to enjoy our cruise without feeling weighed down by our luggage.
By incorporating these space-saving techniques into your packing routine, you'll be well-prepared for whatever your Alaska cruise has in store while making the most of your luggage space.
What Not to Pack: Lighten Your Load for a Better Cruise Experience
Knowing what to leave behind is just as important as knowing what to bring on your Alaska cruise. Overpacking can result in extra baggage fees, less room for souvenirs, and a more cumbersome travel experience. Based on our extensive cruising know-how, here are some items you can confidently leave at home:
Excessive Toiletries: The cruise ship usually provides basic toiletries like shampoo and soap. Save space by using what's offered or bringing travel-sized versions of your essentials.
Towels: There are towels in your stateroom and towels for the pool, so leave yours at home.
Hair Dryer: Most cabins come with a hair dryer, eliminating the need to pack one. Check with your cruise line if you're particular about this.
Drones are typically prohibited on cruise ships for safety and privacy reasons. You can't bring it to the ship as well. Leave your drone at home to avoid any complications.
Non-Permitted Items: Each cruise line has its own list of prohibited items, often including irons or certain types of knives. Make sure to check this list to avoid confiscation.
Excessive Formal Wear: One or two versatile formal outfits should suffice for formal nights. There is no need to pack a different set for each evening.
Trekking Poles: I love hiking with trekking poles, so I packed them on a cruise. They turned out useless. While I often use them during Denali National Park hikes or Hatcher Pass hikes, shore excursions are much shorter and less demanding.
Why Not to Overpack: Overpacking limits your luggage space and can make your travel experience cumbersome. The lighter you travel, the more you can enjoy your cruise.
By being selective about what not to pack, you'll make your Alaska cruise more enjoyable and stress-free, giving you more room for souvenirs and more freedom to explore.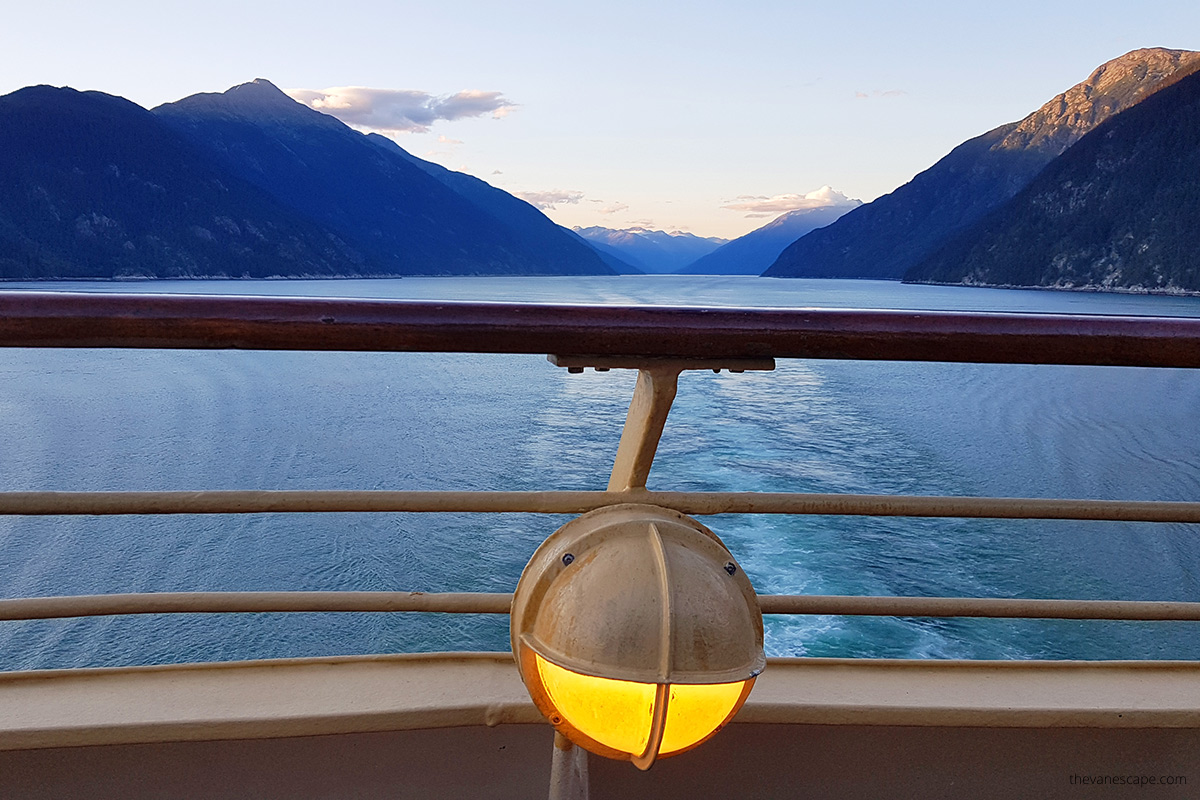 Packing List for a Cruise to Alaska: Special Considerations
It's not just about the basics when packing for an Alaska cruise. You also need to consider the season of your trip and any special events or themed nights the cruise line may offer. Here's how to prepare for these special considerations:
Packing for Different Seasons
Spring/Fall: These shoulder seasons can be chilly. Pack thermal layers, a good-quality rain jacket, and waterproof boots.
Summer: While warmer, summer in Alaska can still be unpredictable. A lightweight rain poncho and a fleece sweatshirt are must-haves.
Why Seasons Matter: Alaska's weather varies greatly by season. Packing appropriately ensures you're prepared for whatever conditions you encounter.
Special Events and Themed Nights on Your Ship
Performances or other artistic events – Each cruise ship to Alaska offers different events: concerts, performances, and shows. Check what your cruise line offers to decide what to pack for your cruise and if these events interest you. You don't have to participate in them. So it is not necessary to pack special outfits.
White Nights: Some cruises offer a "White Night" where guests are encouraged to dress in all white. Pack a white outfit if you wish to participate. But check is the event is on your ship.
Pirate Night: If your cruise has a Pirate Night, feel free to bring a fun pirate-themed outfit or accessories.
Captain's Dinner: This is usually the most formal event on the cruise. Men should consider a suit and tie, while women might opt for a cocktail dress.
Why Special Events?: These events add a fun and festive element to your cruise. Packing for them enhances your overall experience.
Alaska Cruise Packing Guide: Luggage and Organization
Proper luggage and organization are about more than just convenience; they're about making your entire cruise experience more enjoyable. The easier it is to manage your belongings, the more time and energy you'll have to enjoy your vacation.
Choosing the Right Luggage
If you are planning to fly to a cruise port like Seattle or Vancouver, check the weight limit for checked baggage and the size and weight of hand baggage with your airlines.
Hard vs. Soft: Hard luggage offers better protection but is often heavier. Soft luggage is more flexible but less protective. Choose based on your needs. We prefer hard suitcases as we travel a lot.
Wheels: Opt for a suitcase with sturdy wheels for easier maneuverability, especially if you plan to do some land travel before or after your cruise.
Size: Consider the length of your trip and the variety of clothing and gear you'll need. A medium-sized suitcase with expandable compartments is often a good choice.
Why the Right Luggage?: The right luggage can make your travel experience smoother and more enjoyable, from the airport to the cruise ship and back.
Packing Cubes and Organizers
Packing Cubes: These small, zippered bags help you group similar items together, making it easier to find what you need and organize your luggage.
Shoe Bags: Separate bags for shoes can keep your clothes clean and make it easier to pack and unpack.
Toiletry Organizers: A hanging toiletry bag can be useful, especially in smaller cruise ship bathrooms.
Why Organizers?: Efficient organization makes packing easier and simplifies your life onboard, helping you find what you need without rummaging through your suitcase.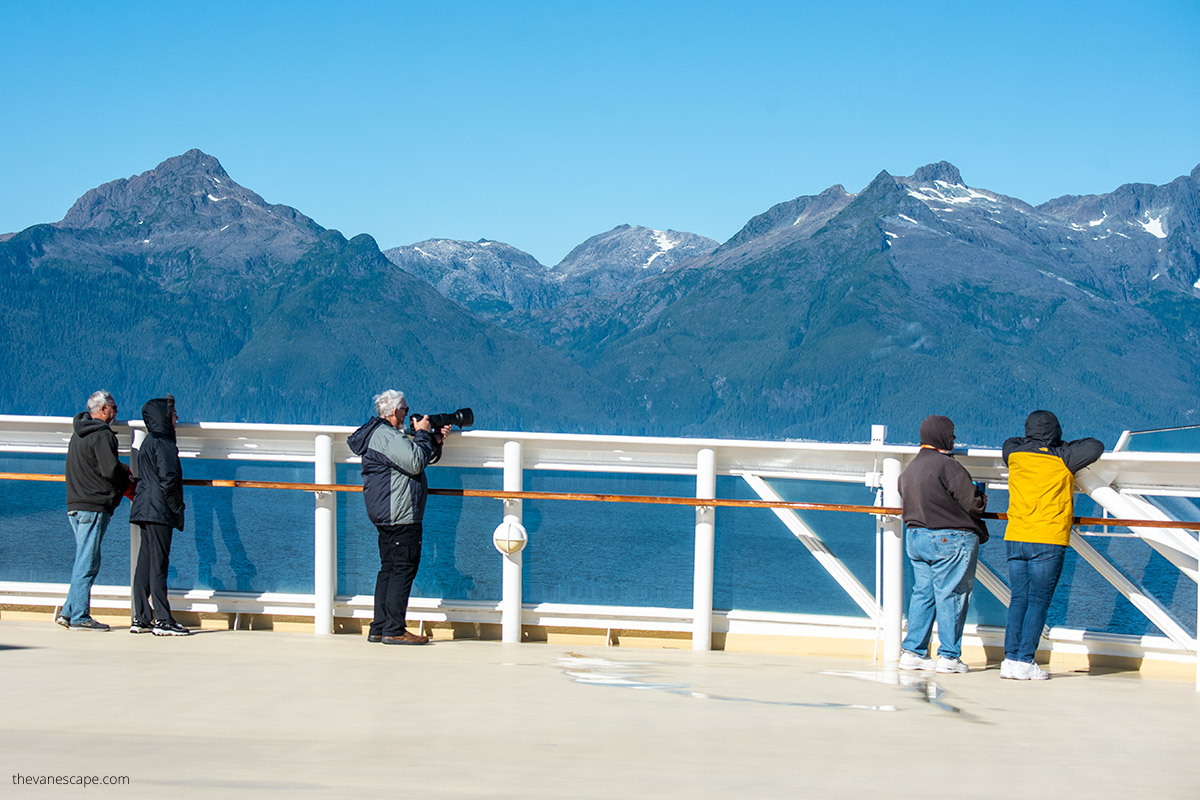 How to Pack for the Alaska Cruise: Step-by-Step Guide
Packing for an Alaska cruise can feel overwhelming, but it doesn't have to be. You can make the process smooth and stress-free with some planning and organization. Here's a step-by-step guide to help you pack like a pro:
Pre-Packing Checklist
Research: Look into the activities and events you'll participate in onboard. Also, choose and book your Alaska shore excursions ahead to know what to pack depending on activities. Check the general weather forecast for your travel dates, but remember that Alaska weather is unpredictable.
List-Making: Create a list of essential items based on your research. This should include clothing, toiletries, and any special gear you need.
Inventory: Check your current supplies to see what you already have and what you'll need to purchase.
Why a Checklist?: A pre-packing checklist helps you stay organized and ensures you don't forget any essentials.
Packing Process
Start Early: Begin packing at least a week before your departure date to give yourself ample time to gather all necessary items.
Layering: Start by packing your base layers, mid-layers, and outer layers. This makes it easier to visualize your outfits.
Use Organizers: Utilize packing cubes, shoe bags, and toiletry organizers to keep your luggage neat and accessible.
Check and Double-Check: Before zipping up your luggage, check your checklist one last time to ensure you haven't forgotten anything.
Weigh Your Luggage: Make sure your luggage meets the weight requirements of your airline and the cruise line to avoid any last-minute stress or fees.
Why the Process?: A systematic approach to packing makes the task more manageable and ensures you're well-prepared for your trip.
Personal Experience: We've honed our packing process over many Alaska travels. Following a step-by-step guide has made our preparations more efficient and our trips more enjoyable.
Packing for the Alaska Cruise: Last-Minute Additions
Even the most meticulous planners can forget a thing or two. As you finalize your packing for your Alaska cruise, here are some last-minute additions and checks to ensure you're fully prepared:
Things People Often Forget
Chargers: Make sure you pack chargers for all your electronic devices.
Medications: Don't forget any prescription or over-the-counter medications you may need.
Travel Documents: Double-check that you have all necessary IDs, tickets, and travel insurance information.
Snacks: Pack a few non-perishable snacks for the journey, especially if you have dietary restrictions.
Why These Items?: These are commonly overlooked items that can cause inconvenience if forgotten.
Last-Minute Checks
Weather Forecast: Take a final look at the weather forecast and adjust your packing accordingly.
Cruise Line Notifications: Check for any last-minute notifications from your cruise line that might affect your packing.
Luggage Tags: Ensure your luggage is properly tagged with your name and contact information.
Final Walkthrough: Walk through your home to ensure all lights are off, doors are locked, and appliances are unplugged.
Why Last-Minute Checks?: These final steps help you avoid common travel mishaps and set your mind at ease before departure.
Personal Experience: In our many trips to Alaska, we've found that these last-minute checks and additions are often the most crucial. They've saved us from many a travel headache and helped us thoroughly enjoy Alaska.
By paying attention to these last-minute details, you'll set yourself up for a smooth and enjoyable Alaska cruise, free from the stress of forgotten items or overlooked preparations.
Alaska Cruise Packing List with PDF: Downloadable Checklist
Packing for an Alaska cruise can be complex, but we're here to make it easier for you. Based on our extensive experience and the detailed guide we've provided, we've created a handy PDF checklist that you can download and use as you prepare for your trip.
Why an Alaska Cruise Packing PDF Checklist?
Convenience: A downloadable checklist can be printed or saved to your phone, making it easy to refer to as you pack.
Comprehensive: We've included all the essentials, from must-have items to special considerations, ensuring you won't miss a thing.
Peace of Mind: With a checklist, you can pack confidently, knowing you're well-prepared for your Alaska cruise adventure.
How to Use the PDF Checklist?
Download: Click the link below to download the PDF checklist.
Print or Save: Print it out for a physical copy or save it to your mobile device for digital access.
Check-Off Items: As you pack, check off the items you've included. It's that easy!
This downloadable checklist will simplify your packing process and ensure you're well-prepared for the adventure in Alaska.
Alaska Cruise Packing List – Final Thoughts
Packing for an Alaska cruise can seem like a daunting task. Still, with the proper guidance and a comprehensive checklist, it becomes a manageable and enjoyable part of your trip preparation.
We've shared our tried-and-true tips, personal experiences, and essential items to help you pack smartly and efficiently for your Alaska cruise adventure.
Remember, cruising to Alaska is unlike any other travel experience, offering unique opportunities to witness some of the world's most stunning natural wonders. Each day brings something new and exciting, from the majestic glaciers and misty fjords to the vibrant local cultures and Native history. Being well-prepared ensures you can focus on the beauty and adventure that await rather than worrying about what you might have left behind.
Don't forget to download our handy Alaska cruise packing list PDF checklist to make your packing process as smooth as possible. It's the culmination of our extensive travel experience and is designed to set you up for a successful and memorable journey.
So go ahead, finalize your packing, and get ready to embark on the Alaska cruise of your dreams. The Last Frontier is calling, and it's time to board yourself for your ship.