How to Plan 2 Days in Anchorage Itinerary?
Do you have 2 days in Anchorage and don't know how to spend time in Alaska's largest city? How to plan your stay? What are the best attractions in Anchorage, what to see, and where to eat and stay? We've been to Anchorage many times, and based on our experiences, we've created this Anchorage itinerary for you. Thanks to it, you'll see the most exciting places in the city. And if you have more time than two days – we'll also tell you how to use it.
This article may contain affiliate / compensated links. For full information, please see our disclaimer here.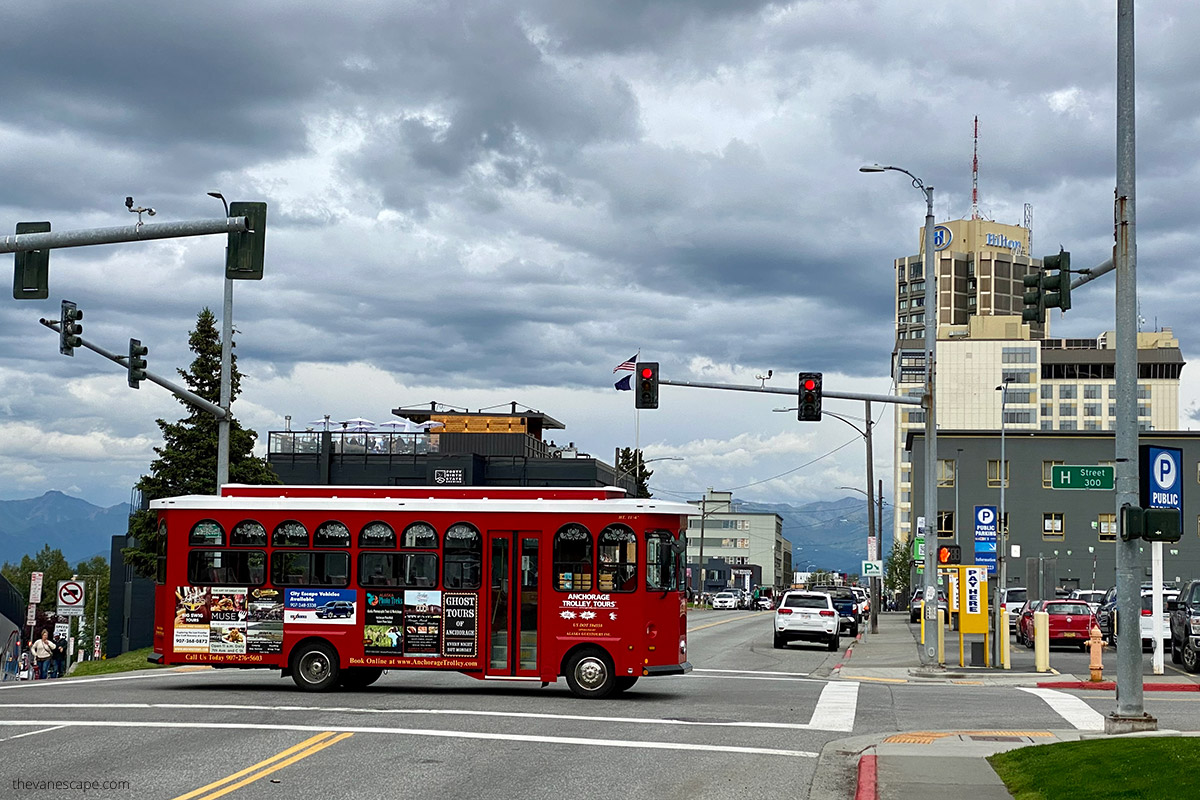 2 Days in Anchorage – Our Experiences
When we first came to Anchorage, we didn't take the time to get to know the city. Anchorage was just supposed to be a base for our Alaska road trip. As an international airport, it's a great starting point for your Alaska travel and offers excellent rates on rental cars, accommodations, and quick pre-trip shopping. Our goal was wildlife, specifically bear watching in Alaska and camping in Denali National Park.
We didn't know what to see in Anchorage or what attractions this city had. We considered Anchorage a transit, primarily since we had heard unpleasant opinions about Anchorage's crime rate and the safety of the city. Anyway, Anchorage is often treated as a transit city, as many people come here to get from Anchorage to Seward for their dream cruise in Alaska.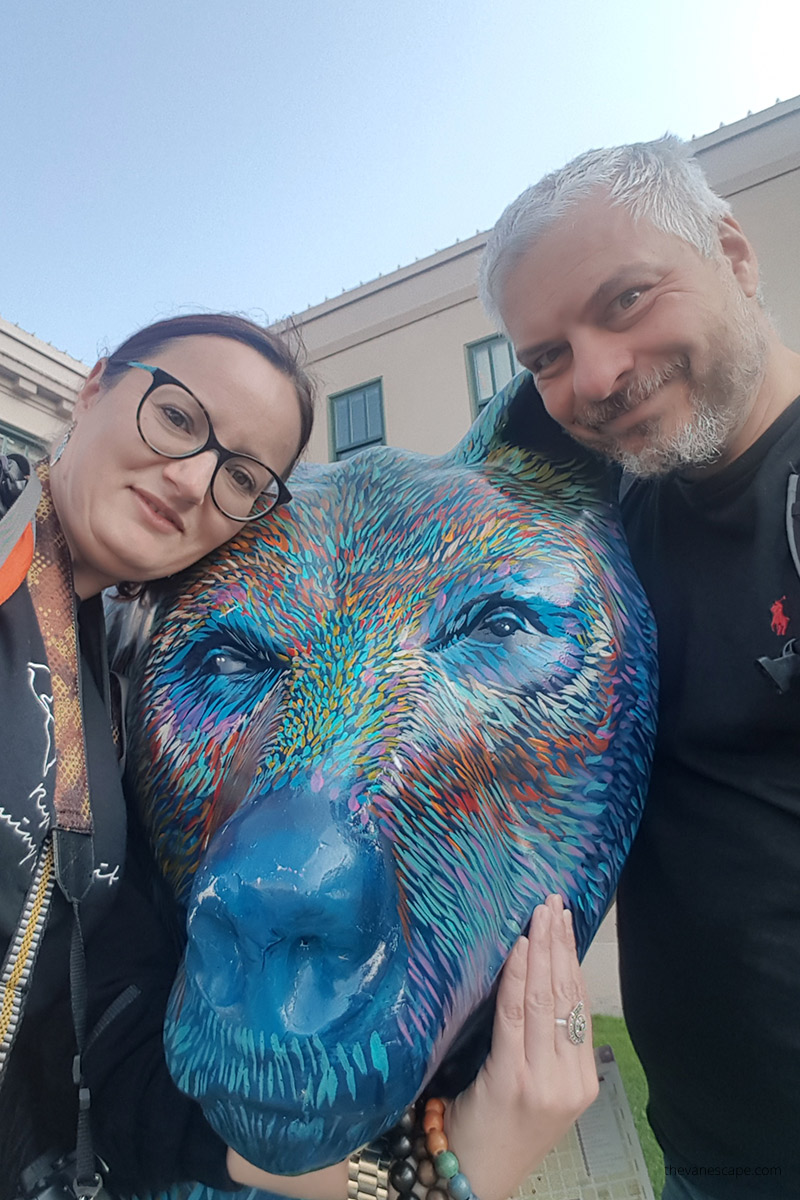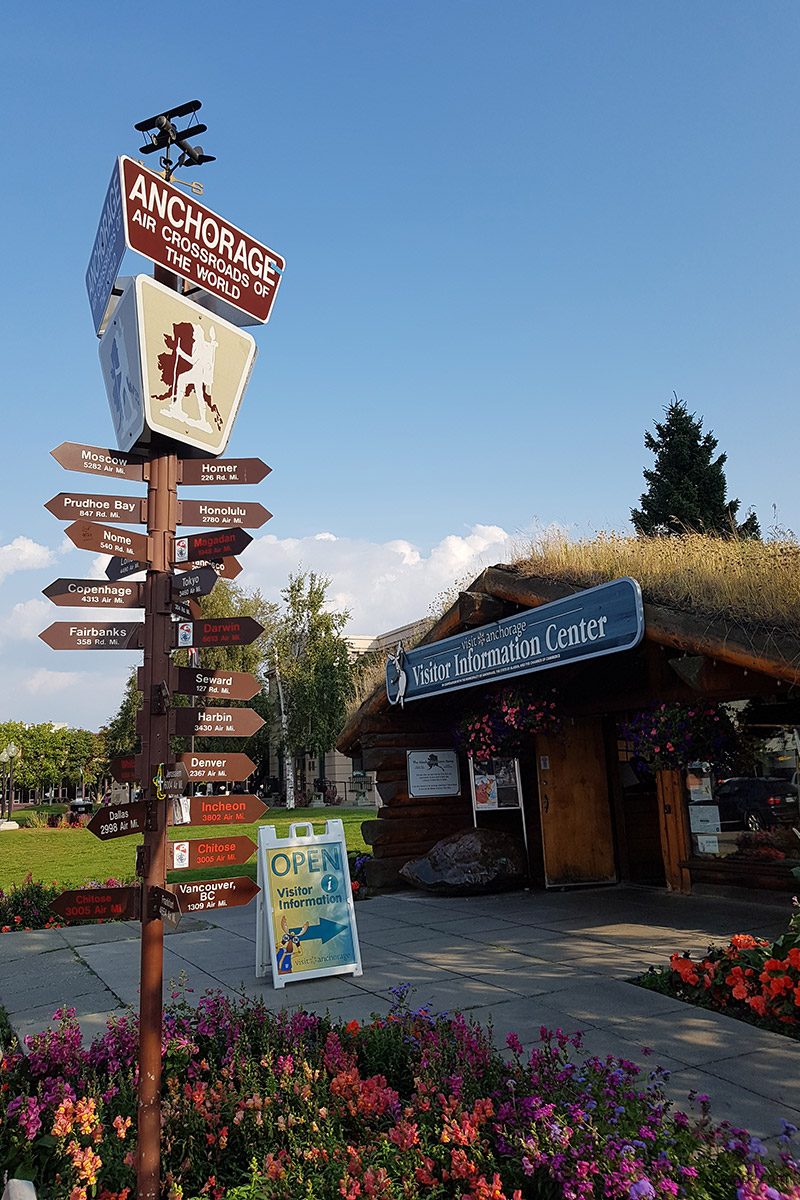 When we returned from visiting Denali National Park, we had some free time and decided to walk around downtown Anchorage and visit the local Log Cabin Visitor Information Center. We were surprised when we saw how many attractions there were in the city. We decided to catch up and immerse ourselves in Anchorage. Initially skeptical, we wanted to see if the city had potential.
Since then, we've been to Anchorage many times, and each time we learn about more places and return to our favorites. Yes, we like Anchorage. We have our favorite restaurants, bars, stores, and attractions there. That's why we're sharing our tried-and-true places and honest opinions of the city in this Anchorage itinerary for two days.
Our Tip: If you don't have the time to explore the city, check out the best outdoor activities and day trips from Anchorage. If you are planning a trip to Alaska and don't know whether to fly to Anchorage or Fairbanks, check out our article, Anchorage or Fairbanks, from a tourist perspective, and the best ways to get from Anchorage to Fairbanks.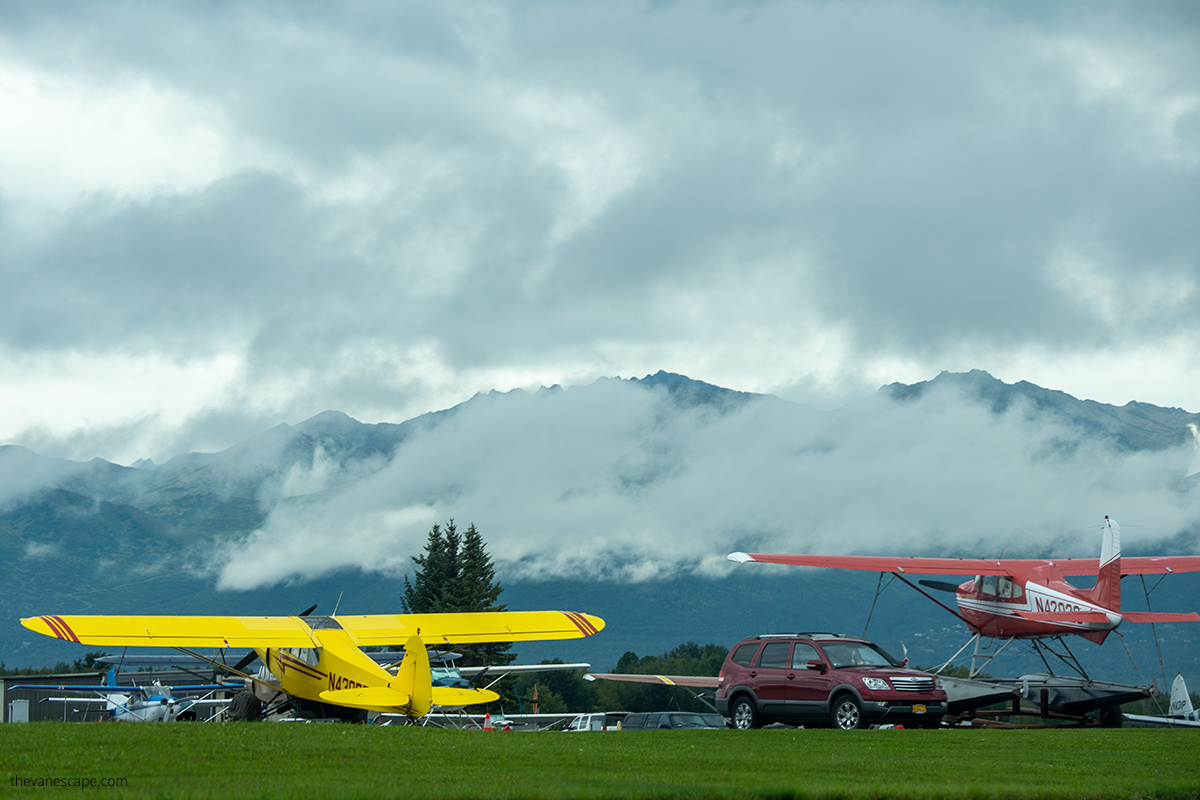 Is Anchorage worth visiting?
Yes, Anchorage is worth visiting because here, you can immerse yourself in Alaska Native culture, art, and design. Moreover, the city is nestled in nature, with landscapes and the backdrop of the Chugach Mountains, exciting hiking trails, and abundant wildlife. It's possible to see moose or bears in the parks and on the streets of Anchorage. There is so much to do in Anchorage that spending at least two days in the city is worth it. Also, there are many activities within a 2-hour drive, so day trips from Anchorage are easy to plan. You can spend even a week in Anchorage and won't be bored.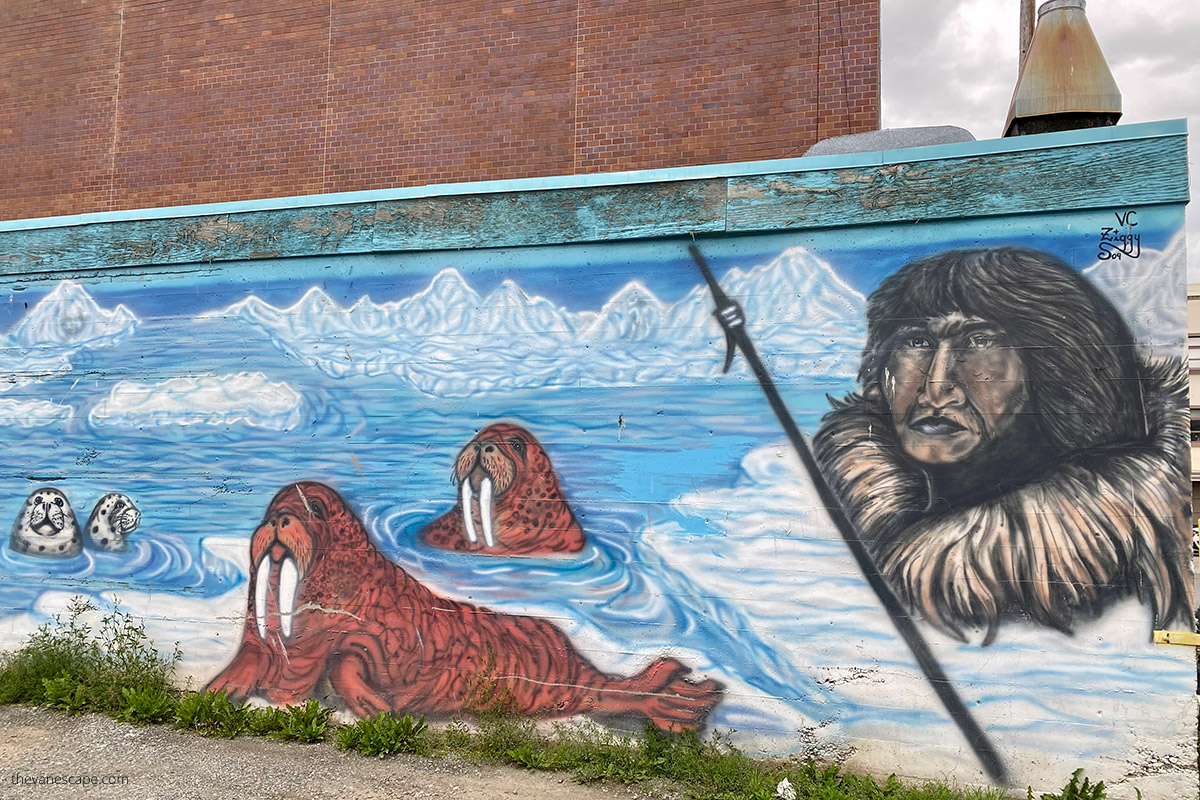 How to Plan 2 Days in Anchorage? Things to Know Before You Visit
Is Anchorage safe for tourists?
With a population of nearly 300,000, Alaska's largest city, Anchorage, also boasts the infamous reputation of cities with the highest crime rate. However, it should be emphasized that crimes occur mainly in specific situations and certain neighborhoods. The most common crimes in Anchorage are larceny, motor vehicle theft, burglary, and aggravated assault.
As tourists, we have always felt comfortable and safe in Anchorage so far. However, you can find many homeless and drug abuse people in the city center. But we always follow the basic safety rules in big cities. We have a sightseeing plan ready, don't leave things in the car, don't display expensive items, and always have some change in our pocket if someone insistently asks us for money. We are cautious in the evenings and at night. Anchorage is a big city, as 40% of Alaska's population lives here, so we're always vigilant. But in our opinion, Anchorage is a relatively safe place to visit.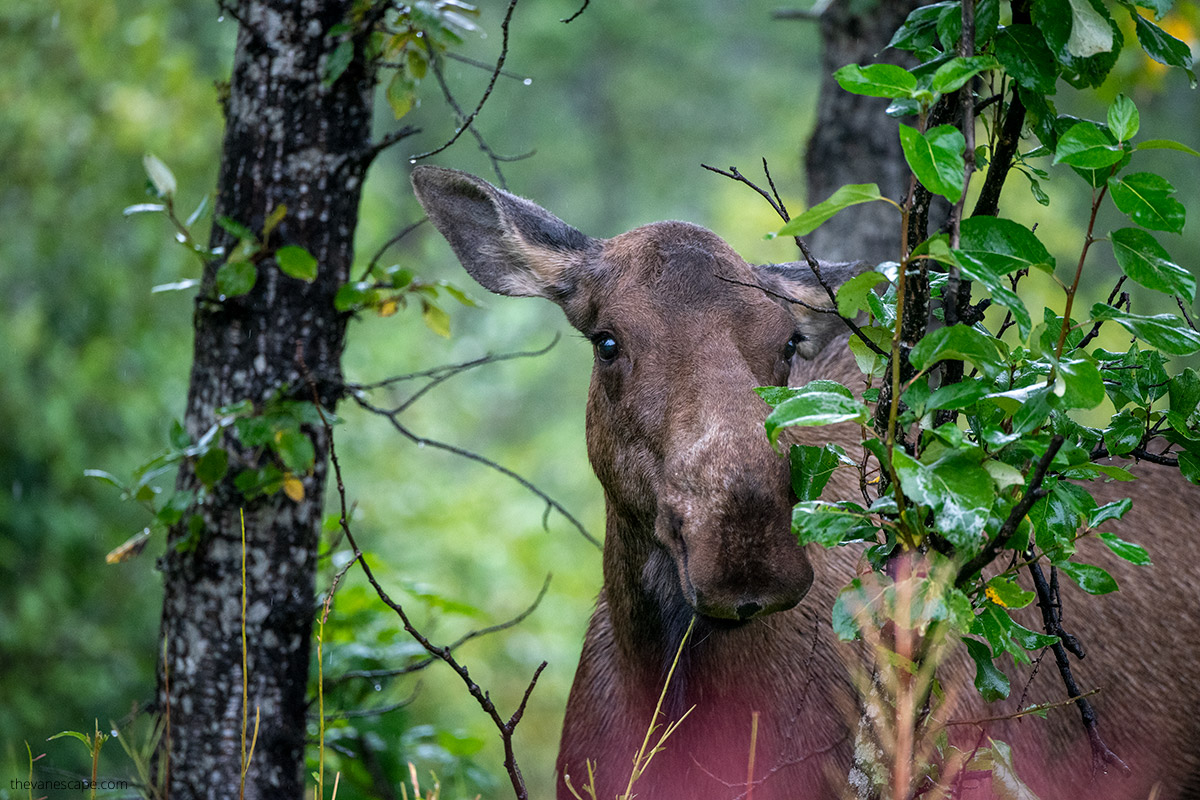 When to visit Anchorage?
The city offers a variety of activities at any time of year, but in our opinion, the best months are late spring, summer, and early fall. From May through September. We have created a unique weather guide for Anchorage so you can choose the time of your visit depending on the activities you want to do in Alaska.
It's also a good idea to leave visiting Anchorage until the end of your stay in Alaska. Focus on your primary goals when planning other destinations, especially trips to Alaska's national parks, wildlife viewing, or hiking. If this is your first trip to Alaska, you'll be returning to Anchorage anyway. Alaska is addictive; we know something about that. We've been visiting it for several years and can't get enough of it.
Our Tip: Adapt this Anchorage itinerary to your interests, needs, and, above all, to the weather forecast, as the weather in Alaska can change anytime. We constantly adjust the program to the weather. If it's nice and cloudless, we focus on outdoor activities and go on trips or hiking trails. If it rains or the sky is gray and overcast, we immerse ourselves in the city, visit museums, or taste Alaskan beers or oysters.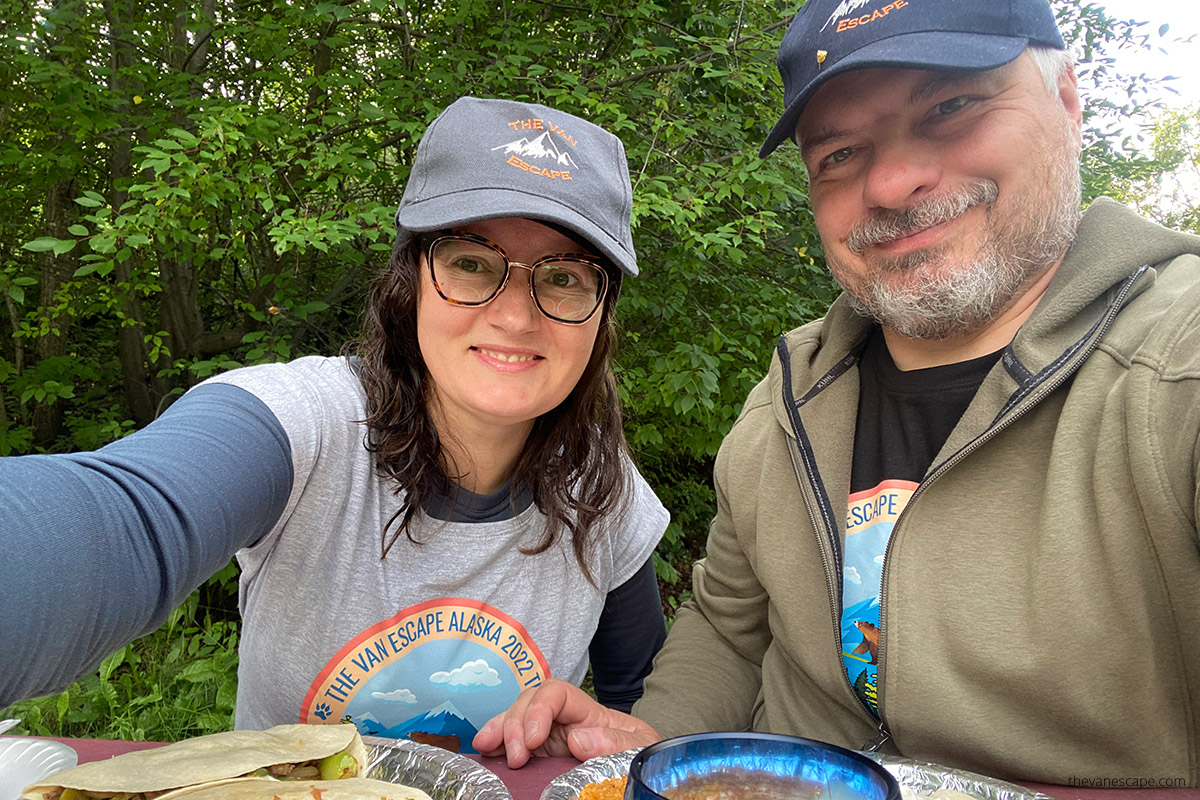 How to get around Anchorage?
It's best to move around the city and its surroundings by car. However, park only in safe places, in guarded parking lots, and don't leave valuables in the vehicle. Cabs and Uber are also good options. We often book accommodation in the city center to explore the city on foot without worrying about parking. It's also a great idea to rent a bike to explore Anchorage.
Where to stay in Anchorage?
There are many hotels in Anchorage for various budgets, but we recommend booking in advance. Prices increase significantly during the high season, as the tourist season in Alaska is relatively short. Many establishments are closed for the winter, so residents often have to earn a living only during the warmer months of the year.
During our travels to Alaska, we stayed several times at campgrounds in Anchorage and slept in an RV and a tent. But we also booked downtown hotels a few times. This allowed us to focus on exploring the city. If you are traveling on a budget, we can recommend Ingra House Hotel, which is not in the very center but within walking distance of the downtown. Comfier, more expensive, and luxurious choices are located downtown, so consider Inlet Tower Hotel & Suites, Westmark Anchorage Hotel, or The Hotel Captain Cook.
You will make the best choice by analyzing the map below, as it is easier to determine the location and prices.
So let's dive into how to spend two days in Anchorage, Alaska.
2 Days in Anchorage Itinerary – Day One
Grab You Breakfast in Anchorage
You need the energy to explore Anchorage, so we recommend breakfast at our favorite Snow City Cafe. Their eggs in benedict style, smoothies, and French toast melt in your mouth. They are located at 1034 W. 4th Ave and are open Monday – Sunday, 6:30 AM – 3 PM.
But if you prefer classic American breakfast chains like iHop, you'll find them in Anchorage too. On a recent visit to Anchorage, we had a great breakfast at a small family-owned restaurant Kriner's Diner. It's out of downtown, but the meal was excellent, and we love supporting local businesses.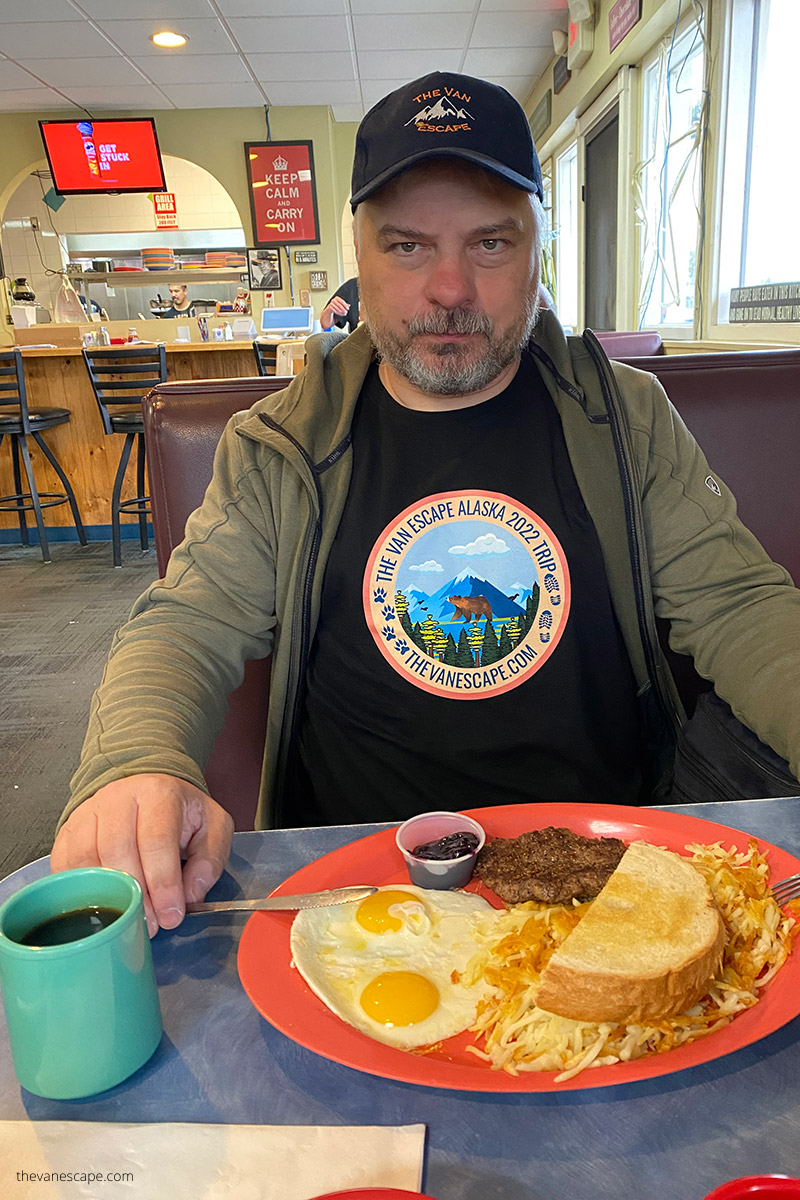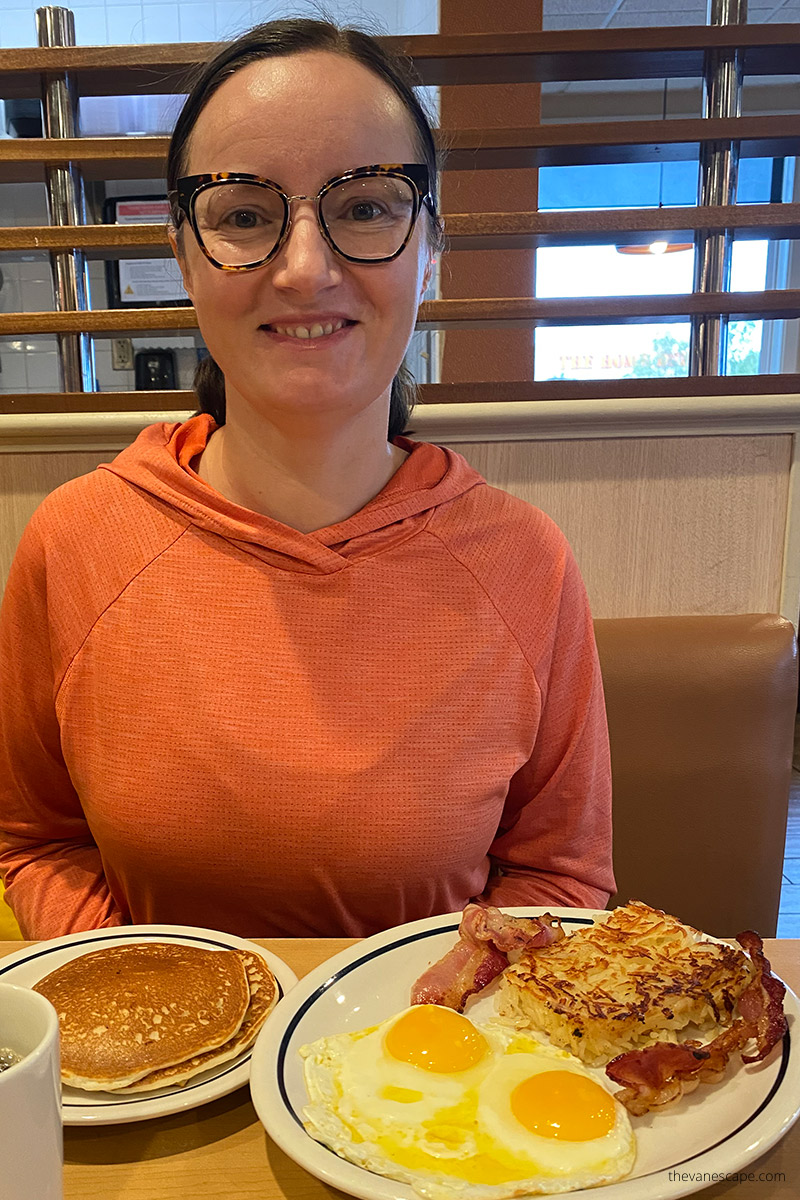 Take a 1-Hour Trolley Tour
We recommend you start your Anchorage tour with a one-hour ride on the historic trolley through the city. We also recommend this tour to people who only have 1 day in Anchorage or a few hours to explore this city. And why?
First, the price for this attraction is very affordable. It's a cheap excursion but a great experience!
You'll ride 15 miles through the most exciting points of the city after a short time, so it's easier to decide which places you want to return to for a closer look.
Thirdly, the driver will tell an excellent story, so you'll learn many unusual curiosities from your guide.
Finally, you'll get a voucher for discounts.
The trolley leaves from the center (at 546 W 4th Ave) every half hour. It's worth booking a ticket in the high season. You can check availability below.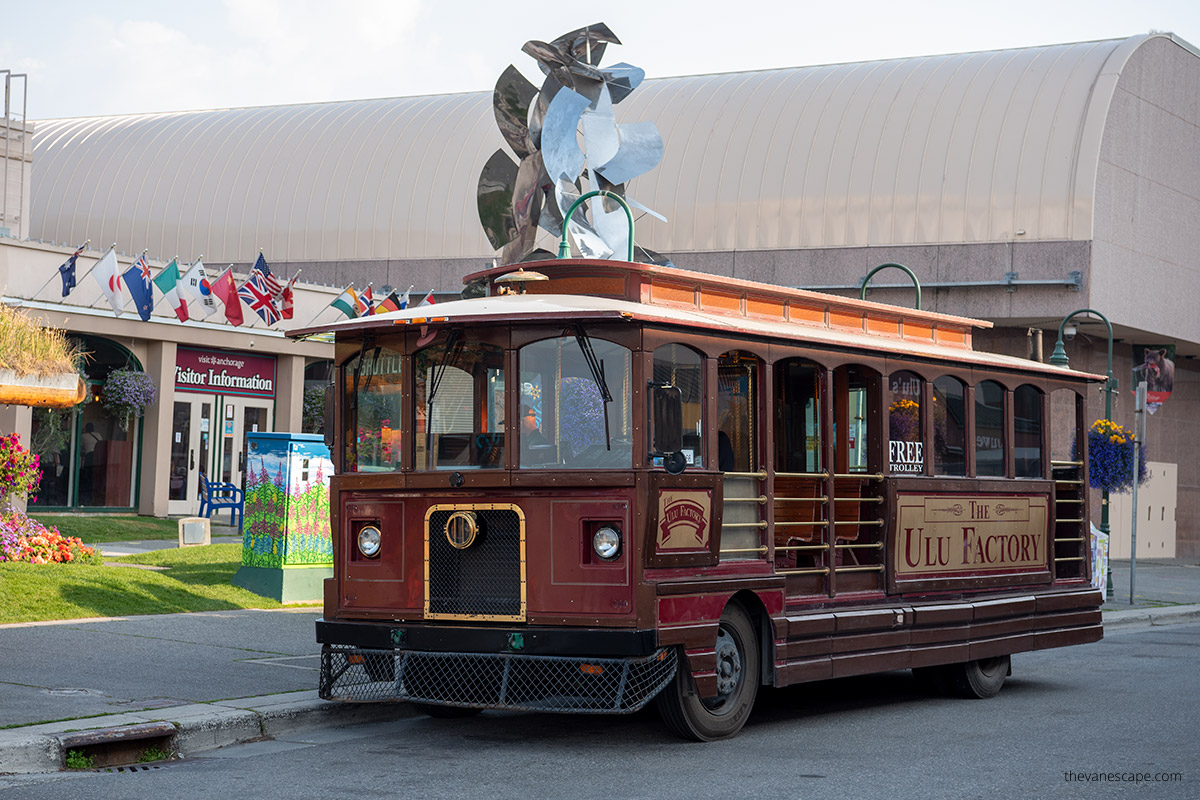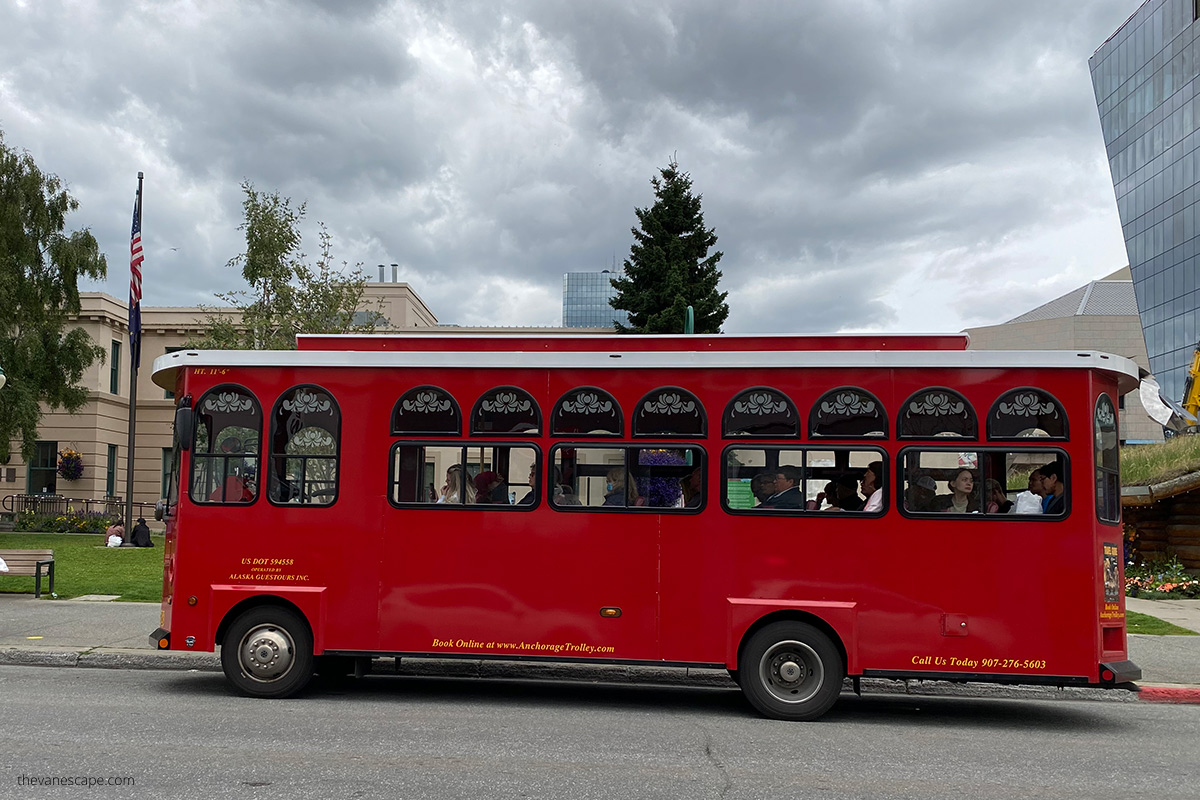 Downtown Walk and Visit Anchorage Museum
Since the trolley tour starts and ends in the center on 4th Ave, it is worth taking a stroll around downtown. Look in the souvenir shops, and take pictures of exciting shop windows or funny bears and moose statues scattered around the streets.
It can also be an excellent time to visit the Anchorage Museum. It is worth reserving 2-3 hours for the Museum. The modern building of Alaska's largest museum is located at 625 C St, and it's open daily from 10 am to 6 pm. The general admission ticket is $20 per Adult, $15 for students (13-17) with ID, and $10 for kids (6-12). The museum is free for Children under 5. They have extended hours on First Fridays. Also, it is free from 6 pm to 9 pm on the First Friday of each month.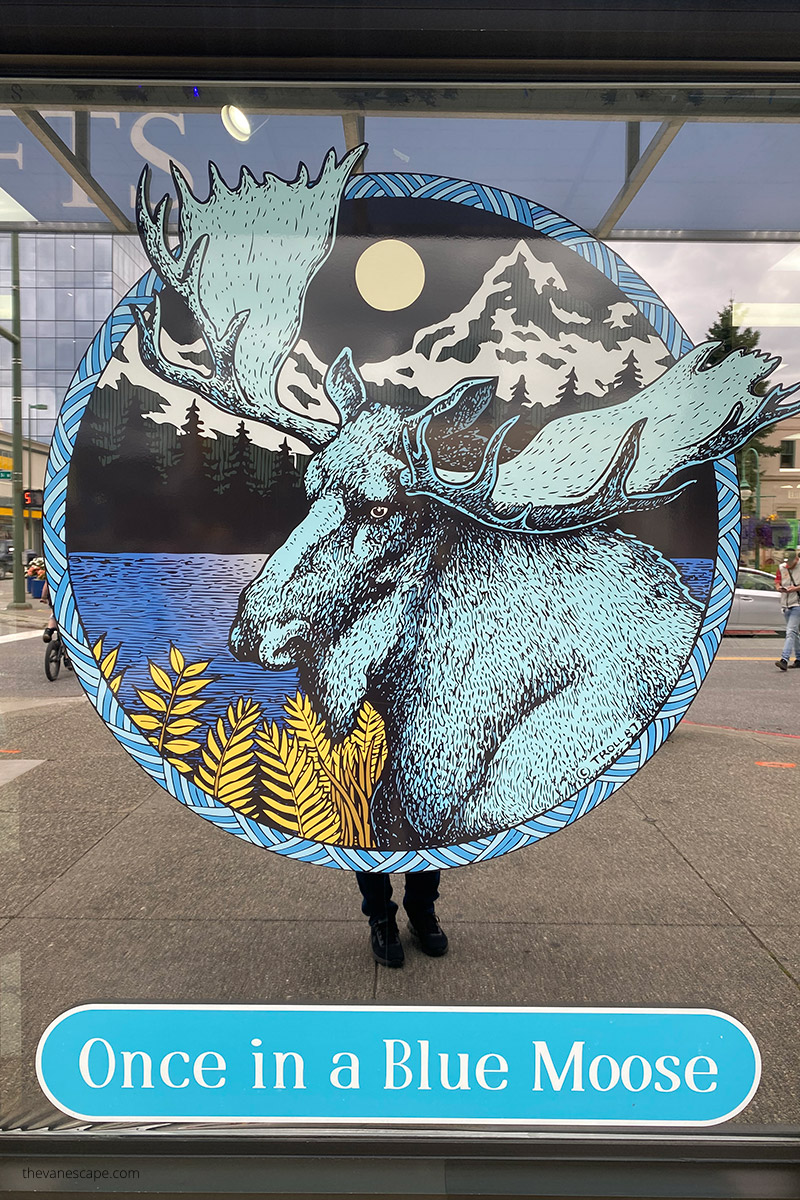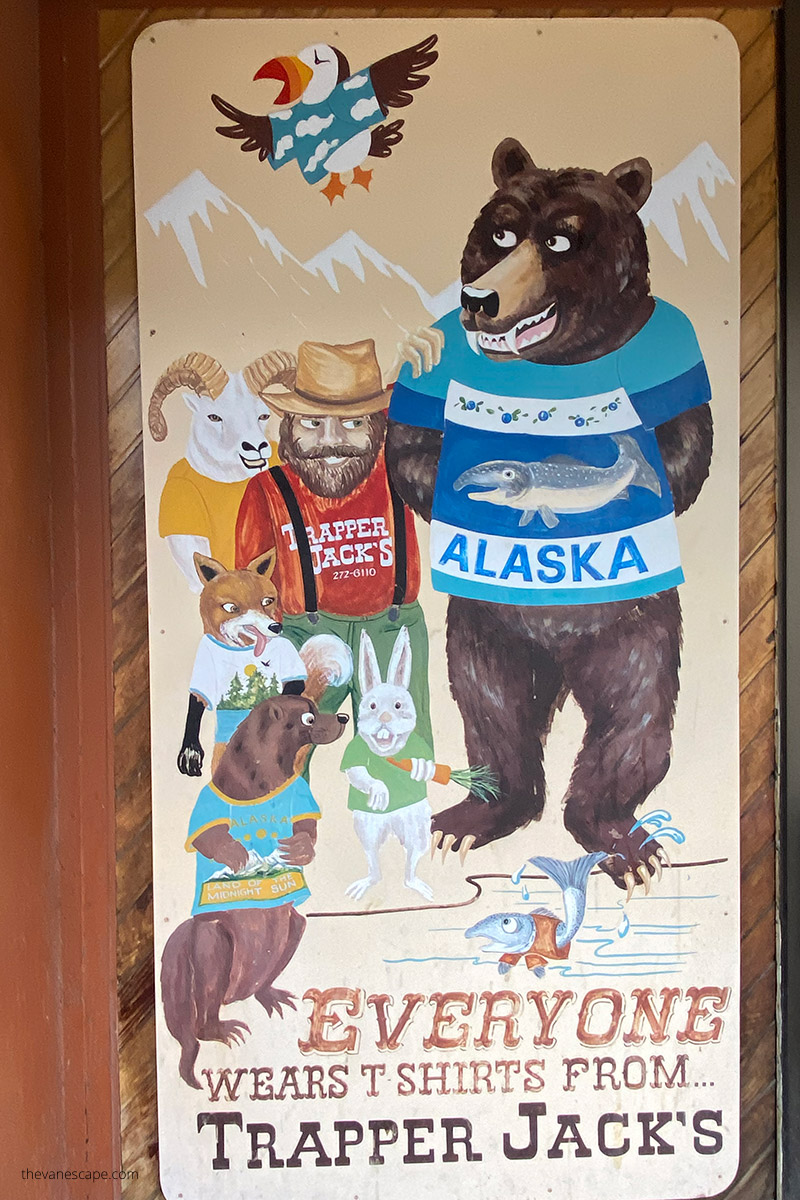 Permanent exhibits include an Alaska History Gallery, Alaska Art Galleries, Imaginarium Discovery Center Science Galleries, and the Smithsonian Arctic Studies Center, which features Alaska Native artifacts on permanent loan from the Smithsonian Institution. Here you can explore the diversity of Alaska's indigenous cultures, including masterpieces of Alaska Native art and design from the collections from the perspective of American art and the international North. The museum has a collection of 25,000 objects and 500,000 historic photographs. They also have planetarium shows. The museum also organizes temporary exhibitions, workshops, educational programs for kids, and tours. So it's worth taking a look at the current events page.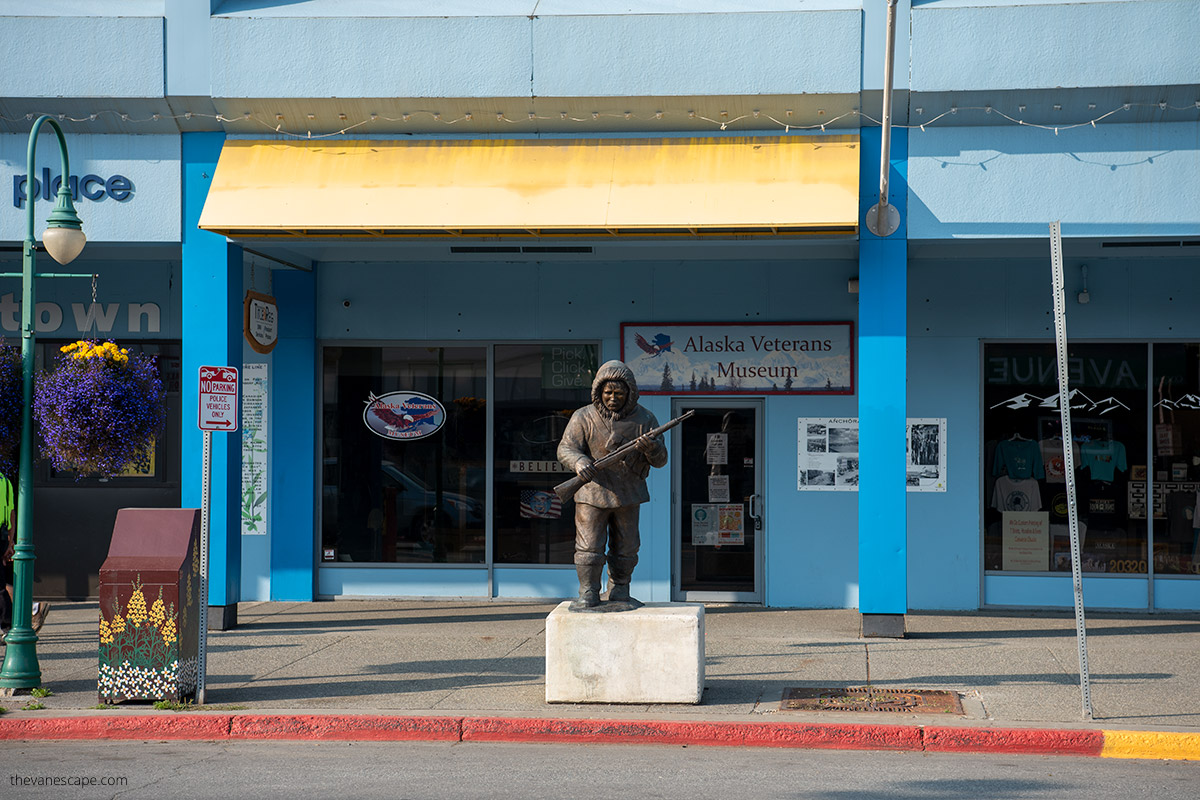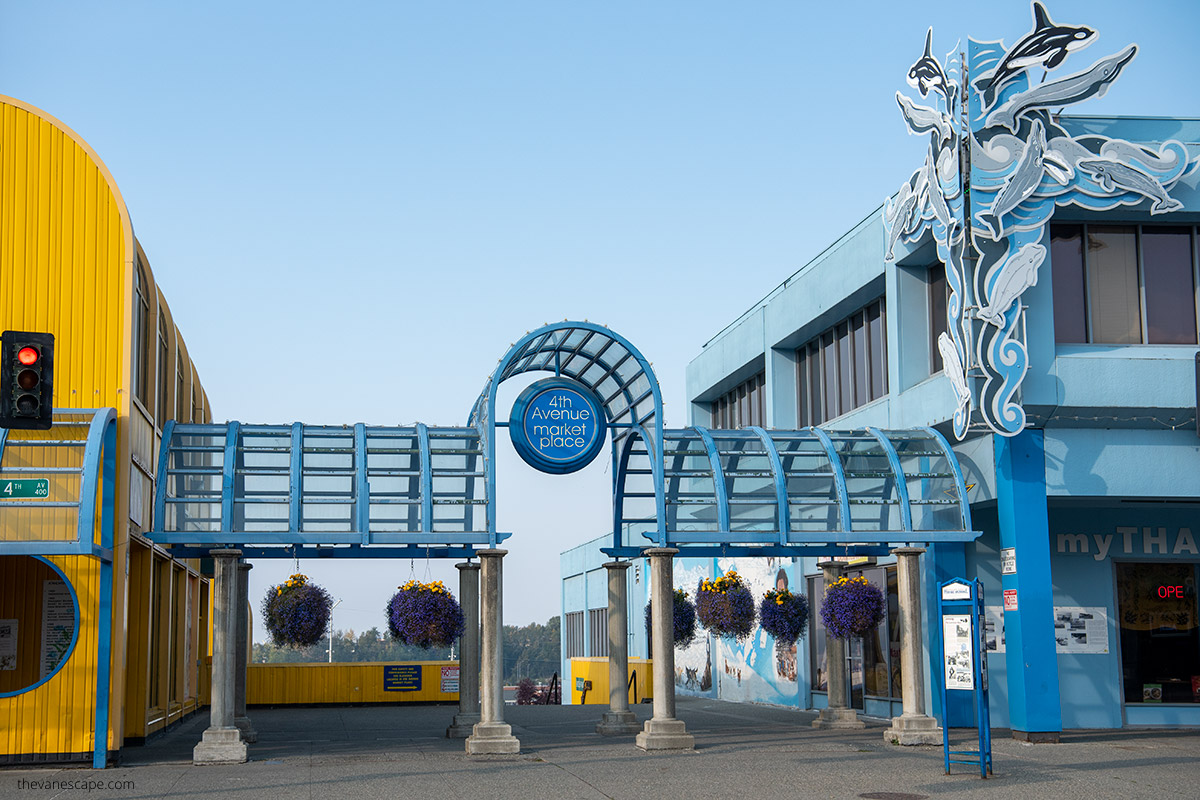 Lunch in Anchorage
It's probably time for lunch. Where to eat in Anchorage? There are plenty of places. We often eat street food, because in the center you will find a lot of fast food stalls. Moreover, between May 13 – Sep 10, check out Anchorage Market for local delicacies, fresh produce, and local Alaskan crafts. It's open Saturdays – 10 am-6 pm and Sundays 11 am-5 pm.
But you can also pop for lunch into a bar or restaurant. Here are some of our suggestions for a few days of your stay. Check out: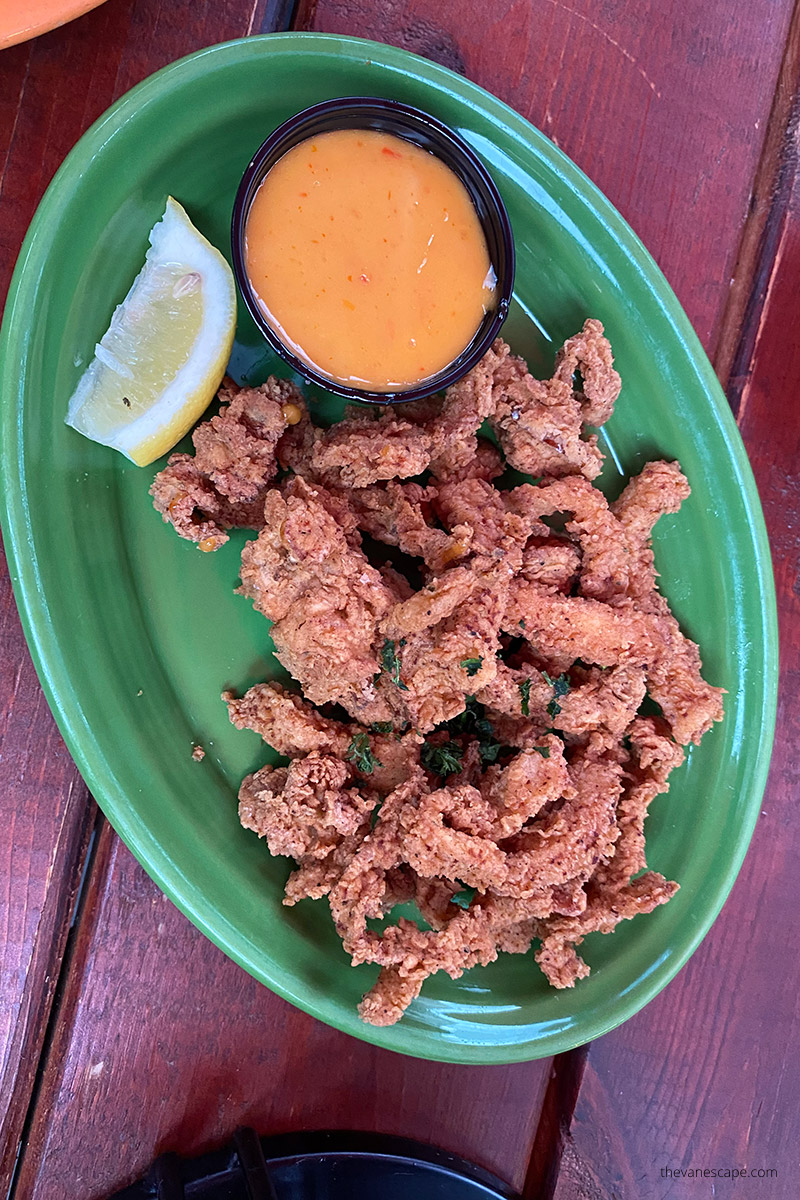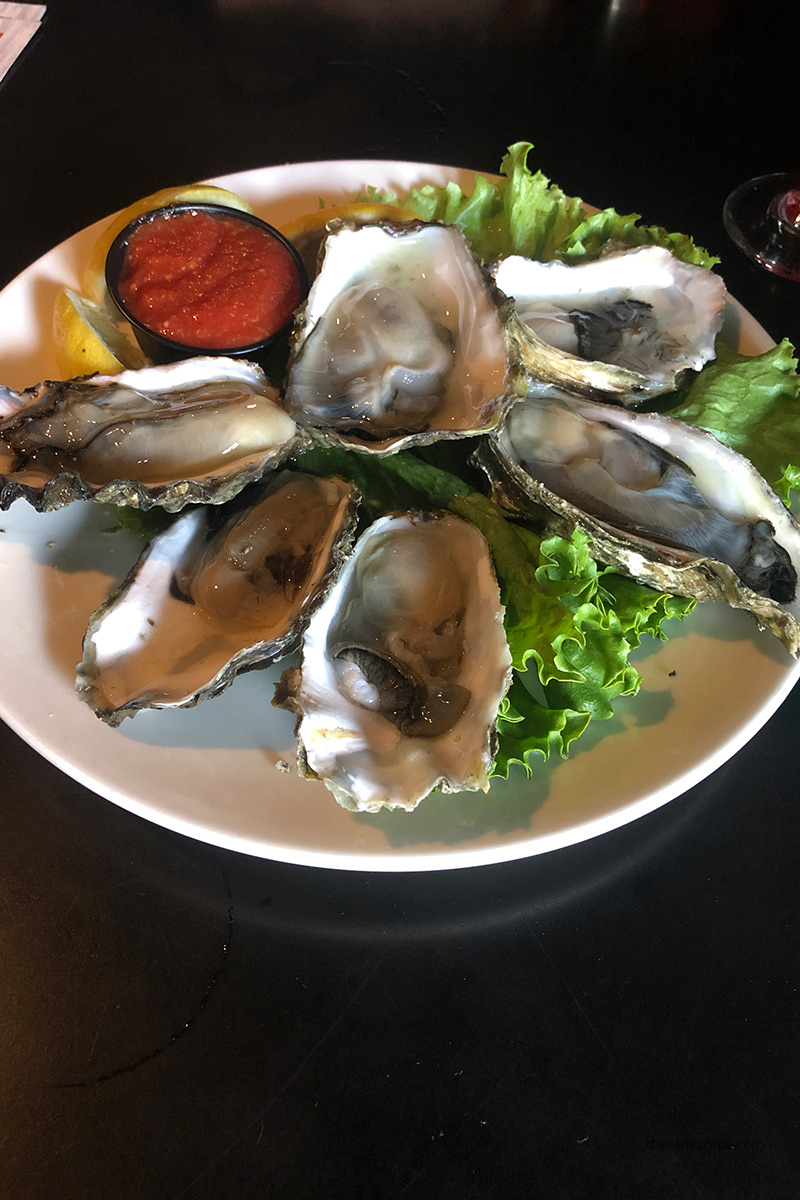 Afternoon Bike Trip along the Coastal Trail
If the weather is favorable, we recommend enjoying an energetic afternoon in Anchorage by cycling along one of Alaska's top biking trails – the 11 miles long Tony Knowles Coastal Trail. You can download the official pdf map with the most exciting points on the route. If you don't want to pedal your bike – don't worry. You can walk along the coast for several miles. Or stop at parking lots along the Coastal Trail and see the most exciting viewpoints.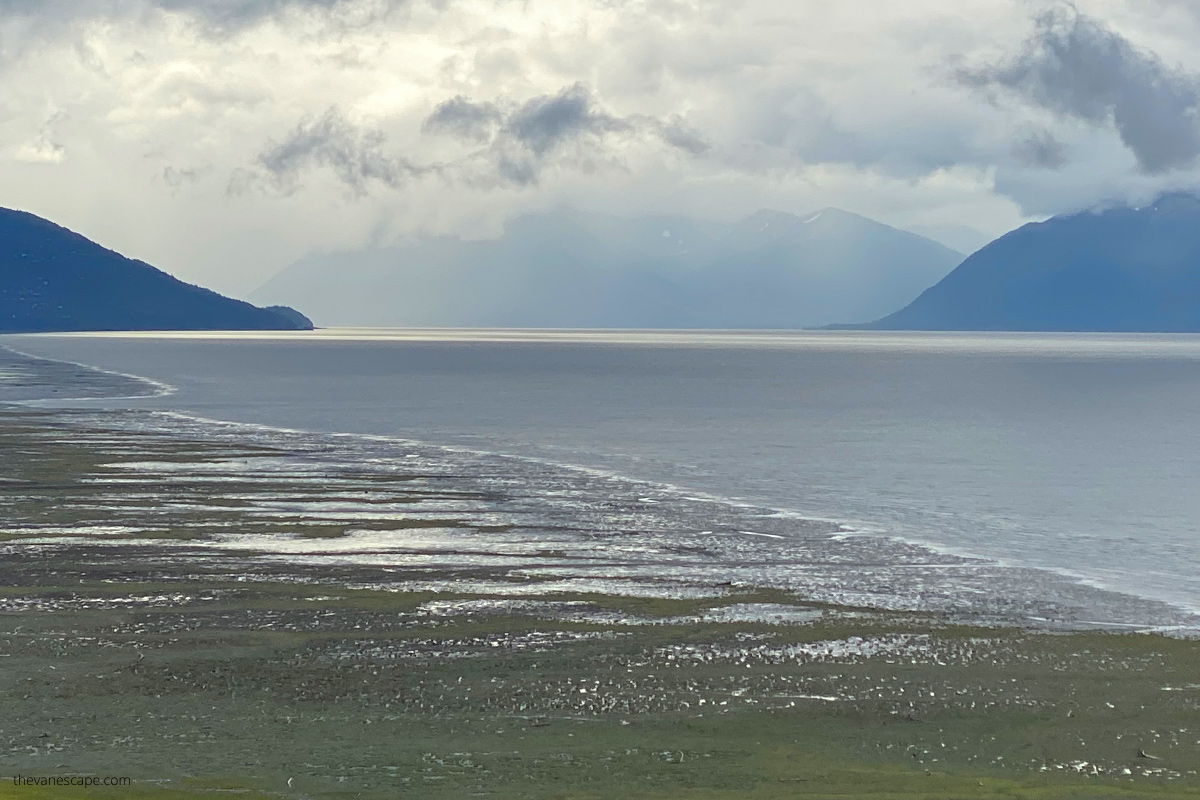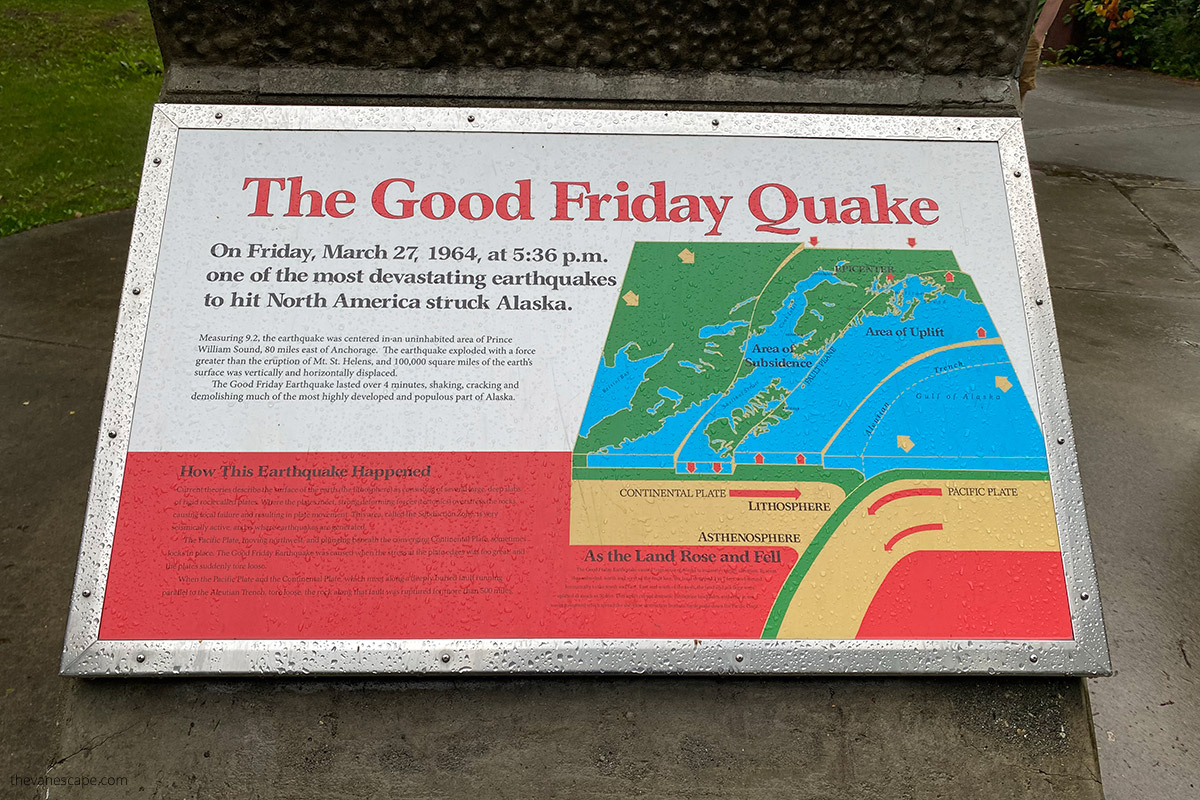 You have two options: rent a bike on your own in the city center in Downtown Bicycle Rental or take a 3-hour city bike tour via Coastal Trail with a local guide who will show you the best viewpoints along the route with multiple mountain ranges and Cook Inlet. Moreover, the local guide tells you about Alaska and Anchorage's history, including the 1964 Good Friday Earthquake. During this tour, you will stop at Kincaid Park, Earthquake Park, and Westchester Lagoon and have a chance to spot a lot of wildlife, especially moose. The meeting point is at Dena'ina Convention Center (600 W 7th Ave) in downtown Anchorage. The tour starts at 9 am or 2 pm. A bike and helmet are included in the price.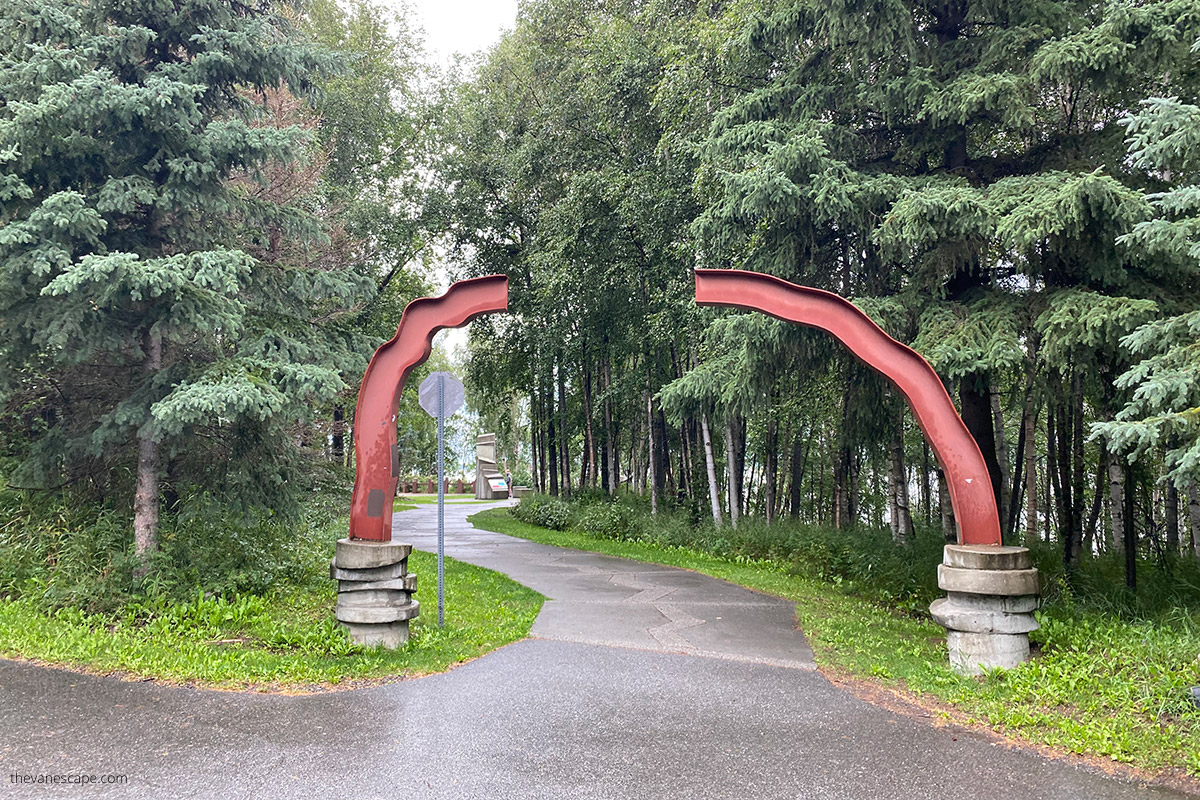 Dinner in Anchorage
The first day of the Anchorage itinerary is slowly coming to an end. It's time for a well-deserved dinner and rest. There are a few places in Anchorage that we especially liked. On the top of our dinner list are Humpy's Great Alaskan Alehouse and 49th State Brewing. In high season, we recommend making a reservation.
We love the Humpy's for its fun and lively atmosphere, music, and food. They have outstanding fresh oysters (better oysters only at Homer Spit) and excellent ribs. You will get here a selection of Alaskan beers and good-quality American wine. You have to be here.
We like the 49th State Brewing as it's a lively brewpub with a perfect rooftop patio with a great view. They offer housemade ales and delicious halibut tacos, and excellent burgers. We also love their Alaska wild king salmon (not to be confused with the Alaskan town of King Salmon). Better salmon we ate only in Brooks Falls Buffet in Katmai. We also had the opportunity to be at their second spot in Healy, where there is a replica of Magic Bus 142, and we can also recommend this place.
Other interesting places to dine in Anchorage include Crow's Nest at The Hotel Captain Cook, Orso, Texas Roadhouse, or Crush Bistro.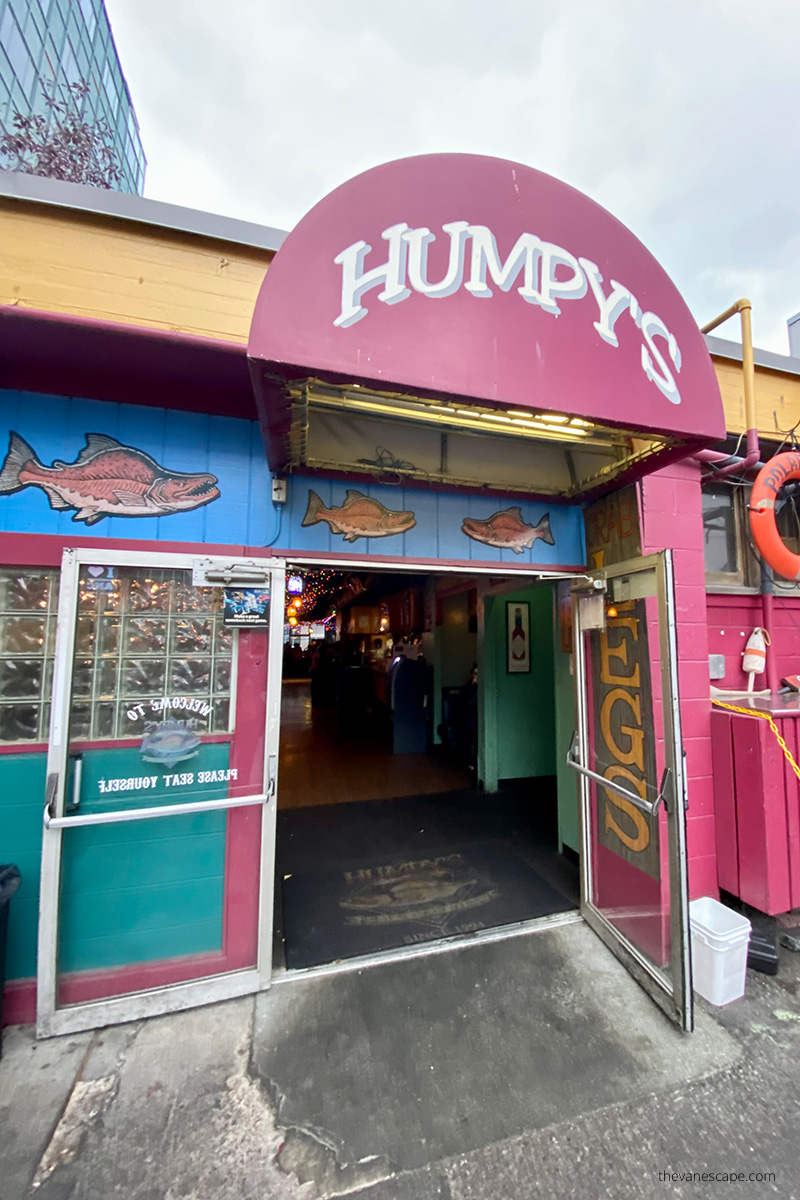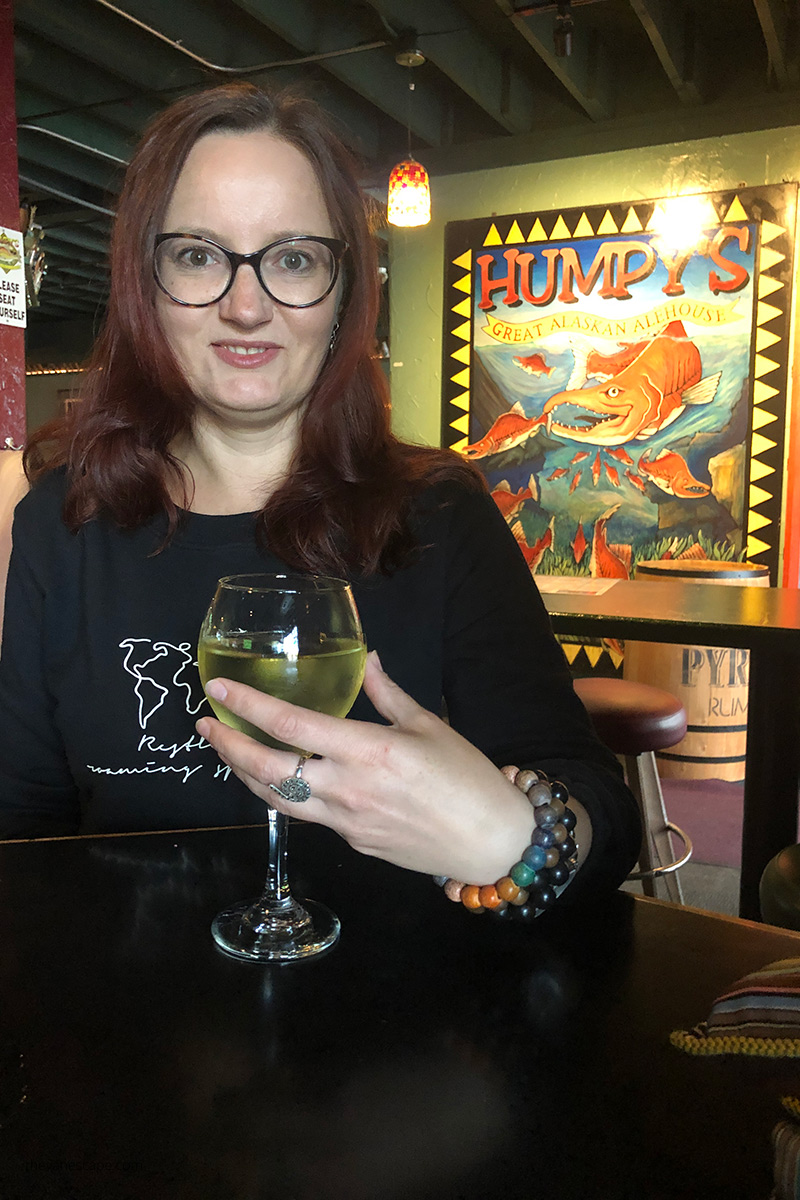 Enjoy the Midnight Sun and explore the city's nightlife
You can go out for a drink if you're not tired yet. Especially since the summer day in Anchorage lasts nearly 19 hours. So you can easily walk around the city in the evening (but as in any big city – we recommend being vigilant). Downtown Anchorage's epicenter for live entertainment is Williwaw Social, with a great rooftop bar. And if you feel like dancing or watching Cabaret or Drag Diva shows, choose Mad Myrna's.
2 Days in Anchorage Itinerary – Day Two
For breakfast/brunch/lunch/dinner, choose one of the places we described in the previous chapter – day one in Anchorage. Or choose one of the local food tours below.
Morning in Alaska Native Heritage Center
Discover the rich heritage of Alaska's 11 major cultural groups at The Alaska Native Heritage Center, a must-visit destination in Anchorage. These groups include the Athabaskan, Eyak, Tlingit, Haida, Tsimshian, Unangax (Aleut), Alutiiq, Yup'ik, Cup'ik, Siberian Yupik, and Inupiaq people. Situated in the traditional territory of the Native Village of Eklutna, a Dena'ina Athabascan tribe, the Gathering Place offers visitors a chance to witness Alaska Native dancing, Native Games, and traditional storytelling. The Hall of Cultures showcases rotating exhibits, family craft activities, and more. While there, visit the Ch'k'iqadi Gallery to show your support for Alaska Native artists and purchase genuine art, jewelry, apparel, and other unique items.
It's open 7 days/week, from 9 am to 5 pm. Admission Rates are $29/adults and $19/kids. The address is 8800 Heritage Center Dr. Check the map with directions. Reserve 2-3 hours for your visit. It's worth adding this place to your two days in Anchorage itinerary.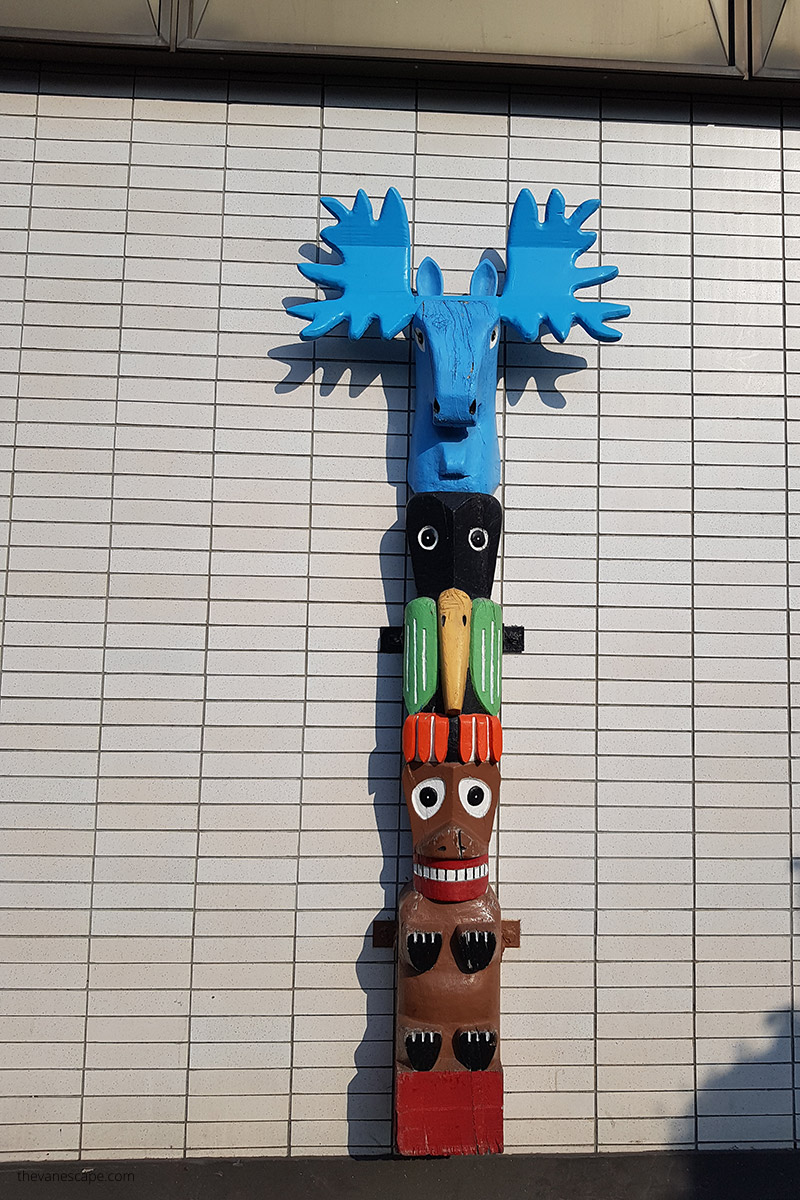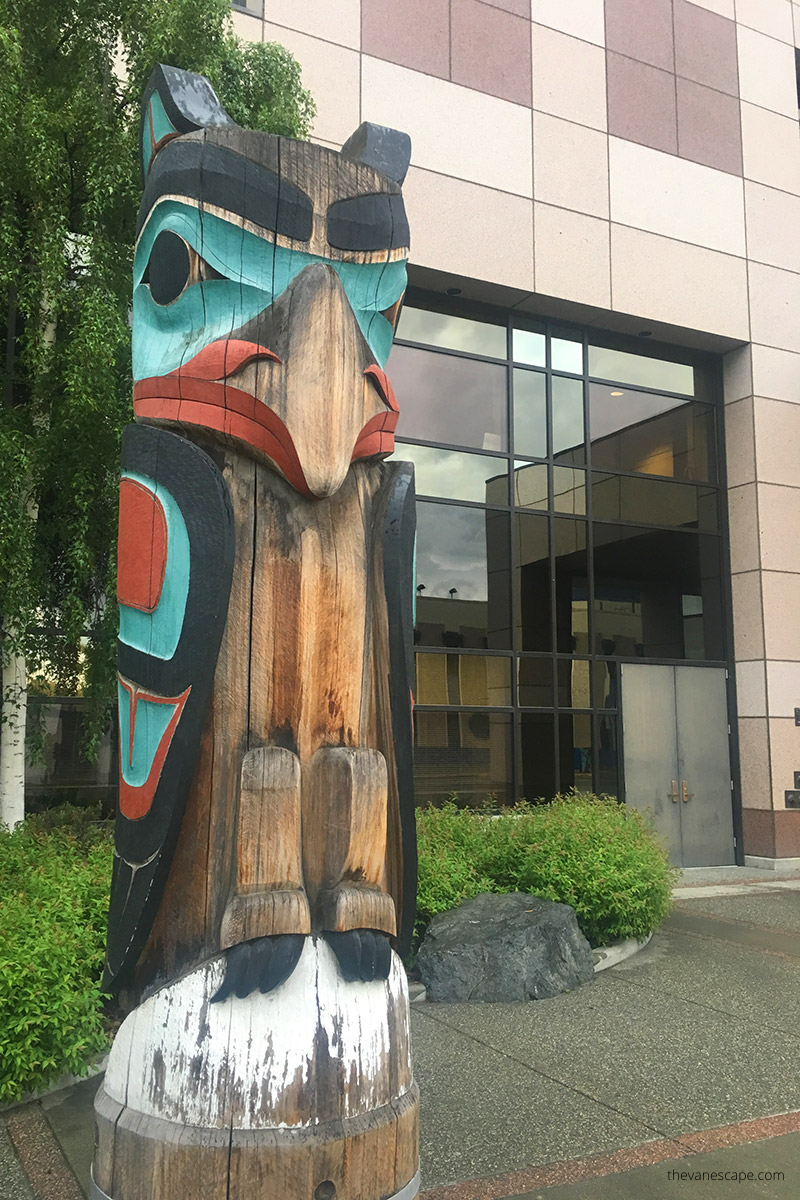 Afternoon hike to the Flattop Mountain Trail
Flattop Mountain, located in Chugach State Park, is Alaska's most often climbed peak. Affords 360-degree views of the Alaska Range, Chugach Range, Cook Inlet, and Anchorage. Moreover, it's a popular berry-picking area in the fall. It's 1.7 miles one way with an elevation gain of 1300 feet. The difficulty level is moderate to strenuous. If it's wet is slippery as it is steep before Flattop's summit. Wear shoes with a good grip, pack a raincoat, and review the essentials you should pack for Alaska.
Wildlife Viewing at Westchester Lagoon
Wildlife viewing at the city center? Yes, in Anchorage, it's highly possible to spot some wildlife. Westchester Lagoon near downtown Anchorage is located in Margaret Eagan Sullivan Park. It provides an excellent break from the hustle and bustle of the city. Waterfowl, moose and small mammals, muskrats, red foxes, and otters abound here, and the views of the Chugach Mountains are spectacular, especially at sunset. It's also a perfect place for bird watching. Look for songbirds, raptors, ducks, mallards, pintail ducks, wigeons, snipe, geese, grebes, and shorebirds.
Two of Anchorage's most popular hiking trails – Tony Knowles and Chester Creek -meet at the lagoon, so locals come here to jog, walk, bike or roller ski. You can even rent a kayak on the lagoon. However, the best kayaks in Alaska are the glacier kayaking adventures.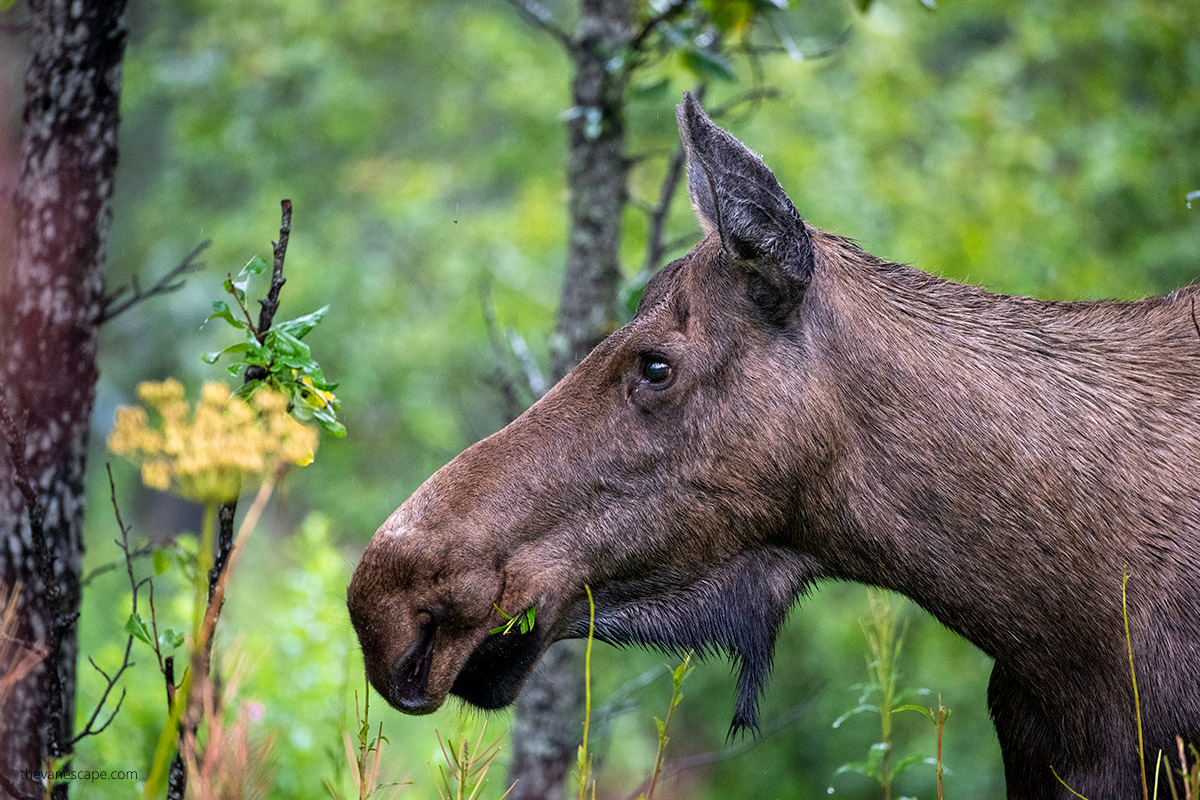 2 Days in Anchorage – the best local's tours
Depending on how you want to spend your 2 days in Anchorage and on your interests, below are some more local excursions to consider. Their prices are reasonable, and tours last 3-4 hours. So you can learn a lot about the city by taking advantage of the knowledge of Anchorage residents and supporting their small local businesses. You can add it to your Anchorage itinerary.
Taste of Wild Smoked Salmon & Reindeer Sausage
If you like exploring places through food, you can tour with a local guide to enjoy samples at Alaska Reindeer Sausage and Seafood and Wildberry Products. You will see top attractions, including Ship Creek and Earthquake Park, Point Woronzof, and Beluga Point. Moreover, you will visit Ulu Factory. Natives used Ulu's knives to filet whale blubber and salmon. Now their invention is commercialized for your use in your kitchen. The last stop is Lake Hood Harbor, the world's busiest seaplane base, handling an average of 190 daily flights.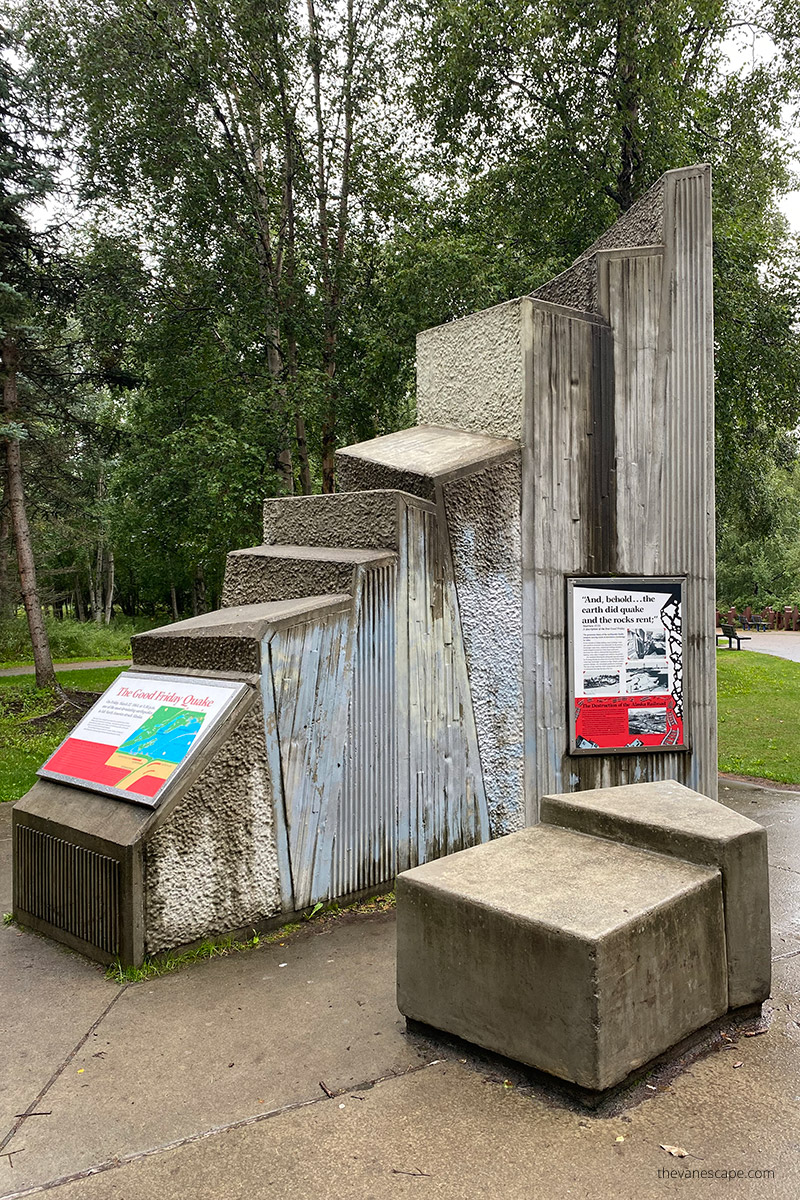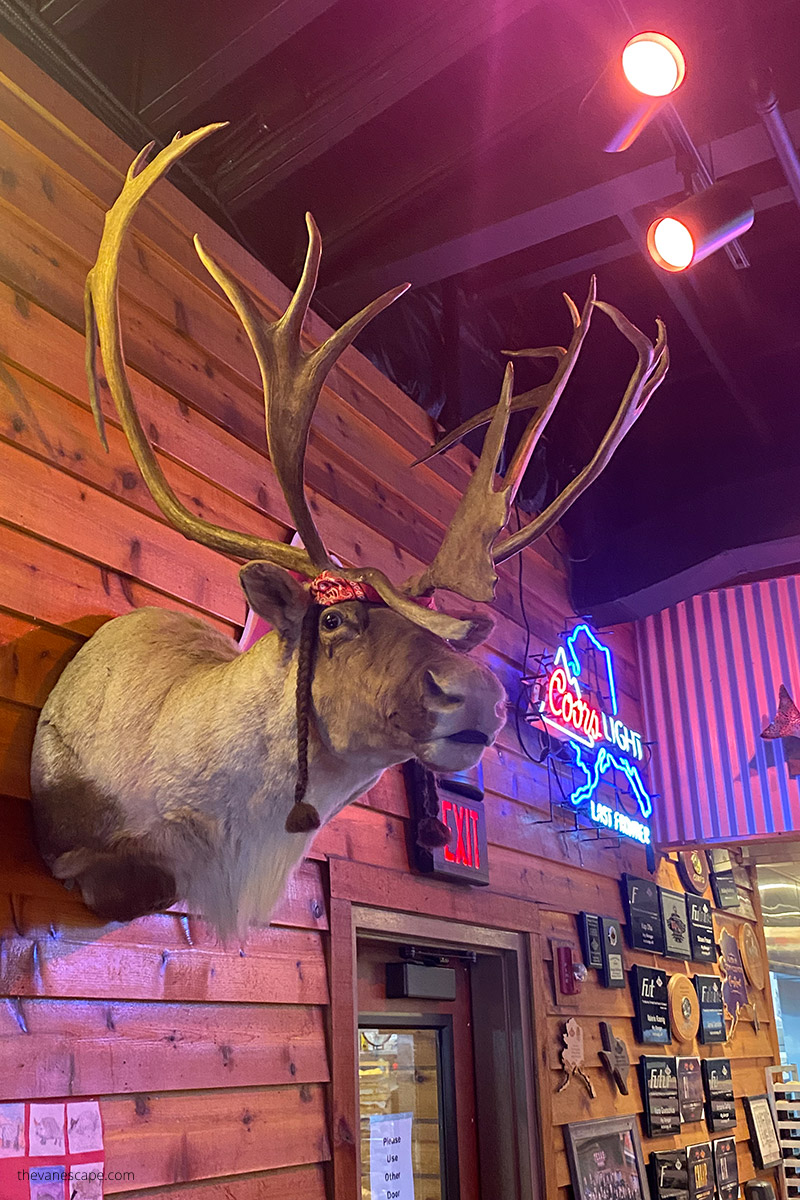 Anchorage Craft Brewery Tour and Tastings
Anchorage and Alaska are famous for their craft beer culture. Of course, you can try beers yourself by visiting local bars and pubs. But you can book a Craft Brewery Tour and Tasting with a local expert. On this tasty guided tour, you will explore 3 of Anchorage's best off-the-beaten-path breweries and get a minimum of 14 beer samples and light appetizers.
Anchorage Downtown Food & History Walking Tour
If you like to try the local cuisine – consider this 3 hours Downtown Food & History Walking Tour. You can choose a 9 am or 1 pm tour. And since you'll be visiting local eateries to support small local businesses, this will be an excellent option for lunch. You will have a chance to sample various food and drink relevant to Anchorage's past and present, from seafood and ice cream to Russian dumplings and locally brewed beer.
Exploring the outdoors of Anchorage
If you don't like visiting museums and spending another day in the city, you can plan your 2 days in Anchorage more actively and explore the outdoors. We recommend this solution, especially if you have beautiful sunny weather because it is not easy for a sunny day in Alaska.
One of the most exciting places in the Anchorage area from the time of the gold rush is the Independence Mine. Another option is to hike one of the trails on Hatcher Pass or visit the Musk-ox farm. The great idea is to go on a trip to Matanuska Glacier. You can also go from Anchorage to Seward or from Anchorage to Denali. But these will be full-day trips.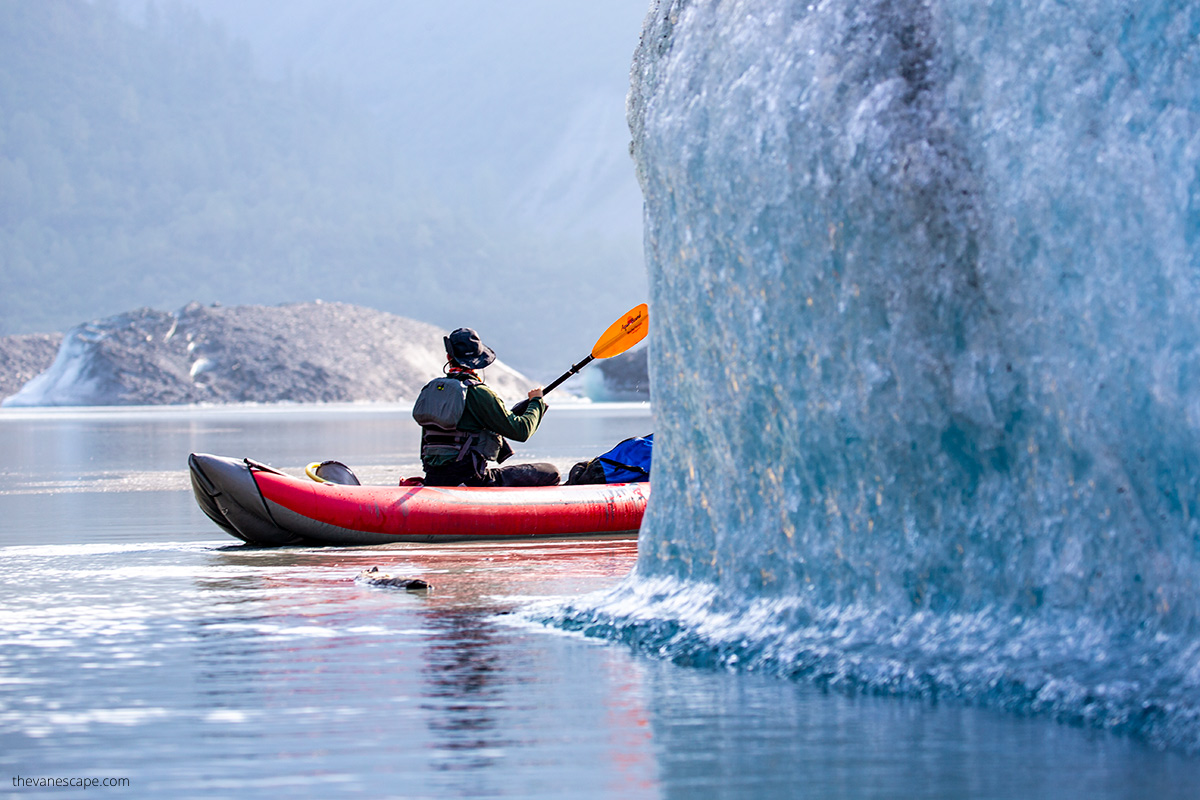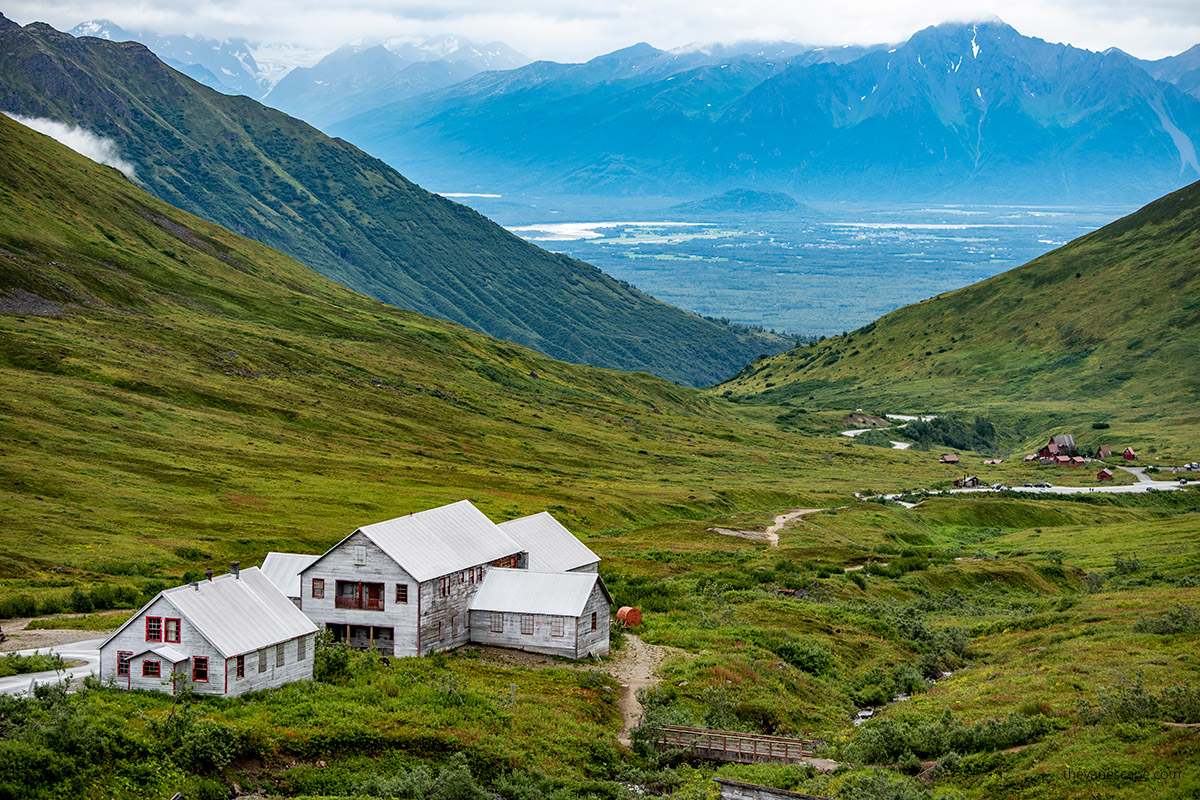 Summary of 2 Days in Anchorage Itinerary
Anchorage is an exciting city and worth a visit. It is worth planning a day or two in Anchorage to get to know it better, especially since you'll find culture, entertainment, art, and plenty of outdoor activities in Anchorage. You can explore the city alone or as part of a local tour. Many great activities include hiking, museums, dining, crafts, and breathtaking scenery. Depending on your interests and needs, you can spend at least two perfect days in Anchorage.