10 Places to visit in Alaska
In this article, you will find our subjective selection of 10 places to visit on your trip to Alaska. It is the summary and more information you can find in our separate articles. Enjoy!
This article may contain affiliate / compensated links. For full information, please see our disclaimer here.
10 Places to visit in Alaska – Introduction
After a few trips to Alaska, we decided to create our personal, subjective ranking of the 10 places in Alaska that excited us the most. Alaska is undoubtedly one of the most beautiful states we have visited, and we still want to come back. We are charmed by Alaska's wildness, endless landscapes, fantastic nature, climatic towns, and friendly people.
So if you are planning a trip to Alaska, we have two more useful articles for you in addition to the list below. 10 Days Alaska Road Trip Itinerary and Alaska Packing List. They are the result of our experience traveling through Alaska. They will help you prepare for an unforgettable trip to Alaska. All our articles about Alaska you can find here.

And now our subjective ranking of 10 places to visit in Alaska.
Katmai National Park (Brooks Falls)
We ranked this place number 1 among 10 places to visit in Alaska because it is unique! You can watch some of the 2200 brown bears in their natural habitat catching fish or fighting. They pretend not to see you, so it's like the cinema, but in the cinema, you will never have such excitement. It is not easy to get to the place, but it's worth every dollar! It's one of the best places for bear viewing in Alaska. The best time to go is from June through September. Please make sure you have the lodge or campground reservation; otherwise, there is no place to stay. You might choose a one-day trip or a few days trip. Check details on how to get there, as it's not easy. Read more…
Activities: bear viewing, wildlife watching, hiking
Photography hints: The best place for bears is, of course, Brooks Falls. Recommended gear is a good camera with fast AF and 200-600mm lens, and the tripod is handy. Take a lot of memory cards and spare batteries, because charging is limited in the Katmai National Park.
Denali National Park
It was a hard decision to put Denali under number 2 of 10 places to visit in Alaska because it's as beautiful as Katmai. However, it's much more popular and much easier accessible. Still, it has a lot to offer. You can encounter wildlife everywhere and if the weather is good mountain sights are breathtaking! Definitely, we recommend the bus trip to Wonder Lake – it takes the whole day, but at the same time allows taking great pictures or at least seeing fantastic wildlife. One of the best things to do is book a flight over Denali. Here you can check our photos and reviews of the flight trip over Denali we took. Check out our detailed guide on preparing for a visit to Denali National Park. Read more…
Activities: wildlife watching, hiking, wild water rafting, ATV
Photography hints: Recommended gear is a good camera with fast AF, image stabilization, and 200-600mm lens (for wildlife) and 16-70mm lens (for landscape), the tripod is recommended for landscape.
McCarthy
Number 3 on the list is a tiny, remotely located, but very charming town. Actually, we can't explain why McCarthy is so lovely, because we only discovered the fact after visiting this place. And the visit was a little bit accidental. On the way to Kennecott Copper Mine, we just noticed this place and decided to take a couple of pictures, only in 15 minutes. These 15 minutes changed to a couple of hours and everlasting love for the place. Maybe you will have the same feeling, maybe not. Just it's worth trying! Give yourself some time on the way to Kennecott Copper Mine or back. And make sure to visit Golden Saloon! Read more…
Activities: hiking, history
Photography hints: everything is right here, even a mobile phone should be enough. Take a short walk through the town and discover all hidden gems on your own.
| | | | |
| --- | --- | --- | --- |
| | | | |
| The MILEPOST 2022: Alaska Travel Planner | Moon Alaska: Scenic Drives, National Parks, Best Hikes | Moon Anchorage, Denali & the Kenai Peninsula | DeLorme Atlas & Gazetteer: Alaska |
| View Item | View Item | View Item | View Item |
Kennecott Copper Mine
Kennecott Copper Mine (also known as Kennicott) was our dream for years. This is why it ended up on the list of 10 places to visit in Alaska. We heard stories about how hard it is to get there because of poor-quality roads. People were afraid to go with rental cars because agreement often does not allow them to. It's a pity. However, I would take a risk and get there now, even in a rental car. But you must consider one thing – if the weather is dry, then it should be safe to get there. If it rains, it might be a problem on some parts of the gravel road. In such a situation, we do not advise you to go until at your own risk.
But when you finally get there, it is a lot to see. Old red mine with beautiful mountains in the background is not everything! You still have some restaurants to take a break, and then definitely it is worth hiking Root Glacier – just a couple of miles from the mine. One or two days would be enough, make sure to take your tent or book your room if you plan to stay two days or more because lodging options are limited in this small town. Read more…
Activities: hiking, ice climbing, history
Photography hints: everything is right here, even a mobile phone should be enough. If you want to take a picture inside the buildings (like the old power plant, etc.), it's good to have a tripod or camera with a high iso and wide lens (16-35mm, for example).
Kenai Peninsula
Kenai Peninsula is a lovely place for a week if you are starting from Anchorage. At this time, you will be able to visit all the most important places like Girdwood, Wittier, Seward, Hope, Anchor Point, Kenai, Homer, Soldotna, and maybe a couple of smaller towns. Kenai peninsula is the kingdom of glaciers and wildlife. Great hikes and places for fishing, kayaking, and boating opportunities are everywhere, accessible from land and sea. Distances are not that long so that you can spend more time sightseeing and less time driving. Kenai Peninsula, especially Seward, is one of the best places in Alaska to take wildlife cruises. Read more…
Activities: wildlife watching, hiking, kayaking, fishing, cruises
Photography hints: On the peninsula, there is plenty of places you can have great shots and each of those requires various gear. Let's focus on some most interesting in our opinion:
Seward, near Exit Glacier, there is an opportunity for great glacier shots as well as spotting some marmots and mountain goats. If you want more, we recommend going for an all-day photography cruise from Seward to Kenai Fjords National Park. It gives you the possibility to take pictures of sea lions, puffins, otters, and orcas.
Homer gives you opportunities to spot bald eagles, sea lions, shorebirds, seabirds or marine mammals, especially when you go for kayaking or cruise. The best places are around the harbor (bald eagles) and Fish Processing Plant (sea lions and bald eagles).
Anchor Point is a terrific place to spot bald eagles and other seabirds and shorebirds. Just be there in the morning or when fishermen are returning from the sea.
Homer
Homer is a beautiful place on the Kenai Peninsula. Delicious fresh oysters, local beer, fishing, kayaking, walking along the beach… All with a view of the sea and glaciers flowing down from the mountains. Downtown Homer is strung along Pioneer Avenue on a sloping hill between high bluffs to the north and Kachemak Bay to the south. It's little wonder that many Alaskans choose to vacation in Homer. The scenery is inspiring, and the climate is exceptionally mild. Few small towns have the culinary variety of Homer, with coffee bars on nearly every corner next to gourmet sandwich shops and excellent restaurants with great seafood.
On the other side of the bay from Homer is Kachemak Bay State Wilderness Park, a 350000-acre paradise of glaciers, mountains, protected coves for paddling, and an extensive trail system to explore on foot. The town is famous for charter boats heading out to catch a record-breaking halibut during the summer season. Read more…
Activities: wildlife watching, kayaking, fishing
Photography hints: any camera will be enough here until you want to take great pictures of wildlife (bald eagles and sealife seen from the boats) – then you need a camera with good AF, and a long telephoto lens
10 places to visit in Alaska – Valdez
This small town is worth going if you plan to fish, kayak, or see glaciers. There is not too much here, just harbor, a couple of shops and restaurants, visitor services, etc. What is worth mentioning is the road to Valdez – you will drive to Thompson Pass on the way here, and the pass itself is worth going to Valdez. There is a little chance to encounter wildlife on your way, but if you want to see more wildlife, you can go to one of the watching tours on the bay. Read more…
Activities: wildlife watching, kayaking, fishing, glaciers
Photography hints: good place to spot some bald eagles is Solomon Gulch Hatchery. Thompson Pass on the way to Valdez is excellent for glacier shots.
Magic Bus 142
If you have seen the movie or read the book "Into the wild" you know why this place is on the list of 10 places to visit in Alaska. It is just something you can't miss being there. Many people are trying to get to the original Chris McCandless bus, but it's deadly dangerous! We have heard plenty of stories of how people died in Teklanika River that looks innocent but is very tricky. Due to many accidents among inexperienced tourists, the authorities removed the original bus from the Alaskan wilderness. Now you can only see its replica. During the movie production team was using a bus replica, and this replica is on display on the 49th State Brewing Co premises. You can safely see the bus and take pictures without risking your life. Read more…
Activities: wildlife watching, hiking
Photography hints: nothing special is required here. Just take some photos of the bus. It's good to be early in the morning (less crowd and a better chance for pictures, light is usually better as well).
King Salmon
We decided to put this place on the list because it might be your must-stop on the way to Katmai National Park. Actually, there is no other way to get to Katmai. You must have a stopover in King Salmon. And it looks that very often flights are delayed and you are stuck here. If it happens to you, please read our article about King Salmon – it can at least help you a little bit to spend your evening and night. You can also stay in King Salmon if you are an angler and plan to catch some fish. This place is excellent and easily accessible from Anchorage. Just make sure you have lodging booked because it is not easy to find something on the spot. Read more…
Activities: wildlife watching, hiking, kayaking, fishing
Photography hints: it's nothing to photograph here. But be prepared for some wildlife, it might happen if you stay longer and you are looking for it.
10 places to visit in Alaska – Chena Hot Springs
Our ranking is closed by hot springs. We love this place. In Alaska, you will find some hot springs. They are located rather in the northern part of the state. The problem is that most of them are not easily accessible. You must hike or drive poor gravel roads. All this makes Alaska not the hot springs state (yet we hope). But still, you can find one lovely place, quite easily accessible from Fairbanks – Chena Hot Springs. Maybe the site itself is not too wild, but it has very hot water and beautiful views. If you are bored with Hot springs itself, you can jump into the swimming pool or jacuzzi (inside or outside). The road to the place is beautiful as well, especially in Autumn. You pass plenty of forests and lakes on your way to the pools, and there is a big chance to encounter some wildlife too.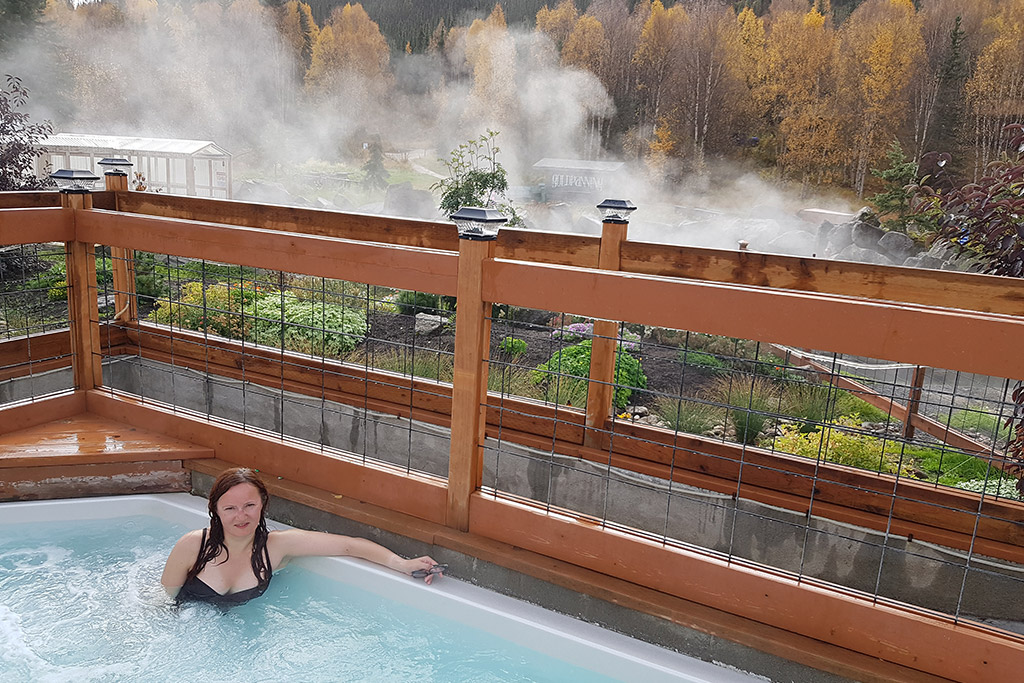 Activities: Hot springs, hiking, wildlife watching on the way
Photography hints: useful to have a waterproof camera to take some pics in the pools, otherwise be prepared for wildlife with a longer lens and faster DSLR or mirrorless cameras.