10 Days Alaska Itinerary for 2022
This 10 Days Alaska Itinerary is the result of our traveling experience in this state. After traveling throughout the United States for more than 15 years, we have our favorites states that we love to get back to. One of those is for sure, Alaska. We have made a few Alaska Road Trips so far. It is not only big enough to make it impossible to see in one visit. But it is wild enough to encounter what you can not do in other states. As wildlife & hiking lovers, we see unlimited possibilities to take great pictures in this place and have amazing adventures.
How to organize a perfect Alaska road trip? How much does it cost? How many days do I need? What to pack? Where to stay? What to see? Which activities choose? When to go? You will find answers and a lot of tips in our ready-to-go 10 Days Alaska Itinerary.
This article may contain affiliate / compensated links. For full information, please see our disclaimer here.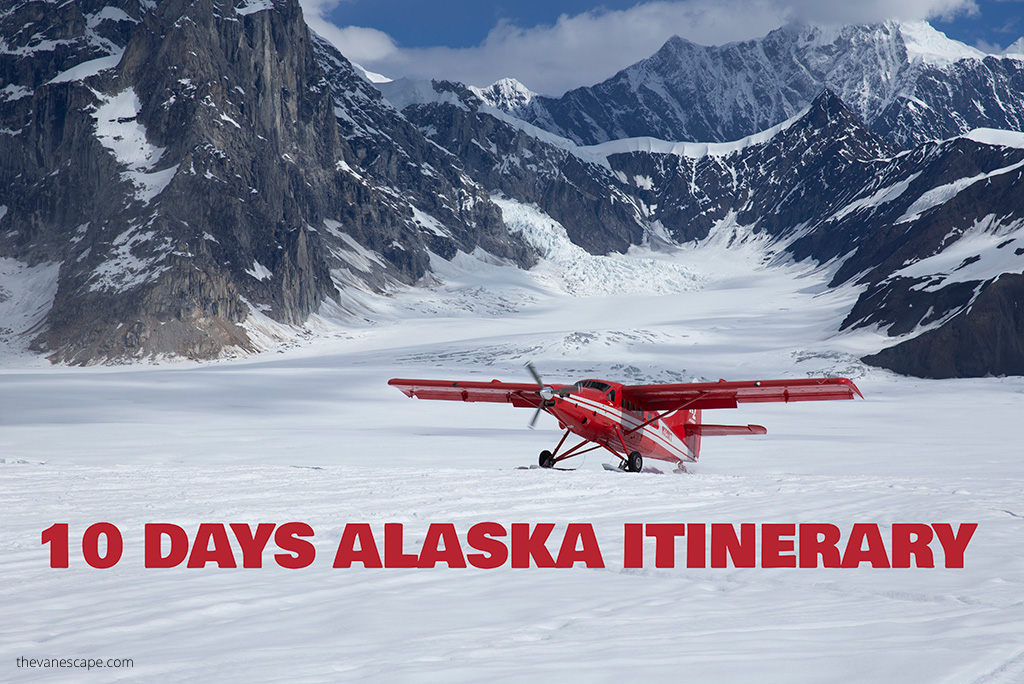 Of course, not everybody has similar goals to ours and can split the trip into many small trips focusing on each area. But most of you are planning once in a lifetime journey to Alaska. You ask questions, and we would like to answer them, giving you all of our knowledge and experience. This is why we prepared ready to go 10 Days Alaska Road Trip Itinerary for you!
Why is it 10 Days Alaska Itinerary? In our opinion, it is the absolute minimum to see the most exciting and beautiful places in this state. The last time our stay was a month, and it was not enough. So, after several of our Alaska trips, we have arranged and suggested an optimal route. During this 10 Days Alaska Itinerary Road Trip, you will have time to enjoy the wonderful nature of this state and take a lot of activities that give you joy and unforgettable memories.
If you have more than 10 days, it is worth staying longer in each of the places described by us. But at the end of the article, we also suggested to you some extra places worth adding to your Alaska Road Trip Itinerary if you have more than 10 days for exploring Alaska.
Below we present the 10 Days Alaska Itinerary in short, and then we describe each day in detail. With this Alaska Itinerary, you will have a fabulous adventure.
10 Days Alaska Itinerary
Day 1 Arrive in Anchorage and explore the town.
Day 2 Drive to Denali National park and visit Talkeetna and Healy.
Day 3 Explore Denali – camping and hiking in Denali or shuttle bus tour.
Day 4 Explore Denali – shuttle tour to Wanderlake or Kantishna.
Day 5 Drive to Seward.
Day 6 Explore Kenai Fjords – glacier and wildlife cruises or kayaking.
Day 7 Drive to Anchor Point, then Homer.
Day 8 Explore Homer – go for a cruise or fishing or kayaking.
Day 9 Drive to Hope, Whittier, and Girdwood.
Day 10 Return to Anchorage and explore Anchorage.
Best time to go to Alaska
When is the best time to go to Alaska? Now we know that it is always a good time to visit Alaska. But most of all, Summer is perfect. So consider planning your Alaska Road Trip between June and the first week of September. As of the beginning of September, the winter season is starting. A lot of businesses are closing for the season. So you can have a problem staying, for example in Homer campground, etc. But until the end of September, the weather is still fine for a visit.
However, if you would like to come in winter, it's not a problem. Of course, it is cold, and this Alaska Itinerary might not fit, but still, you can visit most places from this article. But please consider that we prepared that 10 Days Alaska Itinerary with the Summer season in mind. The winter drive on this route will certainly be longer. Wheel chain, 4×4 drive, and winter clothing are essential. Part of the road may also be temporarily impassable. So, we focus on the trip between June through September.
Estimation of 10 Days Alaska Road Trip cost
The simple answer to this complicated question is of course: it depends. But we will try to give you some fresh data for 2020 and 2021:
Gallon of unleaded fuel 2.50-3.50 USD (cheaper close to Anchorage)
Average RV camp site with hookups – 35-50 USD/night
Full day kayak tour – 140-180 USD/person
One day cruise to glaciers from Seward – 89-250 USD/person
Full day fishing cruise from Homer (fishing licence not included) – 200-300 USD/person
Average price of loding in hotel/cabin/etc.:
Average price of lunch 20-30 USD/person
Average price of dinner 40-70 USD/person (alcohol not included)
Alaska Road Trip Packing List
We suggest you study our detailed article on Alaska packing list. It reflects our experience and turned out to be correct on a couple of last trips. Alaska is the land of bears. Therefore you need to get ready to meet wildlife. Wild animals can behave unpredictably. So, we wrote more about bear safety in Alaska, and how to prepare for wildlife in our Alaska guide.
If you plan to go hike, especially in Denali NP or Kenai NP, check out our detailed Alaska Packing List of what to pack for a hike.
Bring real maps and good GPS devices! Believe us, when you're in the middle of the Alaska wilderness, and you have no phone signal, you'll thank us. Always pack a map for an Alaska road trip. We love technology and great apps, but we assure you there are many places in Alaska where they are useless because it is no coverage.
The Alaska Road Trip can be a challenge. But it is an adventure of a lifetime. Why? The state is the largest but least populated state in the United States. So you have limited access to services. If your car breaks down, you can wait for hours for help. So pack properly. You can also check our Road Trip Packing List Essentials.
10 Days Alaska Itinerary – Car Rental or RV Rental?
Upon arrival in Anchorage, you should pick up a car at Ted Stevens International Airport. You should book your car a few months in advance. It is difficult to rent a vehicle for a road trip through Alaska in the summer. The prices are much higher because the demand is very high. We recommend that you consider two options for renting a car for the road trip through Alaska:
rent a regular car and stay in hotels/motels/lodges or a tent on campgrounds. It is the best option if you are short on time for your trip or have no experience with RVs. In our opinion, this is the best option for a 10-day Alaska road trip. Check out the best rental deals on Discover Cars, as it is a great comparison and search tool. The rental prices are cheap because, at the same time, they negotiate prices directly with the car rental companies for many vehicles. This way, they can offer better prices to their customers.
motorhome rental. If you prefer a motorhome, definitely choose one of the most reliable companies like RVshare, ABC Motorhome, or Great Alaskan Holidays. They offer excellent service and good quality vehicles. We had used them before and were very satisfied with this solution. However, we recommend renting a motorhome only if you already have experience with this type of travel. Traveling by RV always takes more time than traveling by regular car. It might be difficult to implement our Alaska itinerary in a motorhome if you have no experience. In our opinion, it is worth renting an RV for an Alaska trip of at least 12-14 days. If you plan an RV trip to Alaska, you should remember about the RV battery to have a reliable power system.

Having taken a road trip through Alaska with each of these options – both a rental car, where we slept in hotels, and an RV, where we stayed in campgrounds – we share our experiences with each.
Alaska Paper Maps and Guides
During our Alaska road trips, we use several maps and guidebooks. Their updates appeared this year, which is great. They enrich your knowledge of the nature, history, and culture of the area. What's more, they will be helpful during your trip. There is often no coverage. Paper maps are useful almost every day.
Our favorite is The MILEPOST 2022: Alaska Travel Planner. It includes mile-by-mile descriptions of more than 15,000 miles of road in Alaska, Yukon, Northwest Territories, British Columbia, and Alberta. Its 700-plus pages detail guide with camping, fishing, gas stops, restaurants, attractions, and services found along the highways and byways of Alaska and western Canada. So, it's perfect if you plan a long road trip.
We also used DeLorme Atlas & Gazetteer: Alaska. We like its topographic maps, which provide information on everything from cities and towns to historic sites, scenic drives, and trailheads.
Our favorite travel guide is Moon Alaska: Scenic Drives, National Parks, Best Hikes. There is a new version from April 2020, which is excellent. You have a paperback or Kindle version to choose from. We love it because it's very detailed and informative. It gave you a plant of ideas on how to spend time in Alaska according to your needs and interests. It is set to become a must-have guide for travelers in Alaska. It is succinctly written by someone who lives and loves Alaska and who knows this place. Full of educational information about wildlife, plants, local customs, geography, history, ecology, and safety. We love this series.
| | | | |
| --- | --- | --- | --- |
| | | | |
| The MILEPOST 2022: Alaska Travel Planner | Moon Alaska: Scenic Drives, National Parks, Best Hikes | Moon Anchorage, Denali & the Kenai Peninsula | DeLorme Atlas & Gazetteer: Alaska |
| View Item | View Item | View Item | View Item |
10 Days Alaska Itinerary – Where to Sleep? Hotel or Campground?
The next thing you need to plan is lodging for your 10 Days Alaska Road Trip. If you plan to stay in a hotel, you should book well in advance, because prices are growing pretty fast and Alaska is not the cheapest state regarding accommodation. But campgrounds are also very popular, especially between June and September, so it's worth booking in advance. Below we will give you specific accommodation suggestions for each day of your stay, both hotels, and campsites.
Ready-to-Go 10 Days Alaska Itinerary
Below we show you our proposition on how you can fill 10 Days Alaska Itinerary in detail. You can change our 10 Days Alaska Itinerary and start south and go north if it better fits the weather forecast. We assume that you are renting a car or motorhome. In the case of a vehicle, you can sleep in a hotel/Airbnb or a tent – you will find all the options below.
Day 1 Alaska Itinerary – Arrive in Anchorage
We assume that you will be flying to Anchorage from one of the cities across the United States or Canada. Most of the flights will last a couple of hours, and usually, they are arriving in the afternoon, so we do not suggest you plan anything but Anchorage sightseeing on that day.
Anchorage is also the best place for shopping before your Alaska road trip. So if you haven't packed something, you should buy it in Anchorage. This is our list of what we always pack on a car road trip. Here is our list of what we pack when we sleep on the campground in a tent.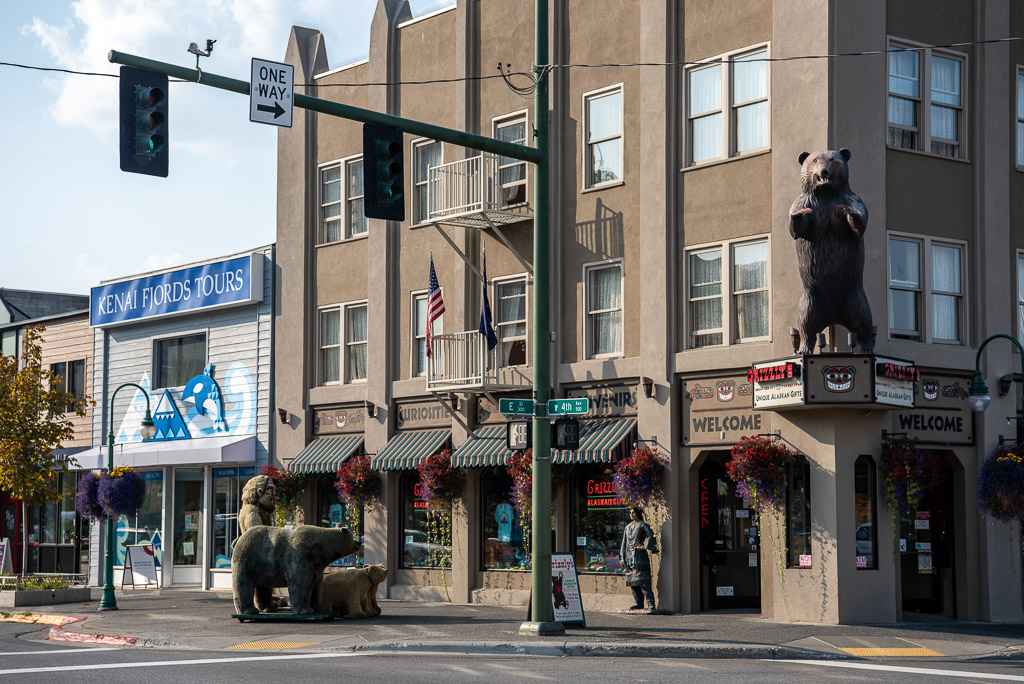 Where to sleep in Anchorage? Hotels and Campgrounds
The choice of accommodation in Anchorage is extensive and affordable. Indeed, if you plan a trip between June and September, it is worth booking your accommodation in advance. If you prefer something more comfortable, but not cheap, we suggest choosing between The Hotel Captain Cook, or Copper Whale Inn. If you need something more on budget, consider Westmark Anchorage Hotel or Ingra House Hotel. Check hotel rates and availability on our favorite service with great deals – booking.com and book it in advance.
If you decided to rent a motorhome (or sleep in a tent), we could suggest two campgrounds that we used before. One of them (Ship Creek RV Park) is close to the city center (walking distance), and one (Golden Nugget RV Park) is a little bit remote, but both are of decent quality.
Dinner in Anchorage
On Day 1 of Alaska Itinerary, except for sightseeing in the city center, you probably would like to eat something local. We spent enough time in Anchorage to check all the best restaurants for you.
Orso ($$$) – This is a great place to taste local seafood. We recommend crusted halibut, crab-stuffed rockfish, and appetizers. They have an excellent wine selection, as well. If you like Pinot Noir, it is a good companion for the food.
Humpy's Great Alaskan Alehouse ($$) – This is a more affordable place with seafood on the menu. We were trying blackened halibut tacos, crab legs, salmon, and reindeer burgers, and everything was tasty and prepared very well. If you are an oyster fan, you will find here the best Alaskan oysters, much bigger than everything you know from other parts of the country. This restaurant is more dedicated to beer than wine, so we suggest you find your favorite draft beer here.
Glacier BrewHouse ($$) – This one is our favorite in Anchorage. You can try ribs, grilled salmon, crab legs, cooked Wagyu beef sliders, or seafood chowder. We liked King Crab Legs best! This restaurant has its brewery on-premise, so if you plan to drink alcohol, it would be better to try some beers. But if you are not a big fan of beers like us, they have a massive selection of stronger drinks.
Alaska Road Trip – Hikes & Photography opportunities in Anchorage
Anchorage is not the most beautiful city in the world, but still, you can try to take some great pictures and have amazing hikes. We selected two viewpoints for you for a short relaxation during day 1 in Alaska Itinerary.
Downtown Anchorage Viewpoint – you will need a telephoto lens (70-200, 100-400, or something similar) to take skyline picture from this spot.
Flattop Trail – from this trail, you can see the whole city and much more. You will need a telephoto lens as well to take great pictures. To get to this place you need much more time, so please make sure that you will be able to make it.
Day 2 Alaska Itinerary – Go to Denali National Park, visit Talkeetna, take a flight over Denali, and visit Healy on the way
On the second day, your goal is to get to Denali National Park. The travel itself will take you about 4 hours, and the distance is about 240 miles. We strongly recommend doing two things on this day. The first is to visit Talkeetna. Please start your Alaska Road Trip early in the morning.
Visit Talkeetna
Why do we want you to spend some time in Talkeetna? First of all, because the town is charming, it has excellent restaurants and a lot of nice gift shops. Moreover, it is the starting point of all expeditions to McKinley/Denali peak. You should visit the museum and learn a little bit about the history. Book an hour to two for a short walk around the city and visit the Denali museum.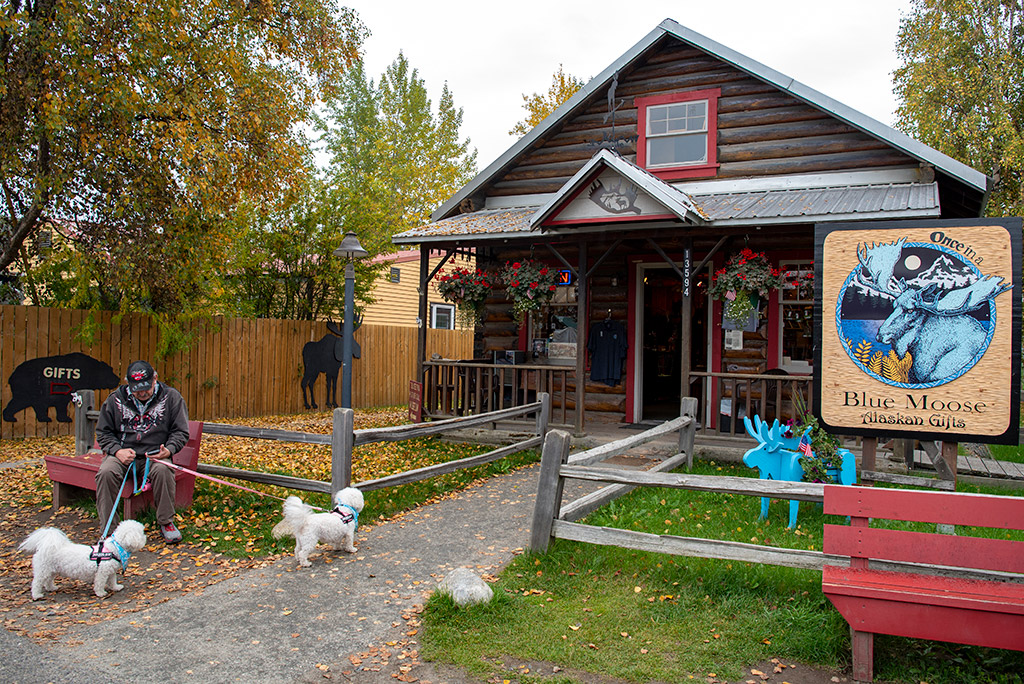 Take a Flight over Denali Mountains
The second and most important reason to visit this town is the wide range of flights over Denali. We highly recommend considering flying over the mountains to the glacier. Some of the flights offer to land there for a quarter or two. It was an amazing adventure, one of our best experiences in Alaska that we highly recommend. We choose the options with a glacier landing. It's worth money. It was this tour: Grand Denali Flight with Optional Glacier Landing. We want to do it again without hesitation. In a separate article, we present more photos from the flight over Denali with the glacier landing. It was, for us is one of the most incredible adventures in Alaska.
Lunch in Talkeetna
If you start early from Anchorage, you will arrive in Talkeetna just for lunch. Or you can eat late lunch after your flight over Denali. And we recommend Talkeetna Roadhouse for having one.
Visit Healy – Magic Bus 142 from Into the Wild
The thing we suggest you should do on your way to Denali is to visit Healy. There is a famous Magic Bus 142 (replica used in the movie) to see and take a picture with it. More on this you can find in our separate article. You need 15-30 minutes to see the Magic Bus 142.
The Magic Bus 142 is located next to the brewery. In addition to the beer, the place also serves great food and has a very atmospheric interior (photo below). It's worth your stop before you get to the Denali wilderness.
Denali Lodging
You must know that accommodation options in Denali are minimal and rather expensive. So again we strongly suggest booking them as soon as possible and far in advance.
You can consider staying in the already mentioned town of Healy (White Moose Lodge, Tri-Valley Cabins, or Denali Park Hotel) or Cantwell (Backwoods Lodge, Cantwell Lodge, or The Runway House). If you want to stay closer to the park, your options must focus around McKinley Park (Perch Resort, Creekside Cabins, or Grizzly Bear Resort).
In case you decided to go with the motorhome, you have to book the campground in advance as well because in high season it's very crowded. The first choice is Riley Creek Campground (you can encounter moose here sometimes!). If it's full, please try Cantwell RV Park or Denali RV Park.
Plan Your Activities in Denali National Park
On that day, you should also think about your next day or two in Denali National Park. It is essential because you want to have a magnificent wildlife adventure and take fabulous photos. We recommend considering two options for those days. In general, you can not enter with your own car into the park. So, how do plan a visit to Denali National Park? Details about Denali you will find in our separate article.
Night in a Tent in Denali Campground
If you can survive one or two nights in the tent, then you should book a site in one of the six campgrounds inside Denali National Park. It's a better option from a photography perspective because you save time and have a great adventure and more opportunities for pictures. You must book your site in advance. You will get to your chosen campsite by park bus, which departs from Denali Bus Depot at scheduled times.
But, if you only have ten days on your Alaska road trip, there is no point in packing a sleeping bag, sleeping mat, a tent just for one night in Denali National Park. So we suggest you go to point 2 and book the Denali bus tour.
More information about Denali campgrounds and how to prepare for camping in Denali National Park, you will find in our article Happy seeing astonishing and majestic Mount Denali
Book a Guided Bus Tour to Denali National Park
There is a shuttle bus system in Denali National Park, and you must use it. This is good, because animals got used to those buses and are less afraid of them, so you have a better chance to see them from a close distance. The bad thing is that riding such a bus takes a huge amount of time. It is an all-day trip. Denali Road is 92 miles long. And there is a lot of stops on the way to admire wildlife. Check tour options.
The bus trip is amazing. It's worth driving the entire route to the last stop and back. The views are breathtaking. Last time we spent two nights and two days at the campground and hiking. And we also spent one full day on a bus on the bus tour. Our experience shows that doing it this way increases your chance to spot more animals and have different weather from a landscape photography perspective.
Other options for Denali National Park
However, if you want to do something else, not just spending time on the bus, or you are not ready for tent camping, we can suggest a couple of other exciting options:
ATV – if you like to get dirty, this is something for you! Actually, they are not riding inside the park itself, but just outside the border. But the experience is pleasant. You will have fun riding ATV, hear some stories and information about the park from the guide, and have a chance to see beautiful views. We recommend going 2.5h Denali Wilderness Adventure Tour. It is optimal.
White-water rafting. This adventure is only for brave ones, and to be honest, we did not try it for ourselves. But we decided to mention it just in case you love water. There are a couple of companies organizing such tours in Denali. To mention two of them: Denali Raft Adventures and Nenana Raft Denali.
Day 3 Alaska Itinerary – Denali Shuttle Tour to Wonderlake or Kantishna
We already told you that the more extended the bus trip you take, the more chances you have to encounter wildlife and take great photos. The other hint is to book the earliest bus possible in the morning and the latest in the evening. Animals are more active in those times of the day. However, light is maybe not perfect, but with modern gear, you still have a chance to take a unique photo with this approach.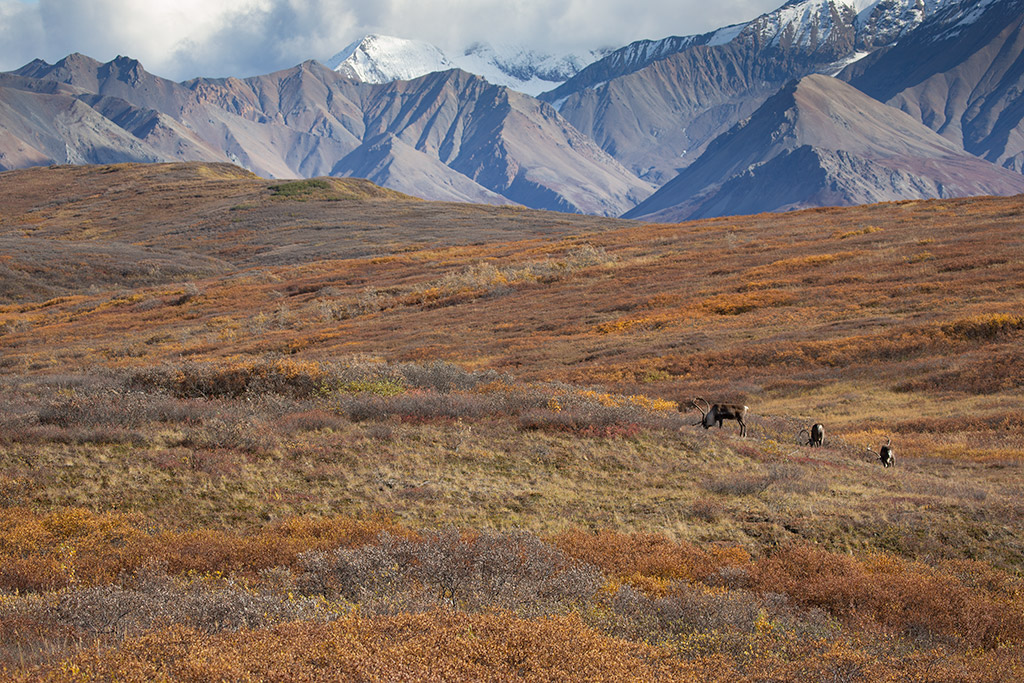 You have a couple of tours to choose from:
Natural History Tour (4.5h) – We do not recommend this short tour if you would like to photograph wildlife.
Tundra Wilderness Tour to Toklat River (8h) – This is an enjoyable tour if you do not like to spend too much time on a school bus, but still want to take some pictures.
Kantishna Experience Tour (12h) – This is the longest tour and the biggest chance to encounter and photograph some wildlife.
Another option is Camper Bus or Transit Bus – Those are supposed to get hikers to their campings. However, you can use them as some hop-on/hop-off buses. You can ride a little bit and hike a little bit (for example, you can have some beautiful trails near Wonderlake or Eielson Visitor Center).
Day 4 Alaska Itinerary – Denali Shuttle tour to Wonderlake day 2
You could do it again from the Bus Depot or the campground if you decided to stay on one of them. Whatever option you chose, you should be in your lodge for the night because the next day in the morning, you have plenty of miles to drive. We met people who spent a week outside the park and took a bus tour of the park each morning till evening! We also plan to spend at least 2-3 days in this way during the next stay. Wildlife photo opportunities are fabulous. So, let's focus on what kind of animals you can see on such a bus trip?
You are almost sure to experience the most popular that grizzly and brown bears, moose, Dall sheep, and caribou, not counting small pikes and squirrels. There are fewer chances to spot wolves, foxes, or lynx. Remember that the more you travel, the more opportunities you have. The better the day (morning or late afternoon), the more chances you will have. We know it is boring, but photography requires some sacrifices to get great pictures.
Landscape photography depends more on the weather. So again, do not give up if it is raining, be patient. The best light is immediately after the rain or thunderstorm, and you have a chance for unique photos. You can see McKinley/Denali, but the light might be so intense that the picture's contrast will be low in the shining sun. In our opinion, it's much better to catch the good light on a cloudy day (ok, clouds should be somewhat higher than lower).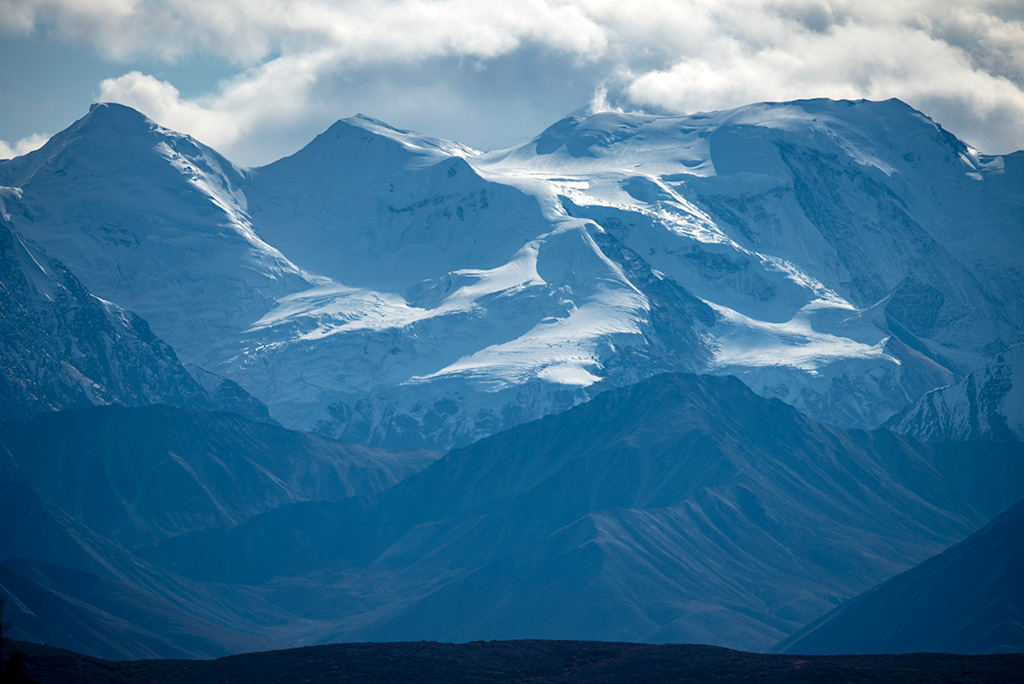 Food in Denali National Park
You must remember that there is no food available on the tours, there are no shops in the Park, so please prepare your sandwiches, snacks and take water with you to survive the whole day. In case you are camping in the park, you must secure food for two or three days. And remember that in the park, you are obliged to store food in special bear-proof containers installed on each campground. Check our Alaska Packing List to pack correctly and have a beautiful but safe adventure in Denali National Park. It's pure wilderness, there are no marked trails, no phone coverage, so use our tips and stay safe.
If you plan to cook, then please do not forget to take the stove, gas, and matches with you. Fires might be prohibited depending on the fire danger level.
Day 5 Alaska Itinerary – Drive to Seward
Day 5 in our 10 Days Alaska Itinerary is a taught day for the driver. The trip should take about 6.5 hours, and the distance is 350 miles. Because this Alaska Road Trip Itinerary is for only 10 days, we decided to compress it somehow for you to see more, even at the cost of such a long drive.
The road from Anchorage to Seward is exciting itself. We planned some stops on the way back, but feel free to reschedule it and if you want to move some of them here. We will try to emphasize some of the most interesting points on this road:
Potter Marsh Bird Sanctuary – in this place, you have some chances to encounter birds. Usually, you can spot only ducks and gooses, but if you are lucky, you can see moose (try in the morning). We recommend taking binoculars and a telephoto lens with you (400 mm would be nice).
Bird Point – there is a chance to spot Beluga Whales before high tide. If you do not have so much luck, still there's a terrific opportunity for landscape photography.
Alaska Wildlife Conservation Center – this place might be great for a family with kids. We, as photographers, are trying to avoid such sites. It's not wildlife in their natural habitat. But you might have a different opinion and want to see bison. Why not. In such a case, this place is for you!
Kenai Lake at Cooper Landing – if the weather is good, this place is an excellent landscape photo opportunity.
Exit Glacier Trail (requires some additional miles) – if you have some spare time, you can hike here for shorter or longer trails. In good weather, it is even better.
Lodging in Seward
Seward has some lodging options, but as well it is the top-rated destination in high season. Thus you should consider booking ahead at one of the places: Breeze Inn Motel, Best Western Plus Edgewater, or Harborview Inn. Other options are not in downtown, however still within walking distance.
If you decided to rent a motorhome, you have a beautiful waterfront campground – Seward Waterfront RV Park. If you want to have an excellent site in the first line from the water, we recommend to arrive early and book it.
Food in Seward
Ray's Waterfront ($$$$) – Very expensive restaurant, but for us, it was not the best seafood restaurant in Seward. You are paying for the location, that is stunning. If you are hungry, you should order some fresh fish (salmon or halibut) and maybe crab cakes – you can't be wrong with those.
The Cookery ($$$) – This place is maybe not located as lovely as Ray's, but for us won with the food quality and taste! We love oysters, and they were delicious. If you don't like them, maybe try mushroom toast? Or stay with regular halibut and salmon.
Gold Rush Bistro ($$) – The little cheaper option, but again very tasty. Assuming you don't like seafood, you can come here and have just a burger or sandwich. They do not serve alcohol.
Day 6 of 10 Days Alaska Itinerary – Glacier and wildlife Cruises or Kayaking
When you are in Seward, the best thing you can do is go for a cruise or kayaking. There is plenty of options, but you, as a wildlife lover or photographer, probably would like to go for one that allows you to take some pictures, don't you?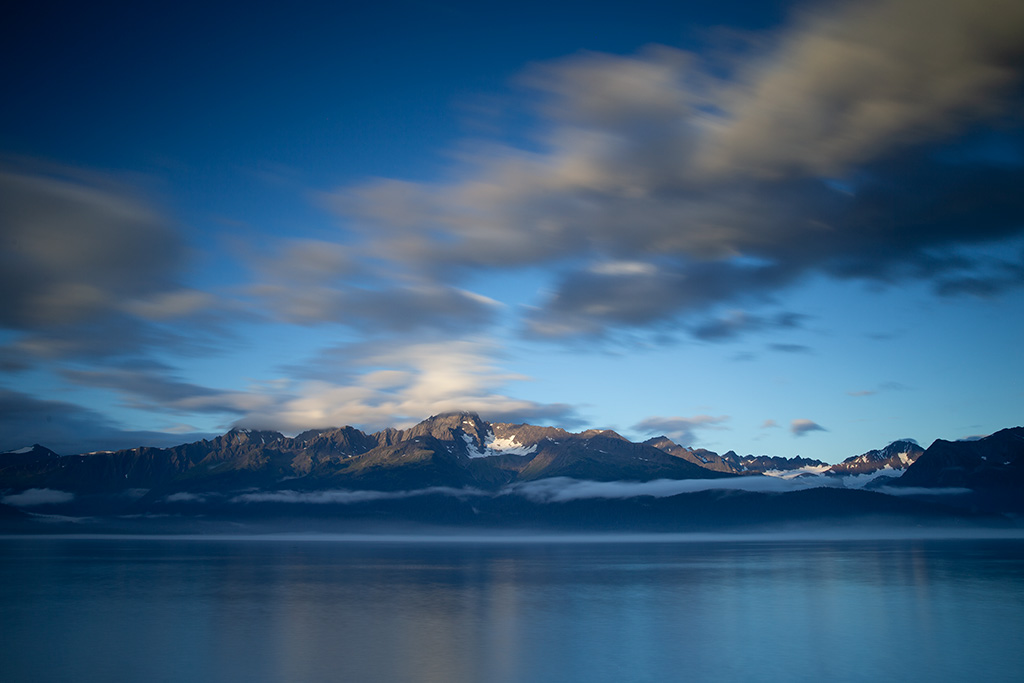 Your Alaska Road Trip is coming to an end. So use this time. And have an adventure. So, we selected some options you should consider:
Seward: Kenai Fjords Half – Day Wildlife Cruise – Watch for whales, puffins, sea otters, and more on a half-day wildlife cruise through Resurrection Bay. Travel to the best whale and wildlife viewing areas in the region on a fully narrated tour with local, experienced captains and crew.
Kenai Fjords Wildlife 5-Hour Cruise – Explore the protected waters and rugged coastline of Resurrection Bay. Experience up-close encounters with wildlife as the captain guides the vessel along massive bird rookeries and sea lion colonies with frequent sightings of whales, otters and porpoise.
Kenai Fjords National Park 6-Hour Cruise – Explore the world of whales, wildlife, and glaciers on an incredible cruise through the Kenai Fjords National Park. Enjoy the pristine Alaskan waters' unparalleled beauty onboard a stable, high-speed catamaran with a restaurant and bar.
In case you would like to fill your whole day, or you don't like cruises and prefer paddling, we recommend you beautiful shorter kayak trips organized by Miller's Landing. They have plenty of options, and in case of short trips, they take you with water taxi to kayaking destination, so you don't waste time on paddling less exciting areas.
One of the tours we recommend is Fun Wildlife Paddle – They will take you to coastline towards Tonsina Beach. On this tour, your guide is focusing on looking for wildlife, like sea otters, bald eagles, sea lions, and different sea birds. It happens to encounter even a black bear. The tour lasts about two hours. Fell free to check their other options.
More information you will find in our article Homer, Hope, Anchor Point – Three best places to visit at Kenai Peninsula, Alaska
Day 7 Alaska Itinerary – Drive to Anchor Point, then Homer
On this day of your Alaska Road Trip, you should have some spare time to visit Exit Glacier near Seward if you had no chance to do it before. We strongly recommend at least the shortest hike. The glacier is melting, and for sure, it is one of the last times you can see it looking like that.
If not, head to Anchor Point to be there as early as possible (drive will take you about 3 hours because it is 150 miles away). In this place, there is a big chance to spot bald eagles and seals. If the weather is good, you can see snowy volcanic mountains on the other side of Cook Inlet. We had the luck to photograph an eagle with the mountain in the background, as you can see below.
Anchor Point might be as well an excellent place to go for a bear watching tour to the other side of the Cook Inlet in Chinitna Bay in Lake Clark National Park. If you are here between May and early September, you might consider half-day tour. It should fit into this itinerary, but if you have more time go for full-day because only boat ride to the other side of the Inlet takes a couple of hours. In this artcile we share our experiences from bear viewing in Alaska.
After enjoying the magnificent seaside here, you can go to Homer. We recommend leaving your car in your booked lodging then walk through the city. It might be hard to find a parking spot in the high season. In case you are going with a motorhome, go directly to the campground and leave your vehicle there for the next two nights.
Homer Lodging
There are not too many hotels/lodges on the spit itself so that you might end with lodging in the city itself. If you book ahead of time, you can still have a chance to get Otter Beach Lodges or Land's End Resort at the very end of the spit. Otherwise, we recommend one of the Aspen Suites Hotel. They are located not precisely within walking distance to the very end of the spit, but if you like going along the beach, it is still not that far. In case you decided for a motorhome, there's one nice campground at the very end of the spit – Homer Spit Campground. We recommend staying there.
Food in Homer
Captain's Patties ($$$) – Here you can try fish & chips. But if you want something more sophisticated, why don't you order king crab or seafood platter? You can buy fresh fish here and if you are traveling with a motorhome, prepare it yourself later.
Homer Spit Oyster Bar ($$$) – Small charming place a little bit away from the center of the spit. Of course, they specialize in oysters, and they are great. If you go in a happy hour, there is a chance to get much more, so be careful. You can buy some oysters to go here as well.
You should go for a drink to the very famous Salty Dawg Saloon ($$). Even if you do not plan to drink, enter there and see those dollar bills everywhere.
Little Mermaid ($) – This restaurant has an outstanding price/quality ratio, so it's our first choice in Homer. You can go classic here with halibut or salmon, but you can try as well as citrus salad or grilled rockfish tacos. Chowder is delicious, as well.
Day 8 Alaska Itinerary – Homer – go for Cruise or Fishing or Kayaking
When in Homer, you have plenty of opportunities to spend active time here. You must think about what you did in Seward like kayaking or wildlife cruise and decide what you want to do in Homer. If you have no luck and did not see any wildlife on the journey or took not perfect pictures, do not worry. It's another opportunity here! If you had no time for kayaking in Seward or decided to do another thing, do not worry! Here you have another kayaking opportunity.
Go fishing
But our idea is instead to spend this day on fishing halibut. Of course, it is maybe not a specific photographic experience, but we are sure you will like it as we did. And on the way to a fishing spot, there's still a big chance to spot some sea life!
So if you would like to go fishing, you need to plan it ahead as usual. There are two things to consider. One is a fishing license that you must buy separately. And you can do it in many places in Homer. But as well it is a good idea to buy it online and print at home. You can do it here. Check current prices and conditions.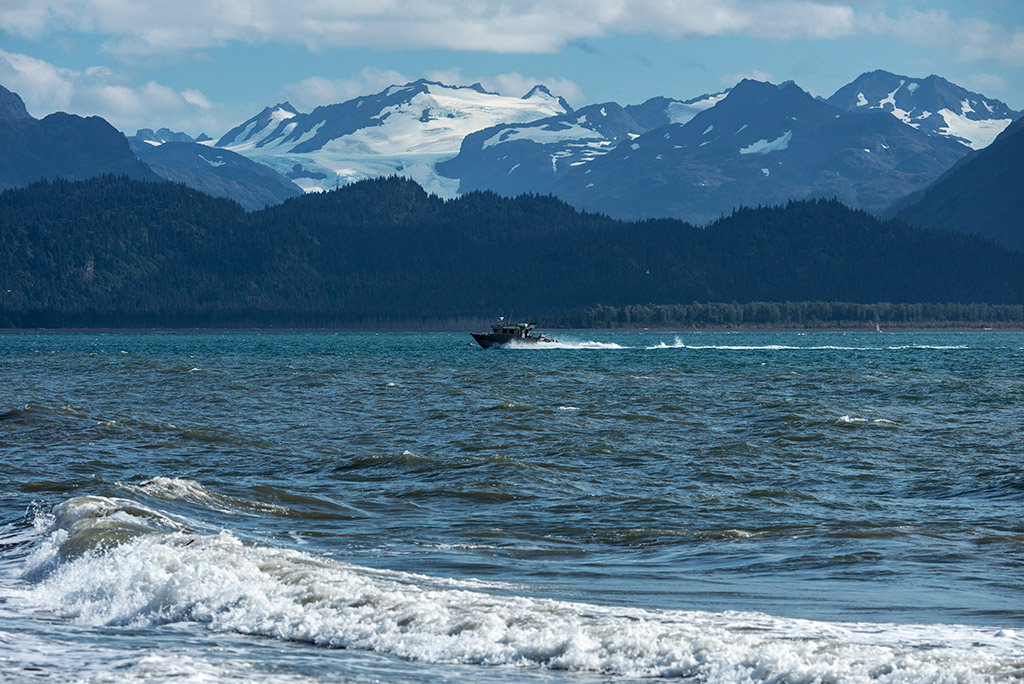 Second, you should find your charter. We have experience with Homer Ocean Charters, and they did a great job. They teach you how to catch halibut, help you to get it on board, and gut it for you on the way back to the harbor. They have different kinds of tours, but we recommend the whole day – it's a bigger chance to catch your halibut and spot some wildlife on the way.
Or go kayaking
If you want to kayak in Homer because the weather is favorable, we recommend True North Kayaks. They are comfortably located in the center of the spit so that you can arrange your tour easily. They have plenty of options, and like in Seward, you must first take a water taxi to a kayaking destination, then paddling on the sea. Fantastic experience!
Day 9 Alaska Itinerary – Drive to Hope, Whittier and Girdwood
We know it's a pity to leave Homer, but you planned only 10 days Alaska Itinerary, so it has to happen. On that day, your goal is to see some other gems of the Kenai Peninsula.
What we recommend to do on this day is to choose a road through Kalifornsky Beach and Kenai to Soldotna. This beach is fantastic, and you will have a chance for some more wildlife there.
From Kenai head to Hope. This is a tiny and charming town with a magnificent view of the bay and glaciers. You will spend about an hour seeing old buildings and maybe having a coffee or lunch in the Sea View Cafe. You can try to spot some eagles on the seaside. If you see photography potential there, you have time to use it.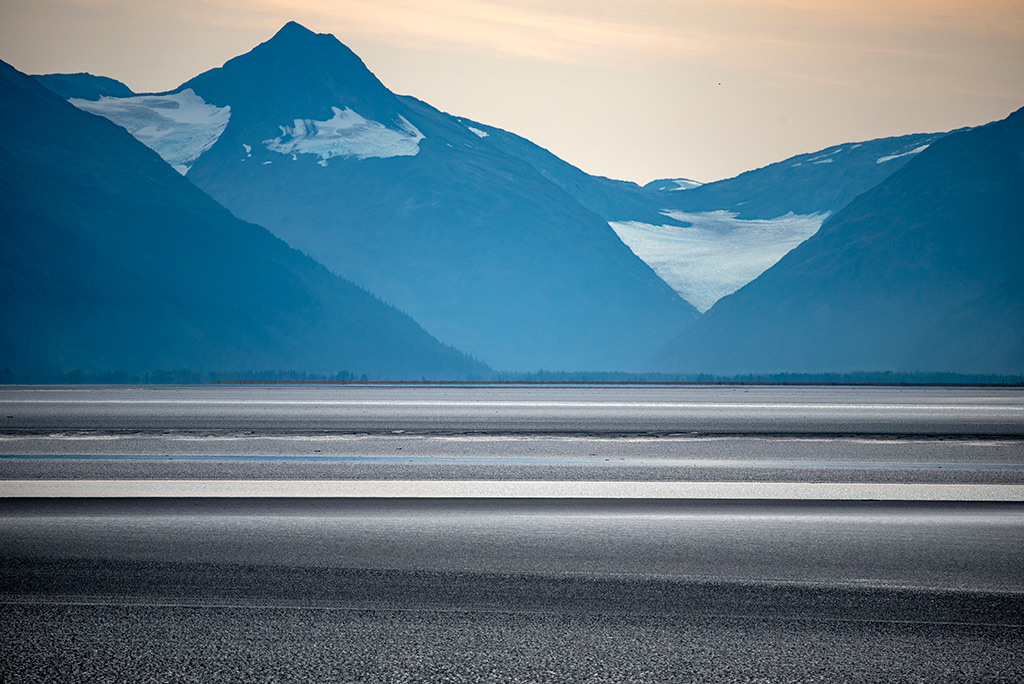 From Hope, you should go to Whittier. There is a couple of amazing glaciers on the way, and the town itself is very original. People are living here literally in one building. It is the 14-story Hodge Building completed in 1957 and contains 150 two-and-three-bedroom apartments plus bachelor efficiency units. You will spend no more than an hour here.
From Whittier, we recommend going to Girdwood and spending here the rest of the day. If the weather is good, it's worth taking the Alyeska tram to the Alyeska mountain. You will have a chance to spot some wildlife on the way and for sure beautiful mountains and glaciers.
Lodging in Girdwood
If you are traveling a regular car, you can sleep here in Hotel Alyeska. There are not too many options here, and the ones available are relatively expensive.
In case you decided to go with a motorhome, we suggest staying in Bird Creek Campground because there are no campgrounds in Girdwood itself.
Food in Girdwood
We believe you would like to eat something else than seafood here 😉 You can try one of those restaurants:
Double Musky Inn ($$) – This is a cajun/creole kitchen, and you should try pepper steak, gumbo soup, or jambalaya. We recommend you do make a reservation because the place might be a little crowded sometimes.
Coast Pizza ($) – if you are fed up with seafood, maybe pizza is a good idea? And the one here is worth eating. It is cheap and tasty.
Day 10 Alaska Itinerary – Return to Anchorage
This day is your last day of the 10 Days Alaska Itinerary. Depending on your flight departure time, you can plan some more activities. If you haven't had a chance to get to flattop hill before, maybe on that day, you will have a chance? Or you can enjoy more Anchorage during the day? Just browse the plan again and find things that you could miss because of a lack of time and do it now.
Do you have a few extra days for your Alaska Road Trip?
Our 10 Days Alaska Itinerary is now over. But if you have a few extra days on your Alaska Road Trip, below are some of our tips on how to spend them. Alaska offers tons of magical and exciting places. Impossible to see everything in 10 days because of the distance.
So if you have a few extra days, you can consider several options:
From Denali, you can travel north to Fairbanks and Chena Hot Springs Resort. The location is great, and it is also one of the best spots to observe the Northern Lights. Check out our photos and tips here.
From Homer, you can book Brooks Falls Bear Experience. If you only have 1 day extra and you dream of watching bears catch salmon, this could be the adventure of your life. We spent there a few days. Here are our photos from bear watching in Katmai National Park. But if you have one day only this tour option from Homer is the perfect solution. This is not a cheap trip. But when we organized it on our own, it was much more expensive, and our regular plane was canceled twice. So, the option of an organized trip is a great idea.
Another idea is to visit Wrangell St. Elias National Park, which is the biggest US national Park. It's an amazing place covered by glaciers and with an old Kennecott copper mine inside. Check our photos and tips.
Do you like it? Pin it!